Lata Mangeshkar was my introduction, the beginning, the basic, the identity of film music.
Sukanya Verma salutes The Legend.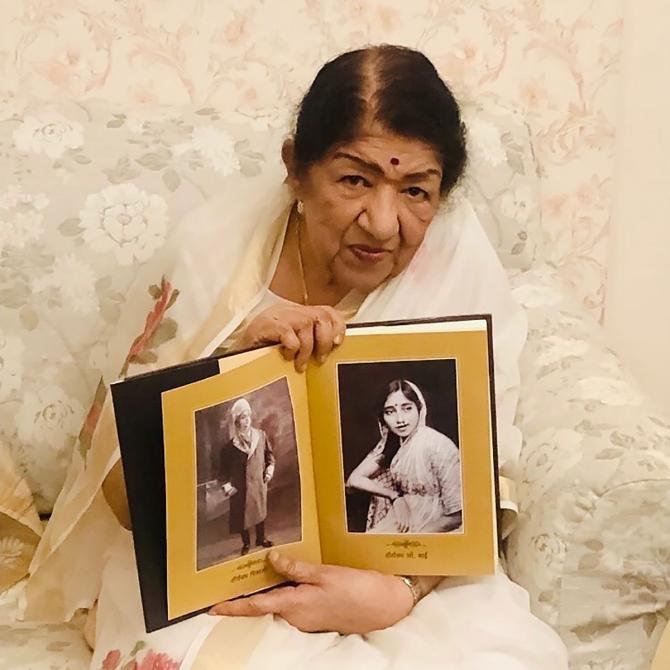 It was early in the morning and a three-year-old me was still lying in bed, when a divine sound woke me up like a mother's loving nudge.
I walked till the window to hear it at closer range.
What felt like a velvet rocket gliding through space was Lata Mangeshkar's Ganraj Rangeen Nachato resounding through the speakers at our colony's annual Ganpati pandal.
It was the first time I heard THE voice.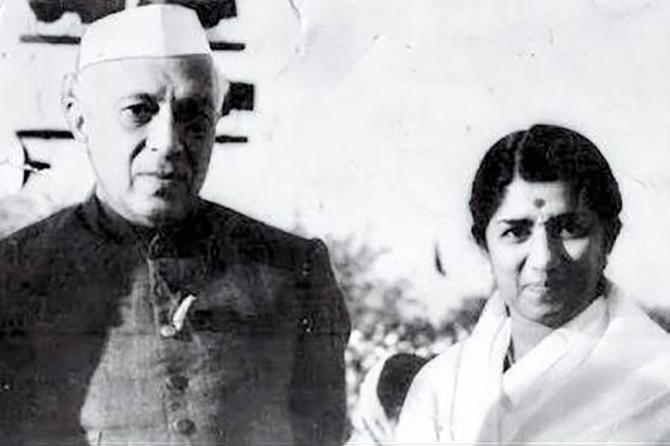 I am not much for bhajans, but Latatai's ode to Ganesha in collaboration with brother and composer Pandit Hridaynath Mangeshkar are a gold standard in devotional music.
She possessed a gift of making music accessible and attractive across all genres and to all age groups.
Whether Lata Mangeshkar avowed the power of secular sentiments in Allah Tero Naam (Hum Dono) or entreated patriotic fervor in Ae Mere Watan Ke Logon, it was always collective in emotion and response.
But, of course, it was her vast, versatile body of work in film music I lapped up to the greatest degree.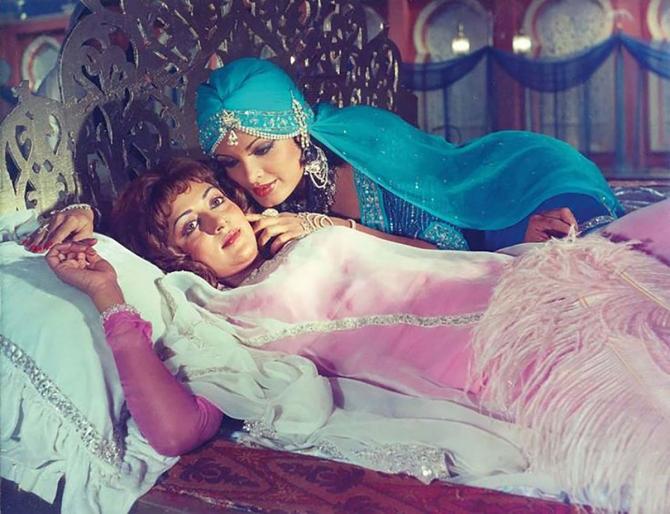 Wrapped in a striped brown paper envelope of Rhythm House, the erstwhile Mumbai treasure trove for audiophiles, her voice arrived in my life like a gift that keeps on giving.
When mom presented me my first-ever cassette, Khayyam's tour de force Razia Sultan for which Lata Mangeshkar sung some of the most iconic songs of her career -- I swooned to her elegance and thairav in Aye Dil-E-Nadaan, enjoyed the feather touch delicacy of her lullaby-like Khwab Bankar Koi Aayega and blushed harder than Bashful every time she sensually declared Jalta Hai Badan.
My aunts still have a good laugh over how a knee-high me would disastrously copy her Urdu fluency in Humne Sanam Ko Khat Likha (Shakti) when she cooed, Aye Dilruba, Dil Ki Gali, Shaher-E-Wafaa.
Back then, I was convinced I sound just like her when I am singing her songs.
It was the same with Mi Raat Takli, a favourite on television in the good old days of Doordarshan. Though I had no idea barely what this gorgeous Marathi number from Jait Re Jait means, it didn't stop me from loving it to bits or singing it all wrong.
Even now, every time her alaap from Silsila opens Yash Raj Films logo at the beginning of their film, goosebumps crop up on my skin.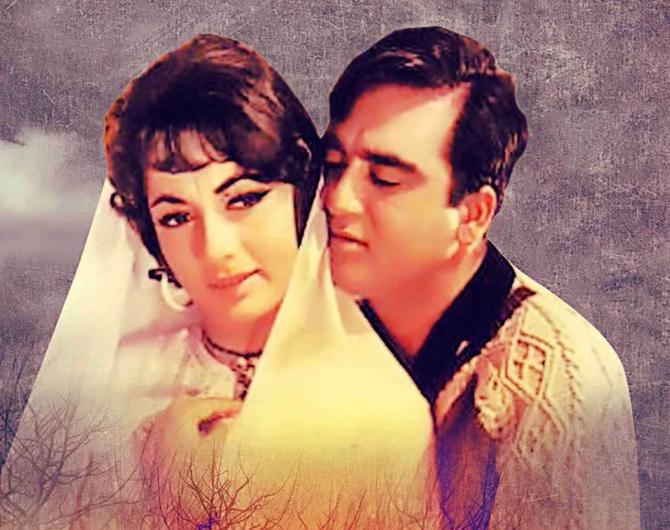 What tells a great artist apart from a good one is how personally their artistry connects. And Lata Mangeshkar is ubiquitous in her influences.
Not only did her songs provide cheer and comfort but also became our companions in the hour of grief.
The pain in her melodious cries spoke to the pain we carried in our hearts, whose impact I heartbreakingly felt in my mother's warm tears whenever Chand Phir Nikla Magar Tum Na Aaye (Paying Guest) played on air and stirred memories of my father's loss.
Her haunting melancholy and my lump-in-the-throat listener formed an unexplainable bond that grew over the crushing despair of Khuda Nigehbaam Ho (Mughal-E-Azam), the gentle sighs of Mere Mann Ke Diye (Parakh), the unsettling insomnia of Do Nainon Mein Aansoo Bhare Hain (Khushboo), a lover's long-distance woes in Chhitiye (Henna) and the grandest declaration of lifelong companionship in Tu Jahan Jahan Chalega (Mera Saaya).
It's like Lata Mangeshkar's voice and words shaped me emotionally at an impressionable stage and imbued a sensitivity that would define me in ways I didn't imagine.
Often when they ask if you had to choose the only music you could carry with you on an island or play all your life, I can only think of her magnum opus Maya Membsaab and Lekin.. -- both composed by her younger brother Hridaynath Mangeshkar. Perhaps these albums are somewhat niche in nature but showcase the songstress at her most ethereal.
Lata Mangeshkar could be fun too. Maybe not as prolifically as sister Asha Bhosle, but her operatic prowess brings the house down alongside Kishore Kumar in Half Ticket's rollicking Woh Ek Nigaah Pyaar Ki.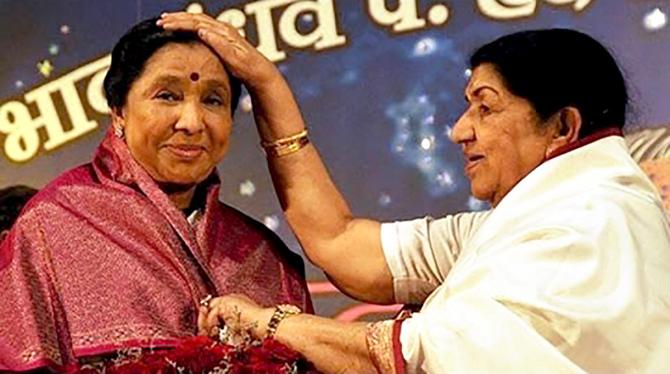 When a person gains in stature to the extent Lata Mangeshkar did, drawing the highest praise, laurels and accolades across people and power, there is bound to be a downside too.
She was accused of monopolising the playback singing scene.
There was constant murmur over her alleged rivalry with Asha Bhosle.
Many resented her protests over the building of a flyover on Peddar Road across her South Mumbai residence.
A snarky few remarked on the quality of her aged voice.
But the love and reverence she enjoys overpowered the criticism.
For the longest time, she was a one-woman music industry who conducted her life and career on her terms proving a woman can be celebrated solely for realising her talent, fulfilling her ambitions and not conforming to traditional roles of wife and mother set down by society.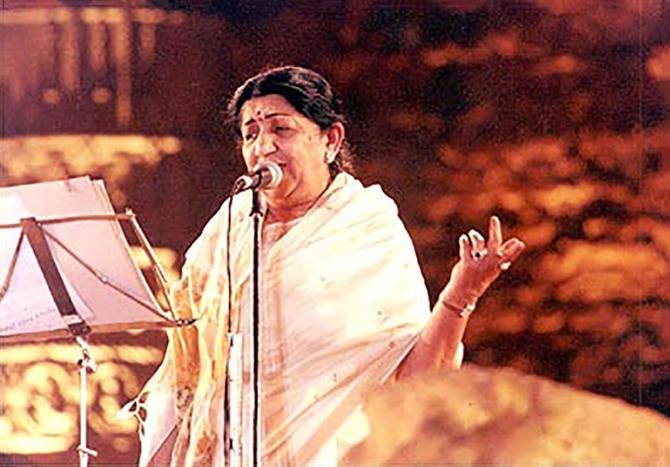 I heard her LIVE twice at Shivaji Park, one was a Shraddanjali event paying tribute to her father Master Dinanath Mangeshkar, another a concert organised for victims of the Gujarat earthquake.
Both occasions were star-studded affairs attended by the likes of Shiv Sena chief Bal Thackeray, Amitabh Bachchan and Sachin Tendulkar.
What more can I say about Lata Mangeshkar that I already haven't?
She was my introduction, the beginning, the basic, the identity of film music.
A voice so cherished and omnipresent, I wrote about a 100 Lata Mangeshkar songs and I could write about a 100 more.
Immortal in melody, in her own song, Bahut Door Mujhe Chale Jaana Hai. Bahut Nazdik Mujhe Aana Hai.