Lata: 'Do you feel you are happy now?'
Kishore Kumar: 'I am very happy. By the grace of God, I want nothing. If there is anything I want, it is to return back home, home is Khandwa, Madhya Pradesh. I hear it calling me.'
Lata Mangeshkar's life and career are widely known and yet there is an aspect that remains largely unrecorded: Her life on the international stage.
Mohan Deora -- the co-promoter and co-organiser of Mangeshkar's international tours from 1975 to 1998 -- and her niece Rachana Shah give us a glimpse of her career as an international concert artiste in their book, On Stage with Lata.
The book reveals her journeys with Mukesh who tragically died during a Detroit tour in August 1976, Manna Dey and Kishore Kumar.
Glimpses from the book, On Stage With Lata.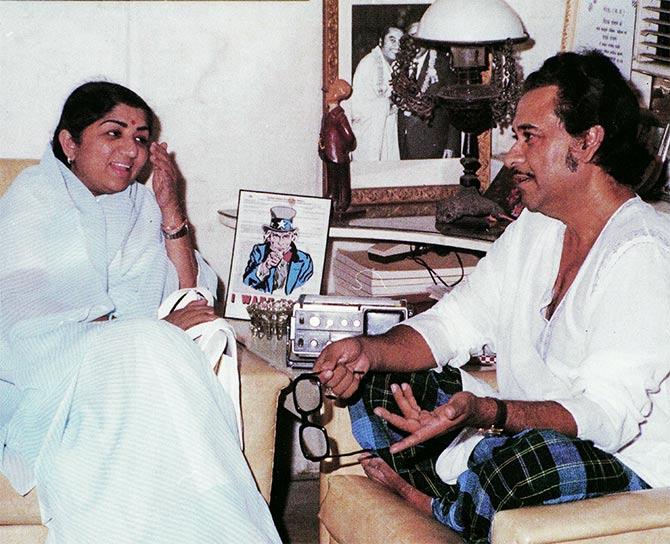 IMAGE: Lata Mangeshkar and Kishore Kumar.
Lata had agreed to tape an interview for a New York-based Indian television programme that day.
Kishore, notorious for his aversion towards the press, had been persuaded as well -- or so it seemed at the time.
Punita Bhatt went onto describe to me what happened next: The interview was arranged in a suite at Washington's famous Watergate Hotel where the artistes were staying.
Lata arrived early and completed her own segment promptly. Kishore walked in twirling a single yellow rose in his hand.
He took one look at the set-up -- the bright lights, the camera crew, and the interviewer Kiran Vairale.
He backed into the suite's kitchenette. From there he refused to budge.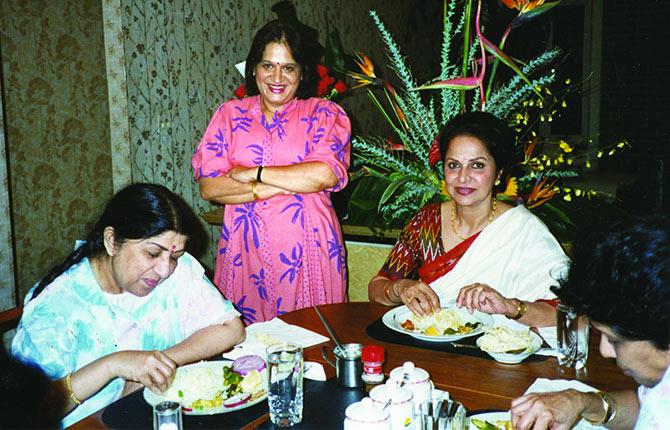 IMAGE: Lata Mangeshkar, Suvarna Deora and Waheeda Rehman in the Deoras' home, October 1995.
Inside, he conducted a running monologue while a couple of my friends and I kept him company.
Something seemed to have upset him, but it wasn't clear what.
His sole condition to emerge from the kitchen was conveyed through us to Lata who was standing outside; she would have to interview him!
Lata gamely agreed. Kishore came out and became the very picture of amiable cooperation.
Punita Bhatt continued with her fascinating account which gave me a real insight into the kind of relationship Kishore-da and Lataji shared.
The result of this strange twist is a wonderfully refreshing exchange between the two singers.
IMAGE: Lata Mangeshkar with Suvarna and Mohan Deora, backstage at Detroit's Cobo Arena, June 16, 1985. Their friendship lasted a lifetime.
Lata, the questioner, exhibits the aplomb of a seasoned reporter, Kishore responds, disarmingly at times, with a remarkable tendency towards a train-of-consciousness thought process.
Asked about his favourite music director, he begins with his first encounter with Lata.
Kishore: When I first entered the industry -- you remember, Lata, how you and I first met?
We happened to be travelling in the same train one day.
You looked at me, I looked at you; you got off at Malad, I got off at Malad; you got into a tanga (tonga), I got into a tanga; you reached Bombay Talkies, so did I.
You were convinced I was following you. You had come for a song recording with (music director) Khemchand Prakash, and so had I. The film was Ziddi.
Lata: Tell me, how do you like performing on stage with me? Only the truth, please.
Kishore: I love it. I just worry about one thing, you are so reserved and I tend to clown around a lot, so I wonder if I am offending you.
Lata: You see, I have a problem too, I can't run around all over the place and sing.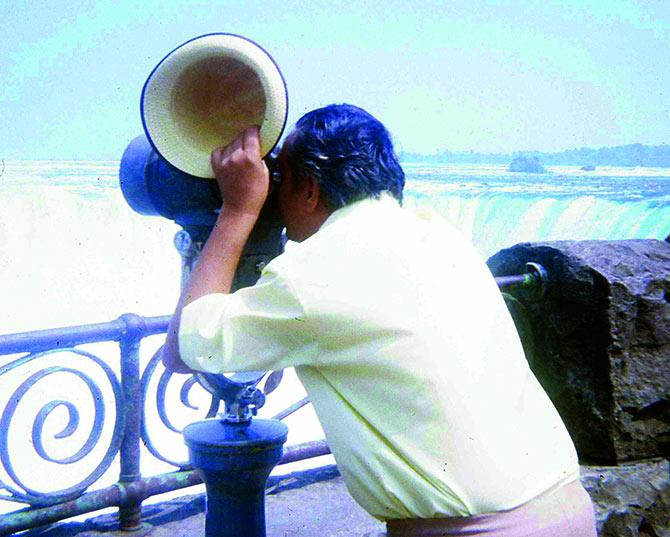 IMAGE: Mukesh at the Niagara Falls on a day off during his May 1973 concert organised by Mohan Deora and team.
Kishore: No, Lata, your style is perfect for you.
Since I was an actor before I became a full-time singer, the audience expects me to move around and dance, and I try to give them double pleasure!
Asked about his hobbies, he tells of his need for solitude even as a child.
Speaking about the late Khemchand Prakash, he takes a swipe at brother Ashok Kumar's efforts at singing.
His answers are interspersed with lines of poetry, bits of song and revealing thoughts on life, loneliness and death.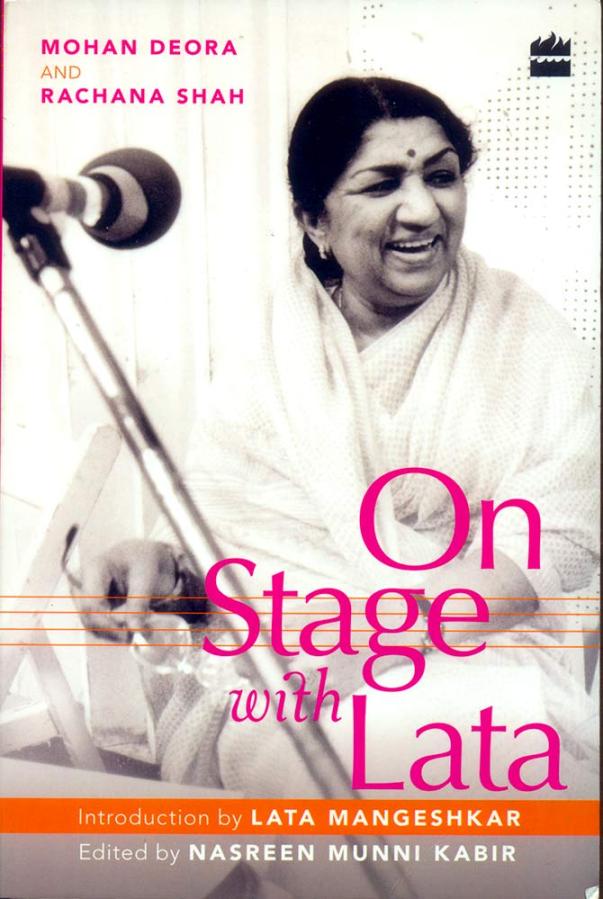 IMAGE: The cover of the book On Stage with Lata.
Lata: Do you feel you are happy now?
Kishore: I am very happy. By the grace of God, I want nothing.
If there is anything I want, it is to return back home, home is Khandwa, Madhya Pradesh.
I hear it calling me. This would be my last wish.
K L Saigal had the same desire, and he too returned to his native place.
Did you know he often used to go and sit in a shamshan (crematorium)? When asked why, he replied: 'This after all is my final destination. This is my mandir, this is my masjid.'
Excerpted from On Stage With Lata by Mohan Deora and Rachana Shah, with the kind permission of the publishers, HarperCollins.
DON'T MISS the features in the RELATED LINKS below...