]Irrfan never stopped being hopeful about the endless possibilities open to actors and film-makers in Indian cinema, recalls Subhash K Jha.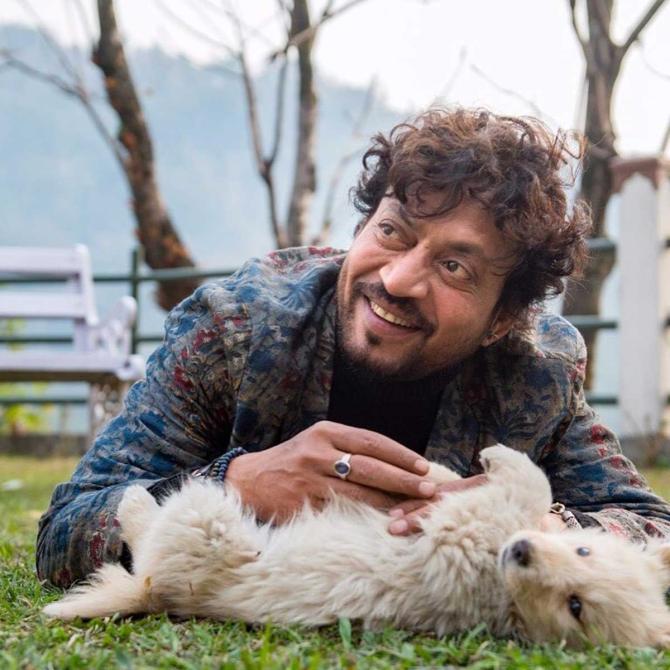 I miss Irrfan Khan. In person.
Though, so far, I've not had the opportunity to miss him on screen. He was so prolific, and did so many films before ill health suddenly felled him, that we continue to get a deep peep into his skills.
While he was ill, we saw him in Abhinay Deo's Blackmail and in yet another international project, Puzzle alongside Kelly Macdonald.
Irrfan was cast as a jigsaw puzzle enthusiast.
I had spoken to Irrfan about Puzzle and he was thrilled to be doing a pure Hollywood romance, a genre he hadn't attempted before.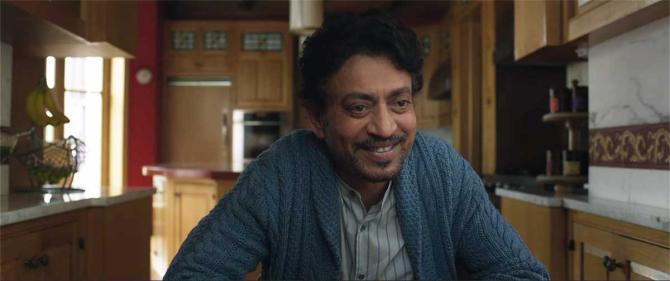 Doing roles that surprised Irrfan as much as they surprised his audience was most crucial to the actor.
Also, playing a central character was never an issue for Irrfan.
However, Puzzle was not just a walk-on part that Indian actors get and are happy with. It was not a crumb. This was a major slice of the cake that Irrfan had cornered for himself before destiny dealt a cruel, fatal blow.
Finally, there is Anup Sinha's The Song Of Scorpions, which features the actor in what is arguably Irrfan's finest performance. To be honest, though, with Irrfan, it's hard to tell.
I don't know when that will release in India. It should soon. It's a fitting farewell.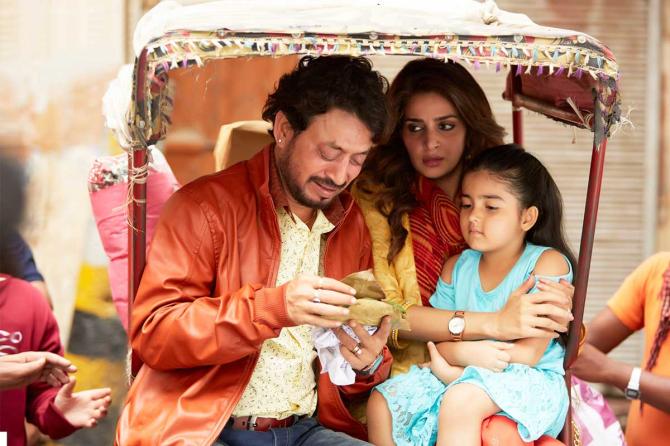 In 2018, after Irrfan was hospitalised, there were many moist eyes in the audience at an international awards function in Bangkok when Irrfan won his last of a slew of awards for his performance in Hindi Medium.
I remember when he had won the first of many awards for the film, there was no sign of illness, only a feeling of gathering expectations and rightful pride as he had said to me, "Hindi Medium has been able to crack the magic of marrying content with popularity.
"I am happy that the bridge has been crossed from 'critic' to 'popular' on my own terms. I didn't have to go the so-called massy route.
"I must tell you, though, that while I won for Hindi Medium, I was nominated for the Qarib Qarib Singlle role too in the popular category."
Then, destiny took a sharp unexpected swerve.
While I patiently awaited his return from the jaws of death, I got a chance to see his other new film, an Indo-Bangladesh co-production called Doob: No Bed Of Roses, an arid yet somehow satisfying look at a crumbling marriage set within the Bangladesh film industry.
The film is afflicted with a sense of intellectual self-importance.
The camera is self-consciously erudite. The language is stylishly laconic.
While Irrfan's character, a film-maker named Javed Hassan, goes through his demoniacal struggle that finally kills him as he watches his life and family come apart, I could see Irrfan grappling far more successfully with his character's complexities and emerging a winner.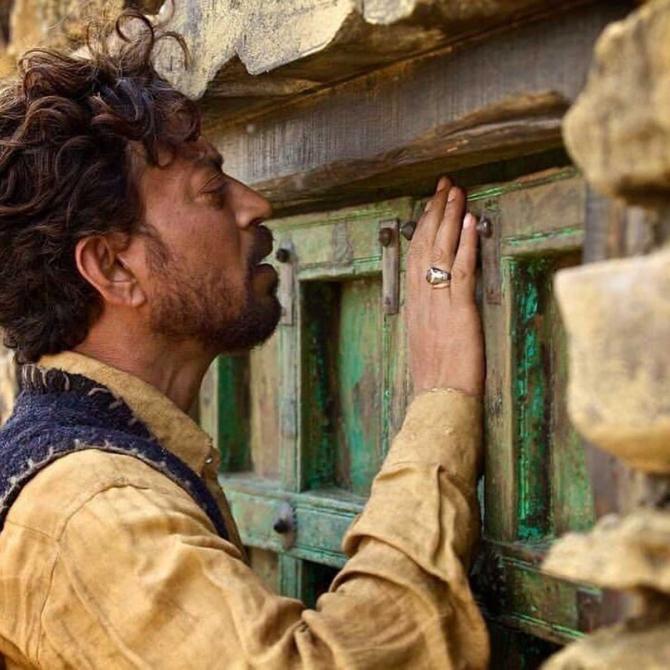 This is an actor who never failed a film, although the film, for whatever reason, may finally let him down.
I found Doob: No Bed Of Roses to be too closely inspired by Guru Dutt's Kagaaz Ke Phool.
Also, the idea of a 50-year-old film-maker throwing his reputation, marriage and family away for a fling with his daughter's friend required a lot more compassion and empathy than the director was able to muster.
But Irrfan's faith in out-of-box characters remained unshaken. He not only acted in Doob, he also agreed to co-produce it. Just like he co-produced Ritesh Batra's The Lunchbox, which worked a lot better globally than Doob.
In this disappointing (yet, I repeat, intriguing) Indo-Bangladesh co-production directed by Mostofa Sarwar Faroki, Irrfan had spoken his own Bengali lines.
Irrfan was rightly proud of what he had done in Doob.
"It's my first Bengali film, hence special. And yes, I've spoken my own Bangla lines.
"I must say it was a challenge because the Bengalis are very particular about how their language is spoken. One wrong pronunciation and you're doomed.
"I play a man who has an affair with his daughter's friend. It's something I've never attempted before, hence interesting.
"It is always a pleasure to be part of an international project. I hope the film is noticed in India."
The West reacted with lavish praise for Irrfan's performance in Doob.
India remained cold to its wry exposition on infidelity.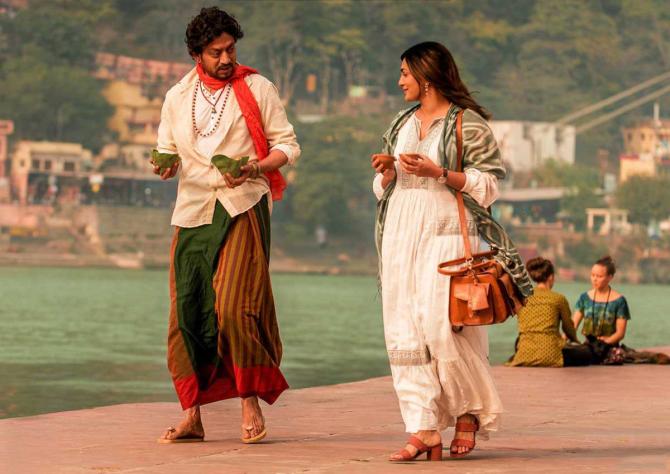 Irrfan never stopped being hopeful about the endless possibilities open to actors and film-makers in Indian cinema.
During our last conversation he excitedly observed, "What I like about current filmmaking trends in India is the diversity. There are so many kinds of films being made.
"Of course the big-ticket blockbusters will always dominate the box office. But other kinds of films are also getting an audience."
Irrfan showed us how one actor could straddle effortlessly from Doob to Hindi Medium to Puzzle without missing a beat.
This is unique.
Irrfan was unique.
Feature Presentation: Ashish Narsale/ Rediff.com