Sridevi had updated her art to become more contemporary than current actors.
She was new-age and yet vintage.
By making the predictable so precious, she makes it a scene that could hold its head high anywhere in world cinema.
A fascinating excerpt from Satyarth Nayak's Sridevi: The Eternal Screen Goddess, on the movie legend's second death anniversary.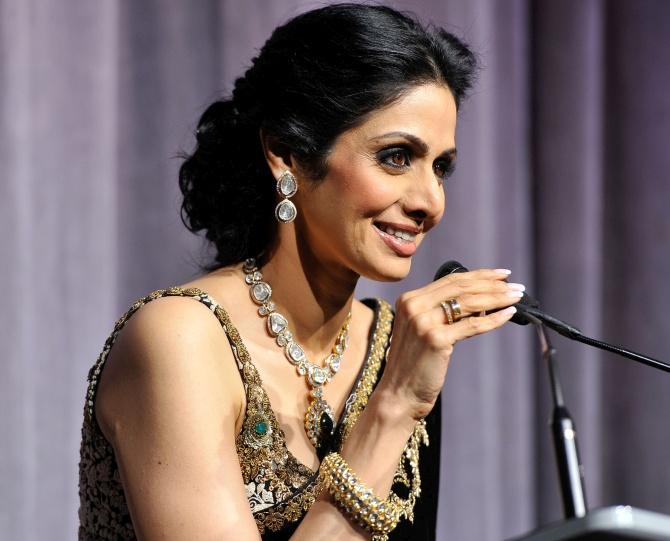 Tears streamed down Sridevi's eyes. The applause seemed as if it would just not end -- the massive Roy Thomson Hall resonating as the final credits of English Vinglish rolled on the screen.
The film's world premiere at the 2012 Toronto International Film Festival had just got over, and a standing ovation had erupted.
An audience of 2,000 were cheering for almost ten minutes now. The actress watched the hysteria she had unleashed again.
As the cast and family stood choked with emotion, Sridevi and Gauri Shinde clasped hands -- both silently thanking each other and absorbing this moment forever.
The wheels had begun to turn when Sri and Boney had invited Balki for lunch at the actress's Chennai residence.
Discussing projects over scrumptious seafood, Sridevi had casually asked the director about his next film.
Upon hearing that his wife Gauri was working on a script, she had inquired about it. Balki shares: 'I gave her two lines and Sri had tears in her eyes.'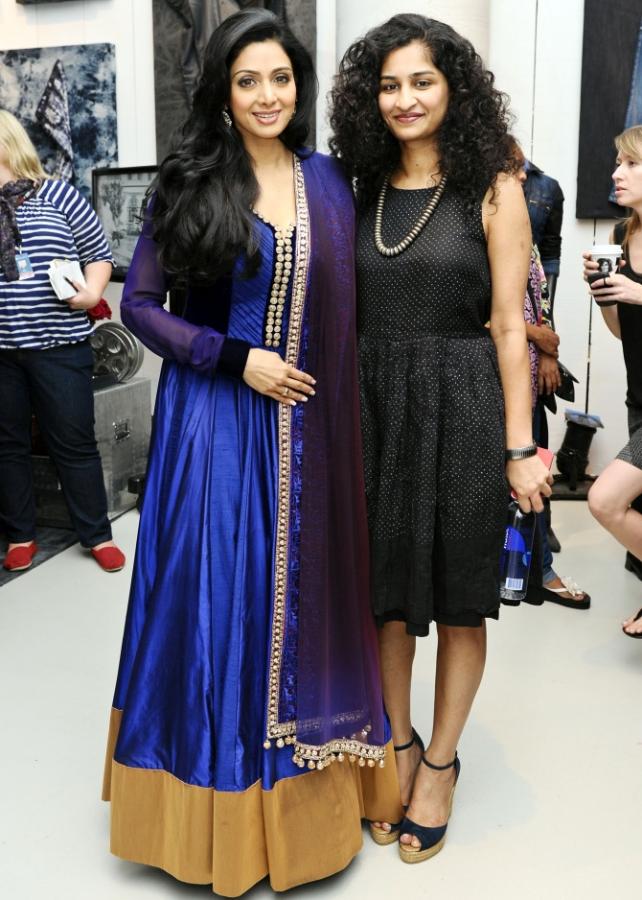 Gauri Shinde, who debuted with English Vinglish, became the only woman director Sridevi would work with.
Gauri's world had changed when Balki had informed her that Sridevi was intrigued by her script.
She takes us through that first meeting with the diva as she came over for a narration: 'I was trembling as I took out the script. She was sitting there like a goddess in a simple top and jeans, calm like the Buddha, her skin luminous and eyes heart-breaking. As I narrated, I saw that she was reacting perfectly at all the critical points of the story. She had a magical instinct about the character and her journey. Our meeting was like a blind date and by the end we had fallen in love with each other.'
Sridevi also grew close to well-known lyricist Kausar Munir who had been hired as a language consultant on English Vinglish.
Kausar gives us another peek into the person behind the star: 'I was totally star-struck the day I sat with her to discuss a scene. I told her I can't believe I am sitting in Sridevi's bedroom and she just laughed. I asked her what should I call her and she sweetly replied, "Just Sridevi or Sri."
You almost felt like she was one of your pals, and yet one day on set, she suddenly paused in the middle of a scene and told the director of photography that the camera had switched off.
None of us had noticed that, but she had sensed it. It was moments like these which would remind us that this woman we took as a friend was also one of our greatest cinema legends.'
With the onset of 2012, Sridevi started becoming more and more visible to the public eye. An autumn release had been announced for English Vinglish, and the actress was now embracing the various promotional rituals that had emerged during her hiatus.
Despite this whirlwind promotional tour, Sridevi would take time out now and then to pause. And it is during these breaks that she would often savour the simpler pleasures of life.
Once, she was out for dinner with Gauri and Kausar at Royal China. After Gauri left, the actress told Kausar that she had sent her vehicle for Boney and would go back in the lyricist's car. An alarmed Kausar informed her that she too had sent her car away.
As both women stood perplexed, Kausar mustered up courage and asked Sridevi if she would mind returning home in an auto.
The lyricist reminisces: 'She got excited like a child and instantly agreed. I hailed an auto and that is how we got back. We were giggling throughout the ride. The auto guy didn't even realise in the dark who was sitting in his vehicle. Sri kept laughing and telling me, "Don't tell Boneyji; he'll freak out!"'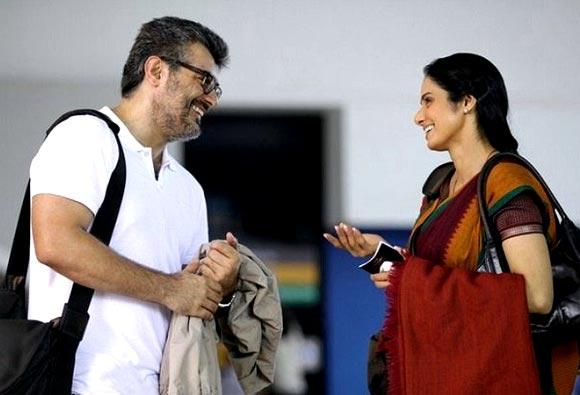 As the release inched closer, many voices proclaimed that English Vinglish was doomed to fail. They predicted that Sridevi would soon join the roll call of names such as Madhuri, Karisma, Preity and Manisha whose comeback attempts had failed. But the actress appeared unfazed, almost Zen-like.
Her faith in her comeback never wavered. She even joked with reporters about her 15-year break, stating that she was feeling as if she had been shooting till day before yesterday, had taken one day off and was back to work. Gauri shares: 'My nerves were jangling but she had this magical confidence in the film.'
It was perhaps her four-decade-long acumen that had whispered in her ears that they had a winner.
English Vinglish turned out to be the greatest comeback ever made by an actress in Hindi cinema.
Sridevi plays Shashi Godbole, a mousy housewife who is constantly slighted by her husband and daughter for her flawed English.
Given that the plot echoed her own real-life struggles with various languages, the actress dives headlong into the role.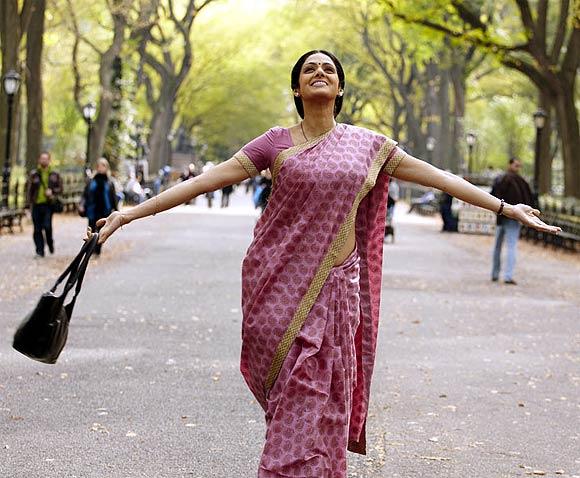 One of Sridevi's biggest strengths had always been the vulnerability she could project on-screen, endearing herself to the viewer. More than a decade later, that power was intact.
Gauri recalls her experience of directing the legend: 'After every take, we would just exchange a look and know if it had gone well or not, if something had to be amped up or toned down. Such was her brilliance that even if I was in a bad mood, just watching her perform would cheer me up. Watching her act, I would feel like nothing else mattered. Nowhere could you say that she had not faced the camera for fifteen years. More than being a superstar, she was super real; she never allowed her stardom to overpower my script. She was great because she had the guts to be human.'
Co-star Adil Hussain shares how Sridevi had bamboozled him in their first rehearsal itself. They were trying out a mock scene and out of the blue, Adil improvised a line.
But even before he could finish uttering the whole of it, the actress shot back an instant reply.
He says: 'I was stunned. Without knowing what I was going to say, she had somehow instinctively anticipated it. A reaction like that comes only when the actor is totally immersed in the moment. I later told her how Sadma had affected me and her eyes turned moist. I discovered how defenceless she was, a rare quality in actors.'
And yet, now and then Sridevi would turn child-like on the sets. Perhaps so joyous was she feeling during the making of this film that she would frequently let her guard down.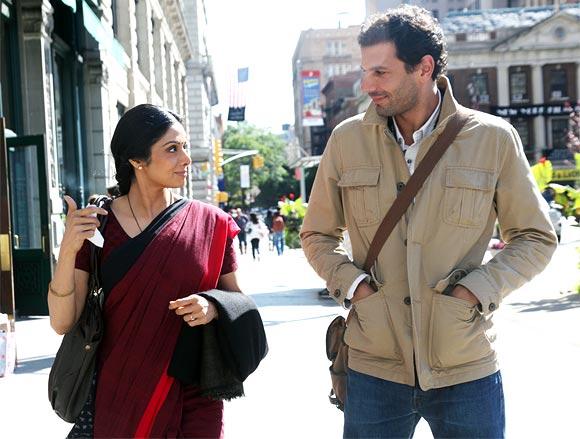 Once, Gauri had come looking for her when the shot was ready, but the actress was nowhere to be found. Imagine the mirth when everyone discovered that she was hiding under a quilt.
Gauri shares: 'She would keep calling me "Khushi Two" and play pranks on me. That Michael Jackson move was entirely Sri's idea. Also, in Navrai Majhi she would keep doing funny moves even after I would yell "Cut". For me, she was a child-woman in the sense that she preserved parts of herself that we sometimes let go of as we grow. She never let her maturity cloud her heart; it takes tremendous strength to be like that.'
With Rajeev Ravindranathan being a fellow Tamilian, he would often narrate jokes to Sridevi in their native language.
The actress would burst into peals of laughter and her tears would ruin her make-up. After a point, the ADs would angrily intervene as every fresh touch-up would delay the shoot.
But for Rajeev, discovering Sridevi's wacky side in real life was the hugest revelation: 'She was a laugh riot. I really think she could have given stand-up a go. Her straight-faced humour was a thing of beauty. The stories she recounted to us were legendary. I remember one that had her in Ooty shooting three songs on three sides of a hill for three different movies.'
Her co-stars were awed by her magnanimity off it. Rajeev reveals: 'She gifted away many of her lines to others because she felt it would make the scene funnier. She would take great pains to ensure that everyone was always in frame and not being covered by another actor. She beautifully balanced the energies of her off-camera relationships with her character's interactions. A tiny example is in the wedding scene. Knowing my personal penchant for the sweet stuff, she serves my character, Rama, an extra laddoo out of the blue. And I won't ever forget the twinkle in her eye when she did it, all in the middle of a live shot.'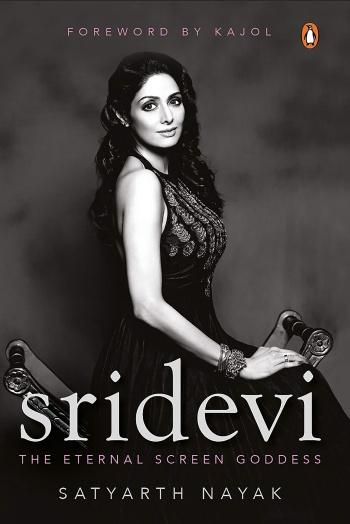 Sridevi's climactic monologue is the crown jewel of English Vinglish. And just like Shashi's evolution, her speech moves from vague to vigorous to victorious.
Her English is halting, but her wisdom heartfelt. Her performance compassionate as she makes it both physical and abstract.
The thespian had updated her art to become more contemporary than current actors. She was new-age and yet vintage.
By making the predictable so precious, she makes it a scene that could hold its head high anywhere in world cinema.
And like so many of Sridevi's iconic moments on celluloid, this sequence too had been physically daunting. It had snowed two days ago and she had to shoot in just a Chanderi sari in sub-zero temperature. And she had again converted that disadvantage into an asset.
Gauri reminisces: 'She was shivering and her nose was running. But instead of backing out, she actually made her cold and shortness of breath a part of her performance to enhance Shashi's hesitancy as she gives the speech. I would go weak-kneed just looking at her eyes; I wonder what they must be doing to men.'
---
Excerpted from Sridevi: The Eternal Screen Goddess by Satyarth Nayak, with kind permission of the publishers, Penguin Random House India.