On Women's Day in 2016, Shah Rukh Khan had tweeted, 'Often I wish I was a woman... then realise I don't have enough guts, talent, sense of sacrifice, selfless love or beauty to be one.'
These are not empty words. Not when coming from King Khan anyway.
SRK's genuine regard, respect and feminism comes through his chivalry and charms -- when he escorts Hema Malini on stage and helps her put on a sandal that has slipped away, steers Farida Jalal and her sister's luggage trolley for them at the airport, directs his production house Red Chillies Entertainment to reserve top billing for his heroine regardless of seniority, or adds adorable little notes in a diary for his daughter that reads, 'Everything I don't know of acting I have put it there for you to learn and teach me back, little one.'
Be it family, friends, film-makers, co-stars, his staff, journalists or fans, his witty and warm interactions with women on screen and off it reiterate his image as the ideal guy every girl would want in her life in some form or another.
SRK loves women and women love SRK. It's a unanimous opinion that no PR machinery can generate, no media can make up.
Sure, not all the roles he has essayed in his career reflect his personal beliefs but there's a softness to his passion, an earnest understanding of the concept of equality and a confidence that grows from being in her shadow and not stealing her thunder.
From what we've caught in a glimpse of its adrenalin-pumping promos, Jawan pays rich ode to SRK's inbuilt feminist. An army of females swarming its multi-heroines star cast screams iron fist in velvet glove in all its mainstream glory.
On that note, Sukanya Verma lists some cinematic instances of why SRK is the ultimate women's man.
Yes Boss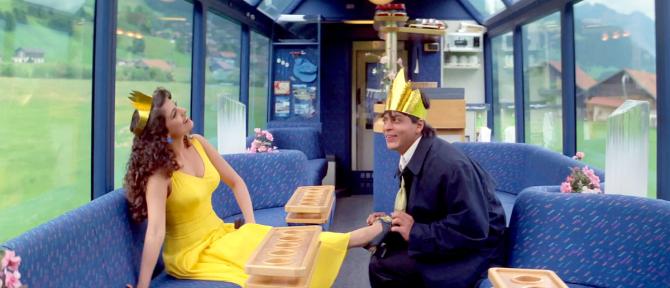 'Tum kisi bhi ladki ko khush kar sakte ho,' chirps Juhi Chawla.
Though it's SRK shady boss and not him romantically involved with Juhi, our man skillfully devises ways to keep her safe and satisfied while serenading her in the manner she deserves in his grand, winsome style, subconsciously, creating a special place in her heart.
Dil To Pagal Hai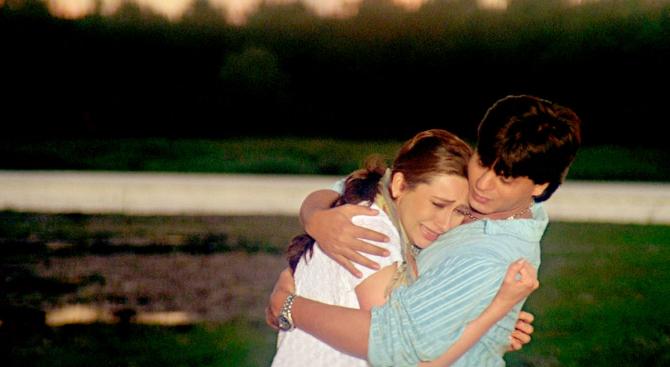 SRK and Karisma Kapoor's cute friendship goals may hit a roadblock when she falls in love with him and he doesn't reciprocate.
But he feels terrible about hurting his friend and doesn't shove it under the carpet or look the other way when she's in pain.
What's more, he's there right by her side comforting her while she flings stones in the sky and complains to the heavens about it.
Kuch Kuch Hota Hai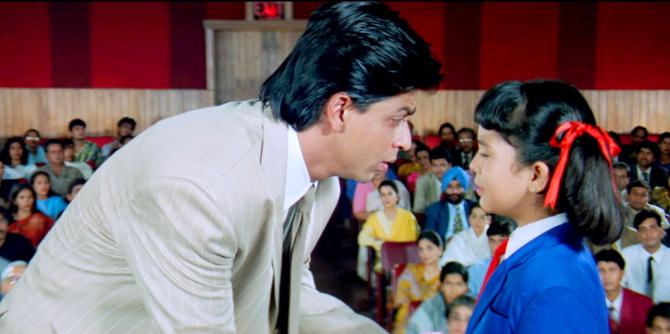 Whatever one may think about SRK's confused heart and muddled love triangle in Kuch Kuch Hota Hai, he sure gets brownie points as the indulgent son and doting daddy to his petulant mom (Farida Jalal) and precocious daughter (Sana Saeed).
Whether it's gallantly coming to the latter's rescue on stage as she fumbles to speak on the subject of her deceased mom or innocently taking the bait designed by the daadi-beti jodi to reunite him with his college bestie at a far-flung summer camp.
Kabhi Khushi Kabhie Gham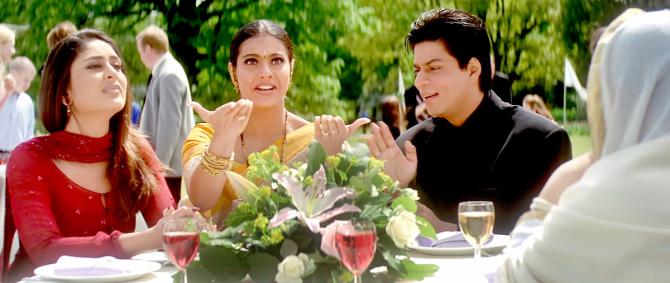 It's all fun and games in SRK's London home where his delightful exasperations as the only adult male around a loud, chatterbox wife (Kajol), a dim-witted, fashionista saali (Kareena Kapoor) and good-humoured senior citizen nanny (Farida Jalal) conveys happy household scenes of everyday life but refuses to reveal the sting of parental estrangement he carries deep in his heart.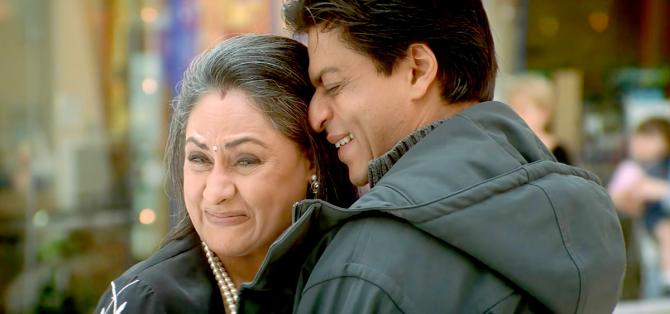 Until... SRK's adopted son proves the bond of love cannot be determined by bloodline in his teary eyed reunion with mommy Jaya Bachchan in a London mall.
Kal Ho Naa Ho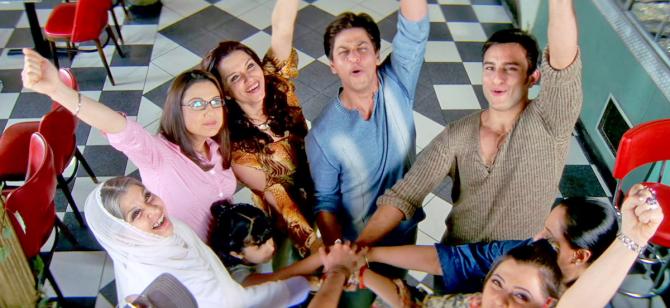 Four generations of women (Sushma Seth, Jaya Bachchan, Preity Zinta, Jhanak Shukla), a pair of boisterous sisters (Delnaaz Paul, Lillete Dubey), a doctor (Sonali Bendre), a mom (Reema Lagoo), SRK's 'farishta' wins the hearts of women of all ages over the course of reviving, restoring and repairing everyone's lives and relationships even as he battles for his own sweet life against a terminal disease.
Swades
From taking time out from his busy schedule at NASA to visit his childhood nanny (Kishori Ballal) in India and inquire about her well being to engaging in intelligent arguments over his nation's progress with Gayatri Joshi's independent-minded school teacher, SRK shares his admiration for womanhood in his own warm way.
Chak De! India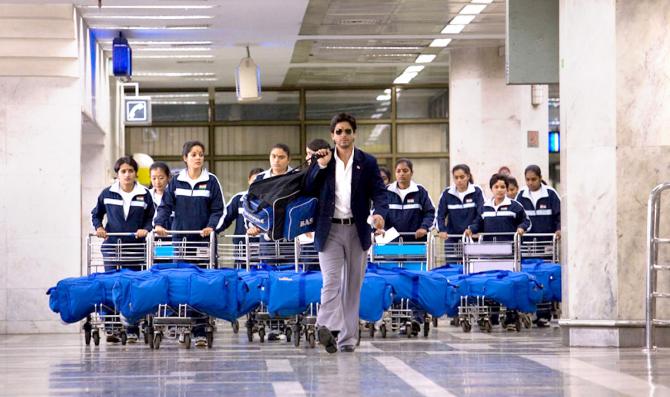 SRK's no nonsense hockey coach leads a national hockey team of girls to victory.
Chak De! India is a masterclass on dedication and dignity and who better to convey its slice-of-patriotism, sportsmanship and feminism than SRK?
Veer Zaara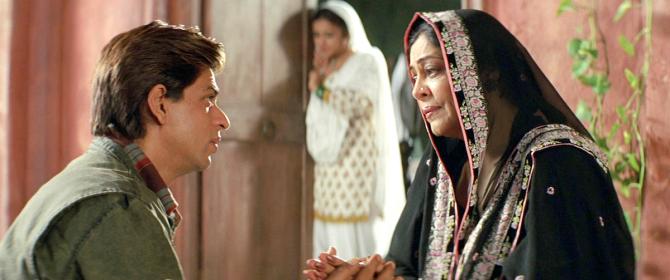 A mother is mother no matter where she hails from, India or Pakistan. And with that one sweeping sentiment, SRK had Kirron Kher and all the mummies of the world eating out of his palm.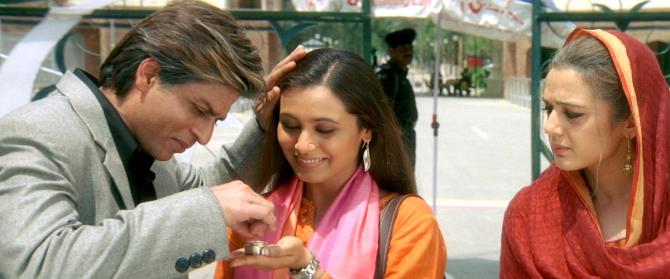 If young SRK impresses the elderly, older SRK finds an ardent supporter in Rani Mukerji's rookie lawyer as she fights tooth and nail in the courtroom to realise his cross-border romance with Preity Zinta 22 years later. Young or old, SRK's noble behaviour and gentlemanly disposition remains unchanged.
Paheli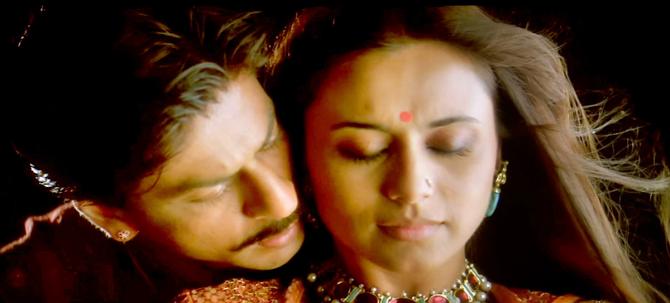 Even a spirit played by SRK is more evolved than a flesh and blood person.
Catch a dazzling demonstration of it in the caring, compassionate soul taking the physical form of Rani Mukerji's otherwise dull, money-minded husband in his home-production Paheli, which focuses on a woman's emancipation.
Rab Ne Bana Di Jodi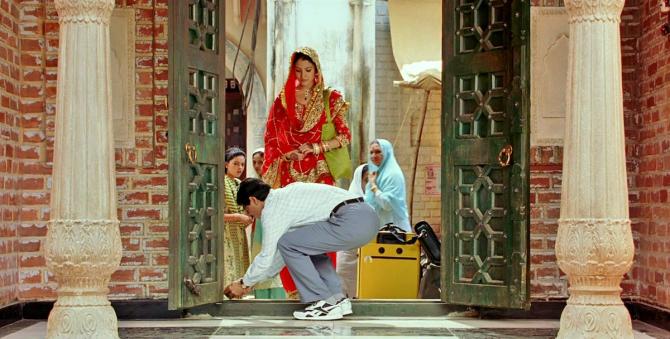 Boring officegoer Suri transforming into flamboyant dancer Raj to make his young wife Anushka Sharma feel like she's living her own larger-than-life romantic movie unlocks new levels in grand gestures.
Scene stealing SRK ensures husbands pull up their socks and wives don't care about the lack of logic in the premise even for a second.
Dear Zindagi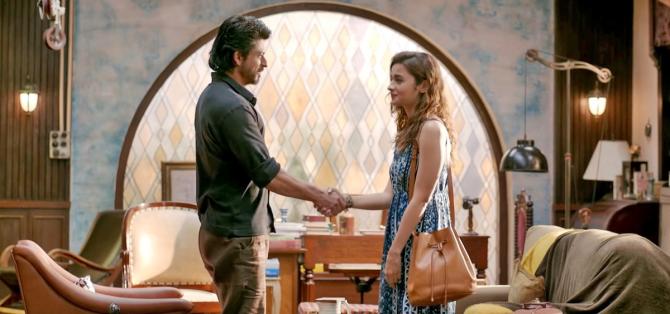 Sporting cool casuals linens and a stubble beard, sharing fun gyaan with a twinkle in his eye and mischief in his smile, SRK spewing wisdom is such an easy-going and comforting scenario, it's not just Alia Bhatt who wishes the sessions would never end.
Saathiya, Ae Dil Hai Mushkil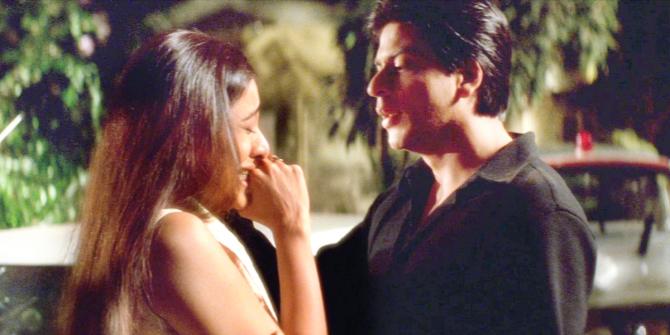 Shah Rukh Khan's special appearances are no less meaningful.
Be it the supportive, sensitive husband willing to take the fall for his wife's mistake in a road accident in Saathiya...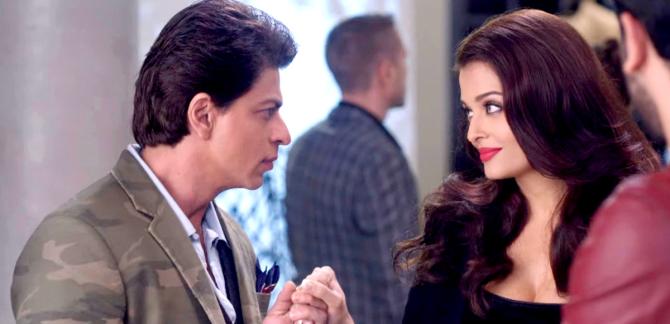 ...Or the ex who doesn't need to be in a marriage to cherish his former wife with all his passion, SRK is the very definition of a better half.
Pathaan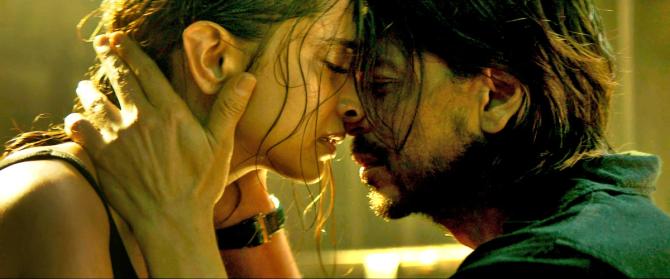 A macho-looking action movie where the women command as much agency and authority is right up SRK's alley. His charismatic rapport with his smart, sassy boss Dimple Kapadia underscores their intense connection and his fondness for his foster Pathaan mother (Nikhat Khan) gives a glimpse into his emotionality.
Scorching chemistry with Deepika Padukone is one thing, but it's the humanity in his approach that believes her integrity before her nationality that lends their equation its heart.