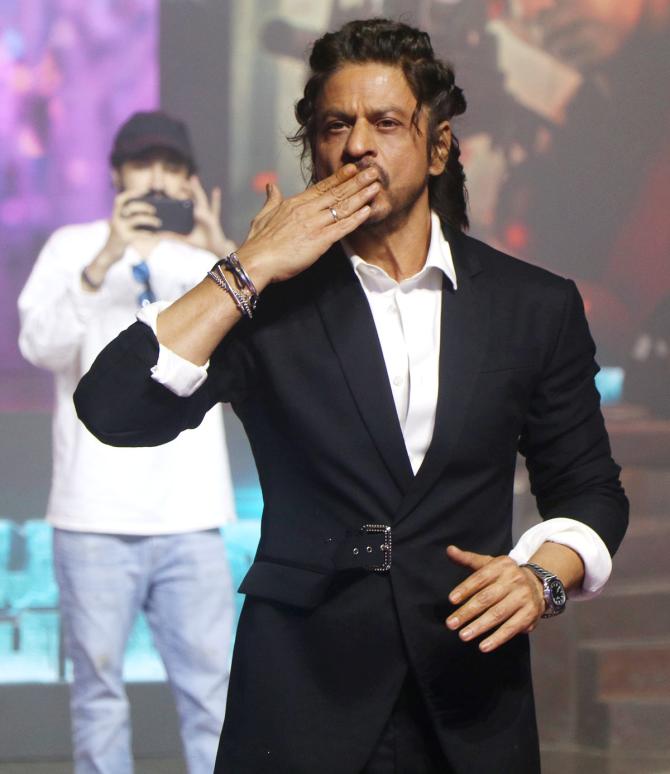 Shah Rukh Khan, whose fame and popularity often seems as vast as the universe, is the man of the hour.
His latest film Jawan has taken the box office by storm and to celebrate the riotous success of the action thriller film, the team organised a mega event at Yash Raj Studios in Mumbai.
Shah Rukh, Deepika Padukone, Vijay Sethupathi, Sanya Malhotra and other cast and crew of the film attended it. Nayanthara, who makes her Bollywood debut with Jawan, could not be a part of the celebrations.
Nayanthara, SRK explains, was celebrating her mother Omana Kurian's birthday in Chennai. He wished Omana by singing Happy Birthday amid loud cheers from the crowd.
Rediff.com Contributor Mohnish Singh gives us an inside view while Hitesh Harishinghani/Rediff.com and Afsar Dayatar/Rediff.com gives us lovely clips and visuals from the event.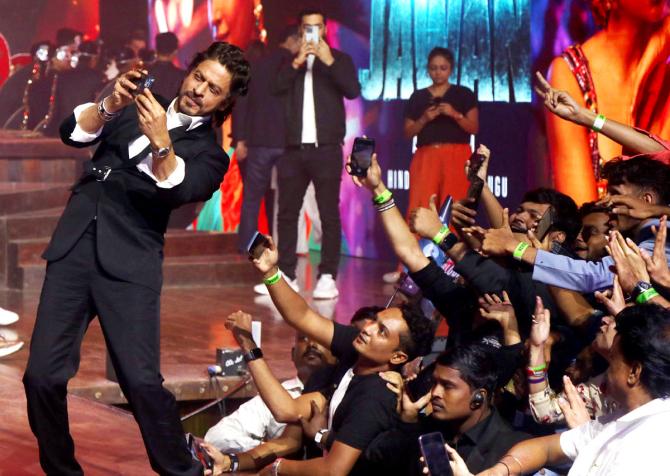 Shah Rukh marched onto the stage amid cheers and whistles from the media and hundreds of his fans.
"People who have come here today have very little time, so let me talk for two minutes and then we can shout, whistle and scream. There are a lot of reasons to do it. Biggest thank you to the press here, thank you fans," Shah Rukh said.
"Very seldom do we get this opportunity to live so many years with a film. Jawan has been in the making for four years because of COVID and time constraints. There were so many people involved in this film, especially people from the South, who came and shifted to Mumbai and have been living here for the last four years, working day and night for this film."
"They have worked the hardest. Many people didn't go home, they were here to make the film. Some people even had babies here, like my director Atlee," he adds.
"Atlee and I had a fight. Whenever I do a good shot, I'm class, you're mass," Shah Rukh, referring to the kind of films he and Atlee make. "So whenever I thought I've done a cool shot, he'll say, nooo."
Watch the video to hear how SRK tried to 'please' Atlee.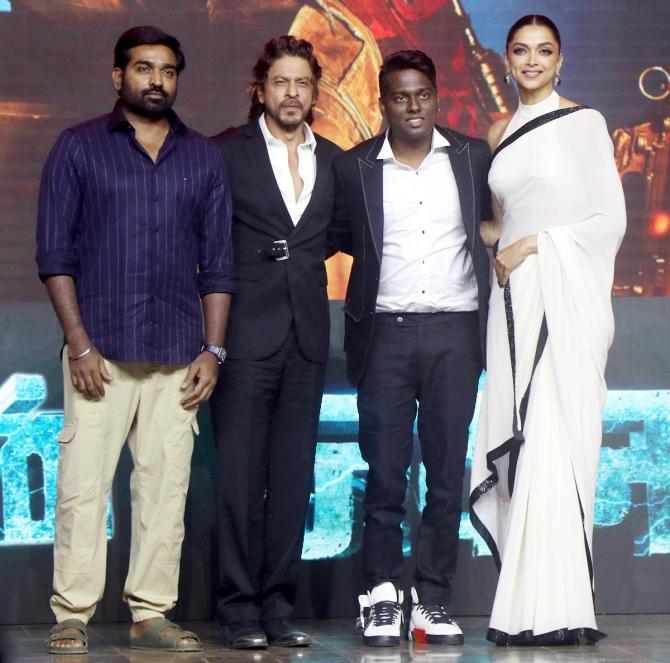 Shah Rukh wore a customised black jacket and trousers, complimented by a crisp white shirt.
He thanked his frequent co-star Deepika Padukone, Vijay Sethupathi, Sunil Grover and, of course, the gang of six girls, played by Priyamani, Sanya Malhotra, Lehar Khan, Girija Oak Godbole, Sanjeeta Bhattacharya and Aaliyah Qureishi.
"Deepika Padukone is stunning. All the ladies in the film are beautiful. Vijay Sethupathi is outstanding. Sunil Grover is amazing. And I am just great," SRK says.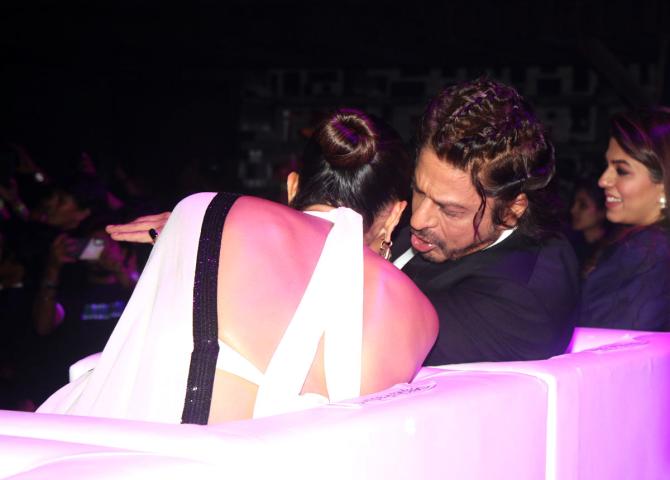 SRK says the thought of approaching Deepika to play his mother in Jawan came when the two were shooting for Pathaan's song Besharam Rang.
He reveals he simply asked if she would be ready to do a mother's role.
The superstar adds that the team told her that it would be a special appearance but they tricked her into shooting a full-fledged character.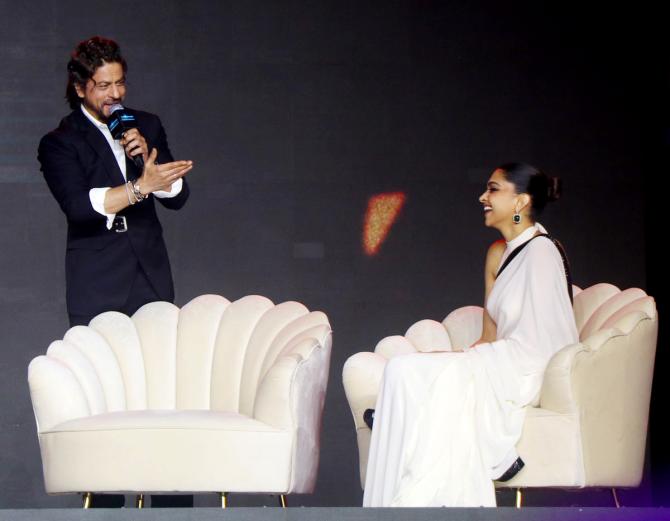 Deepika was shooting for Project K in Hyderabad when SRK and Atlee flew down to see her and narrate her role. She says the length of her character did not matter, but the impact her role created was huge.
Deepika sported a classy white on white look, a halter neck backless blouse paired with a sari with black sequin details on the edge by her favourite designer Sabyasachi.
She completed the look with smoky eyes and a high bun, with statement emerald ear studs.
Before wrapping up the event, Shah Rukh, Deepika, Vijay, Atlee, Sunil Grover, Sanya, Ridhi Dogra and the other actor mesmerised folks with a live dance performance of the film's hit song Chaleya.