'Ours is the only country which is very loyal to cinema, so making big bucks is a realistic possibility.'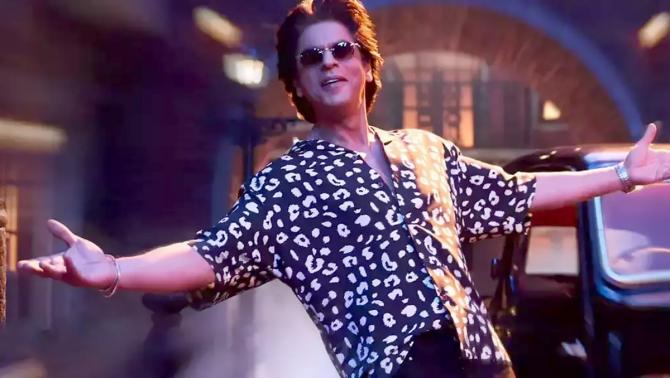 In 2015, when Rohit Shetty's Dilwale was about to release, when films would make it to the Rs 100 Crore Club, its leading man Shah Rukh Khan had 'predicted' that soon, even Rs 200 crore would be passé.
It was time, SRK said then, to aim for Rs 300 crore, Rs 500 crore.
"Rs 1,000 crore (Rs 10 billion) is closer than you could imagine," Shah Rukh had told Rediff.com Contributor Joginder Tuteja.
With Jawan all set to enter the Rs 500 Crore Club and even go past it, the onus is on Shah Rukh to raise the bar higher with his next film, Rajkumar Hirani's Dunki.
On more audiences watching a film
I think Rs 1,000 crore is closer than you could imagine.
Best case estimate, 10 crore people watch films.
Films like Baahubali, Bajrangi Bhaijaan and PK did really well and got 10 crore eyeballs.
Inme se kuch repeat audience bhi hogi par chalo, tab bhi 10 crore maan lete hain. Ab hamaari country ki population dekho... we are a country of 125 crore people.
The best business takes place in a two-week time frame.
Ab picturein chheh-aath hafte toh chalti nahi. Do hafte mein zyaada se zyaada revenue aa jaata hai aur uske baad thodi bahot chalti rehti hain. There is scope for more.
The solution
Once you have theatres near you, it will automatically entice you to watch films there.
There are at least 100 crore people who are not watching film in theatres. So let's say ki hamein aaj ki collections double karne ke liye sirf 10 crore log aur chahiye.
This means targeting just 10 per cent more people to step out of their houses.
Woh agar kar lein toh Rs 300 crore-Rs 400 crore (Rs 3 billion to Rs 4 billion) aur hai picture ke revenue mein jodne ke liye.
As theatres increase and as they reach out to more B, B+ and C-tier cities, business will naturally increase. Agar filmein bhi badi ho, toh yeh possibility hai.
Getting more screens
Aaj India mein bhi Hollywood films kitna achcha kar rahi hain. Rs 40 crore-Rs 50 crore (Rs 400 million-Rs 500 million) toh araam se aa rahe hain.
Ours is the only country which is very loyal to cinema, so making big bucks is a realistic possibility.
Whenever we manage to get a long-running film and there is a free run to that as well, we will gain very good numbers.
I think teen-chaar saal ki baat aur hai and we would have a realistic shot of doing the kind of numbers which sound unrealistic today.
I hear that har saal 40-50 naye theatres aur ban rahe hain. Aaj hamaare paas 5,000 screens hain. Do-teen saal mein 1,000 screens aur hongi.
Rs 1,000 crore, here we come!
The business of films is growing manifold in China. I recently met a Chinese distributor and asked him ki wahaan par ek badi Hollywood ya Chinese film kitna kar leti hai?
He said, 'To the tune of Rs 2,000 crore (Rs 20 billion).'
Ab agar hum apni population ko dekhein, toh we are not far behind China.
If we are able to create theatres, then Rs 1,000 crore is a definite possibility.