Siva Sankar looks at S P Balasubrahmanyam's fantastic repertoire.
S P Balasubrahmanyam passed away in his 75th year, and so we celebrate the singer with 75 of his top songs, in a multi-part special.
Besides my infinite respect and admiration for Balu, some of the key factors that informed my selection are:
1. Popularity quotient (inner joy experienced by music-lovers as reflected in LP record /cassette sales, repeat broadcasts, bathroom humming, public and media acclaim, or number of uploads, downloads and shares);
2. Rendition (singer's application of talent to do full justice to the 'spirit' of the lyric and the music);
3. Impact (on the mind, the market and the filmmaker/choreographer who picturised the song);
4. Memorability;
5. Inventiveness, and
6. Recall effect (ability of the first few notes of a song to retrieve the entire related memory file and replay the number in the head, re-activating associated neural nodes and memories embedded therein).
I have chosen only one song, my favourite, from each of the movies listed below, although many of these films have multiple superhit, unforgettable numbers.
The overall compilation should serve to highlight the amazing range of Balu's songs, his fantastic repertoire.
1. Omkara Naadanu, Sankarabharanam, 1980
Picturised on J V Somayajulu.
Lyric: Veturi Sundararama Murthy.
Music: K V Mahadevan.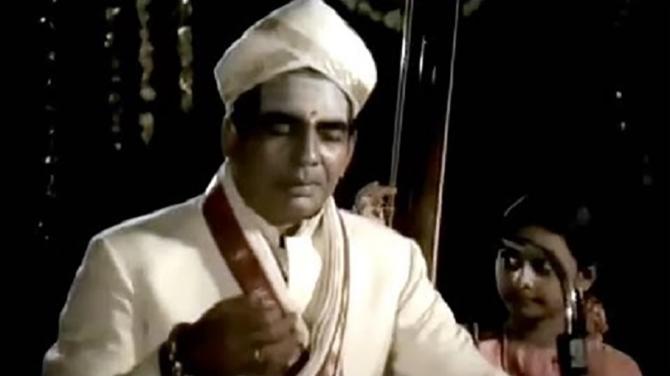 On-screen scenario: Classical soulful solo by an orthodox, ageing singer rendered at a concert.
If Ghantasaala had Sivasankari Sivanandalahari that could melt rocks and give goosebumps, Balu's award-winning number -- the first of his six numbers that won the National Award for best male playback singer -- is of the inner god, for the god up above, by the god in between.
My oldest nephew, when he was just two, would wake up sometimes in the night and bawl for apparently no reason, and demand that the 'Om' song be played on the tape-recorder! Nothing else, not even warm formula milk, would pacify him.
And once the boy had his fill of the song, he would magically slip back into his sleep.
Go figure the magic and mystery of Balu's voice and the classical raagas harnessed by composer Mahadevan (or "Maama", incidentally the finest of the excavators who mined the gold of Balu's singing prowess).
2. Charana Kinkinulu (Aadavay Mayuri), Chelleli Kapuram, 1973
Picturised on Sobhan Babu and Vanisri.
Lyric: C Narayana Reddy.
Music: K V Mahadevan.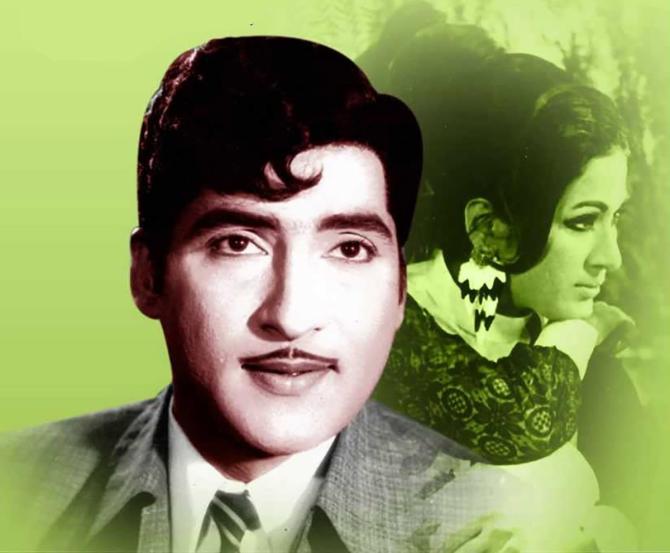 On-screen scenario: A struggling male poet whose works are rejected by publishers because he is dark-skinned, duels with a fair-skinned female classical dancer (and his admirer) in a public contest involving impromptu poetry to match what is portrayed through her dance on the stage, and vice-versa -- and he comes up trumps, to tremendous applause.
This song is a testament to the limits to which a language can be stretched to embody meanings and emotions that are best experienced and savoured in mind.
But with a supremely confident, in-the-zone Balu at the microphone, and a magical Mahadevan wielding the baton, Reddy's utterly crazy, tongue-twisting lyric, which appears impossible even to read in print, leave alone understand, gathers dimensions of electrifying, energizing, spellbinding beauty.
Don't take my word for it. Check it out on YouTube or music sites.
3. Kadilindi Karuna Radham, Karunamayudu, 1978
Picturised on Vijaya Chander.
Lyric: Modukuri Johnson.
Music: Joseph Krishna and Boddu Gopalam.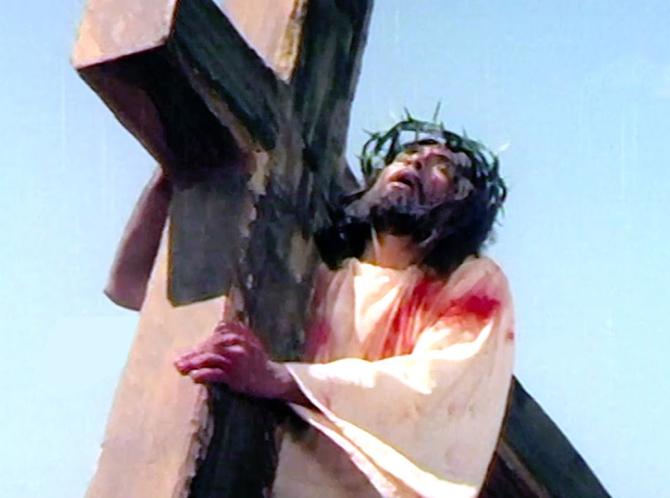 On-screen scenario: The crucifixion of Jesus of Nazareth.
Rich with gospel tunes fused with Indian raagas and laced with chaste Telugu, this pathos-filled long number unfolds like a tumultuous river in full spate, leaving the heart in knots, lacrimal glands overworked, and the mind pondering about the mystery, darkness and greatness of life in human form.
4. Prati Raatri Vasanta Raatri, Ekaveera, 1969
Picturised on N T Rama Rao, Kantha Rao and K R Vijaya.
Lyric: Devulapalli Krishnasastri.
Music: K V Mahadevan and Puhalendi.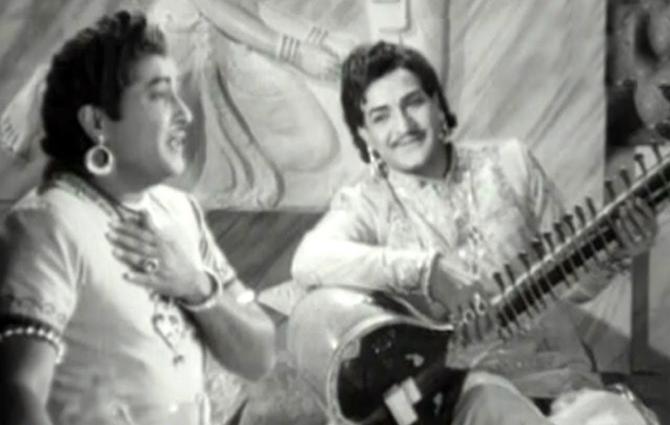 On-screen scenario: Two bosom pals engage in a sort of jugalbandi, musing about the same romantic muse.
Besides the superb lyric and memorable music, this is an alloy of platinum and titanium, in terms of sentimental value as it's a rare all-male duet featuring Ghantasala and Balu.
Imagine Gavaskar and Tendulkar playing in the same Test innings at both ends and slamming double hundreds. Heaven!
5. Vidhata Thalapuna, Sirivennela, 1986
Picturised on Sarvadaman Banerjee
Lyric: Sitarama Sastry
Music: K V Mahadevan.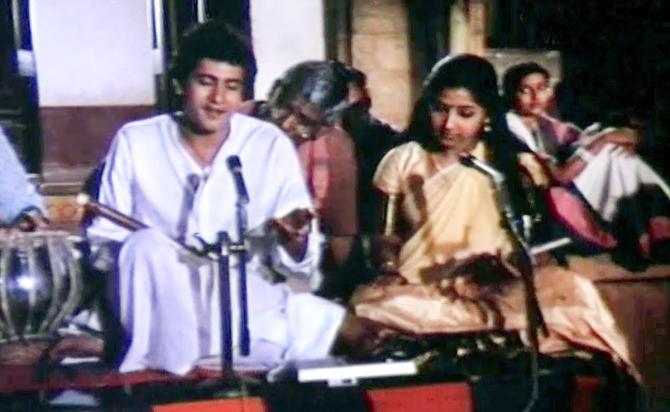 On-screen scenario: A blind singer-flautist expounds on cosmic truths through a melodious song rendered at a concert
Ilaiyaraaja's star, and the magic of his lilting, rustic, nature-harnessing tunes, were rising after the runaway 1983 hits of Saagara Sangamam.
Meanwhile, an ageing Mahadevan was staring at retirement.
Yet, filmmaker K Viswanath swung back to Maama, maybe because Ilayaraaja was busy scoring for his Swathi Muthyam released months apart in the same year. And Balu, it seems in retrospect, wanted to offer everything he had in guru dakshina before it is too late.
Hariprasad Chaurasia's flute, Sitarama Sastry's pure Telugu lyric and Balu's (and Suseela's) unforgettable rendition all make this Mahadevan composition the connoisseur's treasure and the common man's delight at the same time.
6. Ooru Manadira, Erra Sainyam, 1994
Picturised on Narayana Murthy and villagers.
Lyric: Yadagiri and Anjayya.
Music: Vandemataram Srinivas.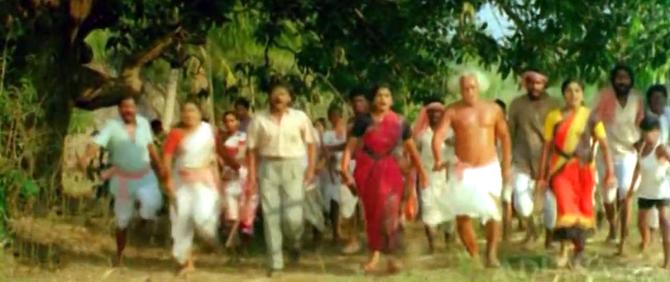 On-screen scenario: Led by a revolutionary, an entire oppressed village erupts in rage and rebellion against the local feudal lords and heartless, exploitative landed gentry.
Balu demonstrates how to sing an over-the-top, high-octane number in a local dialect without trivialising the underlying cause or socioeconomic problem, without glamorising violent retribution, or without glorifying empty hot air.
7. Baba Sai Baba, Sri Shirdi Sai Baba Mahatyam, 1986
Picturised on Chandra Mohan.
Lyric: Aathreya.
Music: Ilaiyaraaja.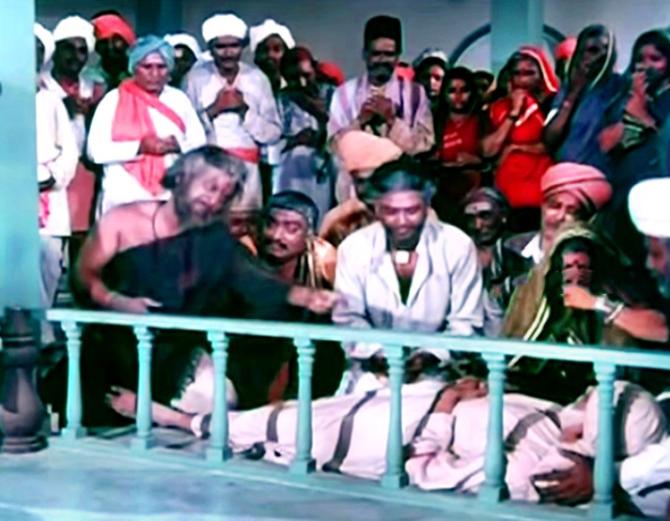 On-screen scenario: A bereaved, in-denial devotee's angry, mad outburst to make a dead saint return to life.
This is a highly charged emotional rendition that leaves you suspecting if the singer had allowed himself the sinful luxury of letting personal feelings mix and mingle with those of the on-screen character, and yet used the instinct of a genius to ensure this explosive transgression is not noticed by many.
Or is it just the genius of Ilaiyaraaja that unleashed the devotee in Balu?
8. Naadha Vinodamu, Saagara Sangamam, 1983
Picturised on Kamal Haasan.
Lyric: Veturi.
Music: Ilaiyaraaja.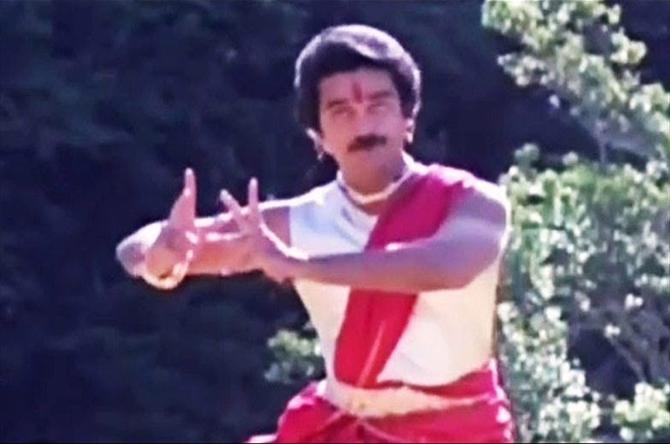 On-screen scenario: Daydream/fantasy of an up-and-coming Indian classical dancer exuberant at the first flush of success.
The breakout song marked the solidification of the Ilaiyaraaja-Balu bond that was to produce sheer bliss for several more years, besides sparking renewed interest in dance, music and singing across South India.
It was a relatively happy period for India that was coasting on the glad tidings brought by the 1983 cricket World Cup win.
9. Krushi Vunte Manushulu, Adavi Ramudu, 1977
Picturised on N T Rama Rao and tribal people in a forest area.
Lyric: Veturi Sundarama Murthy.
Music: K V Mahadevan.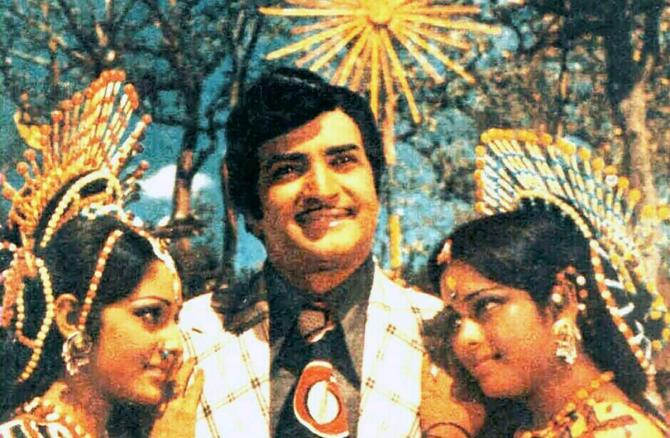 On-screen scenario: Invoking examples from mythology, a city-bred young man inspires rural folk to believe in themselves, in their innate potential to evolve to greatness through hard and smart work.
This is an evergreen favourite that even the millennials could relate to.
10. Jananee Janma Bhoomischa, Bobbili Puli, 1982
Picturised on N T Rama Rao as an army team leader motivating his soldier colleagues.
Lyric: Dasari Narayana Rao.
Music: J V Raghavulu.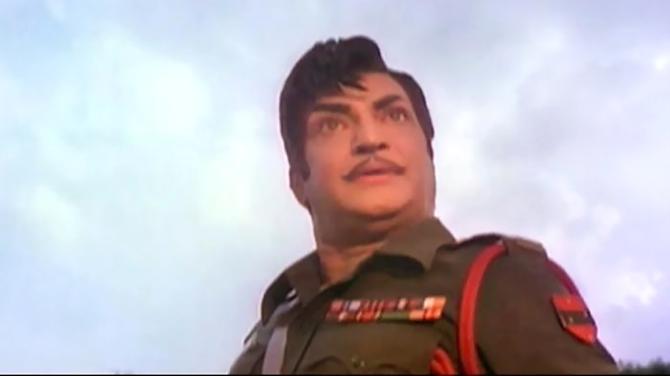 On-screen scenario: A bereaved captain stays put on the battleground and inspires his team to give top priority to serving motherland at all times.
Emitting the right amount of emotion, Balu's persuasive voice makes a quixotic Lyric not only acceptable and plausible but timeless, as borne out by the fact that the song continues to be played on loudspeakers at I-Day and R-Day neighbourhood events every year (just as Ghantasala's Bhagavad Gita is dished out during state mourning).
11. Ye Divilo Virisina, Kanne Vayasu, 1973
Picturised on Laxmikanth, MP Prasad and Roja Ramani.
Lyric: Dasaradhi
Music: Satyam.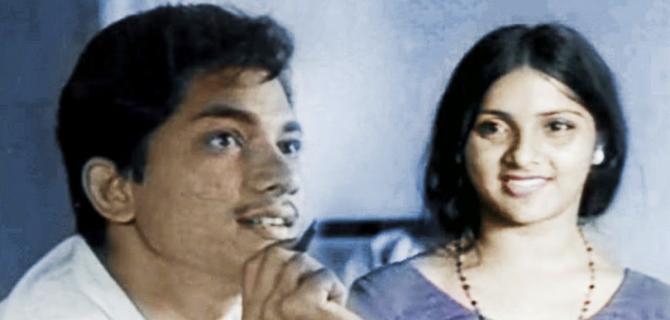 On-screen scenario: A young man in a town muses and waxes eloquent about his love, a beautiful girl in her late teens, while his friend admires the beauty of the song.
More than the picturisation, the sheer sweetness of lyrical poetry as sung by Gaana Gandharva and set to a memorable tune by Satyam, make this melody a shoo-in for any top SPB songs list.
12. Saagara Sangamame, Sitakokachiluka, 1981
Picturised on Murali/Karthik and Muchherla Aruna
Lyric: Veturi Sundararama Murthy
Music: Ilaiyaraaja.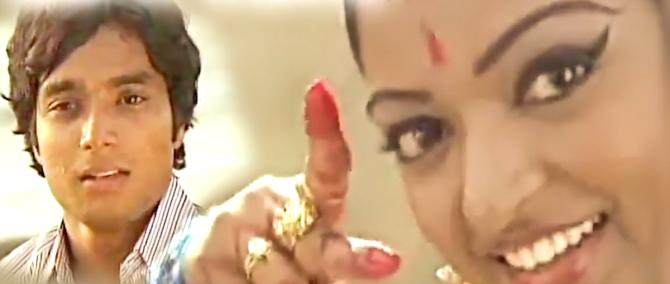 On-screen scenario: A young Hindu guy and a young Christian girl at odds with each other finally reconcile to their blossoming love overcoming even societal odds
Full of memorable raagas, Balu and Vani Jayaram's duet celebrates love's ability to transcend socioeconomic and religious hurdles and empower humans to live and fly lightly, like butterflies.
13. Rama Kanavemira, Swathi Muthyam, 1986
Picturised on Kamal Hasan
Lyric: Aathreya
Music: Ilaiyaraaja.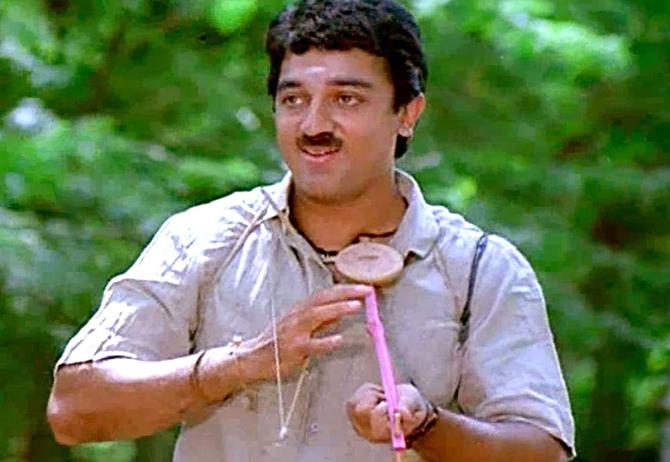 On-screen scenario: Oral portrayal of Sita and Ram's swayamvar and wedding
The entire album gives full play to Balu's range and versatility, but this number stands out as it is a seamless medley of the traditional Music forms of yesteryear communities, like harikatha, burrakatha, kolatam and other folk genres.
You don't have to turn to YouTube.
The audio track (Balu's rendition of the evocative lyric) is enough to recreate richer imagery in mind, subliminally extolling social reforms like widow remarriage.
14 Akhilandeswari, Saptapadi, 1981
Picturised on Sabita.
Lyric: Veturi Sundararama Murthy.
Music: K V Mahadevan.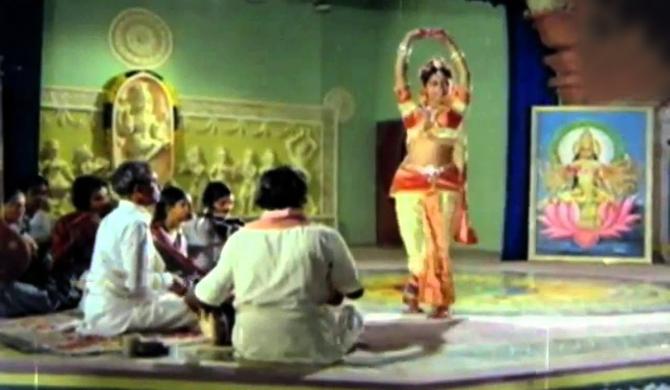 On-screen scenario: Kuchipudi dance performance in front of a whole village that is trying to rise out of orthodoxy, conservatism, dogmas, patriarchy and male chauvinism.
The paean-hymn delineates the cosmic power (shakti) manifest in the female Holy Trinity (Parvati-Lakshmi-Saraswati), and the male voice of Balu provides the perfect foil to Suseela's, taking the mind on a tour of subtle aspects of spiritual energy.
15. Ani Devatalu Sivuni Koniyaada (KiratArjuneeyam), Bhakta Kannappa, 1976
Picturised on Krishnam Raju and Balayya.
Lyric: Aarudra.
Music: Satyam.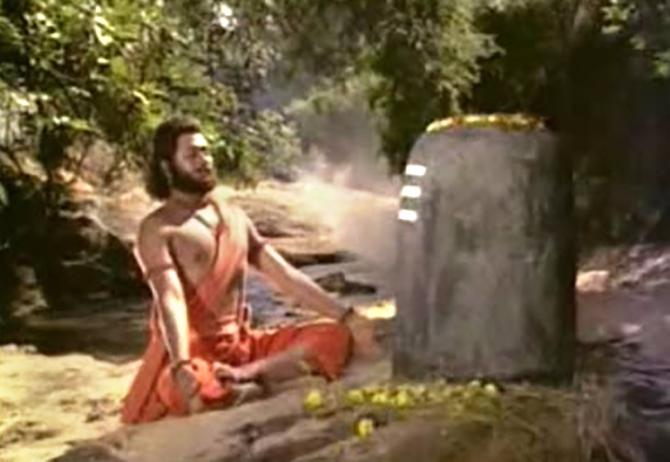 On-screen scenario: Arjuna's penance for Pasupataastra and subsequent squaring up to Lord Siva.
It's a rollicking, rolling number that is a paean, hymn, song, and poem all rolled into one, narrating a mythological story with all its emotional lows and highs and crescendo -- a musical genre that Balu excelled at.
16. Sivaranjani Navaragini, Thoorpu-Padamara, 1976
Picturised on Narasimha Raju and Srividya.
Lyric: C Narayana Reddy.
Music: Ramesh Naidu.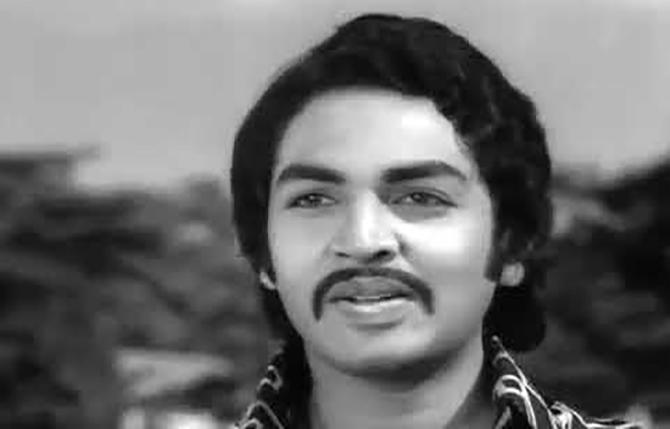 On-screen scenario: A violent, impetuous young man suddenly finds drawn romantically to a much older woman, and expresses his love in an extravagant paean.
The solo confirms Balu's ability to switch gears despite hectic schedules, whenever he has an inkling that a terrific Lyric and top-class composition are going to make for an evergreen hit as long as he is able get into the zone and sings from that deep place in the heart which produces magic.
17. Abhinava Taaravo, Sivaranjani, 1978
Picturised on Jayasudha and Hari Prasad.
Lyric: C Narayana Reddy.
Music: Ramesh Naidu.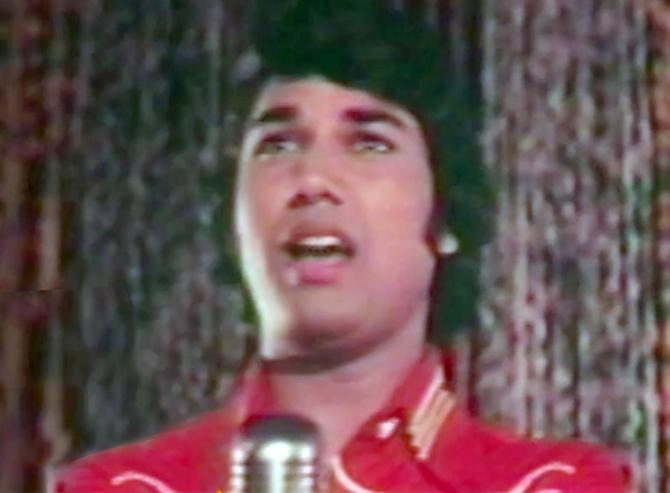 On-screen scenario: A young male fan of a star actress goes gaga over her.
Like Sivaranjani Navaragini, this song is proof that when a filmmaker (Dasari Narayana Rao) trusts and gives functional autonomy to lyricists, singers and music composers, they will likely bond as a solid team, and create sheer magic.
18. Mere Jeevan Saathi Pyaar Kiya Jaai, Ek Duuje Ke Liye, 1981
Picturised on Kamal Haasan and Rati Agnihotri.
Lyric: Anand Bakshi.
Music: Laxmikant-Pyarelal.

On-screen scenario: A Tamil young man tries to impress the Punjabi girl he has fallen for with his funny mastery of Hindi.
The movie was made/re-made in multiple languages. Balu reproduced the energy and spirit of the fun song (as well as other numbers) in multiple languages, although the tune and lyrics were different.
19. Tumse Milne Ki Tamanna Hai , Saajan, 1991
Picturised on Salman Khan and Laxmikant Berde.
Lyric: Sameer.
Music: Nadeem-Shravan.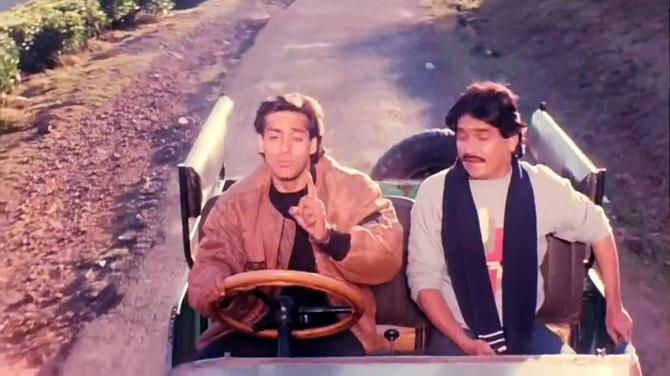 On-screen scenario: A young man and his pal ride a jeep with the impatient former exuberantly pining for his beloved.
The breezy, rolling solo sounds more energetic and pacy than it really is, thanks to both Balu's vocal 'special effects' reserved for Salman Khan and Nadeem-Shravan's undulating tune.
20. Sirimalle Neeve, Pantulamma, 1977
Picturised on Ranganath and Lakshmi.
Lyric: Veturi Sundararama Murthy.
Music: Rajan-Nagendra.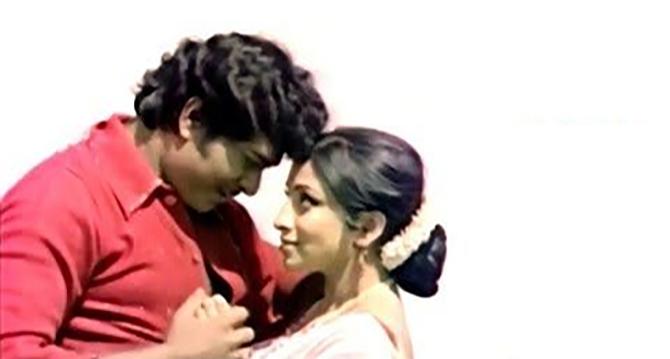 On-screen scenario: Romantic solo with the widower hero in gentlemanly mode, with minimal physical contact with his second love in life, admiring her beauty mostly from a distance, amid a lush bucolic outdoor setting of hills and slopes that look more like English countryside than South India.
The sweetness of gentle music, poetic lyric and mellifluous voice that stands out during in-between-lines raagas make this an all-time favourite.
21. Ee Reyi Theeyanidhi, Chitti Chellelu, 1970
Picturised on Haranath and Vanisri.
Lyric: C Narayana Reddy.
Music: S Rajeswara Rao.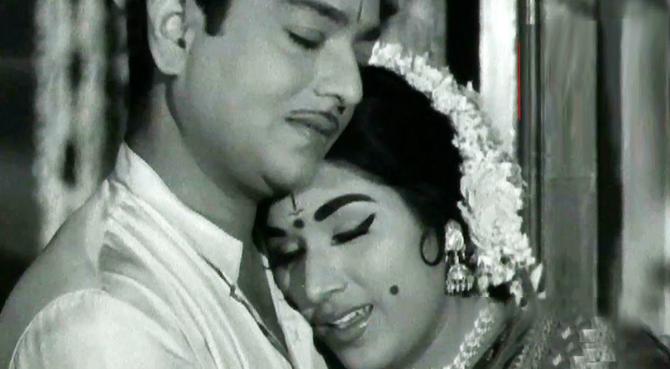 On-screen scenario: A wedding night song, a duet sung by the newlyweds.
While Reddy's euphemism-rich lyric filters out all carnal connotations, Balu and Suseela's voices impart a touch of the sublime to the implied 'sweet' consummation and start to a new, wedded life ('happy married life' in Indian parlance).
If you factor in that those were the days when premarital promiscuousness was unknown to the Indian collective consciousness, you could argue songs like this may have inspired many to take the marital plunge, thereby conforming to cultural injunctions and helping keep the social order of the age.
22. Tholi Sanja Velalo, Seetha Ramulu, 1980
Picturised on Krishnam Raju and Jaya Prada
Lyric: Veturi
Music: Satyam.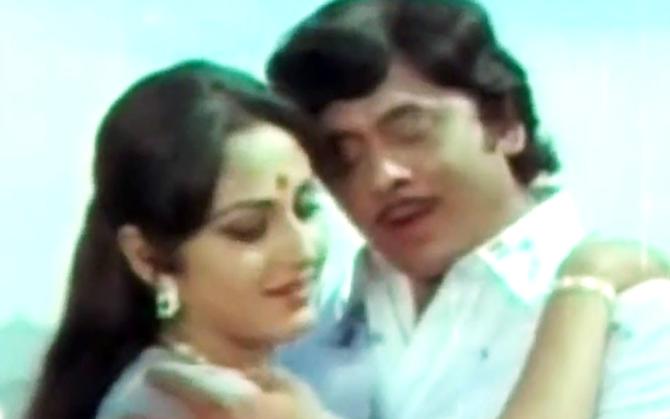 On-screen scenario: The film's 'hero' strolls across the beach at sunrise and breaks into a song full of metaphors linking sea waves, raagas and their hidden philosophy of life
Whatever be the mood of the listener, this soothing, simple, memorable melody -- hallmark of Satyam's musical scores, which seem to become complete when Balu's voice is added -- at once restores a gentle equilibrium or equanimity to the state of (Telugu) mind.
23. Vedam La Ghoshinche Godavari, Andhra Kesari, 1983
Picturised on the Godavari River and the city of Rajahmundry (Raja Mahendri)
Lyric: Acharya Aathreya
Music: Satyam.


On-screen scenario: A boat ride on the river with shots of the historical city on its banks.
A very different song in the sense that it is not about love, tragedy, comedy or philosophy but about the pride of then united Andhra Pradesh state, its great history and heritage, its valorous kings, rich culture, arts and traditions, described using the city and its mighty, sacred river as metaphors.
Sung in a serious, formal, pride-evoking tone, the song presumably remains very close to every Telugu's heart.
24. Kurisindi Vaana Naa Gundelona, Bulemma Bullodu, 1972
Picturised on Chalam and Vijayalalita
Lyric: Rajasri
Music: Satyam.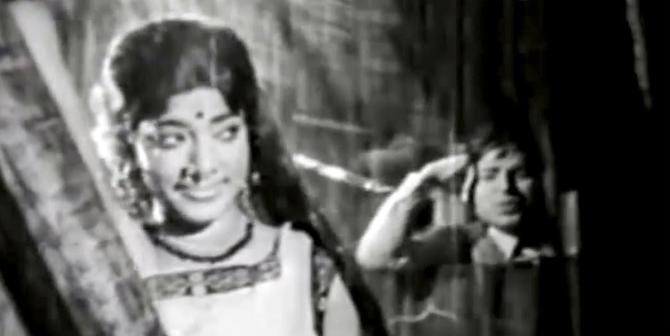 On-screen scenario: Romance in the rain.
This is one of the several gems that Balu sang for Chalam who is also known as Andhra's Dilip Kumar.
There is rain; there are rain-soaked bodies of boy and girl; there is lyric that is suggestive in a nice way; there is bonfire; there is skin. But the hero and the heroine come into physical contact just for a few seconds.
When you watch/listen to this song, thoughts of sleaze do not enter the mind. Instead, the mind tends to savour the sanctity and sweetness of love.
It's not just the lyric or music. It's the sense of purity that Balu's young voice in this duet with Suseela embodies and conveys -- and it may have inspired the choreographer and filmmaker to stay true to the spirit of the song.
25. Maavi Chiguru Thinagaanay, Seethamaalakshmi, 1978
Picturised on Chandra Mohan, Talluri Rameswari and Vankayala
Lyric: Devulapalli Venkata Krishna Sastry
Music: K V Mahadevan.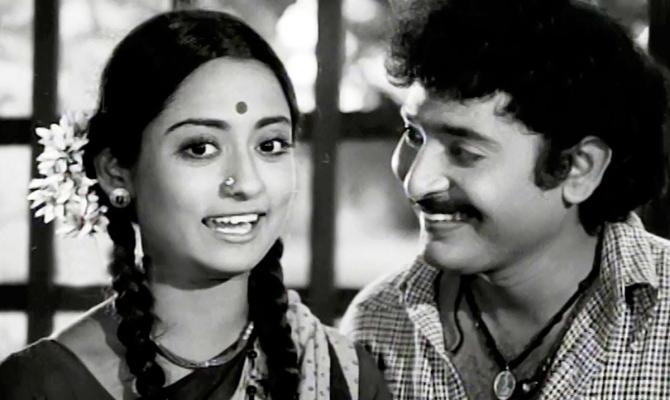 On-screen scenario: Two villagers in love learn to sing under the tutelage of a railway station master, and break into a duet in bucolic milieu
A romantic duet with an eminently hummable tune, the melodious number's Lyric delves into the mysteries of cause and effect in Nature and, by extension, life, and subliminally seems to wonder if there is a cause-effect equation underlying anything that is of meaning or consequence in life at all, like, say, love. You won't 'get it' if you pay attention to, or analyse, the words at a superficial level.
But if you just allow yourself to flow or 'swing' with the smooth voices of Balu and Suseela, there is high chance you'll get it -- the interconnected, constantly evolving tapestry of the matrix that is life.
It's amazing how Balu uses two distinctly different voices in the same number, one for Vankayala and the other for Chandra Mohan.