'I've never allowed success to go to my head.'
'I've seen many artistes fall because of their pride.'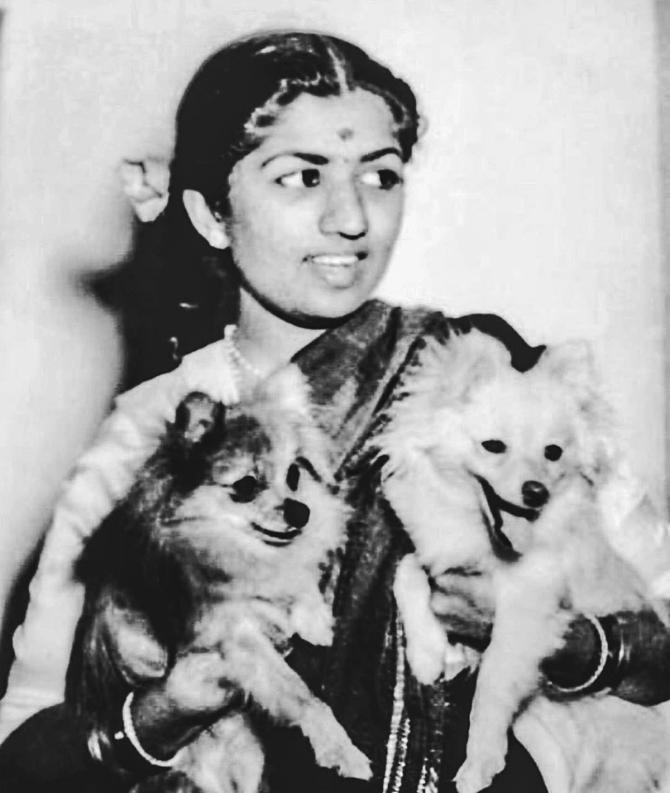 One week ago, at 8.12 am on February 6, the Incomparable Lata Mangeshkar passed into the ages.
Despite her unique talent and super success, she remained humble and modest until the end.
"I can't believe I've been tolerated by music lovers for 75 years!" she exclaimed to Subhash K Jha on her 91st birthday in September 2020.
Lataji, when you look back at your astonishing career, how do you feel?
Mujhe ashcharya hota hai ke logon ne mujhe itne dinon tak kaise bardhasht kiya hai! (I'm surprised that people have tolerated me for so many years!)
I can't believe I've been tolerated by music lovers for 75 years!
Without their love and loyalty, I'd be nothing.
I've never allowed success to go to my head.
I've seen many artistes fall because of their pride.
I've persuaded myself to stay humble and grounded. God has been very kind to me.
Even my substandard songs have been accepted by my listeners.
The blessings of my parents and the love of my listeners are what has kept me going.
Many of us believe there never was and there will be another Lata Mangeshkar.
I have to disagree with you. There have been many talented singers before and after me.
Comparable with you?
Yes, why not?
Noor Jehanji, Shamshad Begumji and Geeta Duttji before me, my sister Asha (Bhosle)... were all extremely talented.
Among the current voices, I like Alka Yagnik, Shreya Ghosal and Sunidhi Chauhan.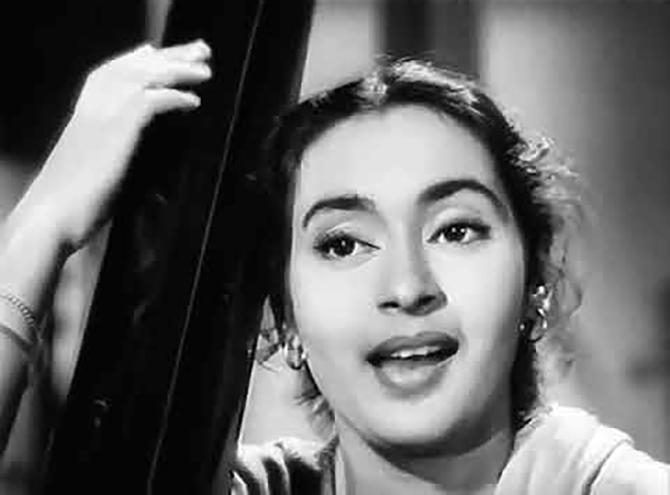 I have a question for you from Mrs Jaya Bachchan, who idolises you. Which actress do you feel did the optimum justice to your voice on screen?
That's a tough one.
Each heroine -- from Madhubala and Meena Kumari to Sridevi and Madhuri Dixit -- brought something special to my songs.
But if you insist on one heroine, I'd have to go with Nutan.
She was a singer herself.
When she emoted to my songs on screen, she actually sang along.
The way she has performed my song Mann Mohana Bade Jhothe (Seema) is exemplary.
Jaya Bachchanji is also one of my favourites. I think the way she emoted to my song Bahon Mein Chale Aao (Anamika) added a lot to the song's popularity.
Who are your favourite heroines?
Hema Malini has always been a favourite.
I was very close to Nargis and Meena Kumari.
Meenaji and I would chat endlessly. She loved the length of my hair. It used to reach the floor back then.
I also like Pooja Bhatt a lot. Does she act any more?
Do you watch films at home these days?
After my illness, the doctors have severely curtailed my activities, including movie-watching.
Nowadays, I don't watch much television except CID and Adaalat, which have been my favourites for years.
Do you listen to your own songs?
Never! I never listen to my songs.
If I did, I'd find a hundred mistakes in my singing.
Even in the past, once I finished recording a song, I was done with it.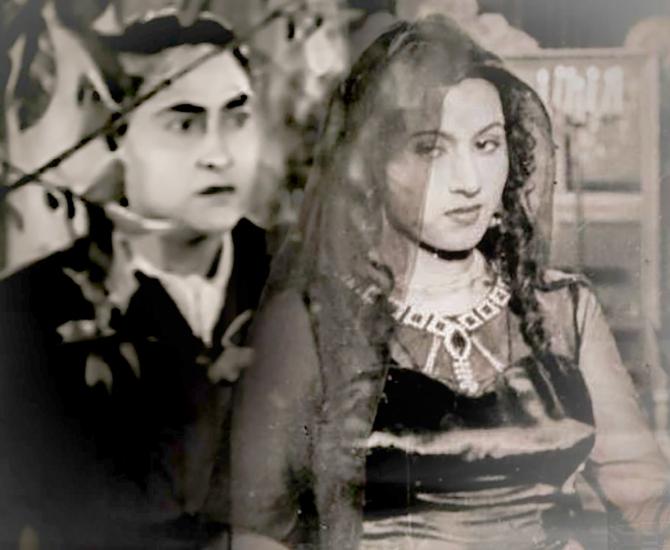 Offhand, which have been your career-making songs?
Aayega Aanewala in Mahal (1949) was the turning point in my career.
Then I'd say Pyar Kiya Toh Darna Kya in Mughal-e-Azam.
Audiences would throw coins on the screen when that song came on.
There have been many important songs in my career, too many to mention.
I am very fond of my album of Meera bhajans, Chale Vahe Des, for which my brother Hridaynath composed the music.
Also, the album Sajda for which I teamed up with Jagjit Singh.
Who among your composers was the toughest taskmaster?
Sajjad Husain. Sajjadsaab's songs would often make me apprehensive.
I'd wonder if I'd be able to sing them the way he wanted me to.
There were other composers whose compositions I didn't fear singing at all because of my rapport with them. Like Madan (Mohan) bhaiyya.
Not that Sajjadsaab took me to task, but he would compose such complex numbers and would be so particular about the way they were rendered that I would become very conscious.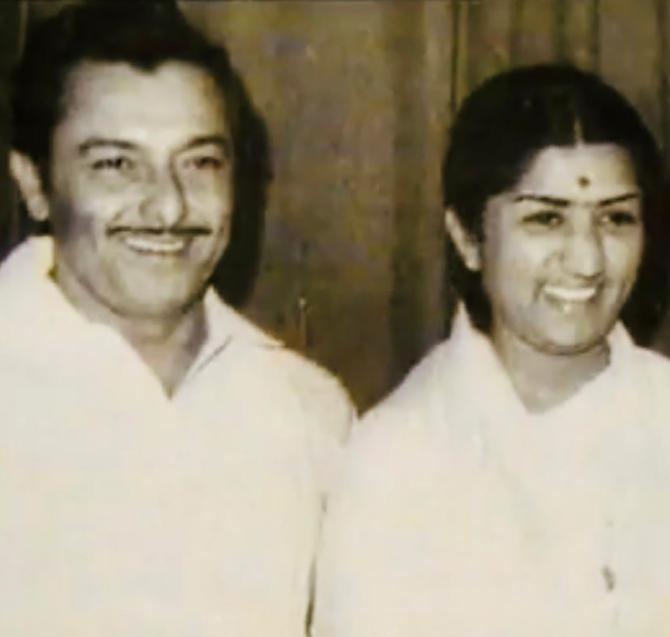 Which other composers challenged your talent?
Salil Chaudhary. I shared a great rapport with him.
He knew which of his creations suited me.
I was never scared of singing his tunes.
Instead, I would be very keen to sing his songs.
I love his music. I haven't met a composer quite like him.
Look at the tunes he thought up!
And the sources of his composition!
He used to write in Bengali. His poems in Bengali were superb.
You know, he used to write his own lyrics for some of the Bengali songs he composed for me.
His grasp of north eastern folk music was tremendous.
Being a Communist, he was agnostic, so we never agreed on his views on God.
Madan Mohan had a unique style.
Shankar-Jaikishan, Jaikishan was very talented. Very creative.
Even Shankarji's songs were a treat.
They borrowed from the West whenever they felt like it.
But it was Salilda, who was deeply influenced by Western music. He used to listen to Western symphonies and incorporate them in his compositions.
And he could tell which symphony had been incorporated into which song.
O P Nayyar once said that R D Burman gave his best songs to you and the rest to Asha Bhosle. Do you agree with that?
(Laughs) I wouldn't know about that. He must have had his reasons.
Pancham (R D Burman) used to interact a lot with me.
He used to call me Didi, and loved me like a sister.
He used to pour his heart out to me.
He did compose in a special style for me. He knew instinctively which song suited Asha and which song suited me.
I loved the songs Laxmikant-Pyarelal composed for me too. For about 10-12 years, they composed some really great numbers.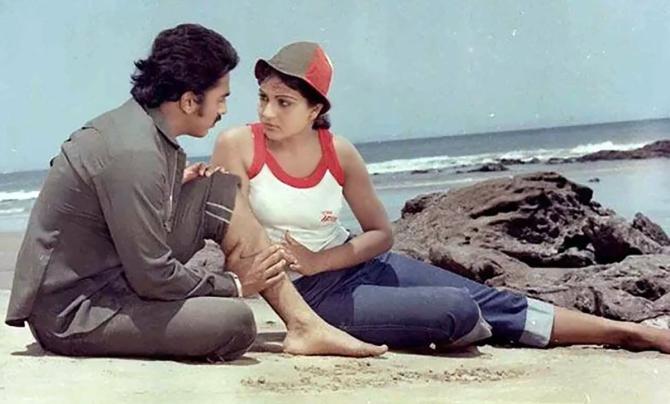 S P Balasubrahmanyam, with whom you have sung many hits, passed away.
It is very sad to have one of your colleagues go away.
Balaji and I sang many hits in Ek Duuje Ke Liye, Main Pyar Kiya, Hum Aapke Hain Koun..! and many others.
He was a wonderful singer and an even better human being.
I believe to be a good artiste, you must have a pure soul.
What is your birthday message to your fans and well wishers?
We are going through the worst possible phase in the history of civilisation.
Be kind and generous to those who are less privileged than you.
Give generously.
Do not hold back your love for fellow human beings.
Now is the time to stop being tight-fisted about feelings.
Jyot se jyot jalate chalo prem ki ganga bahaate chalo.
First published on Rediff.com in September 2020.