As Rajinikanth turns 70 on December 12, we look back at the megastar's movies that kept us enthralled.
Divya Nair is spoilt for choice, but picks her favourite Rajini films.
Apoorva Raagangal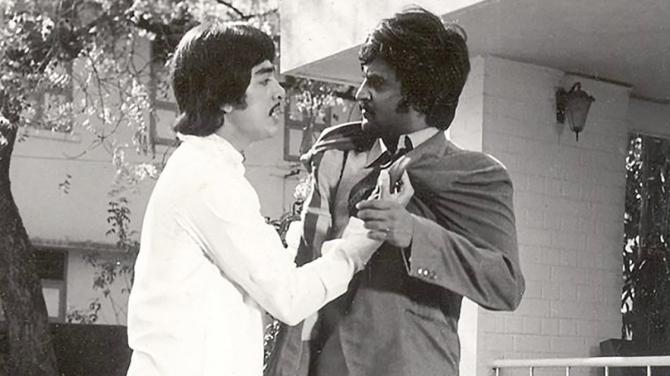 Rajinikanth played a small but significant role in his debut film, Apoorva Raagangal.
While the film tells the story of Prasanna and Bhairavi, who fall in love despite their differences, Rajini is introduced as Pandiyan, Bhairavi's ex-lover who deserts her after impregnating her and later turns up to apologise and mend their relationship.
While it may seem easy for audiences to treat Pandiyan as the villain, Rajini delivers an impressive performance as the guilty lover, who has blood cancer and is fighting for his life.
In what can be termed as a powerful turn of events by the writer and the characters, Rajini's character successfully adds a new dimension and an interesting dilemma that will leave you divided between what's right and wrong.
16 Vayathinile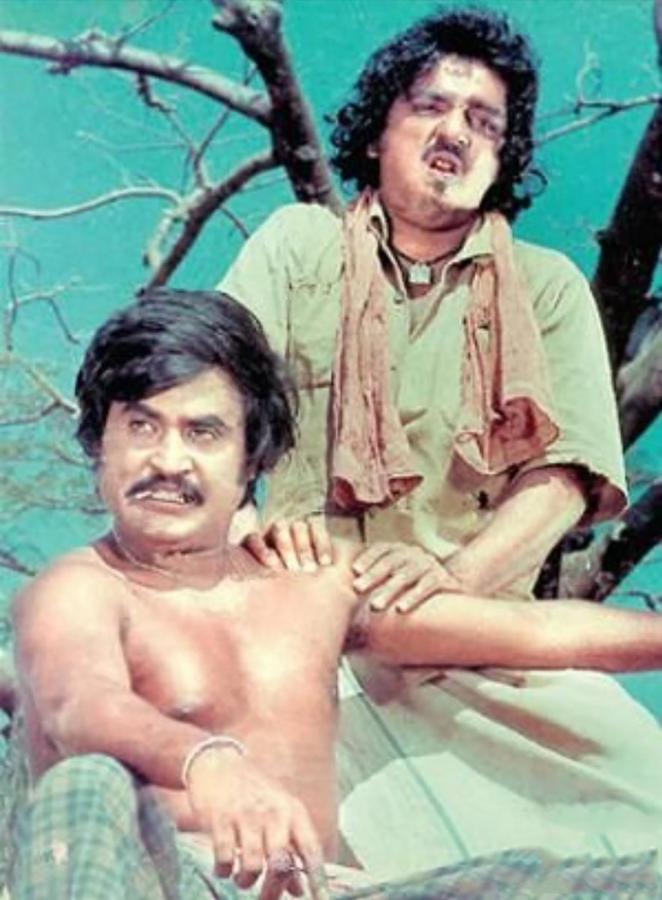 While Kamal Haasan and Sridevi play the lead in this 1977 classic directed by Bharathirajaa, it is Rajinikanth who excels in his role as the village ruffian Parattaiyyan.
In his first appearance in a colour film, Rajini looks disgusting, notorious and unkempt -- true to the demands of his character.
Right from body language to dialogue delivery, Rajini aces the role of a villain just as beautifully as Kamal establishes himself as the hero with his innocent limping and caring personality.
I've always believed that the true benchmark of a villain is when you celebrate his death with equal emotion as the hero.
And you will celebrate Parattaiyyan's death because he is evil and you will have no mercy.
Billa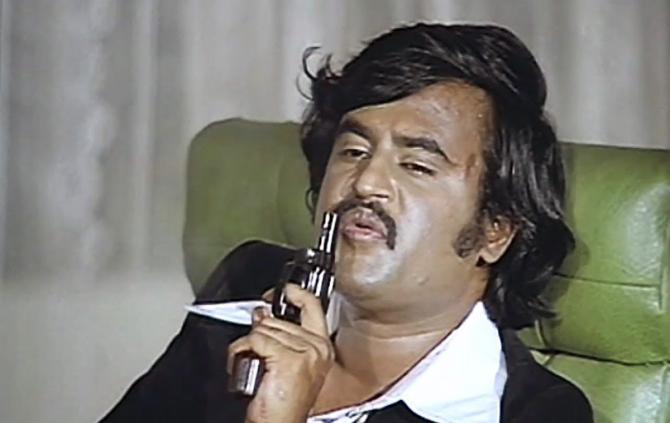 A remake of Amitabh Bachchan's Don, Billa released two years later. It was one of Rajinikanth's iconic superstar films.
How Rajinikanth transformed from the naïve Rajappa to the ruthless Billa is fascinating.
Although Rajini has often said in his interviews that he was inspired by Bachchan, it's hard to imagine anyone else copy the original angry young man and yet make it so memorable.
Although he is playing a gangster, you'd easily empathize with Billa aka Rajappa and that is purely Rajini's skill.
Thillu Mullu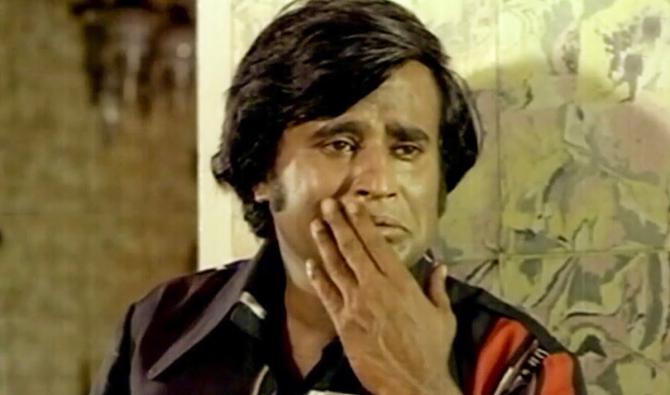 If Billa gave us the angry young man, in Thillu Mullu -- a remake of Gol Maal -- Rajini broke the stereotype of the action hero by playing a comic role.
Director K Balachander deserves special mention for taking this creative risk because it paid off handsomely for Rajinikanth.
It is also one of the first films in which Rajini shaved off his moustache to look his part.
Unfortunately, this is the last film in which Rajini and Balachander worked together.
Annaamalai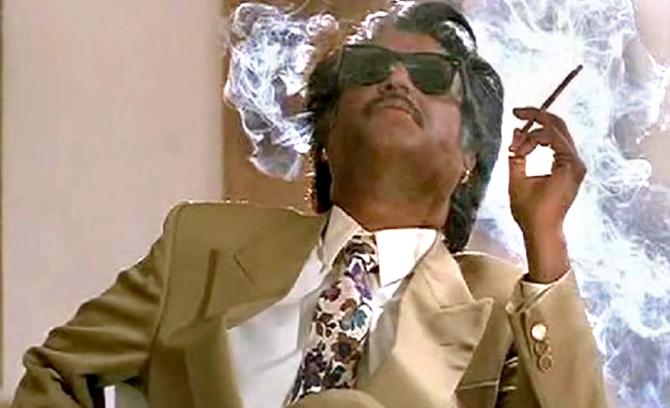 When he's good, he's the best. When he turns rogue, you stay away from his path. That's Annaamalai in a gist.
Rajinikanth plays Annaamalai, a lovable milkman who is best friends with Ashok, a rich businessman's son.
When Ashok falls in love with a poor girl, Rajini organises their wedding and earns the ire of Ashok's father, who tricks him and snatches his property.
Unaware of the trick plotted by the father, Rajini challenges Ashok that he will become a richer entrepreneur and regain everything he lost.
Directed by Suresh Krishna, Annaamalai is one of the first Rajini films that introduced the concept of anti-revenge -- a signature the superstar followed in several other films including Baasha and Padayappa.
There is ample dose of comedy (the snake scene at Khusboo's hotel), punch dialogues (Indha naal un calendarila kurichu vechikko (mark this date on your calendar), Malai da Annaamalai (mighty as Annaamalai, the mountain) and an equal measure of emotions that will entertain you.
Thalapathi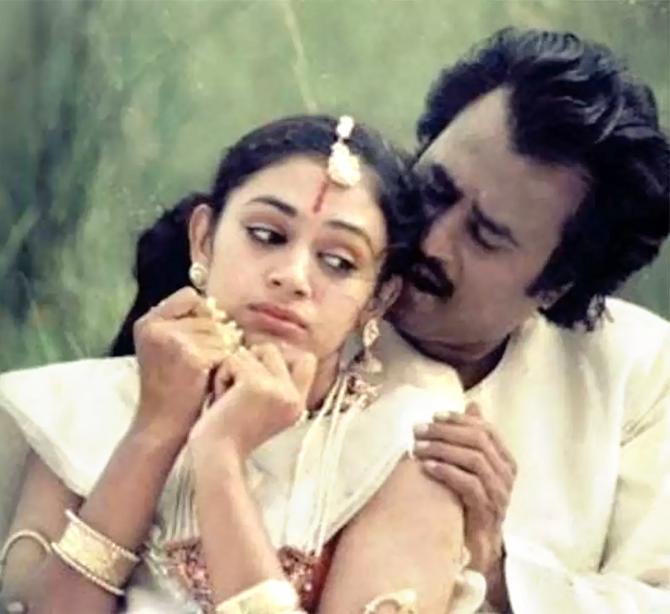 Inspired by the friendship of Karna and Duryodhana, Thalapathi was presented as a modern take on the Mahabharat. It was directed by Mani Ratnam and led by Mammooty and Rajinikanth.
Rajinikanth shines in his role as Surya, inspired by Karna.
He speaks less, is effortless and impactful as the trustworthy man in command to Mammooty's Deva.
He is calm and composed, which is unlike the loud characters he's played on screen before. And that makes you sit up and applaud his performance.
Padayappa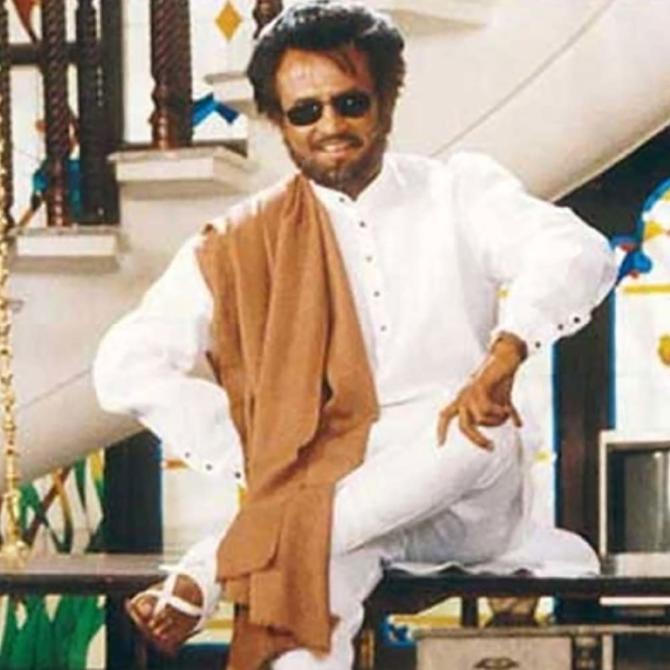 A typical potboiler, I remember waiting for weeks to get a balcony ticket for this grosser. But when you see Rajini on the big screen, it is well worth the wait.
Padayappa will be etched in my memory as a theatre viewer because after every few minutes, Rajini would excite the audience with a punchy dialogue or scene.
The most memorable moment is when Neelambari (Ramya Krishnan) invites Padayappa home after smartly tucking away all furniture just so she can humiliate him. And Rajini, true to his style, makes a comeback -- both through action and dialogues.
Neelambari mockingly asks Padayappa: 'Eppadi irrukka yen veetu velakkari?' (How is my servant?)'
He clicks his tongue and quickly corrects her... 'Yen veetu yejamani (Not your servant, the queen of my house).
Kaala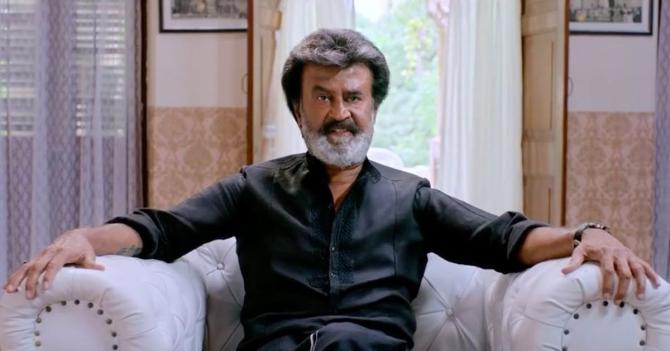 Many may not agree, but I enjoyed this film just to guess what Rajinikanth's character Karikaalan would do next.
By wearing black as a symbol of resistance, introduces you to a concept of perceptional right and wrong.
It offers ample lessons about life that look simple in theory but difficult to execute or follow.
Despite the lack of action scenes, Rajinikanth reminds us that he is charismatic enough to play an elderly character with grace.
He is flawed and doesn't hide his weaknesses or failures.
He plays the role of a responsible father, a loving husband and the proud protector to his people with brilliance.