Whether it is non-Hindi films dubbed in Hindi or Hindi dubbed in other Indian languages or English dubbed in Indian languages, the whole multilingual film is bringing more ticket sales.
Vanita Kohli-Khandekar reports.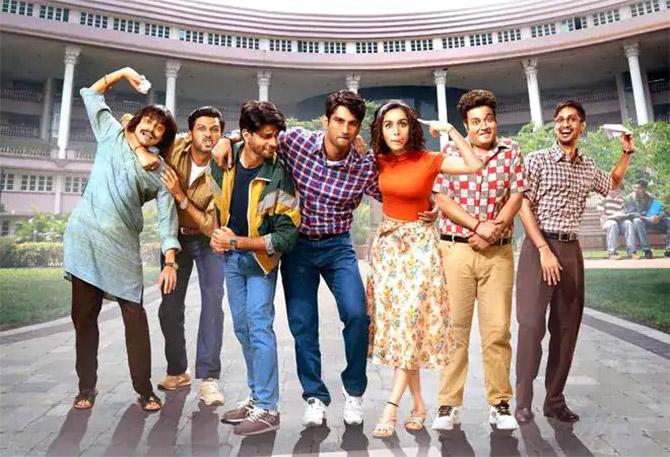 Indians bought 1.03 billion movie tickets, spending Rs 10,948 crore (Rs 109.48 billion) last year, an increase of 11.6 per cent over 2018, when they had spent Rs 9,810 crore (Rs 98.1 billion) to buy 945 million tickets, says consulting firm Ormax Media's Box Office Report 2019.
About one-third of these tickets were bought to watch films in Hindi, 19 per cent for Tamil films, and 18 per cent for Telugu films. Hollywood and Malayalam films came next. This is arguably the best thing to come out of the report.
For the past four years or so, film-ticket sales had been falling or had remained stagnant, even as average ticket prices kept rising.
In 2019, there were some green shoots of rising ticket sales in the results for India's major multiplex chains. The Ormax report validates that. This round of box-office growth is led by growth in the underlying metric that matters most -- more people watching films.
And it will continue going by the factors that underpin this growth.
"On an overall basis, language is becoming more important. More than 60 per cent of the box-office revenues for Saaho (a trilingual film in Hindi, Tamil and Telugu) came from Hindi. Part of the War (Hindi) business came from Telugu. We are getting into a scenario where many of the top 10 movies are more multilingual," points out Shailesh Kapoor, CEO, Ormax Media.
The reason Hollywood's share has gone up from 7 per cent of the total footfalls in 2015 to over 9 per cent is it has begun dubbing and releasing films in Hindi, Tamil, and Telugu, among other Indian languages.
"For Avengers, 40 to 45 per cent (box-office revenues) came from Hindi, Tamil, and Telugu. This holds true for all franchise films or big releases, which on average get 35-35 per cent from Indian languages. A smaller film, say 1917, is released only in English," says Kapoor.
So whether it is non-Hindi films dubbed in Hindi or Hindi dubbed in other Indian languages or English dubbed in Indian languages, the whole multilingual film is bringing more ticket sales and, therefore, top line to the box office.
That is a ringing endorsement of what diversity means in business.
Incidentally, most large broadcasters in India get 25 to 40 per cent of their top line and a good chunk of their audience share from non-Hindi channels.
Lastly, what is working is 'content'. According to the report, the first weekend (Day 1-3) contributed 39 per cent to the total box office in 2019, about 1 per cent lower than the previous year.
Hindi cinema's dependence on the first weekend has reduced to a decade-low of 37 per cent because of stronger content leading to higher sustenance.
"Earlier when Kahaani or Queen did Rs 100 crore, it was a big deal since there were no stars. In 2019, Chicchore (without a big star) did (net) business of Rs 140 crore, same as Dabangg 3. Now there is no upper limit for a non-star film. That is a progressive thing," says Kapoor.
While star-led films naturally get a better opening, their staying power depends on the story.
So Chicchore, which opened at Rs 6 crore against Dabangg 3's Rs 32 crore, picked up. Think of Badhaai Ho, Bharat Ane Nenu, and Raazi, some of the biggest hits in recent years have simply been good stories.
There couldn't have been a more robust endorsement of all the changes the Rs 17,500 crore (Rs 175 billion) Indian film industry has seen in the last decade -- tech, distribution, hyper-competition, growth in multiplexes. It has adapted well and come out stronger -- not just within India but also as a supplier of content to global brands.
This buoyancy in the domestic market then is simply another feather in its cap.