'Kishoreda was very close to our family and offered a lot of support.'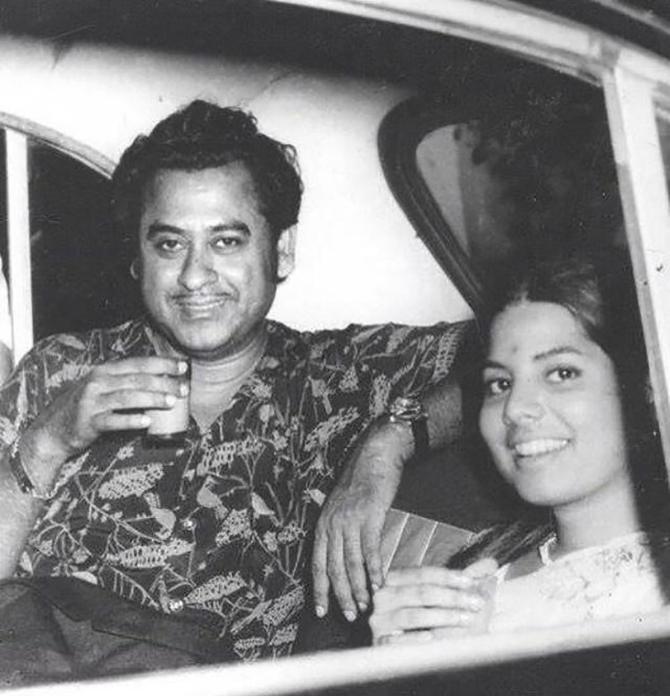 Late in the 1960s, a young Lalit Pandit would go to Mumbai's Shanmukhananda Hall every weekend, sit in the audience and raptly listen to Kishore Kumar and his eldest sister Sulakshana Pandit sing on stage.
A picture of the duo is the singer-composer's WhatsApp DP and memories come flooding in when you remind him that August 4 is Kishore Kumar's 92nd birth anniversary.
"Sulakshanadidi and Kishoreda did a lot of shows together across the country. By the '70s, I had started to sing too and along with my sister Vijeyta, I was a part of the children's chorus for some of Kishoreda's songs like Rona Kabhi Nahin Rona (Apna Desh, 1972) and Sa Re Ke Sa Re Ga Ma Ko Lekar Gaate Chale (Parichay, 1972)," Lalit tells Rediff.com Contributor Roshmila Bhattacharya.
Sulakshana Pandit had debuted as a teenager in Taqdeer (1967), singing Saat Samundar Paar Se with Lata Mangeshkar. She went on to record songs for other films like Bambai Raat Ki Bahon Mein (1968), Rahgir (1969) and Mahua (1969).
Lalit says Kishore Kumar advised his sister that if she wanted to make a niche for herself in Hindi cinema as a singer, she should become a successful actress since she had the looks. And she should insist on giving her own playback.
At the time, Kishore Kumar was producing and directing Door Ka Rahi (1971). He had also written the story and some of the songs which he set to music himself, while playing the protagonist Prashant who is on an unending journey to better the world.
Sulakshana Pandit sang a beautiful duet with him in the film, Bekaraar Dil Tu Gaye Jaa. She was Tanuja's voice while he gave playback for elder brother Ashok Kumar, whom we see on screen playing the piano, while a bearded Kishore looks on.
It was a big break for Sulakshana Pandit who four years later, debuted as an actress in Uljhan (1975). The murder mystery also featured Ashok Kumar and Sanjeev Kumar.
She sang another duet with Kishore for this film, Aaj Pyaare Pyaare Se Lagte Hain Aap.
That was the beginning of an acting career with films like Apnapan (1977),Phaansi (1978), Khandaan (1979) and Chehre Pe Chehra (1981), before bowing out prematurely.
But even during a short tenure, Sulakshana sang with all the leading singers of the time, under the baton of music directors like Kalyanji-Anandji, Laxmikant-Pyarelal, R D Burman and Khayyam.
"Khayyamsahab's composition Tu Hi Sagar, Tu Hi Kinara for the 1975 film Sankalp bagged Sulakshanadidi the Filmfare Award for best playback singer. Kishoreda was very close to our family and offered a lot of support," says a gratified Lalit.
The composer recalls that while filming Door Ka Rahi, Kishore Kumar had swung by the house one day. Picking up little Lalit in his arms and shepherding elder brother Jatin and elder sister Vijeta, he drove off to the shoot.
"In the car, he told us that we would be singing a few lines with him in the film," Lalit remembers.
The scene has Kishore Kumar returning to a village and asking the children who scamper up to meet him if they still remember what he had taught them during an earlier visit.
"It appears in the first few minutes of the film. You don't see much of my face because I have my arms wrapped around Kishoreda aur unke kandhe se latak raha hoon(and I am hanging from his shoulders)," Lalit laughs.
Prod him on the lines and he croons from memory, "Jab tak hai dum, badhayenge kadam, zamane ka chalan ko badal denge hum..."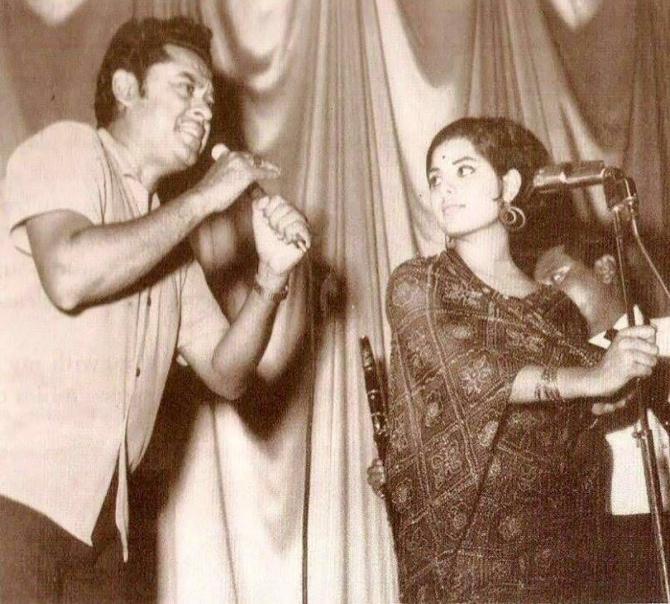 On October 13, 1987, Kishore Kumar was in the midst of planning a party for elder brother Ashok Kumar's 76th birthday, when around 4:30 pm, he suddenly toppled over, felled by a fatal heart attack. He was only 58.
"We were heartbroken by his untimely demise. Main bahut roya (I cried a lot)," confides Lalit.
His biggest regret is that he did not get to work with Kishore Kumar despite knowing him so well.
"He died in 1987 and I did my first film in 1991. When Jatin and I were composing Deewana Main Chala for the Ajay Devgn-Kajol romcom Pyaar Kiya To Darna Kya, I was thinking of Kishoreda even though he had been gone for a decade. Even during Dilwale Dulhania Le Jayenge," says Lalit, "I was wondering what he would have done with a Ruk Jaa O Dil Deewane."
While he has gone on to collaborate with all the leading singers, Lalit believes no one can ever match up to Kishore Kumar.
"His voice, his expressions, were incomparable. A performer like him will never be born again," says Lalit. "Aur woh sirf ek bada kalakaar hi nahin the, woh dil ke bahut achche insaan bhi the (He was not only a great artiste, he was also a wonderful human being with a big heart)."