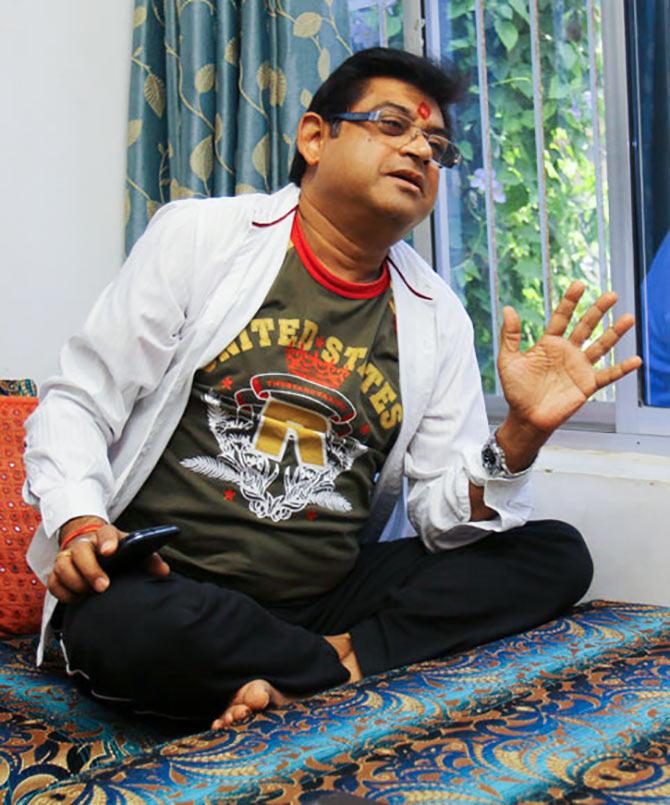 In show business with its fickle-minded patrons, Kishore Kumar's voice still resonates years after he passed into the ages.
His son Amit Kumar, an accomplished singer himself, likes his father's lesser known songs with comic elements the most.
"Like the song Aaj na jaane pagal manwa (from his 1956 film) Begunaah. The film was taken down after Paramount (the Hollywood studio) realised that the film was a shot-by-shot remake of its production Knock On Wood so most people don't know about it," reveals Amit Kumar.
"The song features his famous yodelling," he says.
We celebrate Kishore Kumar's 90th birth anniversary on August 4 with Amit Kumar's 10 favourite Kishore Kumar songs.
Film: Amar Prem
Music: Rahul Dev Burman
Lyrics: Anand Bakshi
This is one of Panchamda's most beautiful compositions.
Film: Fareb
Music: Anil Biswas
Lyrics: Majrooh Sultanpuri
This is one of my father's lesser known films; it released in 1952.
This song, a ghazal, is one of my all-time favourites.
Aa chal ke tujhe main le ke chaloon
Film: Door Gagan Ki Chhaon Mein
Music: Kishore Kumar
Lyrics: Kishore Kumar
When this film was released in 1964, we didn't think it would go on to become the timeless classic it is now. My father also wrote the song.
It conveys a really sweet sentiment.
Film: Funtoosh
Music: S D Burman
Lyrics: Sahir Ludhianvi
This song from the hit Dev Anand starrer is a classic S D Burman composition.
Isse kehte hain bandish (This is what is called a composition).
Film: New Delhi
Music: Shankar-Jaikishan
Lyrics: Hasrat Jaipuri and Shailendra
My father was cast opposite Vyjayanthimala in this 1956 film.
Although the song Nakhrewali became the most popular from this film's album, I like Milte hi nazar more.
Film: Sharmeelee
Music: S D Burman
Lyrics: Neeraj
Another wonderful composition from S D Burman.
Film: Mr X In Bombay
Music: Laxmikant-Pyarelal
Lyrics: S A Ansari
It's incredible how talented Laxmikant-Pyarelal were.
Film: Nau Do Gyarah
Music: S D Burman
Lyrics: Majrooh Sultanpuri
This is a very difficult song. It's like trying to sing a tongue-twister.
Film: Bandi
Music: Hemant Kumar
Lyrics: Rajinder Krishan
Another lesser known song sung by my father that I really like.
Film: Namumkin
Music: Rahul Dev Burman
Lyrics: Gulzar
A particularly contemplative number.
This story was first published on May 15, 2013.