Rediff.com celebrates Kishore Kumar's 90th birth anniversary today by tracing his life from small beginnings to unfulfilled dreams.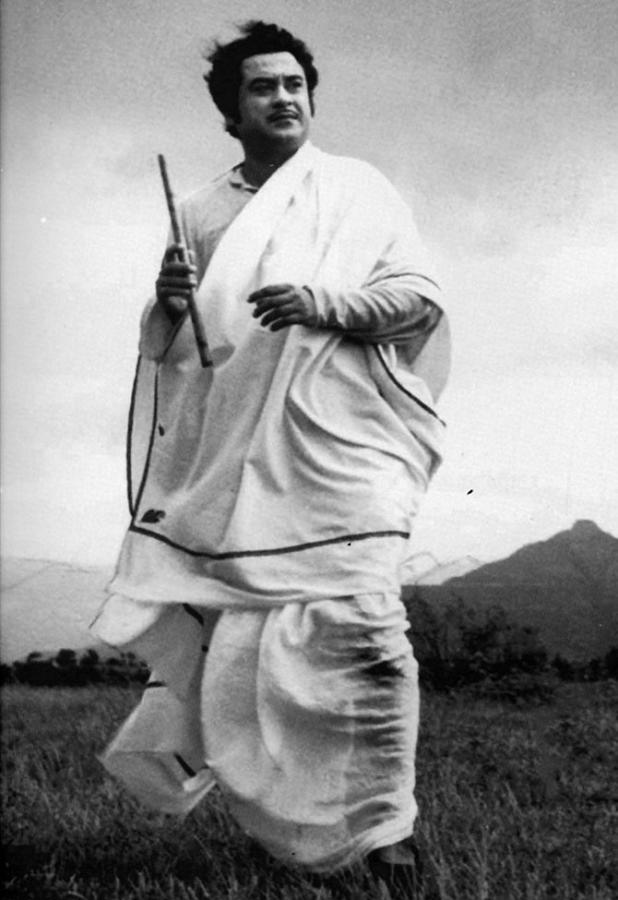 Kishore Kumar, after Mukesh, Mohammed Rafi and Talat Mahmood was among the last singers to leave a lasting impression on the minds of his listeners.
His sudden death on October 13, 1987, created a void that hasn't been filled ever since.
Kishore's acting, however popular, will always be dwarfed by his versatility as a singer.
He could sing a frivolous composition (like Main hoon jhoom jhoom jhoom jhoom jhumroo in Jhumroo), a romantic song (Meri neendon mein tum in Naya Andaz) or a doleful number (Dukhi man mere, sun mera kehna from Funtoosh) with equal ease.
It is unfortunate that his versatility and the comic roles he essayed were exploited by music directors in frivolous numbers such as Ek ladki bhigi bhaagi si in Chalti ka Naam Gaadi, Mere saamne wali khidki mein, ek chand ka tukda ehta hai in Padosan or in Nakhrewali (New Delhi).
It is this image of a fun guy and yodeller that overshadowed the more real and relevant side of Kishore Kumar.
As an ardent devotee of the legendary singer, K L Saigal, he preferred the profound and the sentimental to the light and frothy numbers he was saddled with, proof of the pudding being songs like Panthi hoon main (Door ka Rahi) and Jeevan se bhari teri aankhen (Safar).
But a singer is just a tool in the hands of the composer and cannot pick and choose to satiate his inner urges. So his ability to emote musically was rarely exploited, especially in the last 10 years of his life.
When he died, it almost appeared as if he had lost a reason to live, more so as a singer.
The last memorable song he got to sing was a pathos-ridden Mere naina saawan bhadon (Mehbooba) in Raag Shivranjani. That was in 1975, about 12 years before he passed into the ages.
Small Beginnings
Kishore Kumar Ganguly, a Bengali, grew up in Khandwa, Madhya Pradesh.
He had no formal training in music but was blessed with a melodious voice and a keen ear.
Even as a boy, he was enamoured of Saigal's style of singing.
Like Saigal, he too had natural instinct and talent on his side.
Being 18 years younger than the star of the yesteryear, Ashok Kumar, Kishore was no stranger to filmdom.
He used to frequent the Bombay Talkies Studio and, at times, joined the chorus under music director Saraswati Devi.
Kishore was barely 19 when he was initiated into playback singing by composer Khemchand Prakash, his first song being the melancholy Marne ki duaen kyon maangu in Ziddi, which starred Dev Anand.
One could not help but feel the influence of silence there, but not in the romantic duet, his first ever with Lata Mangeshkar, Yeh kaun aaya re, karke yeh solah shringar.
Khemchand Prakash also gave him his first hit song, Jagmag jagmag karta nikla chand poonam ka pyara, sung on screen by Kishore Sahu.
The song made Kishore Kumar a recognisable name.
Kishore's long and fruitful association with S D Burman began with Pyar, starring Raj Kapoor. It had two of Kishore's rare sentimental numbers, O bewafa, yeh to bata loota chaman kyon pyar ka (with Geeta Dutt) and Mohabbat ka chotasa ek ashiyana.
He sang 112 songs for Burman and may have sung more had it not been for the rift that developed between them in 1958.
They settled their differences in 1965 with Kishore singing Khwab ho tum ya koi haqeeqat (Teen Deviyan) and Gaata rahe mera dil (Guide).
They continued their relationship till Burman's death in 1975.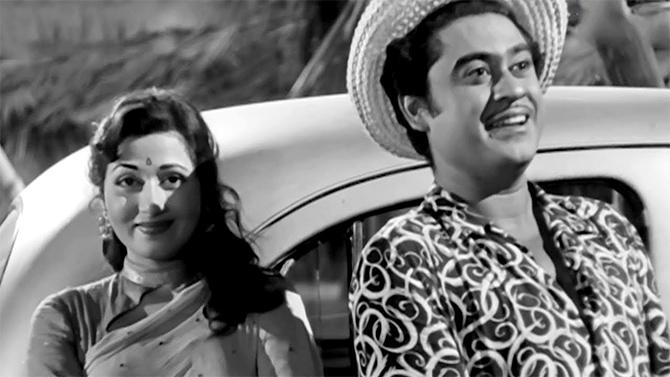 Singing for SD and his son R D Burman, Kishore's career spanned two generations of listeners.
But Kishore was more popular among the younger listeners mainly due to the success of R D Burman's music in films like Kati Patang (Yeh jo mohabbat hain), Amar Prem (Chingari koi bhadke) and Aap Ki Kasam (Karvate badalte rahen, with Lata).
He became an actor with Andolan, but gained popularity with Ladki in 1953. It is regrettable that his wilder roles drew attention away from his merits as a singer of soulful and serious melody.
Kishore Kumar too hoped to become a romantic hero like his brother, Ashok Kumar, and sing romantic songs like Mere neendon mein tum, but that did not quite happen.
The comic roles he played in films like Half Ticket, Chalti Ka Naam Gaadi, Padosan and Jhumroo showed his versatility as an actor and lined his pockets but still left him dissatisfied. And thereafter, he remained saddled with an image that did not project his real self.
Eventually he had to make his own films like Door Gagan ke Chaon Mein (Koi lauta de mere beete huen din) in 1964 and Door Ka Rahi in 1971, to quench his thirst for sad, serious and sentimental music -- and roles.
Kishore always made the maximum effect in pathos-laden numbers like Zindagi ka safar (Safar), Kuch to log kahenge (Amar Prem) and Mera jivan kora kagaz ( Kora Kagaz).
Success at last
When Kishore began singing, he faced tough competition from some formidable rivals.
By 1970, he had sung just half the number of songs Mukesh had, and about 10 per cent of that which Rafi had to his credit.
He had to wait 17 years -- until 1965 -- before his luck turned, with Teen Deviyan.
The runaway success of the songs of Aradhana (1969) pushed Kishore into prominence, eclipsing all others with the popularity of Meri sapnon ki rani and Roop tera mastana.
Success followed success.
With hits like Yeh shaam mastani (Kati Patang) and Meri pyari baheniya (Sachcha Jhootha) and Yeh kya hua, kaise hua, kab hua (Amar Prem), Kishore Kumar soon came to be recognised as the voice of then superstar Rajesh Khanna.
During the dark days of the Emergency, when the high and the mighty bowed to the dictates of the extra-constitutional authority of Sanjay Gandhi, Kishore Kumar defied it, refusing to participate in a programme in Delhi, supposedly for a government 'cause'.
As a retaliatory measure, he was banned on government media like All India Radio and Doordarshan from May 4, 1976.
The government even tried to freeze the sale of his records.
Kishore Kumar survived the action; that vindictive government didn't.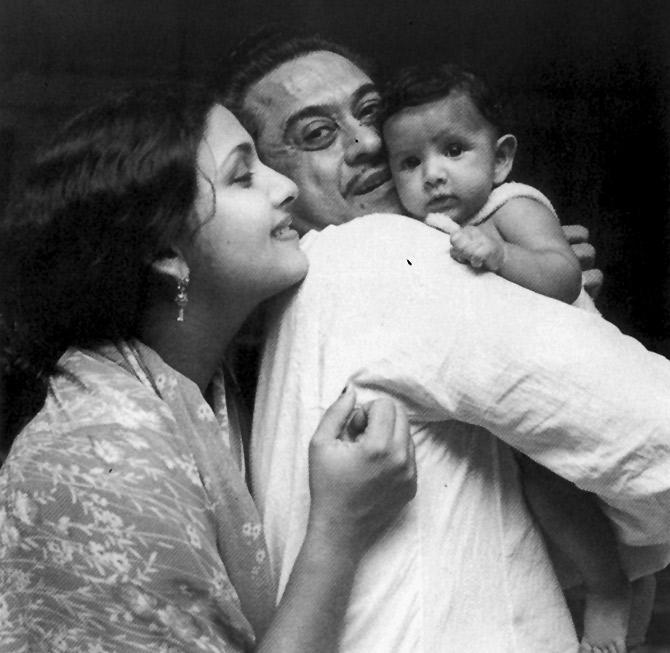 Kishore Kumar did not always conform to the ways of the world around him and couldn't care less if he was called eccentric or mad.
Comedy might have been an integral part of him, but doubts linger whether it was just a front to fool the world he held in low esteem.
Actor, musician, film-maker, Kishore Kumar remained a lonely and restless soul. He longed to retire to the tranquillity of his native Khandwa.
Hypocrisy tired him and he craved a love that he found late in life.
His first marriage, to Ruma Guha Thakurta (Amit Kumar's mother) broke up, while that with Madhubala ended with her premature death.
His marriage to actress Yogeeta Bali also ended on the rocks.
Leena Chandavarkar was the best thing to have happened to him. He often used to jokingly say that he married only Leena; the rest married him.
He was just beginning to enjoy life with Leena and an infant son, Sumit, when he died.
He was still full of life. He was just 58.
This story was first published on October 14, 1997, one day after his death.