'He was a very generous co-star. And a very stylish man.'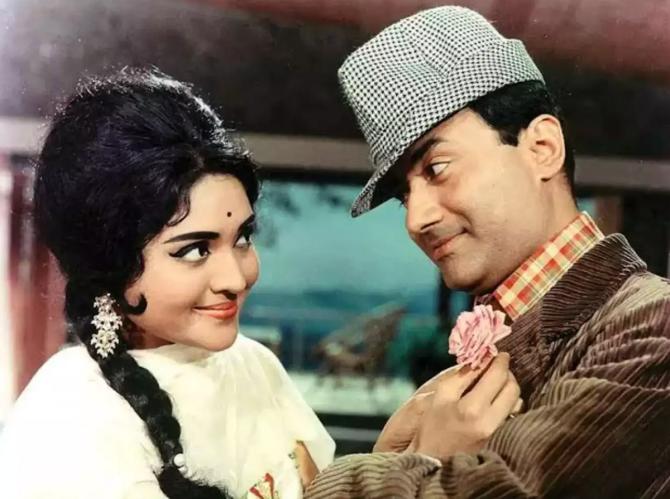 Dev Anand would have turned 100 on September 26, 2023.
His movies, his music and his mannerisms are etched in our hearts, and we salute the man who gave us so many cine memories to cherish.
We continue our special series on Devsaab with this conversation with Vyjayanthimala, his leading lady in the classic thriller Jewel Thief.
"With Dilipsaab, I did Madhumati and Ganga Jumna, which I consider my best work in Hindi," Vyjayanthimalaji tells Subhash K Jha.
"With Rajsaab, I had Sangam, which is a milestone in my career.
"With Dev, I did Jewel Thief, which is another landmark in my career and his. We did three films together, but it feels like a lot more. He was such a bundle of energy. So agile, and so restless."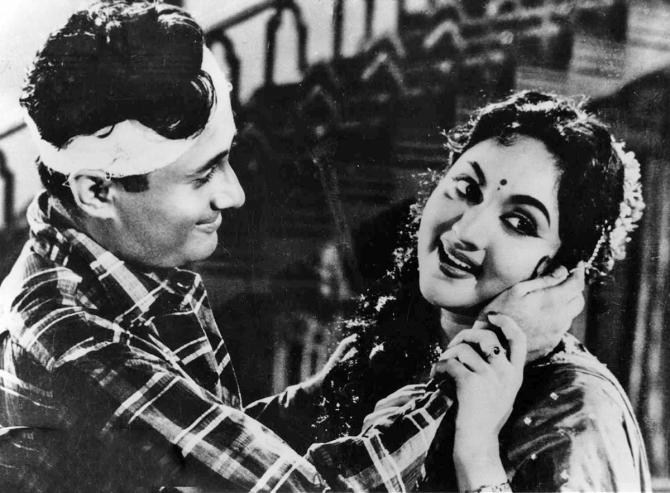 "He was a bundle of energy always. I first met him on the sets of Amar Deep. A really handsome man with impeccable manners.
"And yes, tall. I needed a tall hero. During my time, I was supposed to be a tall heroine and I craved to work with a hero who could be well-matched with me. Dev came at the right time. He was well-read, educated, cultured and erudite."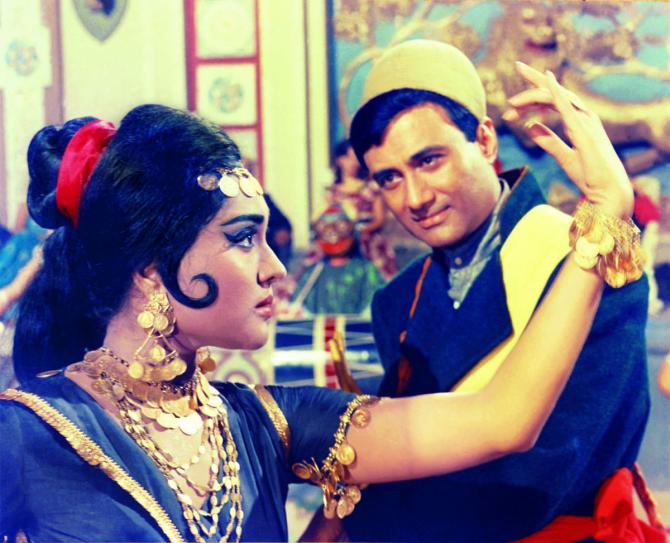 Recalling their best-known film together, Vyjayanthimalaji says, "After Amar Deep, I went on to do the far more successful film Jewel Thief with him. I don't know what magic worked for that film, but our pairing is remembered to this day for that. I had shared some very good times with Dev and his brother Goldie (Jewel Thief Director Vijay Anand) during Jewel Thief. We shot in the outdoors of Gangtok."
Recalling the shooting of the iconic Hothon Mein Aisi Baat song, Vyjayanthimala says, "That song required inhuman amounts of stamina and energy. I think the fact that I was working with Dev Saab gave that to me. After we finished shooting this song, Devsaab clapped."
"He was a very generous co-star. And a very stylish man. He was very particular about camera angles and wanted to be captured in the best possible way on screen. He took great care over his appearance. I think he defined celluloid heroism."