Dev Anand would have turned 100 on September 26, 2023.
His movies, his music and his mannerisms are etched in our hearts, and we salute the man who gave us so many cine memories to cherish with a special series.
Charisma like Dev Anand's is hard to come by.
Every time he appeared on screen, sporting his perfectly coiffed hair and disarming smile with two adorable gaps in his front teeth, rattling off witty repartees at a breakneck speed, the audience let out a collective swoon.
Whether he frowned, flirted, fibbed or fooled around, the upshot was always the same -- swoon, swoon and more swoon.
If Dilip Kumar gained prominence as a school of acting and Raj Kapoor took new strides as a artistic disruptor, Dev Anand's refined glamour, attraction for contemporary storytelling and workaholic passion completed the legendary (and original) triad of Hindi cinema.
Few can boast of the staggering number of soulful, solo chartbusters and romantic numbers picturised on an actor like Dev Anand, still fewer of a career as long as his, before and behind the camera.
Besides the extraordinary popularity of his songs and style, the lasting influences of Devsaab's work, in his prime, has to be seen to believe.
On the 100th birthday of the evergreen icon who once fittingly sang Sau Saal Pehle Mujhe Tumse Pyaar Tha, Aaj Bhi Hai, Aur Kal Bhi Rahega, Sukanya Verma lists 10 delightful Dev Anand scenes.
Guide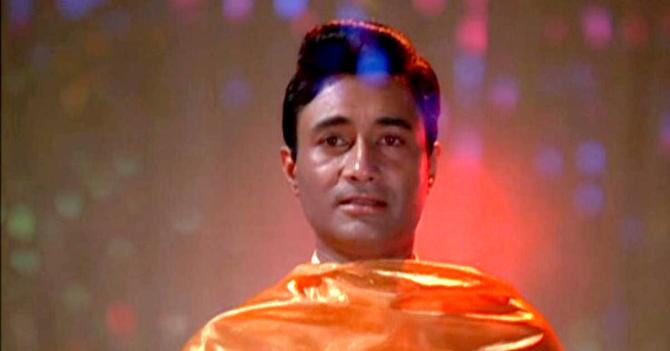 Vijay Anand's adaptation of R K Narayan's novel is the crowning glory of Dev Anand's illustrious body of work. There are numerous reasons to adore this musically rich drama about flawed adults and their complicated relationships, every one as meaningful as another.
But it is Devsaab's deeply personal and profound conversation towards the end, when 'aatma' and 'ahankaar' collide and a man stands against divinity in his attempts to become the sum of people's hopes, which render Guide into something of an out-of-body experience.
You realise the extent of its presence in mainstream consciousness in the audition scene of Zoya Akhtar's directorial debut, Luck By Chance when aspiring actors line up for the leading man's role requiring them to perform the Guide soliloquy.
Jewel Thief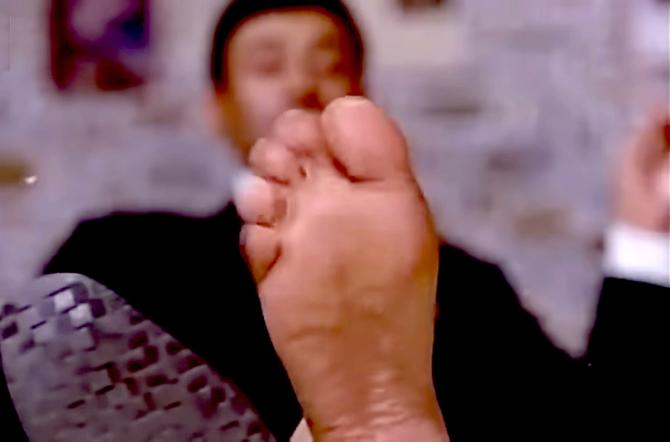 Every time the master of suspense Vijay Anand and his flamboyant star sibling Dev collaborated, it marked a triumphant moment for cinema.
What makes Jewel Thief such a consummate entertainer is its exquisite blend of intrigue and imagination.
And the party scene where Vyajayanthimala and her brother Ashok Kumar insist Dev Anand's Vinay is her fiancé Amar highlights this attribute to the hilt.
What starts out as a possible prank progresses into the gentlemen nearly coming to blows until it is, finally, decided to resolve the matter once and for all by Amar/Vinay taking off his shoes and confirming if he has six toes or five.
Playing on the suspense with his trademark smile and sense of humour, Dev Anand has the room and us on tenterhooks while he coolly takes off his socks.
Johnny Mera Naam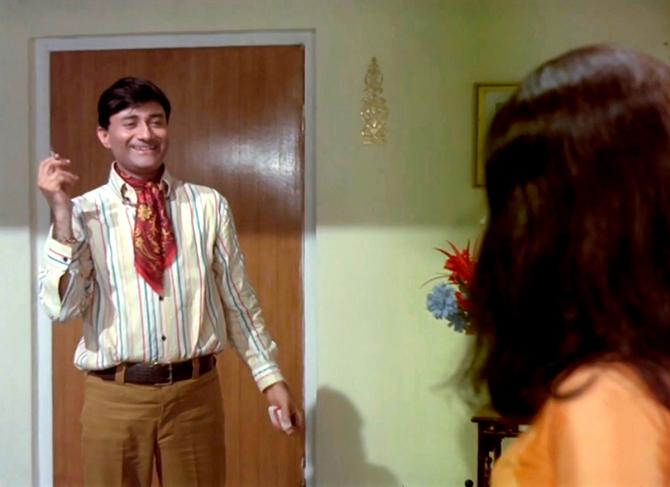 'Mera asli naam Johnny'
'Naqli bhi Johnny'
Iske alava aur bhi koi naam hai?
'Jaani!'
Dev Anand's joie de vivre is unmistakable in the way he endorses the movie's title and teases his colleagues, love interests and enemies in Vijay Anand's rollicking entertainer while keeping everybody on their toes and guessing his real name.
Paying Guest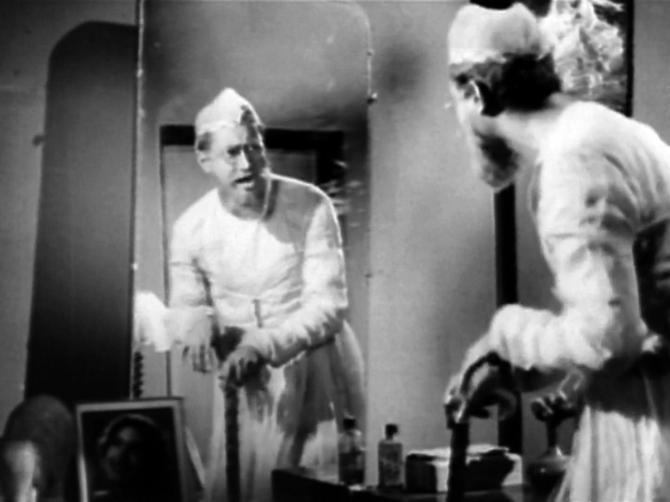 Long before it became a trope to dress up old for the sake of a job or win their ladylove's hand, Dev Anand juggled between masquerading as a doddering, aged Muslim gentleman in Nawab-like attire and a young, argumentative lawyer courting the landlord's daughter resulting in hilarious run-ins and confusion.
Like the pretend duel between his two selves in Subodh Mukherjee's rom-com Paying Guest.
The scene is both proof and reminder of Dev Anand's flawless comic timing.
Hum Dono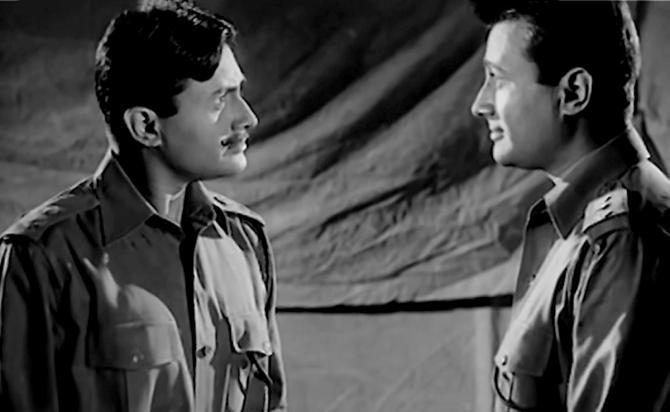 Dev Anand's lookalike army men -- a robust, effusive, moustached Major and a thoughtful, shrewder Captain -- bump into each other in war time and talk about matters of love over a course of a fascinating conversations and comical confusion that involves heart-to-hearts as well as heart-breaking admissions, Kabhi Khud Pe Kabhi Haalat Pe Rona Aaya.
Not only does Dev Anand create a definite distinction between the two but rarely has bromance played a catalyst for expressing male despair in such an intimate, refined manner.
Asli Naqli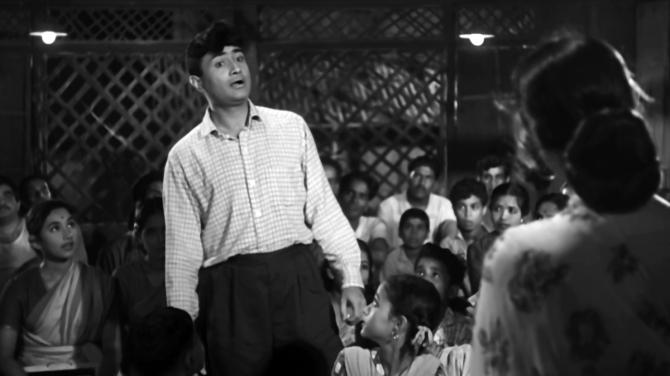 Hrishikesh Mukherji's light-hearted banter over the English language started with Dev Anand deliberately playing dumb and debating why D-O is do and T-O is to but N-O isn't nooo (pronounced nu) much to his teacher Sadhana's dismay and continued in Dharmendra's disdain for the phoren language when he wondered why G-O isn't goo leaving Om Prakash exasperated and tongue-tied in Chupke Chupke.
Both such laugh-out-loud moments.
Except Dev Anand's harmless jesting ends in more pyaar than prank.
Teen Devian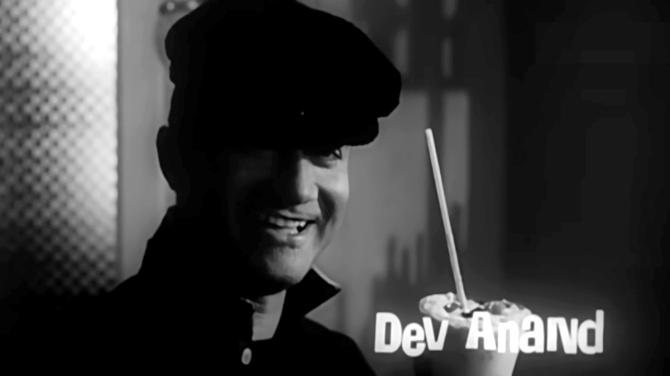 A droll voiceover introducing a young man stuck between the titular teen devian (yaane tuduk, tuduk, tuduk) because our 'bhola bechara' is incapable of saying 'no' even as the scene reveals the guy to be our irresistible leading man Dev Anand flashing his gorgeous pearlies while raising his glass of ice-cream milkshake.
Who wouldn't say cheers to that?
Taxi Driver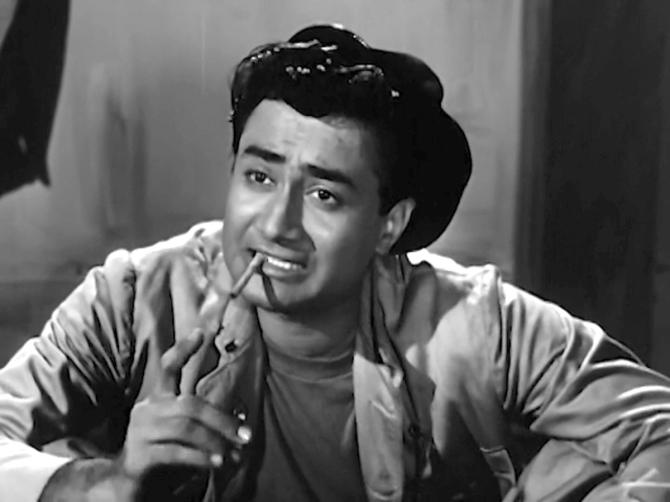 Long before Aditya offered Geet a crash course in gaalis in Jab We Met and Robin Williams demonstrated how dudes walk to Nathan Lane in Birdcage, Dev Anand convinced Kalpana Karthik to masquerade as a guy, walk like a guy, cuss like a guy in Chetan Anand's utterly engaging Taxi Driver.
One short lecture on the virtues of spewing saala this, saala that in every sentence and his co-star-turned-future-wife is good to go.
Kala Bazar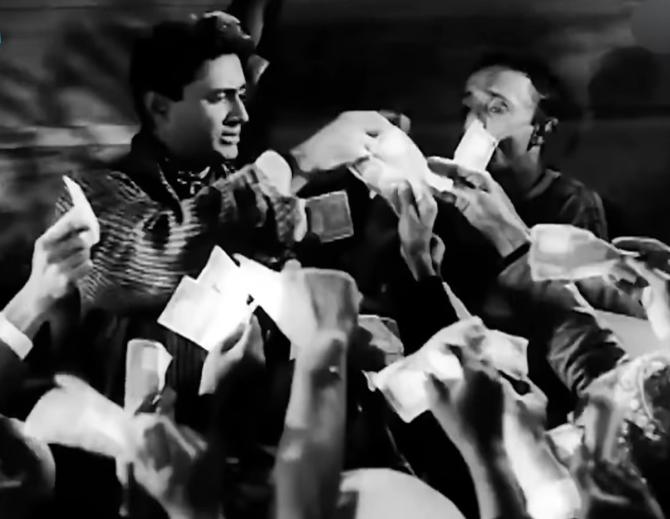 One of the biggest stars in the business selling tickets in black for the movie premiere of a movie starring and attended by the biggest stars of Bollywood, Kala Bazaar is the granddaddy of meta.
Long before Naseeb and Om Shanti Om, Vijay Anand's dazzling Kala Bazar filmed the real-life premiere of Mother India to lend authenticity to Dev Anand's shady character until he resolves to turn new leaf.
Tere Ghar Ke Saamne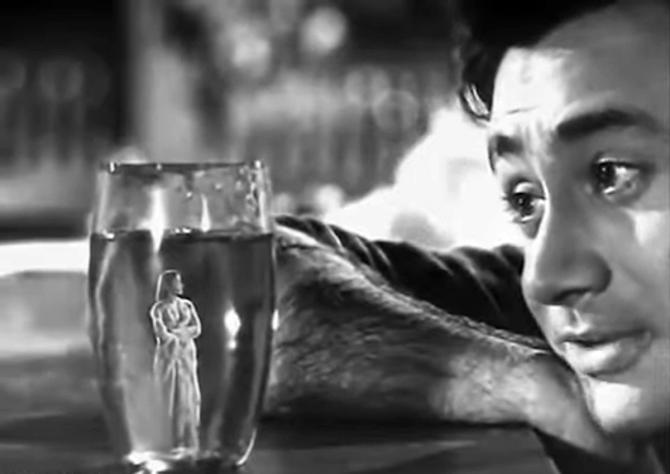 One could compile an entire playlist of songs where Dev Anand gazes into a glass of alcohol and bursts into a melancholic song.
But the one in Tere Ghar Ke Saamne where he vows to build a dream home he hopes to inhabit with Nutan despite their warring daddies while imagining her inside his drink is all kind of weird, whimsical and wow.
Like Raj Kapoor and Nargis in their iconic RK banner pose in Barsaat, Madhubala's defiant Pyar Kiya Toh Darna Kya declaration in Mughal-E-Azam, AB's cross-legged pose with a beedi in mouth in Deewar, Shah Rukh Khan and Kajol's embracing each other against a field of mustard flowers in Dilwale Dulhania Le Jayenge, this scene is deep-rooted in Bollywood imagery.