'I don't get attached to my success,' Ayushmann Khurrana tells Kavita Chowdhury.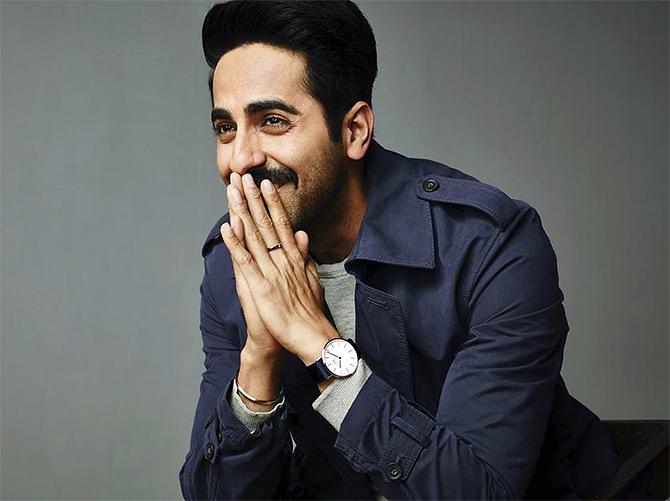 He flew into Kolkata late the night before. And he has a packed day ahead of him: interviews in the morning and an intense script-judging session in the evening.
But he is set to meet it with his affable smile. Ayushmann Khurrana is comfortable in his own skin, and he takes the pain to relax others around him too.
As a young aspiring actor from Chandigarh, Khurrana was an outsider to Bollywood.
That he has made it this far and with such success -- he's had six back-to-back hits in the last two years and has just won a National Award for Best Actor (for the thriller Andhadhun) -- is also a result of the scripts he has chosen.
In his autobiography, Cracking the Code: My Journey to Bollywood (2015), he writes that he knew he wouldn't get a second chance, so he scrutinised and rejected five scripts before accepting Vicky Donor (2012), which went on to become a runaway hit.
Khurrana, 35, is in Kolkata looking for scripts. Or rather to help offer unknown scriptwriters a chance to see their story being turned into a film.
He has joined hands with Signature Masterclass, an initiative launched in 2016 which in its fourth year is providing a platform to aspiring scriptwriters and filmmakers to pitch their stories to a celebrity.
The exercise is carried out across several metros and the selected scripts are presented before Khurrana, who picks the finalist.
In Kolkata, he adjudged Ankur Singh as the winner for his unconventional story of one Mr Iyer and his mismatched socks.
Singh will now compete with three other shortlisted writers, each from a different city, and the winning story will be made into a short film.
"When I was in college, there were no such opportunities. These storytellers are fortunate," says Khurrana.
Khushboo Benani, head, content and influencer mMarketing, Signature Masterclass, adds, "Ayushmann's own journey to success has been a unique one, playing unconventional roles that the ordinary person can relate to."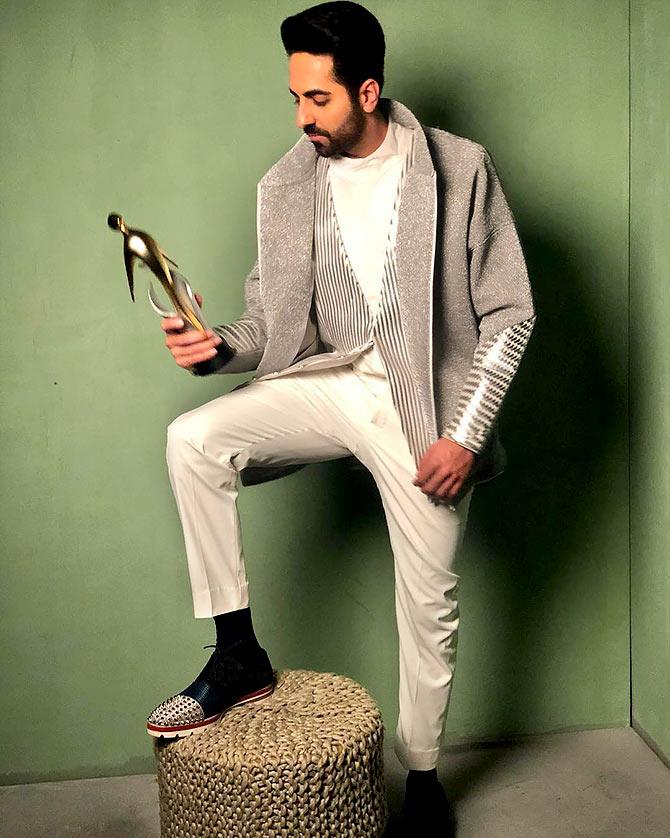 It began with Vicky Donor, in which he plays a sperm donor; then there was Dum Laga Ke Haisha, a small-town man married to an overweight but more educated woman; Badhai Ho, where he plays the son of an ageing couple who realise they are going to have a baby; Bala, as a young, balding man; Shubh Mangal Saavdhan, where he deals with erectile dysfunction; and its forthcoming sequel Shubh Mangal Zyada Saavdhan, in which he tackles the subject of homosexuality.
Taboo subjects have been his forte. And after some failures early in his career -- Nautanki Saala!, Bewakoofiyaan, Hawaizaada -- he has learnt to choose his scripts even more cautiously.
The story is always the bedrock of his films. "I've always stood by scriptwriters," says Khurrana.
So much so that when the scriptwriters's names were not mentioned in the hoarding of one of his films (Badhai Ho), he called up the producer and got him to include them. "The script or the story," he says, "is bigger than anything in the film."
Khurrana has another side to him, one which audiences were introduced to in Vicky Donor with the song Pani da Rang, which he wrote, composed and sang.
And though he is now busier as an actor, writing has surprisingly not taken a backseat. He has penned the lyrics of four of the six singles that he has released to date, which include O Heeriye, Ik Vaari and Yahin Hoon Main.
Just last month, his nazm (verse) Insaaniyat garnered 57,500 'likes' on Twitter, the microblogging site on which he posts his couplets every now and then.
"I write during flights; that's the time I'm most creative. That's when I come up with words and melodies -- when I'm off limits and not distracted by gadgets," he says. The song Yahin Hoon Main was also written on a flight.
Khurrana, who majored in English literature from DAV College and later studied journalism from Panjab university in Chandigarh, says he was pleasantly surprised by the reactions he got when he started posting his poetry on social media.
"I was not sure how it would be received since I write in Hindi and Urdu." Agyaat (Anonymous) and Mukhaute (Masks) are among his favourite poems.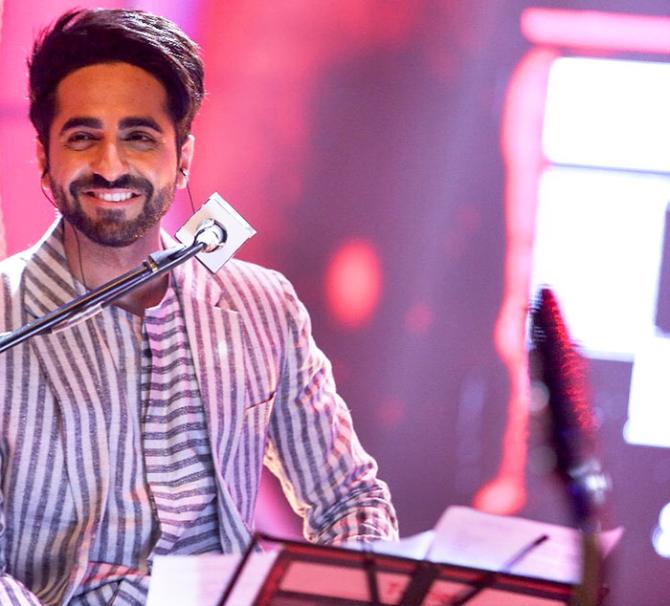 Like the characters he plays on screen, Khurrana is refreshingly grounded and relatable.
So it is no surprise that his writings too take inspiration from everyday life and ordinary people.
"Earlier, when I did street theatre, I used to travel a lot. Even today, I am always curious to meet new people -- people from different backgrounds," he says.
"If you are an observer of life, only then can you get new ideas. If you are only consuming existing art, those ideas will not be fresh."
He doesn't watch much films and prefers to read. Lie with Me by Philippe Besson, about a homosexual man recounting his first all-consuming love as a teenager, was a recent read -- perhaps as part of the preparation for Shubh Mangal Zyada Saavdhan.
He says his early initiation into street theatre and the wide exposure it gave him has played a big role in shaping him into who he is today.
He recalls the time when, along with his theatre group, he would go on a 26 hour-long train journey from Delhi to Mumbai, entertain passengers on the way.
While in college, he had formed two theatre groups: Aaghaaz and Manchtantra.
Ask him what he enjoys the most and he says, "I'm actually enjoying this phase where I'm doing it all -- acting, singing and writing."
Is scriptwriting on the cards? "It's definitely on the bucket list," he replies.
Describing scriptwriters as being "the most under-rated in the film industry", he says what they do is the "toughest part of making a film".
"Actors will come and go, so with directors. They are all following that content, that script, without which nothing can happen."
An out-of-the-box idea is not enough to belt out a box-office hit, he reiterates.
"An idea is just a cherry on the cake, but writing a 100-pager that will keep the audience hooked for two hours -- that's the tough part."
He admits that while he can write good couplets, "writing an entire script is not easy".
While he has plans of becoming a scriptwriter someday, he adds, "Scriptwriting is not a part-time job. You need to take a break from your regular job for, say, four to six months."
Besides films, Khurrana has been touring with his band, Ayushmann Bhava, singing his film tracks (he has featured as singer-songwriter in each of his films except Dum Laga Ke Haisha) and his single tracks.
He is not averse to singing hits of other singers as well.
Though the going is good and he is doing phenomenally well, Khurrana is philosophical about success: "I don't get attached to my success. Nothing lasts forever."