Amazing stories about some of our best loved movies from Bhavani Iyer who wrote them.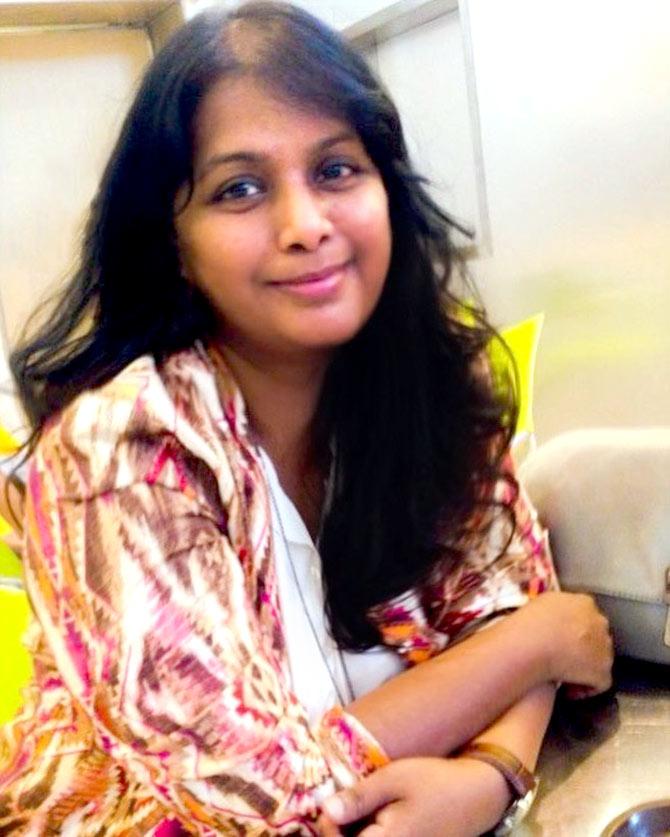 "Bollywood is really a land of dreams," Bhavani Iyer tells tells Ronjita Kulkarni/Rediff.com, her eyes shining like stars.
We are sitting in her tastefully decorated study, where a framed picture of Alia Bhatt-starrer Raazi stands tall and reminds us of the stellar work Bhavani has done.
The 39-year-old scriptwriter has many more impressive movie titles to her credit, like Sanjay Leela Bhansali's Black and Guzaarish, Vikramatiya Motwane's Lootera and the recent Web series, Kaafir.
"I was interested in writing from a young age," Bhavani says. "My dad would travel a lot, so he would make me write letters to him. I was seven years when I started writing little notes about what I did the whole day, anecdotes..."
Soon enough, Bhavani realised she wanted to be a writer.
It helped that her father had 'glamorised' writing for her, as he had a library of "amazing books".
"I would think that someday, there would be a shelf of books written by me," Bhavani says, with a smile.
After she graduated, Bhavani saw an ad for a sub-editor for a magazine.
"I thought it sounded very important; I didn't know a sub editor meant only 'subbing' (editing). This was during the dot com boom, in 2000, and a lot of people resigned (from the magazine) to join dot coms. So within three months of joining, I became the editor of the magazine. I was 19 years old," Bhavani says.
It was during this time that she met Anurag Kashyap and shared her writing with him.
He suggested that she write for films.
"Until then, I never even thought about writing for films," Bhavani says, explaining, "I did not grow up watching films. We are a very academic family, so I would barely watch one film a year."
Bhavani went on to make more friends from the film world, among them Vikramaditya Motwane.
They introduced her to world cinema.
"I started liking this medium because it's a visual expression of the stories I like to tell."
Bhavani quit her job in 2002, and decided to write a script.
Motwane, who had just finished assisting Sanjay Leela Bhansali on Devdas, suggested that they work together on the script (it would become Lootera nine years later).
Meanwhile, Bhansali was looking for a writer for his next film, and Motwane suggested Bhavani's name.
Within two months of meeting Bhansali, Bhavani had the first draft of Black ready.
By the end of that year, they were shooting.
"And that's how I got into writing," Bhavani says with a smile.
'I don't know any other director who, after a successful film like Devdas, would trust a 22-year-old girl to write his next'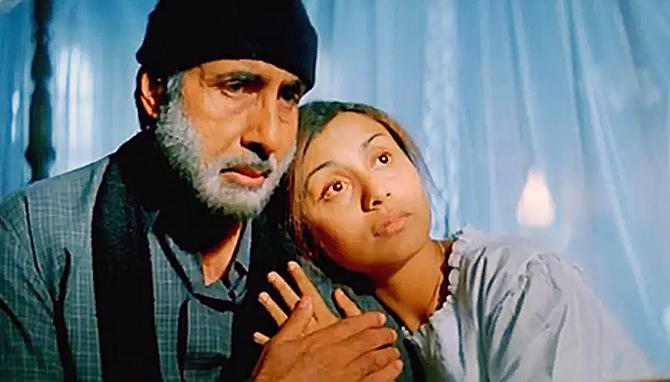 Bhansali's Black told the story of a blind and deaf girl, who finds her expression in life with her teacher's help.
Probably one of Rani Mukerji's toughest roles, the film saw a touching relationship between her character and her teacher, played by Amitabh Bachchan.
"Sanjay wanted to make a biopic on Helen Keller, but the rights became a big issue," Bhavani explains.
So Bhansali decided to fictionlise it, using Helen Keller as inspiration.
"Helen Keller's teacher was the most important person in her life. So I thought it would be interesting to see the student-teacher relationship," Bhavani says.
"I wanted the teacher to be a man because the man-woman dynamic is very interesting when there's no label to define the relationship," she adds.
What is Bhansali like?
"Incredible!" Bhavani exclaims. "I don't know any other director who, after a successful film like Devdas, would trust a 22-year-old girl to write his next, and accept her vision on such a big canvas," she says.
After working with him, Bhavani admits she has become spoilt.
"On the first day on set, Sanjay told his assistant that there would be two chairs in front of the TV assist: One for himself and one for me. He told everyone, that while she is your age or younger and you are friends otherwise, on the set, she is the writer of the film and you will treat her like that.
"He would ask me to watch the monitor and tell him how it was looking. I'm a very aesthetically-driven person. I like colours, spaces... Once, I told him a scene was looking dark, so could we put a green lamp there? So he told me, go get it.
"Now, I didn't know where to find a green lamp!
"So the AD (assistant director) told me to go to the art department and get it from there. I brought it and added it to the scene. And Sanjay said it looked nice."
"I';m a very shy person but I never had any inhibitions about talking to him," Bhavani adds.
'Mr Bachchan is like a student'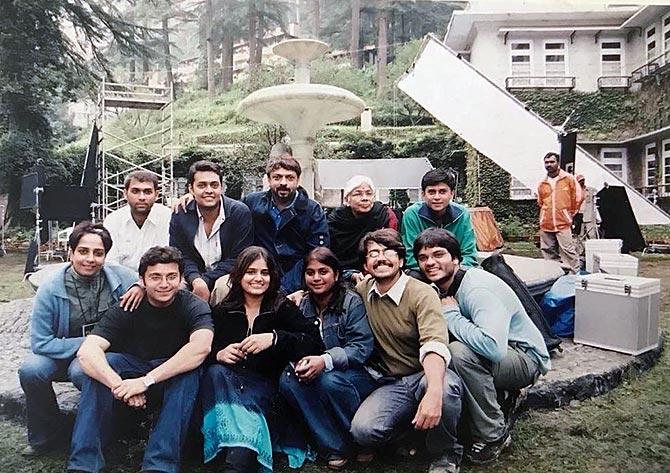 The other person who really impressed Bhavani on set was Amitabh Bachchan.
"More than Mr Bachchan, I was a fan of his father's. I had read Harivansh Rai Bachchan's poetry, thanks to my dad," Bhavani says. "So the first day I met Mr Bachchan, I was talking to him about his father. And he was so sweet, the next day he gifted me a book of his father's."
That Amitabh Bachchan is a director's actor has been well documented.
"Mr Bachchan is like a student. He doesn't taken anything for granted just because he has reached the pinnacle of success," Bhavani says, before narrating an incident:
"There was a scene when he had to narrate a TS Eliot poem, and the line was, 'Oh dark, dark, dark, They all go into the dark.'
"During the shot, he said, 'Oh dark, dark, dark, we all go into the dark.'
"I told Sanjay it cannot be 'we', it had to be 'they'.
"So Sanjay said, go tell him.
"I went to Mr Bachchan and said it was 'they'.
"So he said, 'Can't we change it because I'm talking about us?'
"I said, 'No, sir, it's T S Eliot. We can't change it.'
"So he said, 'Very well said, let's do this again'."
Favourite scene from Black: The kissing scene between Amitabh's Debraj Sahai and Rani's Michelle McNally.
"That was the defining moment of their relationship, where a teacher wants his student to know everything in the world, including what a kiss feels like," Bhavani says of her most favourite scene that she has written.
'I would wake up with pain every single day, so I know how it feels'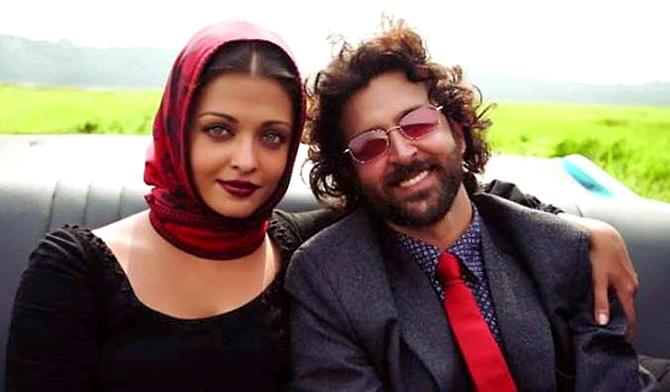 Bhavani perhaps loves to challenge actors, and give them their toughest roles.
Guzaarish saw Hrithik Roshan play a quadriplegic living his worst nightmare and begging for euthanasia.
How could she write about so much pain?
"I am a cancer and TB survivor from the age of 16. I had lymphoma, Bhavani reveals. "I have lived with ill health all my life. I would wake up with pain every single day, so I know how it feels."
Was it painful to revisit that part of her life when she wrote the script?
"I don't see myself defined by that illness, and I don't carry that with me. It's just a fact of my existence," she says.
Bhansali, Bhavani explains, was quite influenced by nurse Aruna Shanbaug's case.
"He wanted to talk about it, about our right to our own life," she says, looking back.
"I remember we were walking on his terrace one evening, and we kept talking. In two hours, we knew what the story would be," she say.
Is he really the taskmaster everyone makes him out to be?
"No, no, no," she says. "He expects you to know your job and to be committed to it, nothing else. Sometimes, that may be asking too much because all of us feel we have lives beyond our work. But he does not switch off, so he feels even the others should not. But there's never any malice. If he says something bad that the other person doesn't deserve, he will be the first person to apologise, and I have seen this happening many times."
Favourite scene in Guzaarish: The court scene at home when Hrithik's Ethan Mascarenhas talks about what it feels like to be quadriplegic.
He tells the lawyer to get inside a box, and gets it locked. And he asks, how many seconds can you live like that? 'I've been living like that for the last 14 years.'
'Ranveer asked his makeup man to staple his waist!'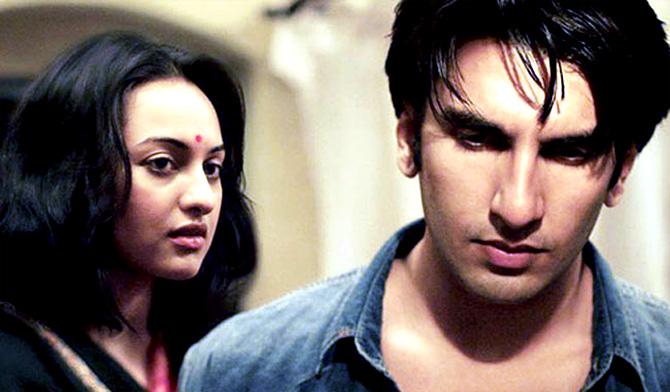 There are many reasons why Lootera's script did not find any takers for nine years.
Vikramaditya Motwane had not made his mark with Udaan yet.
Besides, Lootera was a period film and that made it expensive.
"And it was not a typical love story," Bhavani says.
Inspired by O Henry's short story, The Last Leaf, Lootera saw a unique romance between Ranveer Singh's Varun and Sonakshi Sinha's Pakhi.
"Producers could not envision the film because there was no reference material," she says.
"When things weren't working for the film, Vikram said let's change the tonality of the film, make it more action-driven, tell the story from Varun's point of view, not Pakhi's. I had a huge fight then because I asked, how can you sell out like this? Eventually, that did not happen. Now, we laugh over that," Bhavani says.
Varun's character is one of Bhavani's favourites from all the work she has done so far. And Ranveer made sure he gave it his all.
"There was a sequence where he is running away from the cops, but he gets shot. He had to run uphill, and he needed to show that pain. So without the knowledge of the team, he asked his makeup man to staple his waist! And he ran with that horrible pain! So he got the gait right but it needed two-three takes, and finally, his back went into a spasm," Bhavani recalls.
Ranveer was laid up in bed for almost a month because of that.
'Alia and Vicky Kaushal really surrendered to their characters'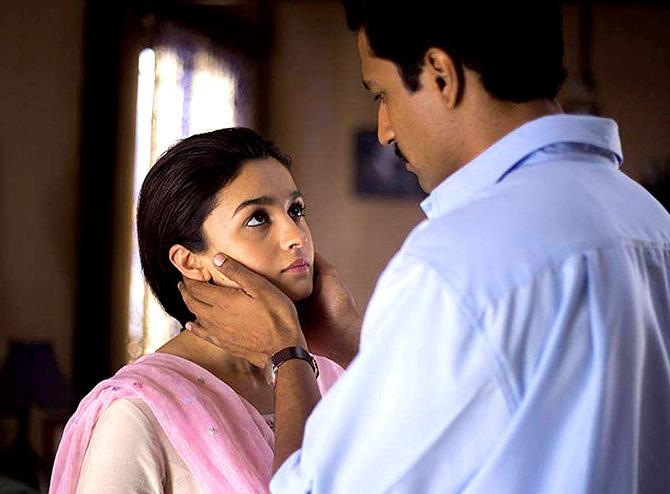 Bhavani then wrote a film that has probably become everyone's favourite.
"Meghna (Gulzar) got in touch with me, asking for a meeting," Bhavani says.
Meghna told her about the book, Calling Sehmat, which she wanted to make a film on.
"I read the book and within two days, I met her again with the thought of how I wanted to interpret it. But following that, a lot of things went off," Bhavani recounts.
For starters, the production house opted out.
"So there was just Meghna and me for about six months. Meghna had sounded the story to Alia, and she said she would read it whenever the screenplay was ready."
Then Preeti Shahani from Jungli Pictures read the script and came on board.
When Alia signed on, Karan Johar came on board too.
"Alia and Vicky Kaushal really surrendered to their characters and our vision and seemed very keen to know the thoughts behind the scenes," Bhavani says.
"For instance, Vicky would ask me why did you put those 'Crush India' stickers? So I explained that just before the 1971 War, there was a lot of anger in Pakistan roused by (then Pakistani president) Yahya Khan. So the people made these 'Crush India' stickers and stuck them everywhere. They would constantly question me," she says.
Favourite scene from Raazi: The confrontation between Vicky and Alia in the climax, when he asks her if there was ever any love between them.
'Sanjay is emotional in his story-telling while Meghna is a lot harder'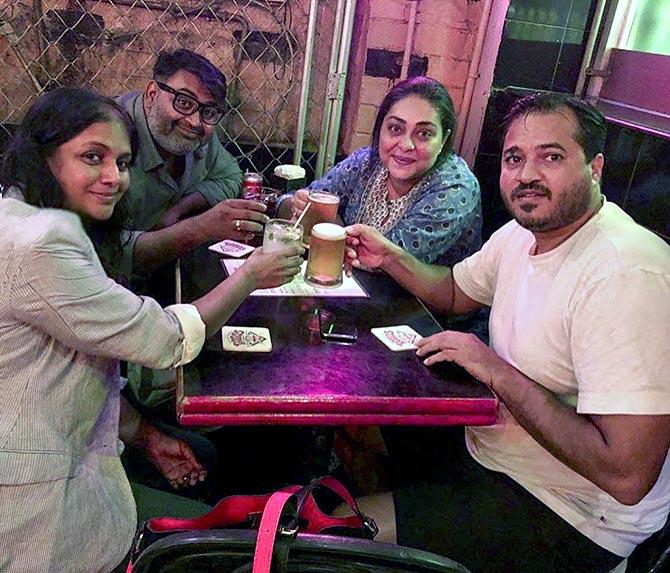 How different are directors Sanjay Leela Bhansali and Meghna Gulzar?
As different as chalk and cheese, Bhavani answers.
"Sanjay is emotional in his story-telling while Meghna is a lot harder. And we would have thought that it would have been the opposite because one is a man and the other is a woman," she says.
Then she continues, "But they are all very different. I worked with Ashutosh Gowariker on (TV series) Everest. I have worked with Abhinay Deo on (TV series) 24. I have worked with Vikram, Sanjay, Meghna... All of them are very different story tellers."
'It eats your soul when the stories you want to tell may not be the stories producers think people want to hear'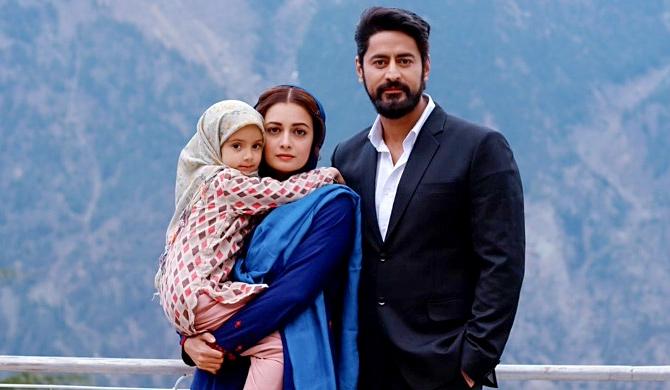 Bhavani recently tried her hand at a Web series, and gave us the breath-takingly beautiful Kaafir, based on a true story.
Starring Dia Mirza, the show tells the story of a Pakistani woman who falls into a river and floats over to the Indian side of the border.
She gets discovered by border security who hand her over to the police.
She gets thrown into prison, where she gets raped and has a baby.
But her case never comes up for review; she is forgotten for eight years.
"I thought that was such a traumatic story," Bhavani says. "How do you give hope to your child? You don't know if the ordeal will ever end."
The lady in question -- Shehnaz Parveen -- finally gets her freedom and can return to her homeland but she is told she cannot take her child because the child is an Indian national.
"The child is not wanted in Pakistan and she is not wanted in India. What does she do?" Bhavani asks. "I thought that story needed to be told. There was a lawyer who helped her but I fictionalised that character and made Vedant (played by Mohit Raina)."
Bhavani wrote the story in 2005-2006, and it was to be directed by Vaastu Shastra director Saurabh Narang. Unfortunately, he passed away.
The story stayed with Bhavani because she "didn't know how to go and tell someone that I had a story."
Siddharth Malhotra, who had just finished We Are Family, was on the lookout for a good story, and asked her for one.
Bhavani gave him Kaafir, and he loved it.
Unfortunately, there could not get a producer because it was a dark subject and not a typical love story.
"It's neither a thriller nor drama nor romcom; it does not tick any of the boxes," she sighs.
You may be one of Bollywood's best writers, but the industry can get pretty hard when it does not accept a story.
"It eats your soul when the stories you want to tell may not be the stories producers think the people want to hear," Bhavani says.
But thanks to the digital platform, and Kaafir's popularity on it, Bhavani realises that the producers "don't always know."
"The kind of love Kaafir has got is so remarkable that it really empowers me," she says. "It's not that people don't want to hear my stories, it's just that there's a person in the middle who thinks he knows better about what somebody else wants and it's not always right."
Bhavani is all praise for Dia Mirza, whom she describes as her "soulmate that I found too late in my career."
"Dia was so committed to playing (her character) Kainaz that she actually lived her. When she jumped into the river during the shoot, the water was minus six degrees! She wanted to actually go blue, but not with makeup."
Favourite scene from Kaafir: The court scene when Vedant says how the common man -- whether from India or Pakistan -- is paying the price for the ego battles between the two nations.
'I lead a very boring life. All the excitement is in my writing'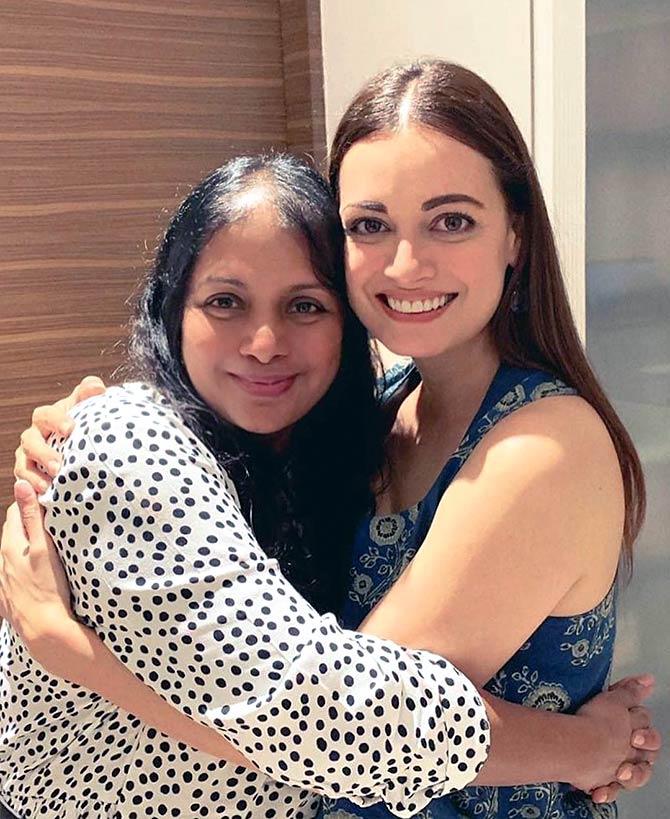 "I can write from 18 hours in a day to nothing at all!" Bhavani says.
"When I start, I write nonstop. I forget time, lunch etc. I have this little room to myself, and I'm happily lost here. Nothing disturbs me because I can't even hear the doorbell," Bhavani says.
"This little room," which has her computer by the sun-lit window, has a delicious smell in the air. Freshly-brewed coffee -- from a Coorg plantation, no less -- makes its presence felt, even as Bhavani continues talking about her life.
When she is not writing, Bhavani spends time with her dogs -- Bella, Boots and Brownie -- and her cats -- Betty and Billie. She makes sure to make the trip back home in Bengaluru, and catch up with her parents.
"I lead a very boring life. All the excitement is in my writing, in my stories and characters," Bhavani says with a laugh.
'I cannot tell the stories that Raj Kumar Hirani does'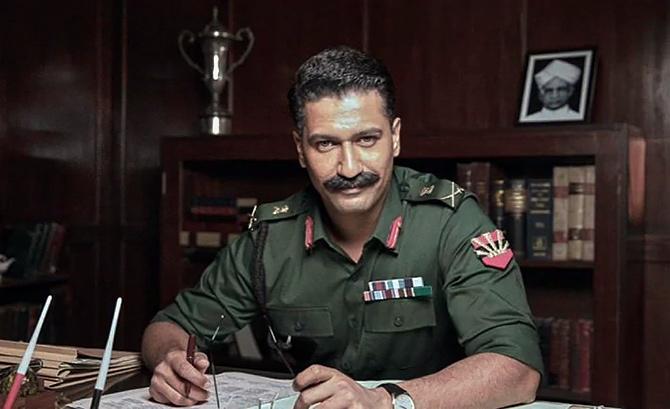 Will she ever write a full-on Bollywood masala movie?
"I don't have the skill for it," she says, shaking her head. "I watch them sometimes, like Tiger Zinda Hai, but I can't understand them. People love these films, and I find it quite fascinating how writers manage to make these films connect with the audience."
Bhavani prefers to watch Shoojit Sircar's and Zoya Akhtar's films; Mani Ratnam is her all-time favourite.
"I loved Gully Boy, Bajirao Mastani, D-Day... I love Raju Hirani's meter. Again, I cannot tell the stories that he does. But I liked the tonality of his films -- so simple and to the point."
Presently, she is scripting Meghna Gulzar's new film on Field Marshal Sam Maneckshaw, starring Vicky Kaushal.
"It's not entirely a biopic. It's a story of Sam's importance to our country," she says.
'One thing off my bucket list -- my first book on my father's shelf'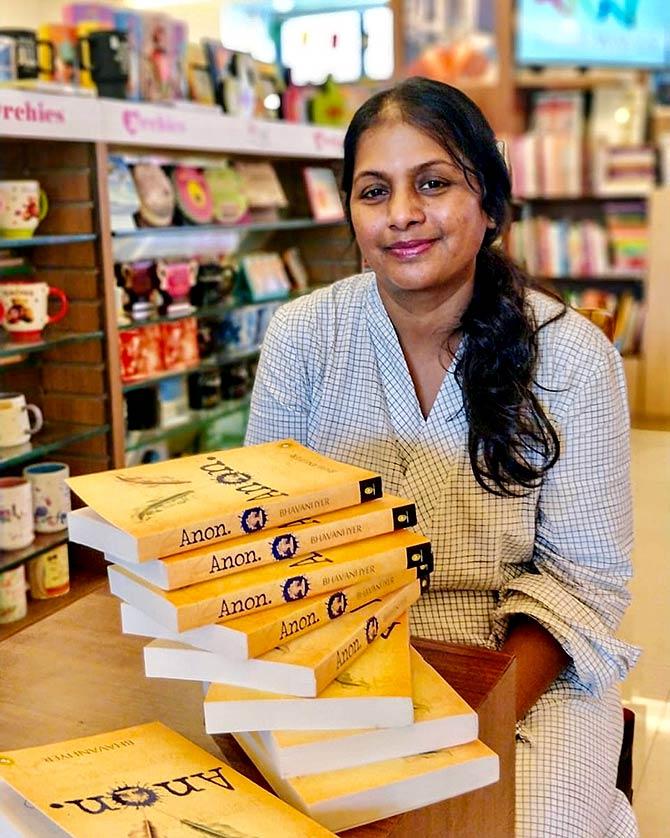 Bhavani's first book Anon found its way to book stores last year.
"I wrote it 13 years before it got published!" Bhavani says, and then explains how it took shape.
"We had bought our first house, and I took a break from film writing because I wanted to enjoy it. I wanted to watch the carpenters at work and instruct them. Within two days, I realised that the carpenters did not need me!" she laughs.
That's when her partner Benoy Roy, whom she shares a home with, told her to write a book.
She wrote Anon in two months, and set it in the world of two writers in Santiniketan in the 1960s.
The manuscript stayed on her desktop for years before a friend of hers set her up with an agent.
"So that's one thing off my bucket list -- my first book on my father's shelf," she smiles.