With four back to back hits, the shy lad from Chandigarh is an unlikely movie star.
Ayushmann Khurrana tells Ronjita Kulkarni/Rediff.com how it all came together and how he prepares to confront the toughest three months of his life.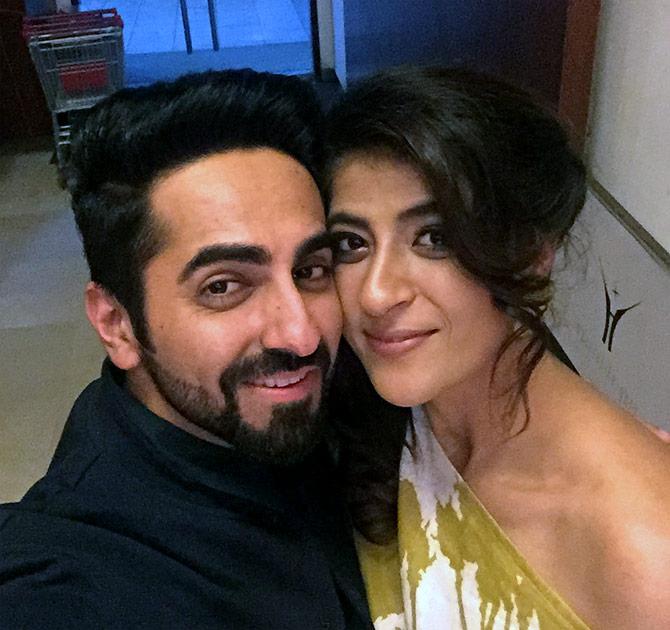 October 2018 has been a bittersweet month for Ayushmann Khurrana.
On one hand, he is on a career high with four back-to-back hits in Bareilly Ki Barfi, Shubh Mangal Savdhaan, Andhadhun and Badhaai Ho.
On the other, his wife Tahira Kashyap is fighting her toughest battle.
Tahira has been diagnosed with breast cancer, stage one, and recently underwent a mastectomy.
In fact, her first cycle of chemotherapy started on the day Badhaai Ho released in theatres.
"It is quite bizarre that the first time a film of mine got an opening, was the day of her first chemo. It's not easy, but that's life," says Ayushmann.
It is a tough time in the actor's life, but he is very generous with his smiles.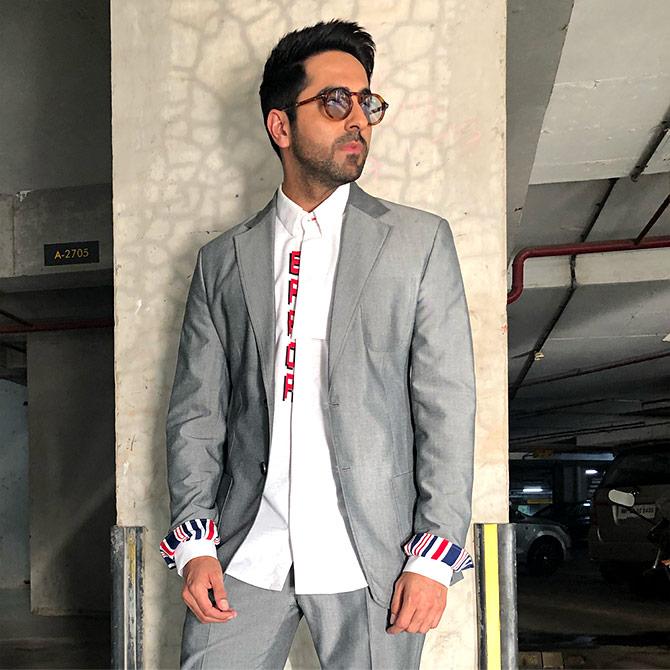 Sitting in a conference room at the Yash Raj Films studio in Andheri, north west Mumbai, Ayushmann, ever the gentleman, holds the door for you.
He has no qualms about talking about films that failed or about his personal life. And he doesn't mind answering, repeatedly, the same question everyone is probably asking him: Just how does he choose his movies?
"To choose a film, you need to become a member of the audience," he replies. "I consume films like a layman, a guy from Chandigarh, and I take up the garb of a star or an actor who's obsessed only with his part. You have to have a macro outlook, see the film in totality, whether it will resonate with people or not."
"I have done a lot of street theatre and plays, and interacted with the public through radio and television. I won't say I know the pulse, but I know these people. If you know these people and are one with them, you will have an understanding of their likes and dislikes," he says.
What does his family think about his movies?
"Tahira is very proud. My father is very proud because he was the one who was very ambitious about me. I was slightly laidback, so he's the happiest about me. He is also very objective with me and tells me kahaan gadbad hui hai. My mother loves everything; mothers are like that!" he exclaims.
His children Virajveer, aged 6, and Varushka, aged 4, are not allowed to watch his movies.
"My son had seen Dum Laga Ke Haisha, but he wasn't happy about it because my father bullies me in the film. He was quite scarred, so I don't let them watch my films," Ayushmann says.
***
'I promised myself that I would not see the beach until I get work'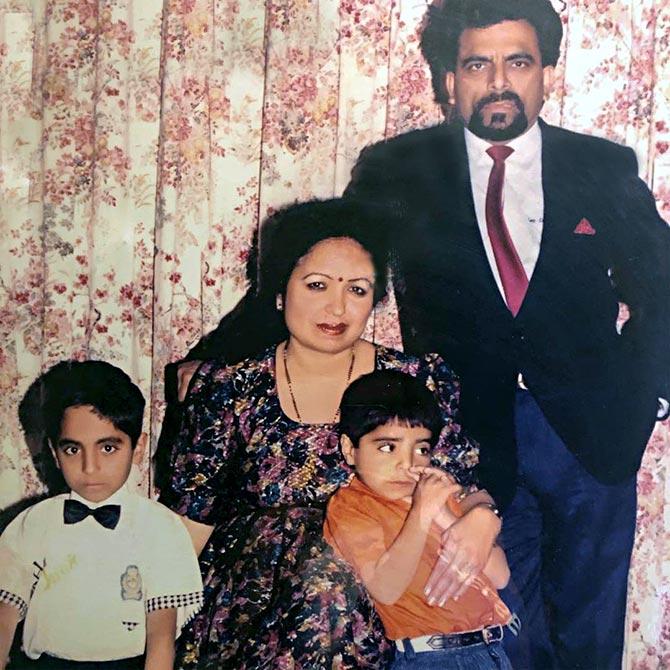 Ayushmann's journey into the movies started because of his father who pushed him to go to Mumbai to seek his fortune.
The boy from Chandigarh didn't know anyone in the city, and he arrived with butterflies in his stomach and a strange promise.
"I promised myself that I would not see the beach until I get work," he says with a grin. "So when I would cross Juhu beach in an auto, I would cover my eyes. It lasted for just one week, so it was cool."
Ayushmann bagged a radio contract in Delhi, and worked as an RJ for two years.
He returned to Mumbai in 2008, and worked as an MTV host for a couple of years.
He got his first film, Vicky Donor, in 2012.
"(Director) Shoojit Sircar liked me on TV. He liked my persona, so I didn't have to audition for that part. He wanted me to play myself in the film," Ayushmann says.
The film was a sleeper hit, and Ayushmann became a movie star.
But a dry spell followed.
"I was confused about what would work for me," Ayushmann explains. "I was never 100 percent sure about the scripts I got, and whether they would work. I was going with the conviction of the director or the producer, or the label attached to it. I was going with the paraphernalia around it. Like, it was a good project, but I wasn't sure about the script."
It was a great learning experience for Ayushmann and made him realise that nothing was greater than the script.
It helped him develop his own brand of cinema.
"It comes with conviction," he says. "I have never worked with an A-lister director apart from Sriram Raghavan (in Andhadhun). Shoojit Sircar became Shoojit Sircar because of Vicky Donor. Sharat Kataria became Sharat Kataria because of Dum Laga Ke Haisha. Amit Sharma will become Amit Sharma after Badhaai Ho."
"So it comes from conviction that the script is always the most important thing in the project. You just need a talented executer and a good producer. If you go with that..." he trails off.
But more than that, Ayushmann wanted to do something that did not have a reference point in the industry, that it would be unique and blow people's minds because they hadn't seen a film like that.
"Like Shubh Mangal Saavdhan had the message that the Alpha Male is not about getting it up but about standing up for your woman and your rights. Manliness is just that. Sex is just an aspect of manliness," he says.
"You had to be really secure as a man to do that film. And the script mattered more to me than my image. I felt I would come out as a courageous guy to do that," he says.
***
'In college, I have played a lot of aggressive characters. Nobody can imagine me doing that. That side is still unexplored'
It has been a lovely career so far, and Ayushmann looks back at some of his favourite movie scenes.
"I love the interval scene in Vicky Donor where I get to know that she (Yami Gautam) is a divorcee and still, I confess my love to her. It's special because Shoojit really loved that scene; he gave me a pat on my back for it," Ayushmann says, flashing his million-watt smile.
He picks his English examination scene in Dum Laga Ke Haisha as his favourite.
"There is no dialogue in that scene, there is a voiceover. I am giving an English exam and I don't know anything. That voiceover along with my walk from the exam centre to my home is my favourite scene because I could relate to it," he says.
"I was bad in Maths, so I could feel that nervousness while giving the exam. It happened during my pre-boards. I just didn't know what to write in my Maths paper. I was so confused looking at numbers everywhere. I was so bad in Maths that for my board exams, that's all I studied," he says.
It obviously worked for him. He got 81 percent.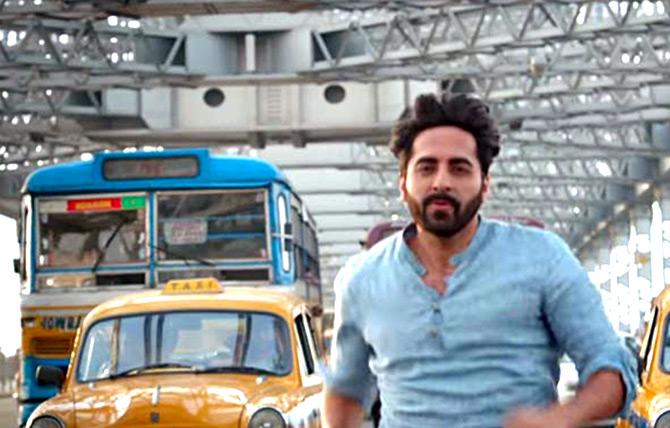 Meri Pyaari Bindu is a film Ayushmann holds close to his heart even though it failed at the box office.
I tell him I really liked the film.
"You are one of the few people who liked the film!" he exclaims with a laugh.
Then, he narrates his favourite part: The climax.
"I am running on Howrah Bridge and returning home. It's raining. Then, the song Maana Ke Hum Yaar Nahi starts. It's such a rare film and a rare climax!"
Does he feel bad when a film that means so much to him doesn't do well?
"My performance was really appreciated; it was rated among the top five performances of 2017," he says.
Then he shrugs, and says, "It's fine, it happens all the time."
He loved the climax of Bareilly Ki Barfi as well when he reads the letter aloud to Kriti Sanon's character.
It is a touching scene where he pours his feelings out.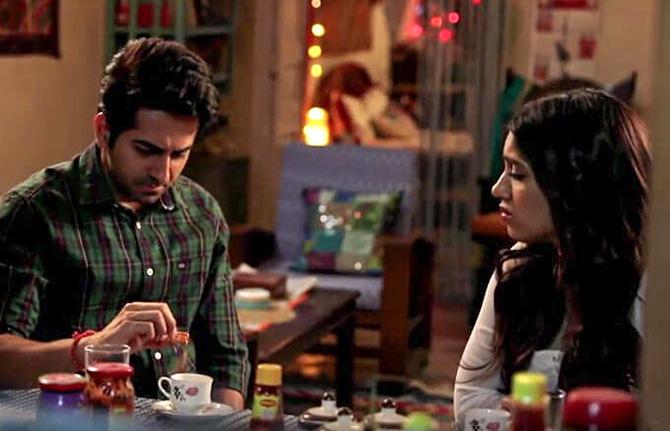 "The biscuit scene in Shubh Mangal Savdhaan!" he exclaims. "It defined the film."
He picks the police station scene in Andhadhun where his character starts imagining what would happen if he yelled out to Tabu and Manav Vij's characters that he could, in fact, see.
"It was so spontaneous, it was not part of the script," he says. "It is just that we had that location for some time and Sriram said, just start screaming. Those lines aren't written in the script, they were all mine! It's not easy to do."
He loves the climax scene of Badhaai Ho when he sees the baby for the first time, and the family comes together.
"Also, when I confront my brother's bullies because I've never done a scene like that," he says. "A couple of directors texted me and said they could see an action hero in me (because of that scene). I would love to do an action film. In college, I have played a lot of aggressive characters. Nobody can imagine me doing that. That side is still unexplored."
***
'It's not easy, but she's got great spirit'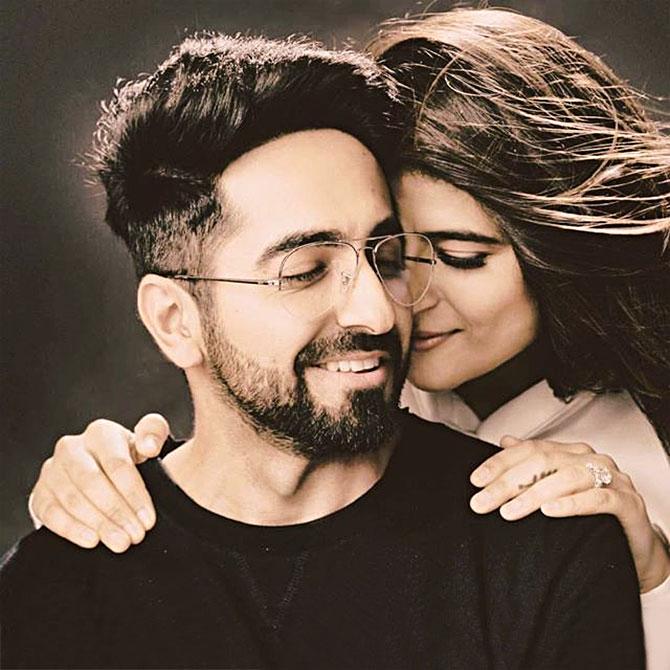 The next three months will be very tough for Ayushmann.
"Chemo is not easy at all," he says, adding that Tahira will have to undergo 12 cycles.
"I am anxious, but the best part is that we discovered it early," he says.
They discovered it on his birthday, September 14.
"We were told that she had to undergo mastectomy. Earlier, we thought it was just a lump that we could take out. But the entire right breast had to go. It was a very tough operation, and then it has to be reconstructed it from your own muscle tissue," he explains.
Tahira is a fighter, and very brave, and Ayushmann acknowledges that.
"It was our decision to undergo chemo because she is young, and we didn't want the cancer to come back 20 years later. We want to go aggressive with the treatment."
"It is not easy, but she has got great spirit. She is taking it very courageously," he says.
If all goes well, Tahira will direct her first feature film in February.
Ayushmann looks back at how they met: "We were in rival colleges. She would do theatre in her college, and we would compete against each other."
They fell in love during their Physics tuitions in Class 12.
"We started dating before the board exams. I could not concentrate at all!" Ayushmann says with a laugh.
Yet, he managed 71 percent.
"We've been together for 18 years now!" he exclaims.
"Earlier, we had a long distance marriage, as she was in Chandigarh and I was here. But it was not working out, so they (Tahira and the children) came to Bombay three years ago."
"If she's happy, I'm happy," he says, with a smile.