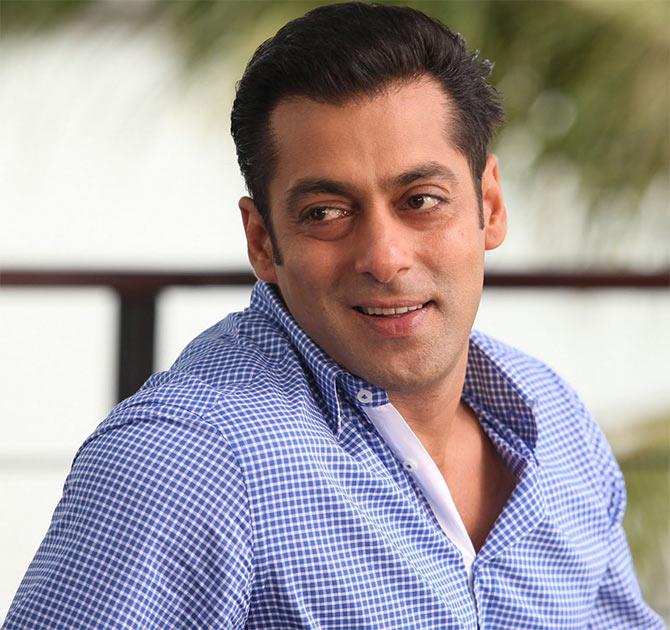 'How times have changed! Thirteen years ago, Salman Khan was the bad boy of Bollywood. In 2015, he has become a messiah for the poor.'
Syed Firdaus Ashraf on how the reviled brat became a well-loved superstar.
My first encounter with Salman Khan was at the Bandra police station where he had surrendered on September 28, 2002, in the hit and run case which killed pavement dweller Nurullah Khan.
Everyone I met then in Bandra (the tony north-western suburb of Mumbai where the accident occurred) was sure that Salman Khan was driving the car which killed Nurullah Khan and not his driver Ashok Singh as Salman Khan and his associates claimed.
What shocked me and the nation was how easily Salman Khan was let off by the Mumbai police in the case. Salman paid Rs 950 as bail (not because of his star status, but because this was what was prescribed by the law then) and was free just two hours after the accident.
Was the life of a man worth only Rs 950, an outraged nation asked (this was long before 'The Nation Wants To Know' became a nightly mantra). How could he get off so easily? Was the law only meant for the rich and famous?
This was not Salman's first brush with controversy. Bollywood's Bad Boy was then constantly in the news for all the wrong reasons.
'Girlfriend basher' he was dubbed after a stormy relationship with Aishwarya Rai; he was convicted in the black buck hunting case and even jailed for a few days in 2007.
Thanks to his proximity to another Bollywood Bad Boy Sanjay Dutt, there were rumours that Salman too had gangland connections. The Enforcement Directorate once questioned him over alleged hawala dealings.
The hit-and-run case was the last straw. The then Congress-Nationalist Congress Party-led government in Maharashtra came under immense pressure to have Salman re-arrested in the case under the stringent Section 304 (culpable homicide) of the Indian Penal Code which entailed harsher punishment. Section 304 was invoked and Salman was sent to jail by the lower court a week later.
As Salman would later recall wryly about his days in jail, the only comfort and companion he had in jail was (the mosquito repellent) Odomos.
The Bombay high court granted him bail in the case after 17 days, but on the professional front Salman beaome an 'untouchable'.
A soft drink company which had Salman as its brand ambassador withdrew its contract.
Movies became rare and his girlfriend walked out of his life.
The only hope Salman had was Tere Naam, a film directed by Satish Kaushik.
Bollywood spin doctors promoted the story as if it was based on Salman's tempestuous love story with Aishwarya Rai. The promos kept up the impression by showing that Salman had landed in a mental asylum because of love.
Soon, Salman's friends spread the word that he was the most misunderstood man in Bollywood.
True to style, when asked about this when promoting Tere Naam, Khan claimed he did not feel misunderstood. "Everyone knows what I am," he said. "But my life make for interesting copy. One has to be honest to oneself. Take a stance and be clean. That is what I am doing and I have done."
Then, getting up from his chair, pressing his hands hard together, he told me, "God and I are this close."
Even if the Almighty and Salman were that close, would people watch Tere Naam, I wondered.
Tere Naam released on August 15, 2003, and was a box office sensation. Salman's career was back on track. 'Bhai', as he was known by his army of fans, could do no wrong. The 'Tera Naam' hairstyle became a rage among his hysterical followers.
A year later, Mujhse Shaadi Karogi rocked the box office, but Salman still bore the taint of 'bad boy'.
In 2005, when Maine Pyar Kyon Kiya released, a secret taped conversation of him purportedly speaking to Aishwarya Rai was leaked in the media. In it, 'Salman' was heard boasting about his underworld connections.
It was clearly time for brand Salman Khan to get a dramatic image makeover.
Come 2007 and Salman launched Being Human, his foundation for charity.
From then on, Salman started speaking about charity to everyone he met. In media interviews, he spoke passionately about his charity work.
Anyone in genuine need obtained help from Salman whenever s/he approached Salman. A staff member was posted outside his home in Bandra's Galaxy Apartments to help the needy.
Voila! in just five years, Bad Boy Salman had turned into Do Gooder Salman.
His fortunes at the box office too started changing, and since Wanted in 2009, there has been no looking back.
With Dabangg in 2010, Salman, the laggard in the Khan trio for supremacy at the box office battle, finally surpassed Shah Rukh and Aamir.
His biggest hit so far has been the unlikely Bajrangi Bhaijaan, in which he plays a simpleton with a message of cross-border peace. The movie has made Rs 600 crore+ (Rs 6 billion plus) at the worldwide box office.
The only stigma was the hit and run case from 13 years ago, from which he was cleared on Thursday. With the Maharashtra government announcing that it will appeal his acquittal in the Supreme Court -- which will also decide his fate in the black buck shooting case -- the superstar is not completely out of the woods yet.
Leaving the Bombay high court after Thursday's verdict, I wondered if Salman genuinely did good or was he a fake philanthropist using his millions to build a positive image for himself.
In the taxi on the way to the office I was updating the Newsdesk about the verdict when the cabbie interrupted me.
"You were there at the court? What happened to Salman Khan?"
He was acquitted, I told him.
"Bhagwan ko lakh lakh shukar hai (The Lord be praised)," the taxi driver said.
When I asked why he was relieved at Salman's acquittal, he told me, "Salman is a very generous man. One of my friends, an autorickshaw driver, had cancer and was falling short of Rs 2 lakh (Rs 200,000) for an operation. Salman gave him the money from his foundation Being Human. Line lagao, paisey le jao (stand in a line and take money)."
Each day, the cabbie added, Salman donates anywhere between Rs 20,000 and Rs 200,000 to at least 10 people outside his home.
I was puzzled. How could the driver defend a man who may have killed another human being due to negligence? "I sincerely believe Salman was not driving the car," he said. "He is a good man. He is into charity. Why will he kill someone?"
How times have changed! Thirteen years ago, Salman Khan was the bad boy of Bollywood. In 2015, he has become a messiah for the poor.
Where do I stand in all this, did you ask? Let me, as is my wont, take recourse to Ghalib.
Banaa kar fakiron ka hum bhes, Ghalib,
Tamashey ahl-e-karam dekhte hain.
(Donning the garb of beggars, Ghalib
I witness the generosity of kind ones).