A fun excerpt from Diptakirti Chaudhuri's Bollygeek: The Crazy Trivia Guide to Bollywood.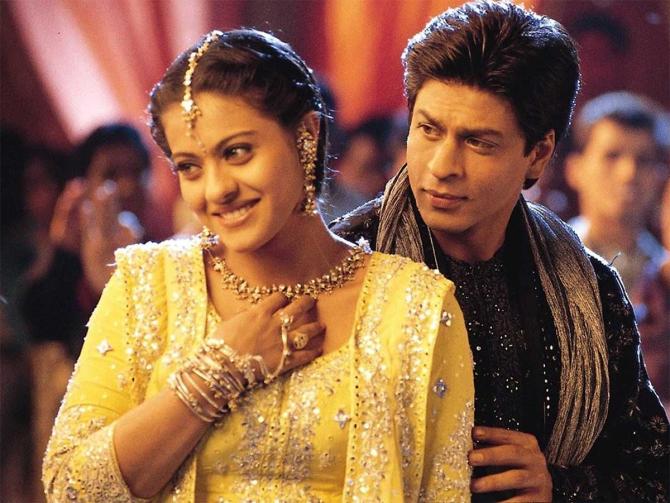 Q. What is eloping?
A. It is the act of both lead players running away from home (usually secretly) for the express objective of either getting married officially or setting up a quasi-marital home.
So, we are not including the act of running away from the altar (by either the bride or the groom) here.
Likewise, we are not including the principled walking out.
In many films, the parents (or elders) do this and the next generation has to bear the brunt.
In Parichay, Sanjeev Kumar walks out of his rich father's home to get married, dies in abject poverty and leaves behind five children for the father (Pran) to manage.
In Kabhi Khushi Kabhie Gham, Shah Rukh Khan -- the adopted son of a billionaire family -- decides he wants Kajol more than he wants his father's billions and walks out of the Raichand estate.
Given his qualifications as an MBA, they elope to London, he finds a top-dollar job and they settle into a swanky mansion.
No one dies of poverty or suffers from TB without medicines.
Clear? Well, here comes the list then!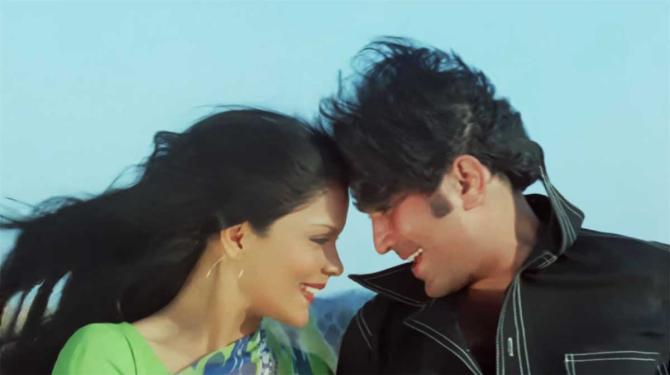 We must start with the Elopement Anthem -- 'Hum dono do premi, duniya chhod chale' sung by Rajesh Khanna and Zeenat Aman (Kishore Kumar and Lata Mangeshkar) in Ajnabee, where she leaves her rich father's house with him.
They take a goods train and the whole song has them making out on bales of hay.
R D Burman creates magic with a tune whose only musical instrument is a rhythm guitar, while an occasional chorus supports the main vocals. (It is said that he had to make do with this simplistic arrangement because musicians were on strike during the recording of this song.)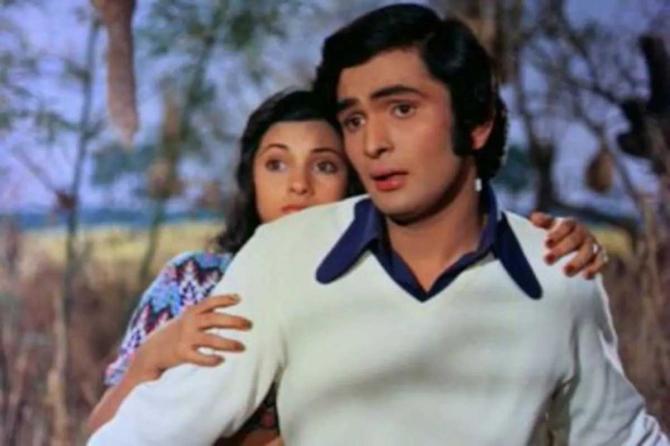 Raj Kapoor followed up the debacle of Mera Naam Joker with a frothy teen love story -- Bobby.
As usually befalls the son of a rich industrialist who wants to marry a fisherman's daughter, the resultant calamity is enough to scare them away from home.
They immediately face a police dragnet, a reward on their heads and a smooth talker (called 'Prem naam hai mera, Prem Chopra').
Bobby was originally conceived as a tragic love story, but Raj Kapoor's wife vetoed that and insisted that the young couple unite after their struggles.
And indeed, they do.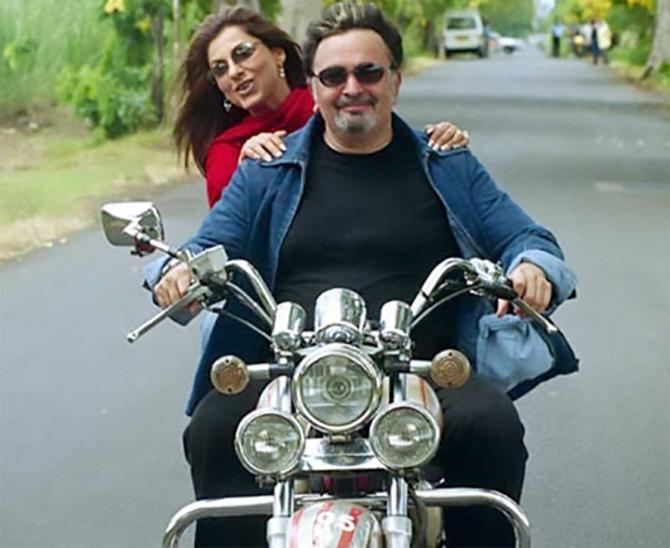 Nearly 30 years later, the stars of Bobby came together for a love story with a twist called -- well -- Pyaar Mein Twist.
It is the story of an older couple, both widowed and retired, with grown-up children.
They fall in love and their children oppose their union with vehemence -- that Hindi film parents have been doing all this while!
The net result is that the lovebirds leave letters and zip off to a friend's farmhouse, as their angry children fight with each other.
All before 'accepting' the union.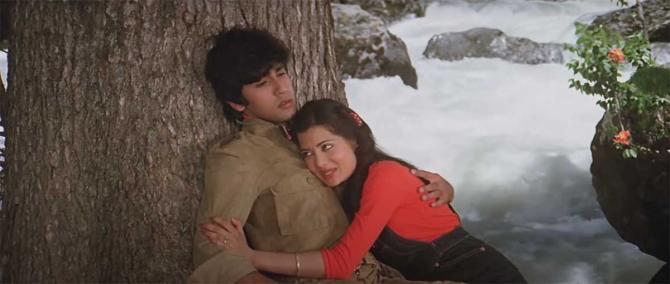 Usually the elopement follows a flowchart.
But there can be a scenario in which the lead players go back to their respective homes after getting married, pretending that nothing has happened.
Of course, the subterfuge is discovered at a suitably dramatic moment, and the postponed running away happens later.
In the 1980s, Deepti Naval goes back home after marrying Farooq Shaikh at an Arya Samaj Mandir in Saath Saath.
In the 2000s, Rani Mukerji does the same with Vivek Oberoi in Saathiya, only to be caught out in front of a family seeking an alliance for her sister!
One of the biggest hits of the early 1980s was Love Story -- Kumar Gaurav and Vijeta Pandit's debut is a frothy teen love story, helped in no small measure by R D Burman's music.
The film has the two lovers eloping and setting up a cute cottage in the forest with an even cuter nameplate with their cutest names on it -- Bunty and Pinky.
Their saccharine sweet life in the forest -- she keeps home, he works as a woodcutter -- is peppered with some beautiful songs.1
Before they are marched back home by their respective fathers.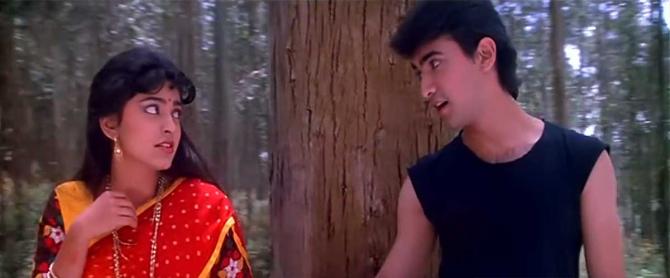 Families are baying for each other's blood in Qayamat Se Qayamat Tak -- even before their children fall in love with each other.
The children decide to elope -- from the sangeet festivities of the girl's impending marriage, right under her parents' noses.
Aamir Khan and Juhi Chawla run away from home to set up a cute but completely unreal abode in (what seems like) an abandoned temple in the wilderness.
As they sing 'Akele hain toh kya gham hai' and set up a flimsy roof for their home, evil relatives are closing in and we know this is not going to end well.
'Humne ghar chhoda hai, rasmo ko toda hai,' sing the young lovers of Dil who elope -- but only after conducting a dramatic saat pheras in front of the girl's father.
They leave home, sing songs on the truck they hitchhike on, find a modest abode for themselves and take on menial jobs to keep home and hearth together.
Of course, other complications -- engineered by the two fathers -- kick in and the elope yatra has to be cut short.
This film was Aamir Khan's first hit after QSQT, and he could be forgiven for believing an elopement in the plot was the secret mojo he was looking for.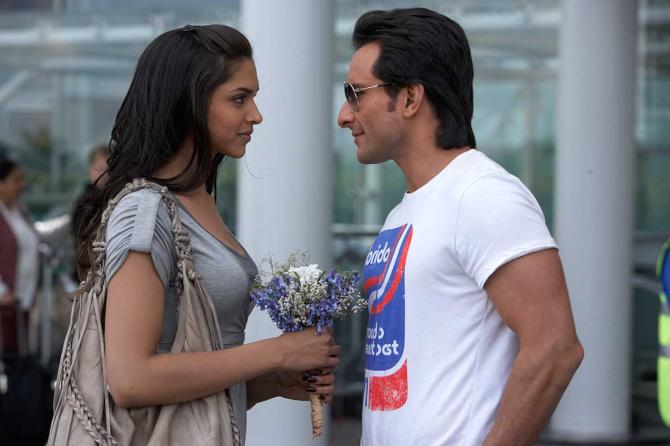 Love Aaj Kal is also the story of a couple escaping to London, though not to a life of luxury (at least initially).
The parallel track of Rishi Kapoor's love story runs as a flashback, and Saif Ali Khan plays the young Rishi Kapoor who chases his lady love from Punjab to Calcutta, before being beaten up by her family and managing to run away with her -- without a word being exchanged between the two!
They run away to London, where Rishi becomes a restauranteur and gives old-fashioned love advice to millennials.
The love of his life has aged gracefully over the years and appears fleetingly towards the end of the film.2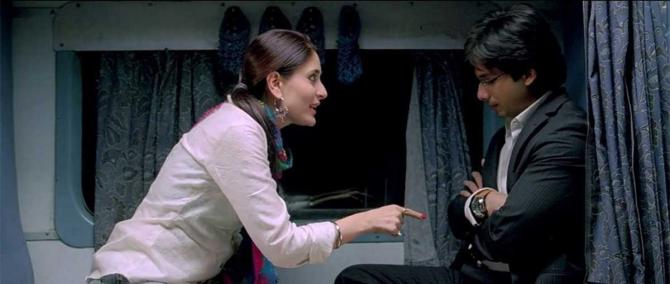 Usually people elope as a last resort after they fall in love.
But in Jab We Met, Kareena Kapoor is in love with the concept of elopement itself!
The super-talkative heroine builds up her impending running away with her childhood 'lover' even without checking if her family would be okay with the union.
Running away for love has been something she has wanted to do right from childhood -- and she does!
Except that this elopement ends in heartbreak and soon she is running away from love.
The young pair of Dhadak goes from Rajasthan to Mumbai to Nagpur to finally Kolkata, in order to avoid the wrath of the girl's upper-class, uppercaste family who couldn't bear an alliance with a lower-caste family.
Remade from a Marathi mega hit (Sairaat), the film sugar-coats the caste element when compared to the original, but the basic premise -- threat of honour killings -- doesn't change.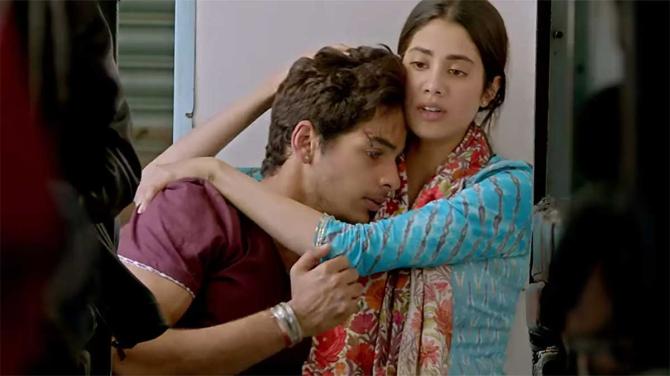 Manmarziyaan is the story of multiple elopements that don't happen.
A beautiful, if chaotic, love story of a wild child (Taapsee Pannu) and a wilder child (Vicky Kaushal), theirs is a marriage that families would never approve of.
Or so they think.
Madly in love, Taapsee tries several times to get the commitment-phobic Vicky to run away with her and get married, but he ditches every single time.
The pain of being stood up by someone you love to death is a key part of the script.
The families finally agree to the match and Vicky gathers the courage for the marriage.
Taapsee is always ready for him.
Or so we think.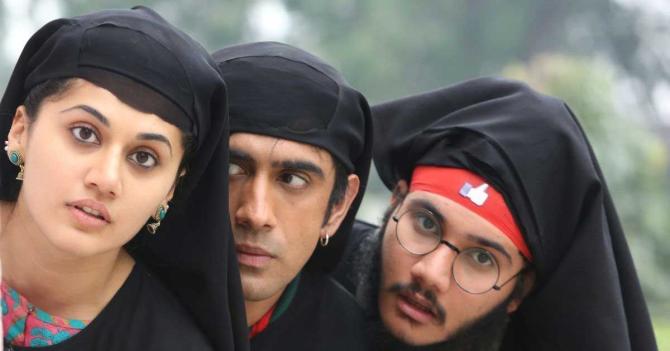 If we think elopement is a frequent enough proposition in Hindi films, then there is a business idea in it.
And who knows, maybe even a venture capitalist waiting to fund it!
Running Shaadi is about that business.
Amit Sadh and his friend (supported by Taapsee Pannu) -- well -- run this turnkey elopement service for couples escaping their wedding to other people, get them married via the Special Marriage Act, set up their home and hearth, and so forth.
They have a website (and even a tagline 'Bhagayenge hum, nibhayenge hum'!) that customizes the service based on 'inter-caste, inter-religion and rich--poor' divides.
It is only a matter of time before it goes viral!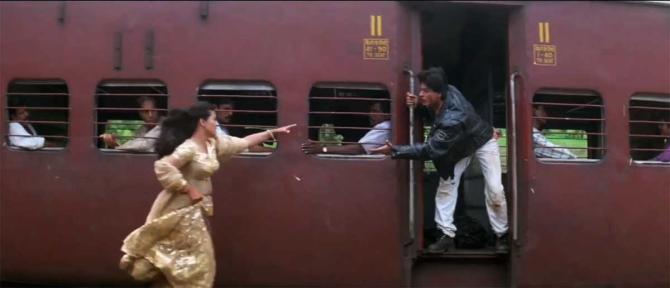 The Antelope Manifesto
While Hindi cinema has long propagated the virtues of running away from home to be united in love, the post-liberalisation poster boy -- the sanskari NRI -- of Dilwale Dulhania Le Jayenge prefers to do the exact opposite.
When Kajol (and her mother) pleads with Shah Rukh Khan to elope, our man conscientiously refuses.
And goes ahead with his plan to convince Amrish Puri, with whom he has already cooked his goose by stealing beer from his store in London.
Of course, it all ends well but the anti-elope plan doesn't fly.
Feature Presentation: Ashish Narsale/Rediff.com