'I have to tell every man that an extramarital situation puts you on a perpetual guilt trip. When you are at home, you feel guilty about neglecting the other woman. When you are with her, you feel guilty about your wife.'
Shatrughan Sinha has never minced words. No wonder then that his biography is titled, Anything But Khamosh.
Read on for an interesting excerpt: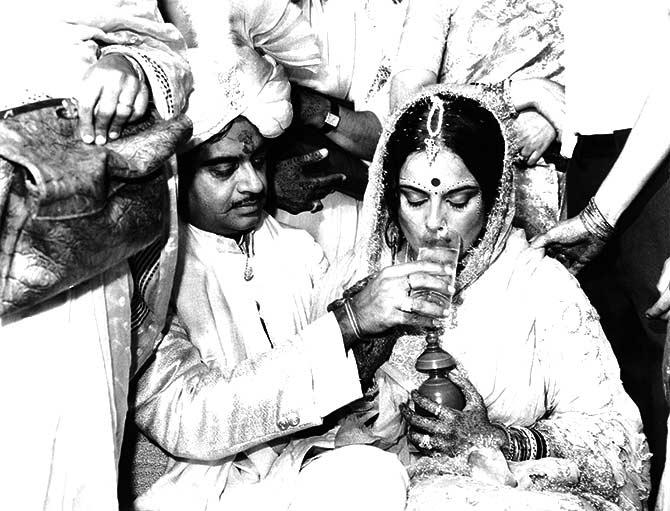 IMAGE: The Shatrughan-Poonam Sinha wedding.
Photograph: Kind Courtesy Om Books International
There were too many women in his (Shatrughan Sinha's) life for him to decide upon only one. He remarked light-heartedly, "My problem was not whom to marry but whom not to marry!"
"It was not only a certain actress who had entered my life," he disclosed. Like the comic book hero Archie who bought 'You're the only one' cards by the dozen for each of his 'steady' girlfriends on Valentine's Day, SS was unabashedly 'going steady' with more than one girl simultaneously.
The list tumbled out.
"I was also going steady with a tall, very well-educated corporate executive who was a South Indian Brahmin and another short little girl who is now married. I had many friends then. I have been very fortunate that most of my girlfriends were very fine young ladies. What all of them had in common was that they were willing to let me go if I was leaving them to marry Promi (Poonam Sinha). To this day, some of them have remained unmarried," he added. Their single status seemed to make him feel a couple of inches taller.
After his mother had led him by the ear, he sheepishly asked Promi, "Despite knowing all that's happening in my life, will you marry me?"
She didn't give in on the spot. A romantic scene had to take place and it did. He smiled affectionately, "To her eternal credit, she kept her dignity by replying, 'I'll give you an answer if you propose to me properly'. Finally, on the terrace of Ramayan, I proposed to her conventionally, on bent knee, with a rose in my hand."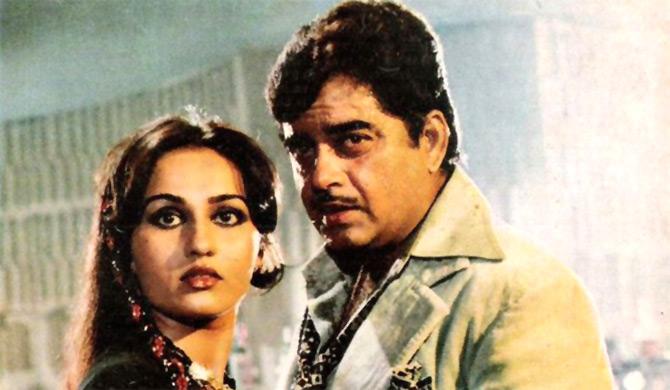 IMAGE: Reena Roy and Shatrughan Sinha -- seen here in the 1980 film, Jwalamukhi -- were a popular couple, both on and off screen.
One is not sure about the other women in his life but for Reena Roy, it was a wrench. Shatrughan Sinha and Reena Roy were a popular celebrity couple and everybody had accepted their off-screen intimacy. So when he chose to openly wed Poonam, it was a humiliating public rejection for Reena Roy. But she too accepted his marriage without kicking up a ruckus. "She was very gracious," said SS. "She said, 'If it's Promi, it's okay. Anybody else and I'll kill you."
Reena Roy had no choice but to be graceful about it especially since she and her man were still commercially in demand. Besides, he continued to stay in the relationship with her despite the change in his marital status. It was a reality that Poonam had accepted when she became his wife.
In fact, while Bipin, Subhash and all his close friends were distributing his wedding invitation to guests in India, SS and Reena Roy were together in London doing a stage show. "Yes, I wasn't even around for the wedding preparations," he accepted.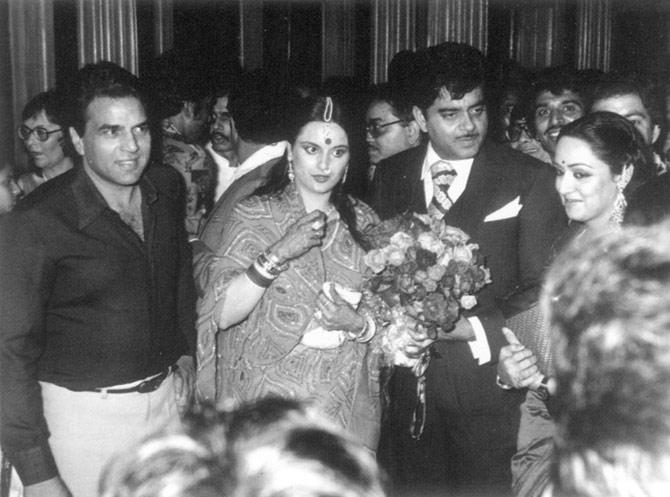 IMAGE: Dharmendra and Hema Malini, who had announced their controversial marriage a month earlier, greet the newly-wed Sinha couple.
Photograph: Kind Courtesy Om Books International
Two days before he wed Poonam, he was on a London stage with Reena when Kalyanji-Anandji made an announcement that Shatrughan Sinha was going back to India the next day to get married.
Reena stood by his side publicly while the bride, who knew just what was unfolding in London, waited for her big moment in Bombay. In this very dramatic triangle, both women stood by him with Reena Roy even driving with him to Heathrow to see him off -- the ultimate ego boost for a man.
But if SS expected Reena Roy to continue being devoted to him despite his marriage to another, he was in for a surprise. "After my marriage I could see her battling confusion," he revealed. "Sometimes she would fly off to the Rajneesh ashram, sometimes stay over with someone in America. She wouldn't talk to me for days. I could not give her the position that she felt she deserved. I couldn't do anything about it."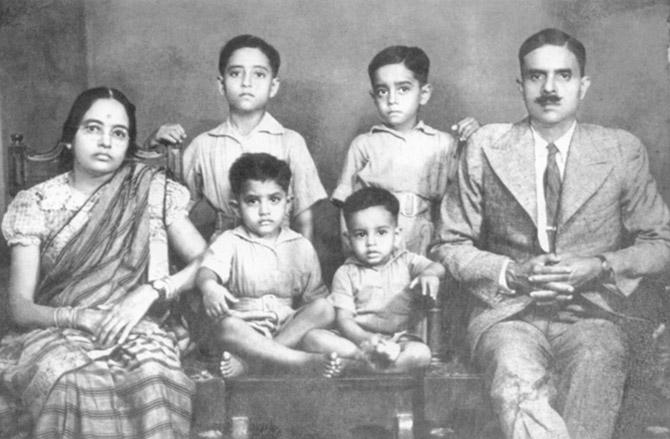 IMAGE: Little Shatrughan with his parents, Shyama Devi and Bhuvaneshwar Prasad Sinha, and his brothers Ram, Lakhan and Bharat.
Photograph: Kind Courtesy Om Books International
If he couldn't, she could. Reena Roy found cricketer Mohsin Khan from across the border and married him before she could change her mind. That move hurt everybody around, including her man in Bombay.
For she had not only married a good-looking, eligible bachelor with a name of his own but she had also done the unthinkable -- crossed over to Pakistan for domesticity.
Unfortunately for Reena Roy, the nikaah (Muslim marriage) on the rebound didn't last even an innings and she returned to Bombay a single woman. It was rumoured that in her later battle for the custody of her daughter Jannat, it was her former lover who helped her. Jannat was finally brought to India and Reena changed her name to Sanam.
If SS had a hand in Jannat's return to her mother, he was circumspect about it. "I don't believe in kiss-n-tell stories," he said seriously, the flamboyance vanishing. "To this day I think of her with respect and affection because she gave me a lot of comfort, calm and peace when I was going through the dilemma of my marriage. I will forever remain obliged to her for that. Whenever we meet, it is with dignity."
SS' friend Dr Upendra Sinha explained how the actor had made up his mind. "He told me, 'Reena loves me but Promi worships me'."
***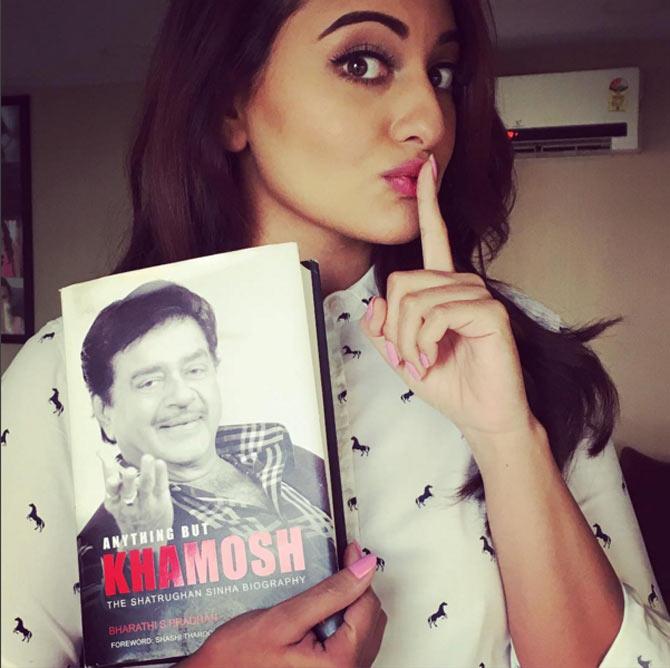 IMAGE: Daddy's darling promotes her father's biography.
Photograph: Sonakshi Sinha/Instagram
The marriage that has lasted over 35 strong years was not a cakewalk for either of them. "When we got married and she came to stay in Ramayan, Promi used to say, 'My banwas (exile) of 14 years happened even before marriage'," remembered Shatrughan. The reference was to the 14-year exile that Lord Ram spent in the jungle with his wife Sita, once again a part of the Ramayana, the mythology so closely linked to the Sinha family.
"It was a difficult period for me also because withdrawing from an emotional entanglement elsewhere was taking its time," SS explained. "Promi used to cry a lot, but she knew I was trying my best. Sorting out our lives took its own time because it was a question of a commitment to the other party also. When I was with her (Reena) outside, I was faced with the question, 'You've set up your home. So was I a toy to be used and cast away?' It was not a comfortable position to be in."
"I have to tell every man that an extramarital situation puts you on a perpetual guilt trip. When you are at home, you feel guilty about neglecting the other woman. When you are with her, you feel guilty about your wife."
"On karva chauth or teej (festive occasions on which North Indian women fast for the long life of their husbands), you are caught not knowing where to go first when both have been fasting all day for you. What are you supposed to do? The situation leaves you stressed and tense."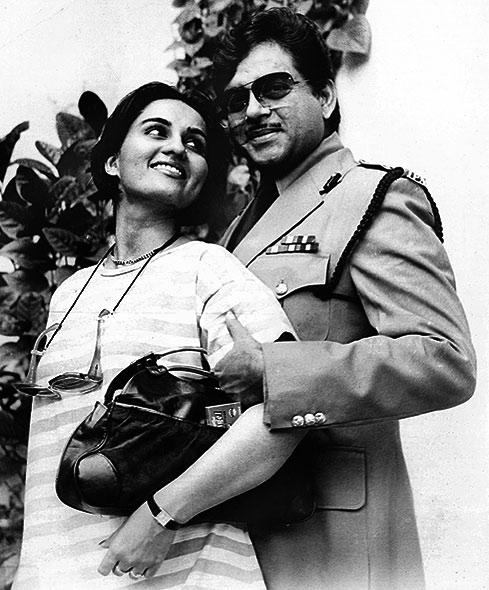 IMAGE: Reena Roy and Shatrughan Sinha
Photograph: Kind Courtesy Om Books International
There were also situations which seemed amusing in later years but caused Promi untold heartache. SS narrated one such incident that could've caused a conflagration at home had Poonam not been his patient pillar of support.
"I was in Pakistan and the telephone operator at the hotel was in a fix when there were calls from both (Poonam and Reena) at the same time and they both asked the operator to be put through to me first. Promi had gracefully given in that time too. She told the operator, 'Never mind, put her on, she's like his sister!'"
"I'd taken Yash Johar with me to Pakistan and he knew that I was frantically hunting for a parandi (fancy hair extension) all over Karachi. I didn't even know what a parandi was, but I desperately wanted to bring back one. However, the market was closed because it was a Friday. When we returned, Yash Johar told Promi how frantically I had looked for a parandi all over Karachi for her. And Promi looked confused because she had never asked for one. Only then did Yash realise that it was the other person who had asked me to get it for her!"
"Despite situations like this, Promi continued to be understanding. I was a victim of emotions and weakness," emphasised SS. "It took time, but I gradually got out of it. That's why today whenever we have an argument, I tell Promi that if, on a scale of one to 10, I was right up there at number 10 for my weaknesses, over the years I have improved and stand at a much better number now."
"On the other hand, she was a perfect 10 to begin with but while all her other qualities are still fine, she has started losing her temper, answering me back; there's hypertension. She's the one who has changed for the worse over the years."
"Perhaps," SS mollified himself with the thought, "It is a catharsis for Promi after all the years of trauma that I put her through. So I would think her temper tantrums today are justified."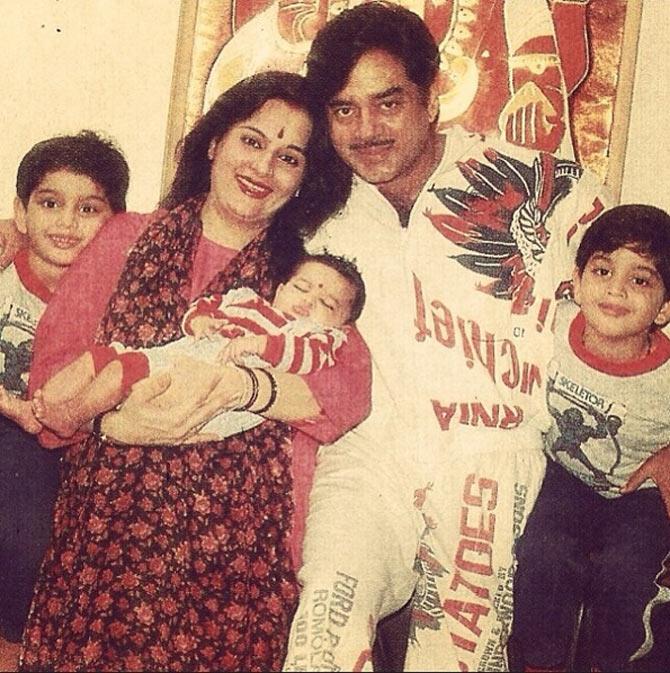 IMAGE: The Sinha family, then.
Courtesy: Sonakshi Sinha/Instagram
Producer Pahlaj Nihalani, one of Shatrughan's closest friends during his stint in films and in his career as a politician, endorsed Poonam's graciousness about the situation with Reena Roy. Pahlaj's professional association with SS began with Hathkadi (1982) which also starred Sanjeev Kumar and Reena Roy in important roles. And he was caught in the crossfire between the two lovers.
"After Hathkadi, I was keen to repeat the same setup of Shatru, Reena, Sanjeev Kumar for my next film, Aandhi Toofan," divulged the producer. "But Reena said a firm 'No' to my offer. She said to me, 'Tell your friend to make up his mind. If he gives me an answer, I'll do the next film with him. Otherwise, it's a 'No'. I've made up my mind that if he doesn't marry me, I'm going to get married in eight days'."
In 1982, Shatrughan was already married to Poonam, but was still emotionally bound to Reena Roy and wouldn't cut off ties with her.
"Sonu was shooting at night for a film called Telephone (1985) in a hotel in Juhu when I went across and repeated Reena's message to him," Pahlaj gave the details. "He called her up and cried like a baby. For the first time, I saw him cry; he was very emotionally involved with her. That was the one time I spoke up and told him, 'Let go, let her get married'."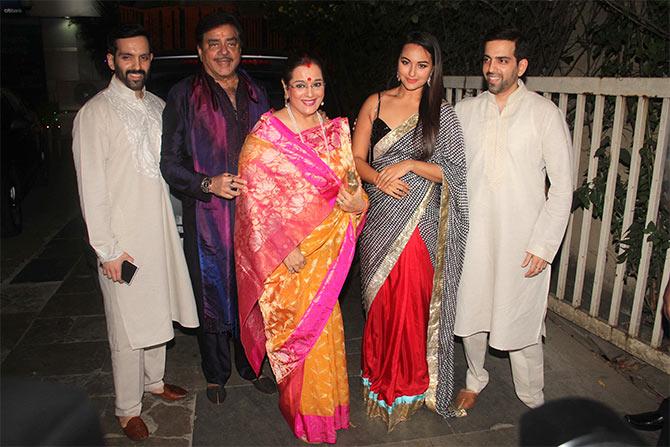 IMAGE: The Sinha family, now.
Photograph: Pradeep Bandekar
"To Promi's credit, she knew all that was happening," remarked Pahlaj. "But during the entire shooting of Hathkadi, never once did she try to find out anything or ask questions about what they were up to. We shot for one month in Goa, but she never gave him any grief over it. She always knew, 'Ghoda jayega toh bhi wapas ghar hi aayega (Even if he strays, he will return to the fold)'."
Pahlaj, who understood his friend well, added cannily, "Sonu was also acutely aware of his reputation and was careful not to besmirch it."
Reena Roy helped SS make up his mind which way to head and stay put when she found herself a husband in cricketer Mohsin Khan and flew out of her co-star's reach. She had waited long enough for her man to enter into a Dharmendra-Hema Malini kind of arrangement with her.
SS instinctively recoiled from it. But what made it even tougher for him was that his own brother Dr Ram Sinha did a surprise turn one day by asking him to take Reena Roy as his second wife.
It was dramatic.
SS had an eight-month pregnant wife at home when he was summarily summoned and forced to take a stand.
Excerpted from Anything But Khamosh: The Shatrughan Sinha Biography by Bharathi S Pradhan, Rs 595, with the kind permission of the publishers, Om Books International.
You can buy a copy of the book here.