The Dulquer factor is the only saving grace of this witless, charmless sham posturing as satire, feels Sukanya Verma.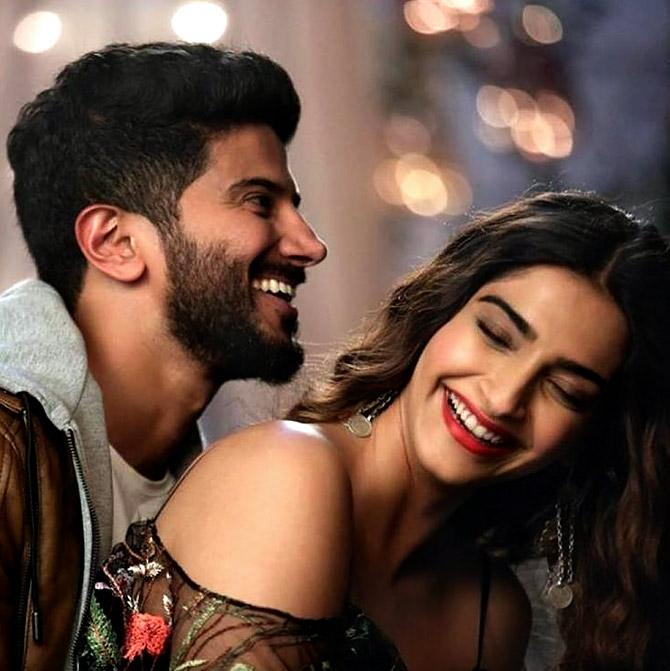 A voice we'll easily recognise even from the farthest end of the spectrum opens The Zoya Factor, likening cricket to dengue and malaria in India.
It's a dangerous bimaari, he warns, one the nation is infected by all year round.
He would know.
The man owns a cricket team.
This same voice knows plenty about romance too.
The Zoya Factor, which seems to know nothing about either, would be all the better for it had it consulted him on the same.
Following Shah Rukh Khan's quick foreword on India's collective obsession over cricket, Abhishek Sharma's (Tere Bin Laden, The Shaukeens, Parmanu: The Story Of Pokhran) lacklustre adaptation of Anuja Chauhan's 2008 book unravels to showcase what happens when a witless, charmless sham postures as satire.
South Delhi girl Zoya Solanki (Sonam Kapoor) is an advertising executive living with her retired army man dad (Sanjay Kapoor) and unusually idle big brother (Sikandar Kher), who keeps addressing her as Jhadoo (in the book he calls her Gaalu because of her chubby cheeks).
Her boss (Koel Purie) is a perpetually frowning, fuming figure with stylishly streaked ends in her bob.
When not juggling between her annoying brother and aggravated boss, Zoya hobnobs with India's cricket team over fancy, five-star hotel breakfast spreads leading some to believe her lucky presence and auspicious date of birth is instrumental in their win.
While their skipper Nikhil Khoda (Dulquer Salmaan) bats for merit, the rest of the men in blue encourage the notion.
Team India kya ab jaadu tona ka sahara legi? wonders a solitary voice of reason but the cricket board (embodied in an excellent Manu Rishi's slimy corruption) is happy to play along.
Romance brews, egos clash, misunderstandings fester and vested interests (Angad Bedi's one note villainy) plot and conspire as India wins one match after another and Zoya turns into a talisman the cricket-obsessed swear by.
When I read the book a decade ago, I enjoyed its romance and Chauhan's catchy prose.
I cannot recall details except all the while I was reading it, I pictured Zoya in the mould of Shweta Tripathi and Nikhil Khoda as a doppelganger for Mahindra Singh Dhoni.
Credited for story and additional screenplay, Chauhan's blah screen version bears little resemblance to its vibrant paperback origins.
What a shame considering The Zoya Factor's tamasha and tension is tailormade for a Bollywood script.
The wasted opportunities stack up as the movie progresses.
There is much scope to say something pertinent about the thriving culture of superstitions or make a case for how a woman can only be classified as devi or demon by and in a predominantly male world.
But between flimsily shot ad reels of sponsored brands and a rom-com that makes boiling water look exciting, The Zoya Factor goes nowhere.
A lot of the jokes don't land.
One could still accept a dentist using anaesthesia for treating a simple dental cavity but Sonam Kapoor's overreaction to it is tormenting to watch.
Seeing what a lavish breakfast buffet is laid out before the team every single morning, their bizarre desperation to pounce on a slice of cake seems most odd and hardly funny.
Sanjay Kapoor and Sikandar Kher romping about in cricket jerseys appear to be waiting for that one quirky scene that never arrives.
Anil Kapoor pitches in a guest appearance too but the humour doesn't add up.
Unimaginative in its creativity and commentary, The Zoya Factor's biggest casualty is cricket.
Characters appear to be physically modelled after Shikhar Dhawan, Harbhajan Singh and Sachin Tendulkar but to no avail.
You'll see more dynamism and logic in stick figures than the matches played out in the movie.
In one scene, Nikhil persuades the board to drop Zoya for a minor match as the results won't matter. It wouldn't seem a little less absurd had director Sharma not neglected to remember who ended India's dream run in this year's World Cup.
The Zoya Factor does have its occasional moments.
The Navjot Singh Sidhu inspired commentary is a droll touch. Sample these: Zoya ke saath poha khane se kuch nahi hua or Jitna time usse run banana mein lag raha hai utne time mein Aadhar card ban jata.
A house party at the Solanki home provides an unexpected warm breakthrough when Nikhil charms Zoya and her elderly company with his 'killing one bird with two stones' phone call.
If only this would translate into a crumb of chemistry.
Sonam Kapoor looks fresh and fashionable. But it's an embarrassingly shrill take.
Zoya Solanki is a self-conscious, self-deprecating Karol Bagh girl using humour as a defence mechanism.
But when a ready-to-pose-for-this-month's-Vogue Sonam shrugs off her glamour to cry how 'Main kabhi Miss Sainik Farms ki runner-up bhi nahi bani,' the false notes are hard to miss.
The role needed the comic timing of Juhi Chawla and feisty spirit of Kareena Kapoor's Geet Dhillon.
Sonam plays her like an airhead channelling her inner Asit Sen.
Although more class monitor than captain, the Dulquer factor is the only saving grace of this bland confection. His charisma and cricket are up to the mark.
Still interested in luck and Zoya?
You'll not find one better than the one that came out in 2009.
Rediff Rating: