'I don't believe in the length of the role.'
'But I definitely don't want to be decoration.'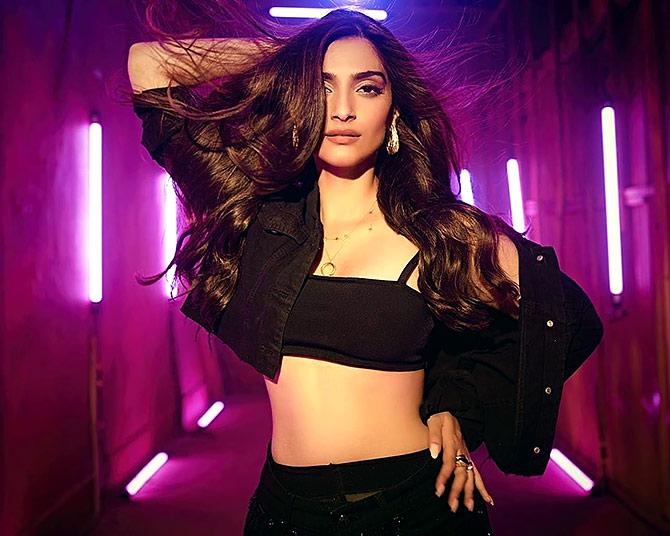 Sonam Kapoor tests her luck with her latest release, The Zoya Factor.
After working in too many serious films, the actress is in the mood for an easy-breezy film, and her latest project, she says, suits her just perfectly.
Paired opposite the hunky Dulquer Salmaan, The Zoya Factor is directed by Abhishek Sharma.
"My father always thought I was lucky for him; even my sister was lucky for him," Sonam tells Patcy N/ Rediff.com.

Do you think you're lucky?
Every girl, who is born in this world, is lucky.
We have a bad reputation that we are burden on our family.
My father always thought I was lucky for him; even my sister was lucky for him.
I think hum ek thofa hote hai, that's why we chose the name Zoya for my character because Zoya means 'gift'.
As women, we are all lucky for our families.
Parents say that eventually, in their old age, only daughters will look after them.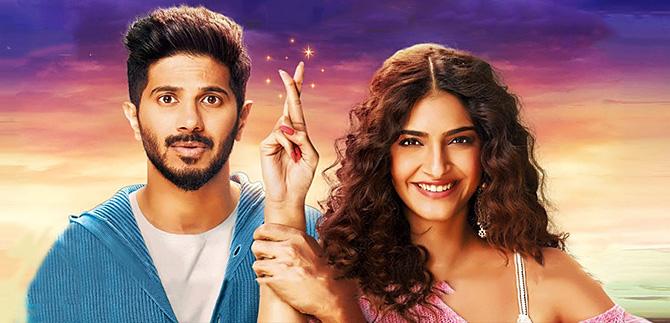 Do you believe in the nimboo-mirchi superstition to ward off evil spirits?
Yeah, we have nimboo-mirchi outside our door, the car... We have a little murti in our car.
I have dahi-shakar every time I travel.
Your uncle Sanjay Kapoor plays your father in The Zoya Factor. How is your chemistry with him?
I really get along with my chacha.
He's more of a friend then a chacha because he's so young.
He's very easygoing, no hassles, you can tell everything you're never going to tell your parents -- all the wrong things I've done!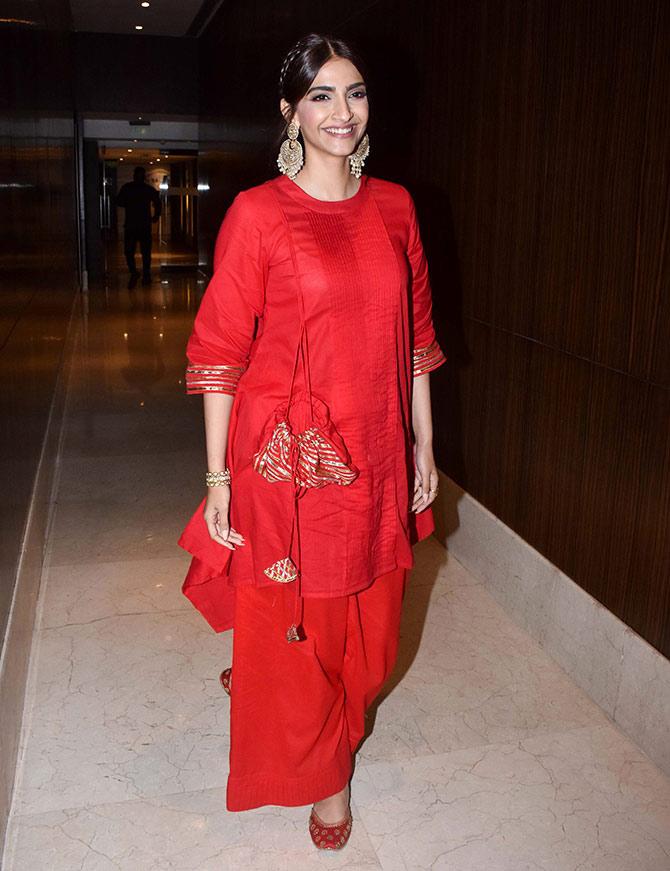 Why are you wearing only red in the promotions?
Just for fun!
In the film, when she becomes a lucky mascot, she starts wearing red clothes.
The director had told us that cricketer Mohinder Amarnath used to use red handkerchiefs.
He would add little nuggets like that.
So when Zoya becomes the lucky mascot, she has to wear red only.
So suddenly, in the film, I am wearing only red clothes!
I decided to use that in the film promotions for fun.
And if you had to pick a colour?
I love to wear black!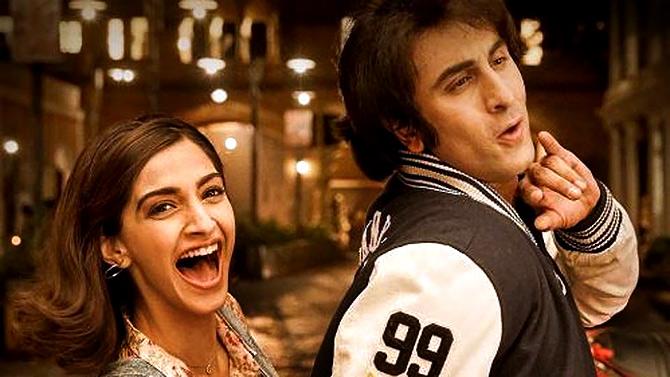 How important is the length of a role for you? You have done smaller but significant roles in films like Bhaag Milkha Bhaag, Sanju…
I don't believe in the length of the role.
But I definitely don't want to be decoration.
I can do a Neerja, a Zoya Factor, Ek Ladki Ko Dekha Toh Aisa Laga, Khoobsurat or a Veere Di Wedding but at the same time, I can do a Sanju or a Milka Singh.
If I have to do a film with three scenes and two songs, I'd rather do that in a film like Sanju or Bhaag Mikha Bhaag, where I have something to do and my character takes the story forward.
I also feel you need to work with people you enjoy working with, like in Delhi 6.
It's one of my favourite performances.
It's important to work in films that make a difference.
I am very proud of PadMan.
It is one of my best performances and I never thought I would enjoy working in a film like that.
I love working with (Director) R Balki.
I would work with him in a heartbeat just because of the kind of person he is.
He has a lot of respect for women, and a lot of integrity in the way he works.
The same goes for Rakeysh Omprakash Mehra, Rajkumar Hirani, Ram Madhvani and Shashanka Ghosh.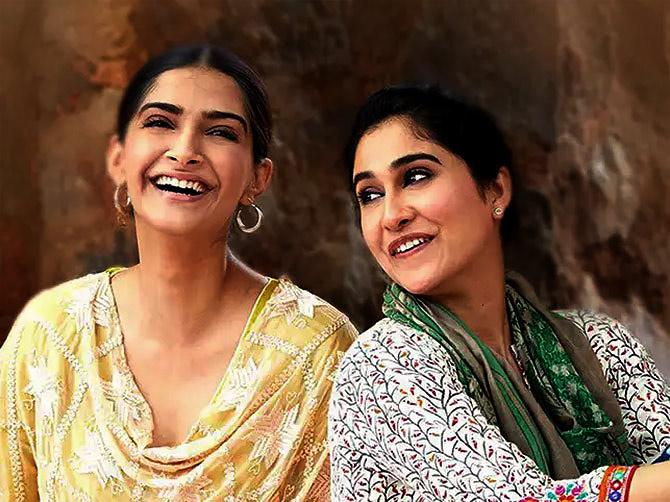 Ek Ladki Ko Dekha Toh Aisa Laga was a well made film but it did not do well. What do you think went wrong?
It was one of my best reviewed films.
I think people were afraid to go and watch it.
Also, I think it was way ahead of its time because it has done stupendously well on the OTT platforms. It's one of the most successful on the OTT platform.
So people are comfortable watching it alone, as opposed to going to a movie theatre, because of the stigma.
I get messages saying that, I came out to my parents through this film or I accepted myself because of this film.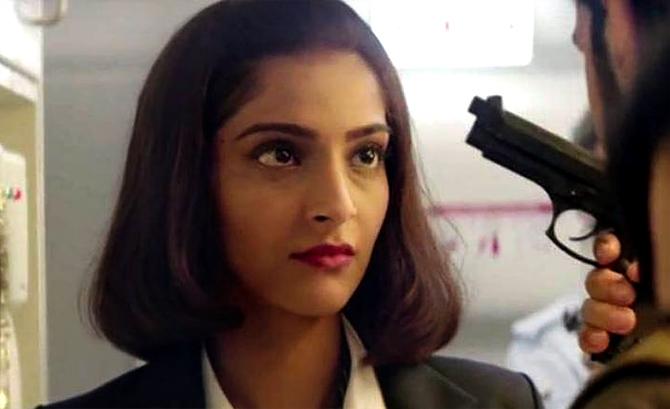 Every film teaches you something. What have you learnt through your films?
Neerja taught me about understanding, that fear is not something you should be afraid of.
Being brave does not mean you have no fear.
It means that if you face it, you must look at it and do what you can.
That's what I learned -- to be fearful and still go ahead.
With Sanju, I learned about the power of the media.
I realised the perception that the media can create of your life.
A lot of celebrities look at the media as the enemy. For me, the media is a friend.
I look at it as a collaboration.
Eventually, your life and your image is in your hands.
I have never had a bad relationship with the media. It's because I was young and naive when I came in, but not prickly.
I have been open and nice and so they have been open and nice.
I have also learned that even if you're the biggest filmmaker in the country, you have to treat people a certain way.
I have never seen Raju Hirani badly behave with anyone on the sets.
He may be the most successful filmmaker in the country but he's also the most humble.
I would work with him again in a heartbeat.
Ek Ladki Ko Dekha Toh Aisa Laga was an important film.
It was not as successful as Neerja but I got the same respect.
With PadMan, I realised the things that you and I take for granted.
For example, I was shooting in a small town and when we started discussing pads, the people around us just left. They said they would not shoot because 'yeh gandi cheez hai.'
And they were not locals, they were junior artistes.
You have to understand that Bombay and Delhi are not the whole of India. We are cosmopolitan cities, and very different.
The heart of India has still not progressed.
They still think it is dirty.
They don't realise that if you don't have your period, you cannot bear a child.
In Veere De Wedding, I learnt that Kareena Kapoor and I should work more together.
Female co-stars are the best co-stars; I had the best time working with them.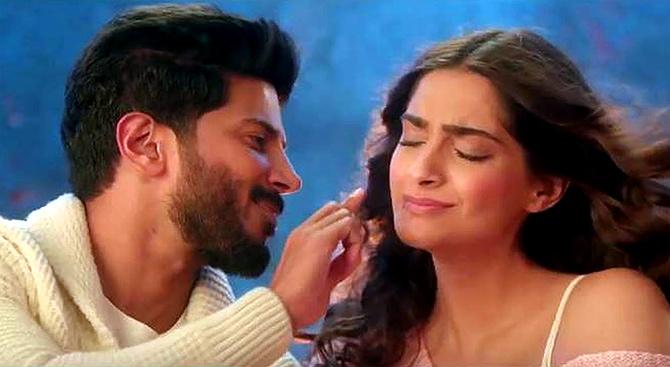 What did you learn from The Zoya Factor?
In The Zoya Factor, I learnt that sometimes, it's important to do easy-breezy films.
I have worked in too many serious films and wanted to do something light. Even though I did Veere, which is a light film, it was my production so it was very intense.
I could not enjoy it.
I am sure Swara (Bhaskar) and Bebo had fun.
I had a great time too but there were other tensions.
I'm sitting doing my hair and makeup in my van, and a production meeting is also going on.
So it's so much fun to do a film that's easy-breezy!