'I am not here to change the society, and I am not under the delusion that a film can change things around.'
'The idea is to have fun and give your point of view.'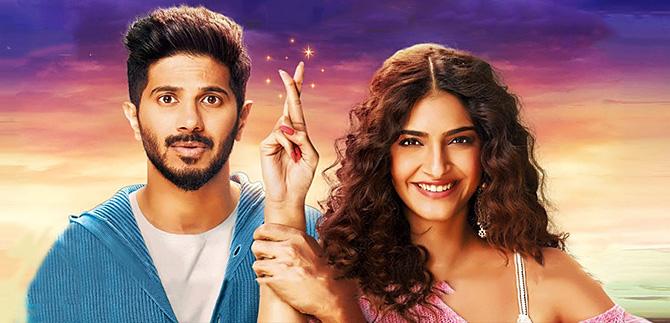 After giving us a hit with Parmanu: The Story of Pokhran, Abhishek Sharma returns with The Zoya Factor.
Based on Anuja Chauhan's popular book of the same name, the film tells a unique love story set against the cricket World Cup.
While Sonam Kapoor's Zoya plays an executive in an advertising agency, Dulquer Salmaan's Nikhil plays the captain of the Indian cricket team.
But Abhishek's quick to tell Rediff.com Contributor Karan Sanjay Shah, "We've not tried to make a Virat or a Dhoni or a Sachin or a Ganguly."
The Zoya Factor was supposed to release in May but it's been pushed to September 20. How do you feel now that the film is ready to release?
Yes, we were going to come out in May but I guess we took the right call because there was an overdose of cricket at that point, due to the ICC Cricket World Cup.
I am really excited about the film as it is a new genre for me, a rom com, and hopefully, people will like it.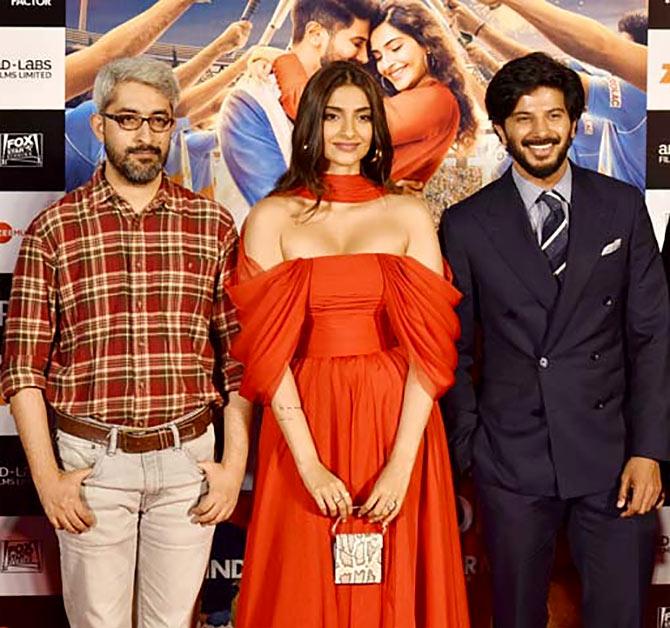 When a film gets postponed, does it add pressure on you?
No, it actually takes away the pressure for a while till the film gets ready for release again.
The pressure situation is generally towards the last few days because all the hard work over the past few years comes to a close.
In the last nine years, since the time I've been in this industry, I've seen many ups and downs.
You feel various emotions, it's unpredictable, just like how unpredictable things are in cricket.
You can have the best team, yet fail.
Sometimes you make a small quirky film and it succeeds.
You never know what will happen but this unpredictable part only makes it exciting, as you never know if people will like it and if they do, just how much will they like it.
How difficult is it to adapt a popular book into a film?
It's very, very difficult.
In fact, this process of screenplay writing was the toughest among all the films I have done till now.
This is my fifth film but it took a lot of time as it was a 500 plus page book and Anuja (Chauhan) has written a fabulous book.
When the book is so good, you want to put as much as possible into the film.
But it is impossible in a two-hour film.
The book was like a first-person perspective from Zoya's point of view.
Here we are trying to establish a narrative; of course, it has Zoya's voice as well.
But in the movie, you will see the love story from a third person's point of view.
It took us four years to develop the screenplay.
Sonam and Dulquer's jodi looks fresh. What made you cast Dulquer?
Aarrti Shetty, my producer-friend, told me about Dulquer once and somewhere, when we were casting, I recollected it.
I saw his work and asked them (the producers) if we could go ahead with him.
They got very excited and said, 'why not?'
It's a fresh pairing, so it works.
Also, he is an amazing actor.
I think he has the potential to become one of the finest in the country. Not just in the Malayalam and Hindi film industries, he has a pan-India appeal.
He is a great actor with a great presence of mind, so I feel he is a superstar in the making.
If he keeps making the right choices, he can be one of the finest that we have.
When we looked at him, we knew that he was the complete package.
Have you taken any references of Indian cricketers for Dulquer's character?
Anuja made his character in the novel as an amalgamation of all the cricketers she has hobnobbed with.
Mahendra Singh Dhoni is my favourite cricketer and he wears number seven on his jersey. So I have paid tribute to Dhoni in terms of Nikhil's (the character's name) jersey number.
That doesn't mean he is playing Dhoni; it's just a tribute.
Apart from that, he's a unique character in himself. He is Anuja's original creation and we've tried to keep him that way.
We've not tried to make a Virat or a Dhoni or a Sachin or a Ganguly.
Nikhil is an amalgamation of the various attributes that she saw in cricketers.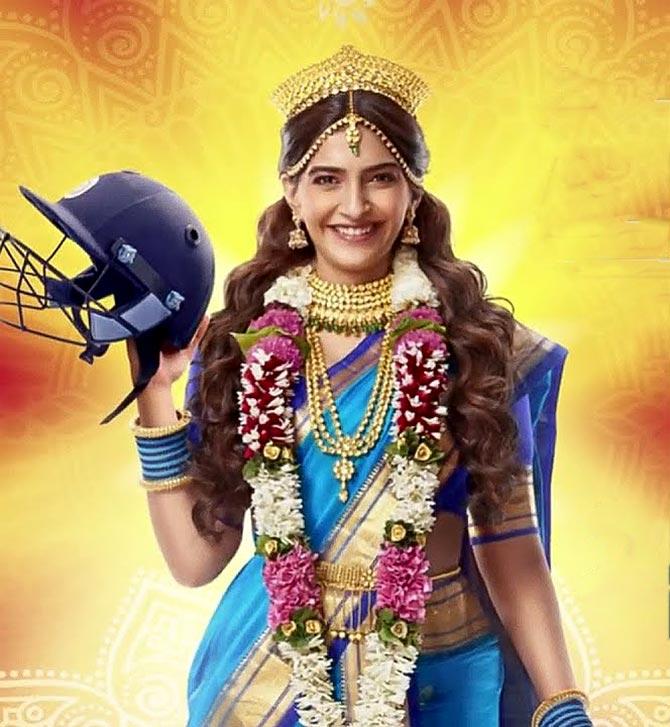 Do you believe in luck and superstition?
I don't believe in it at all, and that's why it was interesting to make this film.
I was analysing it from the hard working person's perspective.
You need to have a cynical mind to poke fun at rituals.
That's why it was fun making this film because I got something to use my satirical skills on.
In today's day and age when people's sentiments get hurt by the smallest of things, were you sceptical of having a quirky take on superstitions?
No. I think we will be fine as we have told everything with a pinch of salt.
I feel people are more touchy about religion and we are talking about superstition in The Zoya Factor.
We've done it in a zany, crazy manner, so I think they will like it.
I have dealt with these subjects before too, during Tere Bin Laden. That could have gone horribly wrong.
But I think it's my speciality that I understand satire, which should not cross limits.
The maximum it can do is generate a healthy debate.
I am not here to change the society, and I am not under the delusion that a film can change things around.
The idea is to have fun and give your point of view.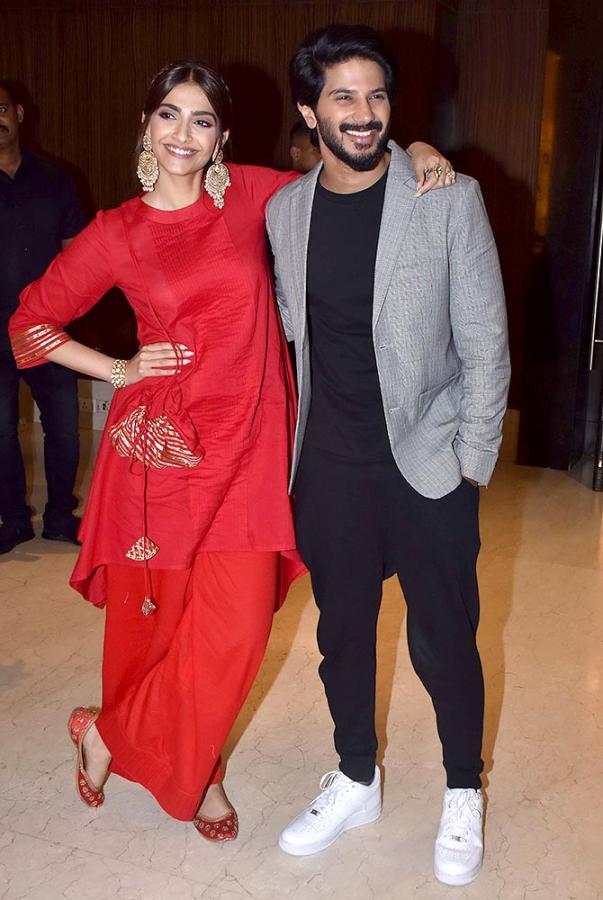 You have packaged cricket, romance, drama, comedy and superstition into a film. How difficult was it to maintain a balance?
That's where the screenplay comes in and why the process of writing was difficult -- we had to maintain the balance.
It has to be organic, not just for the sake of making everybody happy.
There is no pie chart where we demarcate how much romance or drama should be there.
I feel the book became popular and successful because it appealed to everyone.
Anuja herself is so funny that everyone could relate to her humour.
What kind of films do you like to watch?
My palate is vibrant and diverse, both in music and films.
I hear all kinds of music and watch all kinds of films.
I am interested in all genres; I want to try my hand at all genres.
But having said that, I love comedies.
That's why, even as a filmmaker, you'll see that I am more comfortable with comedy.
I broke it with Parmanu and now, hopefully, with this one too.
The Zoya Factor has comedy but it isn't a comic film.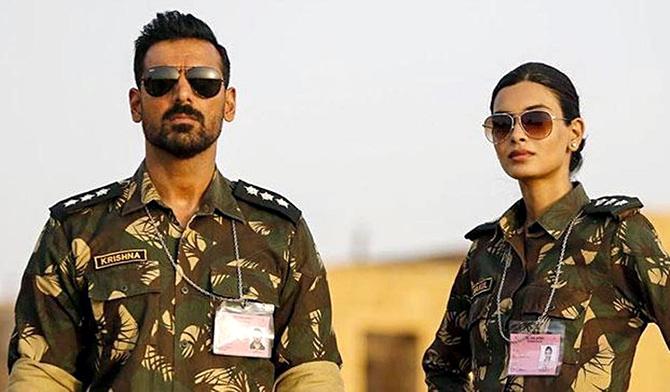 How did the success of Parmanu: The Story of Pokhran change your life?
The biggest success was that it endorsed my ambition of breaking away from my comfort zone and exploring new genres.
It also encouraged people to look at me as a filmmaker, who can try different genres.
Otherwise, it is very easy to box people in this industry.
I did not want that stereotype attached to me and Parmanu was a big game-changer.
What's next?
I am making a film with Zee Studios but it's early days to say more about it.
But I can say that it's a comedy.
I am also writing something.
After Parmanu, I want to work with John Abraham again.