Prassthanam is worth a one-time watch. Just don't go with high expectations, feels Karan Sanjay Shah.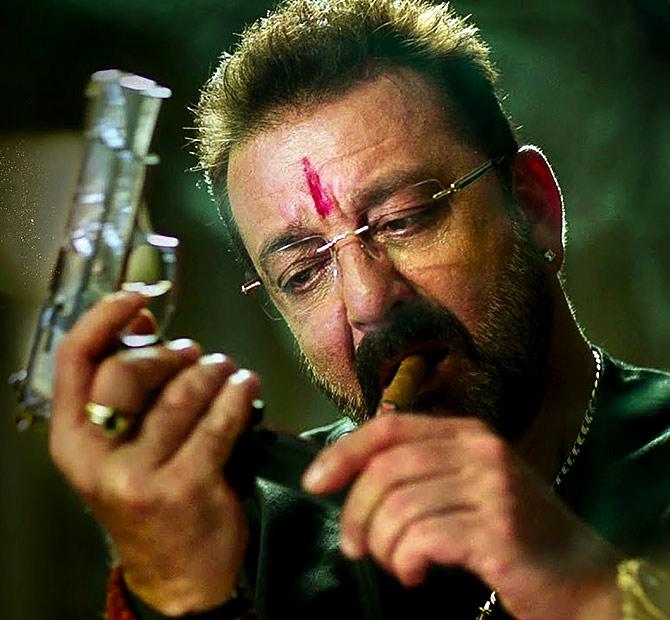 Political dramas have entertained the audience time and again.
Now, Sanjay Dutt serves us Prassthanam, a film which explores family politics and its dirty side, once again.
While it seems good on paper -- this is Deva Katta's Hindi remake of his 2010 Telugu film -- the film is strictly average with some moments of brilliance in between.
Sanjay Dutt plays Baldev Pratap Singh, the head of a political dynasty in Uttar Pradesh.
He is a ruthless leader, who has won the last four elections and is working towards the development of his state.
His elder step-son, Ayush (Ali Fazal) follows his footsteps and is idealistic in nature.
Though he turns rowdy sometimes, he has a good heart.
Baldev's own son Vivaan (Satyajeet Dubey) is a spoilt brat and wants to snatch his father's throne from Ayush.
His brash behaviour and jealousy consume him and creates trouble for Baldev's imminent win in the elections.
A major incident caused by Vivaan wrecks havoc in the family as well as Baldev's stride to victory.
This forces Baldev to join hands with his enemy, Bajwa Khatri (Chunky Panday).
Baldev and his long-time loyalist Badshah (Jackie Shroff) also face issues, while Manisha Koirala, as Saroj, is a silent observer.
Will Baldev be able to save his family?
Will Vivaan and Ayush settle their scores?
The performances are fantastic.
Ali Fazal shines in a well written character.
He pulls off the role well, right from his accent to the action. His idealistic and emotional character makes you feel for him.
Chunky Panday is a worthy opponent to Sanjay Dutt and Ali Fazal.
His dialogues, expressions and manipulative skills are on full display.
Jackie Shroff fans will love his kickass performance as a silent but killer character.
Sanjay Dutt might land a few punches but he cannot pull off his character. Perhaps a younger Sanjay Dutt would have done justice to the role.
His action scenes are badly choreographed and edited.
Manisha Koirala could done with a meatier role but she gets reduced to a silent spectator.
The writing and direction is good and credit goes to Deva Katta. Some of the twists will leave you stunned.
Prassthanam also showcases the current political scenario, in-fighting in parties and how businessmen and money influence poll results.
But Amyra Dastur and Ali Fazal's love track is very avoidable, as are some of the songs.
At two hours and 20 plus minutes, Prassthanam feels stretched. It could have been easily edited by 20 minutes.
The climax seems to go on and on.
Lack of hard-hitting sequences and a strong message makes the film falter.
Still, Prassthanam is worth a one-time watch. Just don't go with high expectations.
Rediff Rating: