'Whatever I have learnt is because of Sunny sir.'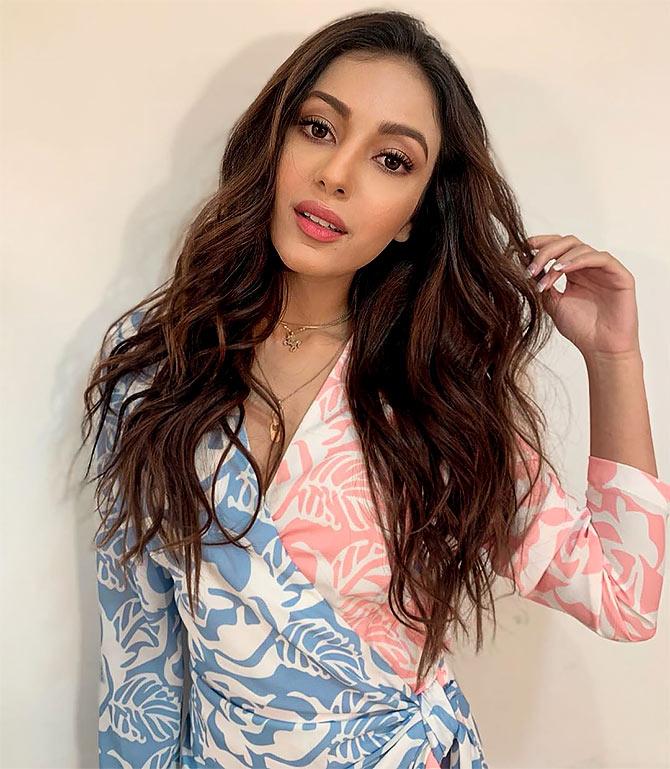 Sahher Bambba is a lucky girl, and she knows it.
The young debutante actress from Shimla decided to try her luck in the movies, and got signed up as the female lead as soon as she completed her education.
Sahher will be launched alongside Karan Deol in his daddy Sunny Deol's new film, Pal Pal Dil Ke Paas.
Of course, the film's shoot involved a lot of hard work.
As she tells Patcy N/ Rediff.com, "When we would break for lunch, I would call my mother and cry."
Pal Pal Dil Ke Paas has taken a while to release. Have you been offered any film meanwhile?
No. I am not from the film industry, so nobody knows me.
Also, we were kept away from the media because (Sunny Deol) sir wanted to present us in a certain way.
It was definitely a long wait, and we were all exasperated as the released date changed a few times.
We had put in so much of hard work that we knew the end product would be good.
I guess it was worth the wait.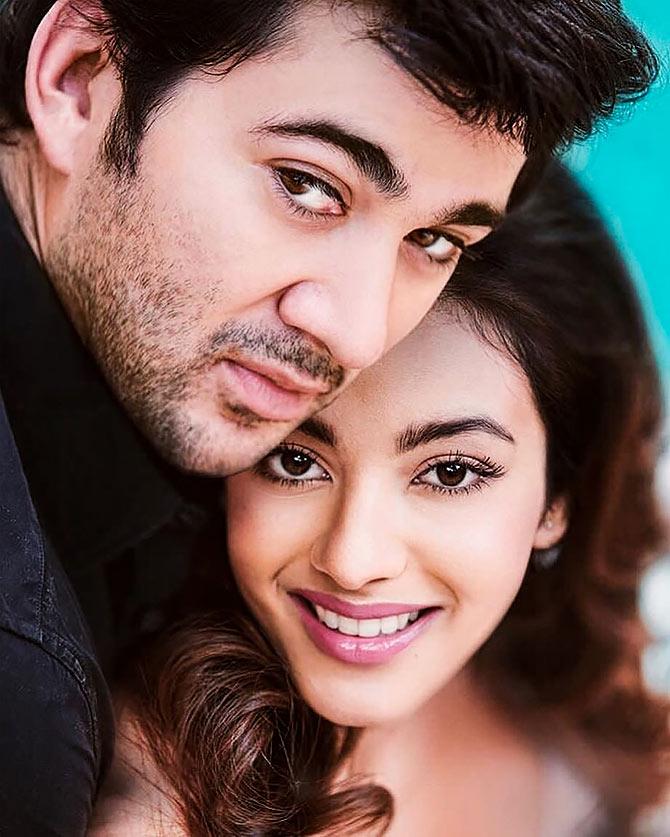 Did it get frustrating?
Yes, definitely.
When we were shooting in Manali, there was this one location for which we had to trek for eight hours.
When we reached, it started raining and so, we couldn't shoot.
We couldn't go out for a walk.
We had to sit inside our tents.
There was no network.
We were there for 12 days, and it rained for 10. So we shot for two days only.
Were Karan and you pampered on set?
Neither Rocky (Karan's nickname) nor I got pampered.
Sunny sir is a hard taskmaster. He's really strict and focused.
He wouldn't spare Rocky or me or anybody in the team if things were not right.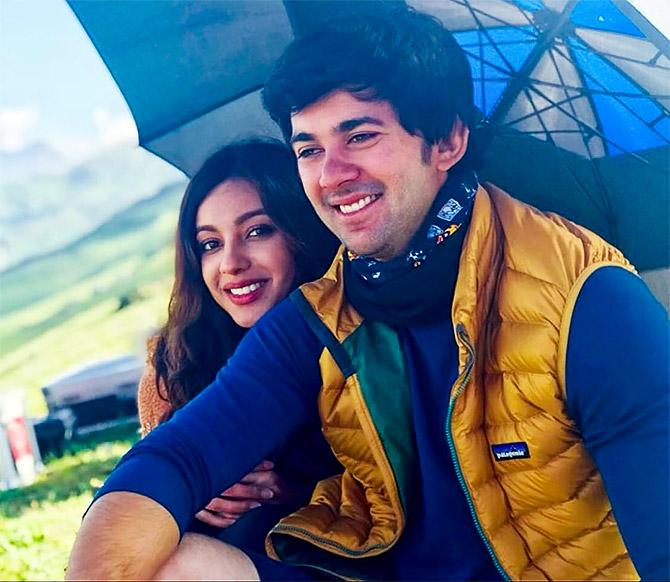 How did you prepare for the film?
I did a lot of workshops with Karan when we started shooting.
We were in Manali for three months and would have script-reading sessions and workshops everyday.
I play a Delhi Vlogger, so I did my research. I would make videos and show them to Sunny sir everyday.
After a month of shooting in Manali, we returned to Mumbai, and I was enrolled in Atul Mongia's workshops. That really helped me.
Whatever I have learnt is because of Sunny sir.
He taught me acting.
Karan said he broke down a couple of times on set. What about you?
The Manali shoot was very difficult.
I broke down too, especially on my first day, because the scene required me to go out of breath while running, and that was just not happening.
I am from Shimla and my lungs are used to the hilly terrain.
We cover long distances on foot.
So it was tricky and I couldn't get it right.
When we would break for lunch, I would call my mother and cry.
The action was difficult, and we were shooting in minus temperatures.
We were thrown in glacier water three times!
It was really tough.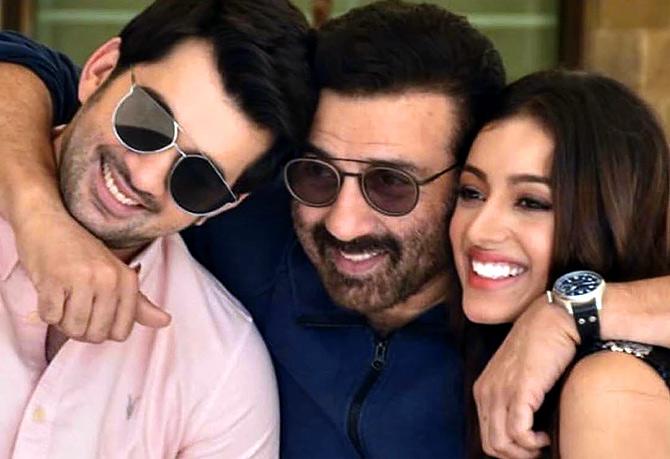 Did you ever find it surreal that Sunny Deol was directing to you?
I had to pinch myself!
In fact, I started believing it only when the promotions began.
I remember the day I got selected, I was reaction-less, and so was my family. It was too good to be true!
My parents have watched Betaab in theatre.
My cousins and friends feel Bobby (Deol) sir is so good looking and charming!
It was a big deal for me to be a part of the film.
Who is your favourite Deol?
Sunny sir. I have seen Hero, Dillagi, Gadar and Damini.
Dillagi is my favourite film.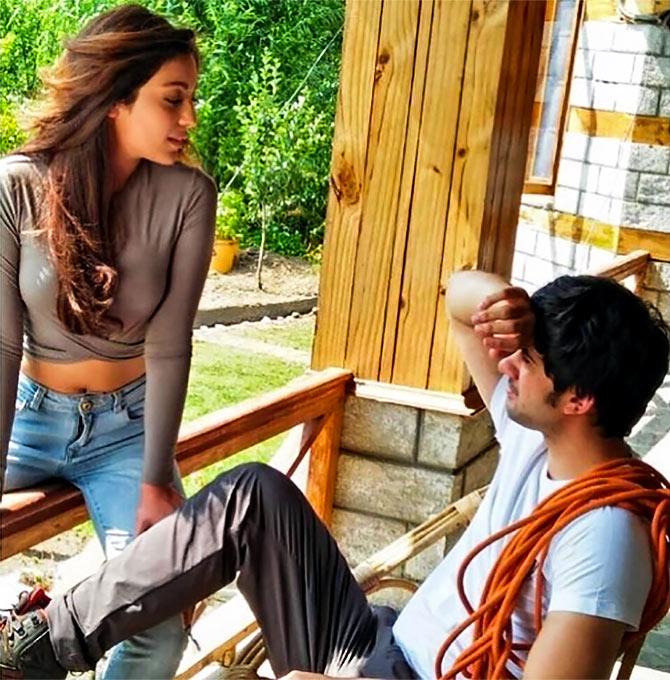 Were you ever scared of Sunny Deol because of his screen image?

I was not aware of this onscreen persona so much when I met him.
He made me so comfortable; there was a good rapport between us.
I would wonder why everybody is scared of him.
He is such a gentle and warm person.
Were you ever worried that Karan Deol would have a bigger role and you would get lost in the film?
When you see these star launches, sometimes the star kids get more attention.
But the writers Ravi and Jassi (Ravi Shankaran and Jasvinder Singh Bath) and Sunny sir just wanted a good love story without any bias.
He's like a father figure to me.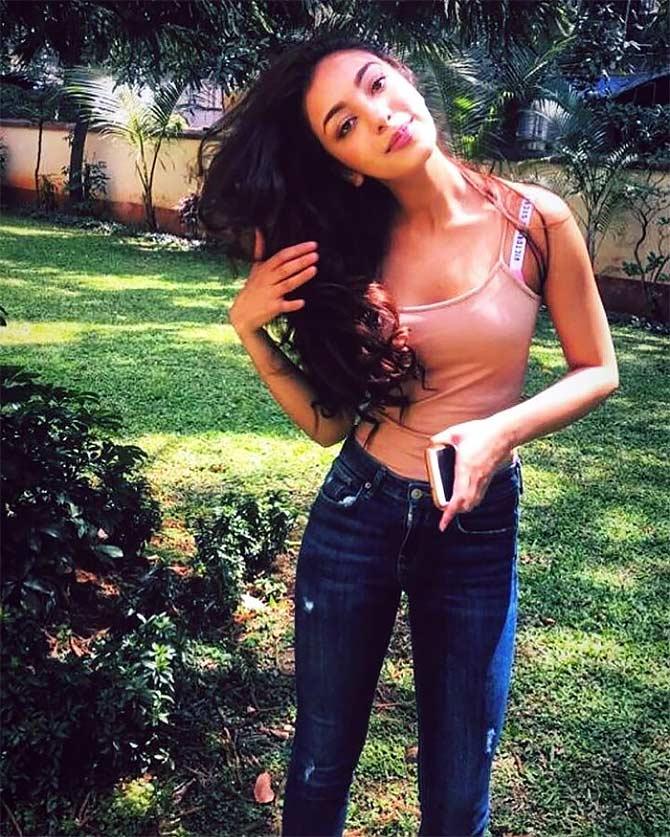 Did you always want to be an actress?
After my schooling, I wanted to come to Mumbai because there aren't too many opportunities in Shimla.
My parents knew about my dream but never stopped me because they knew it would not come true.
It was a far-fetched dream.
It was a big risk and not practical.
What did you do after coming tom Mumbai?
I stayed in a hostel in Churchgate (South Mumbai) and did a three-year degree course in Travel and Tourism in Jai Hind College.
Every alternate day, I would take a train to go to Aram Nagar (in Andheri, north west Mumbai) and give auditions for ads.
I would hope that I would get something but nothing happened.
You're in such a vulnerable state then, you don't know who to trust.
It was a period of insecurity and uncertainty, and not easy at all.
After the course ended, I stayed back so that I could do some acting workshops.
But before I could do that, I signed my first film.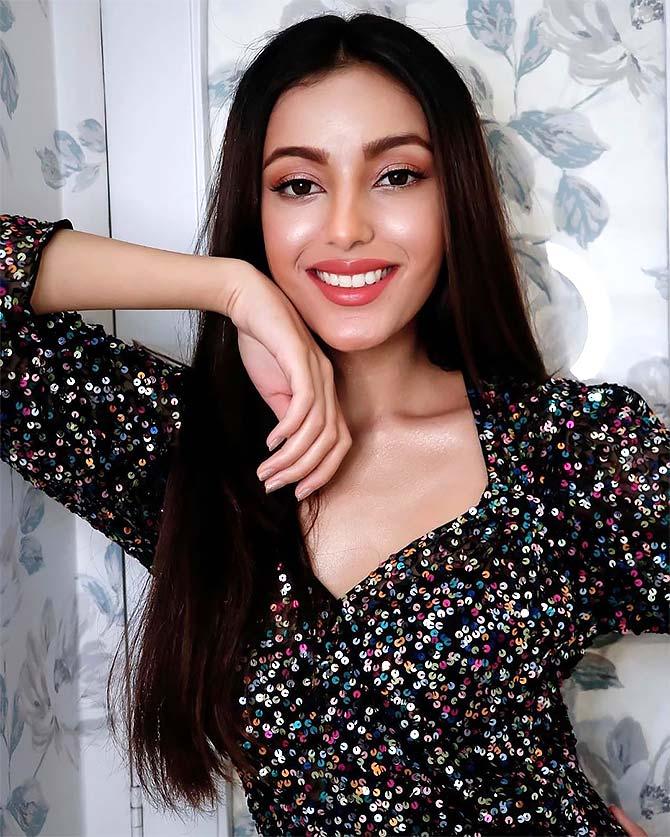 Who is your favourite actor?
I really like Varun Dhawan as an actor.
I bumped into him once at Sunny Super Sound (dubbing studio) and he was such a nice person.
I also like Vicky Kaushal and Ishaan Khatter.