'I used to hate the way Bollywood films depicted the south.'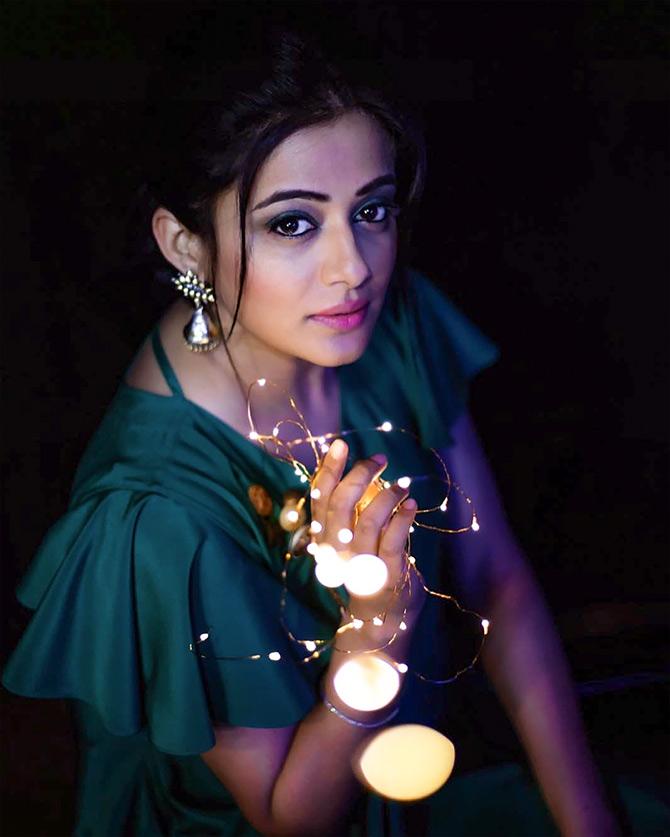 After working with some of the biggest directors in the southern film industry, Priyamani is quite excited about working with two-time National award winner Manoj Bajpayee in the Web Series, The Family Man.
Directed by Raj and DK, the thriller will start streaming from September 20.
Why hasn't Hindi cinema seen more of this girl, who made us One, Two, Three, Four, Get On The Dance Floor way back in 2013's Chennai Express?
"I didn't disappear per se because I was waiting for the right offer in this medium. I almost said yes to a Hindi project but somehow, it did not happen," Priyamani tells Rediff.com Contributor Divya Solgama.
What are you hoping to get from Bollywood?
On one side, there's commercial cinema.
On the other, there are some fabulous storytellers and directors making unconventional films like PINK, Naam Shabana, Mission Mangal...
I am not saying I want to do a heroine-centric film only -- I would like to do commercial cinema as well -- but I would like to tap on the comedy genre too like the Golmaal series, as comedy is very difficult.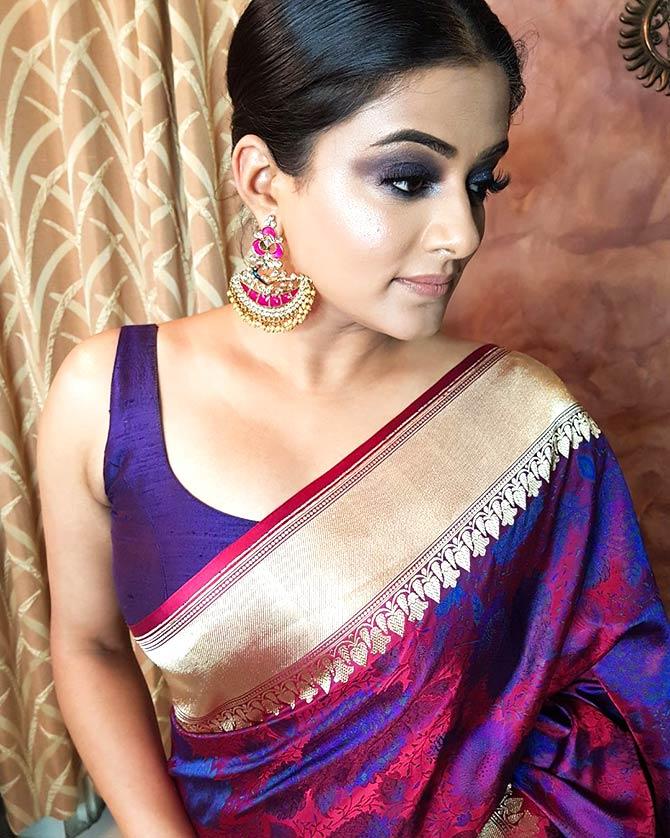 Nowadays, the gap between South cinema and Hindi cinema is reducing, with both sides joining hands to make films together. How do you view this change?
It's great! A girl from the North East girl, who works in the salon I usually visit, told me that she loved my performance in the horror film Chaarulatha. That was remade in Hindi as Alone.
So I like the fact that Bollywood has opened up to South actors and technicians.
Earlier, Bollywood would depict Southern people with a typical accent in their films.
Somewhere, I took this personally because we don't talk like that.
I used to hate the way Bollywood films depicted the south.
But now, Southern people are speaking the Hindi language way better than before (in films).
It feels great that they are opening up to the south.
The digital platform has seen a lot of adult content. Were you skeptical about venturing into the web world?
Everything is allowed in digital content.
The audience does not pay much heed to what is being said on the show, they focus more on characters and the story.
Sexual content works here.
People would think twice about putting such content in a film but nobody would think about this on the digital platform.
Recently, I got an offer from an OTT platform that features sexual content in their Web shows.
Before they approached me with the script, I told them that I have watched some of their shows and was not comfortable with skin show, kissing and nudity.
I would like to do a project where I can show my talent by acting.
I don't want to do skin show to prove anything because I have reached that position where I can say no to offers.
Now, especially after my marriage, I have to think twice because my husband, my family and in-laws will be watching them too.
I don't want them to feel uncomfortable watching my shows.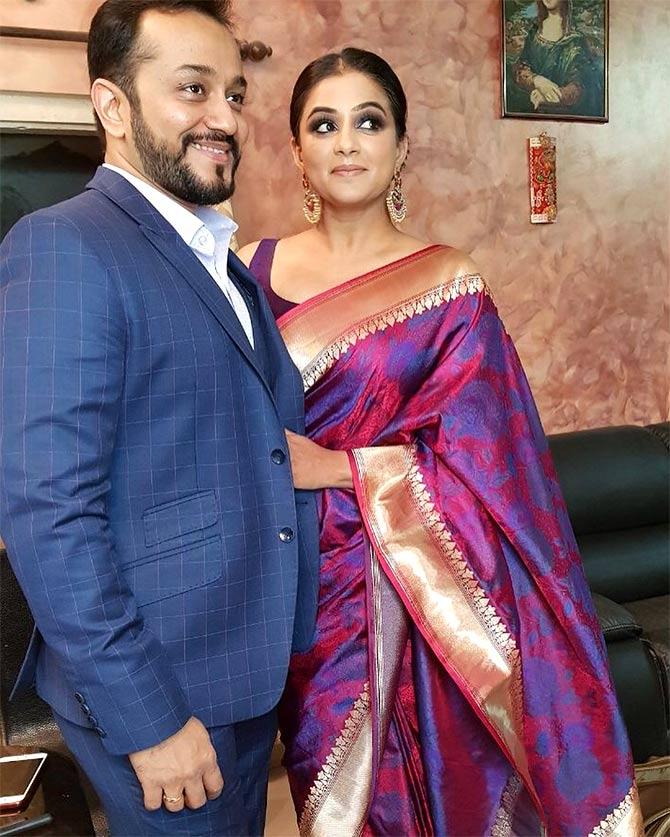 You started your journey in 2002 but recognition came only in 2007. How tough were the initial years?
They were very tough because I started my career with the biggest director in the Tamil industry.
The film was Kangalal Kaidhu Sei and it was directed by Bharathiraja sir.
We started the shoot in 2002 but it released in 2004.
My next film, Adhu Oru Kana Kaalam, was with Balu Mahendra sir. It was shot in 2003 but released in 2005.
Every movie I was doing was taking a year or two to release, and I was really thinking about quitting the industry and going for Plan B.
I also discussed this with my father, that people may forget me as an actress.
We decided to try for another year, and fortunately, Paruthiveeran happened.
The rest is history.
You worked with Baahubali director SS Rajamouli in your earlier years. How was your experience with him?
Yamadonga was directed by Rajamouli sir.
Who would think about a story on Lord Yama, where one guy literally goes to Yamlok and pretends to be the younger Yama and get all the votes against Lord Yama?
Nobody will think of a subject like that.
So I feel fortunate working with such a great storyteller.
Also, I was pampered the most by Rajamouli sir. He treats you like a family member and spoils you rotten.
As soon as I finished Paruthiveeran, I started shooting for a Telugu film Toss and then Yamadonga.
So I was quite emotionally drained, shooting heavy films back-to-back.
But Rajamouli sir understood my mental state and gave me three days off.
I was really pampered by his wife and him throughout the shoot.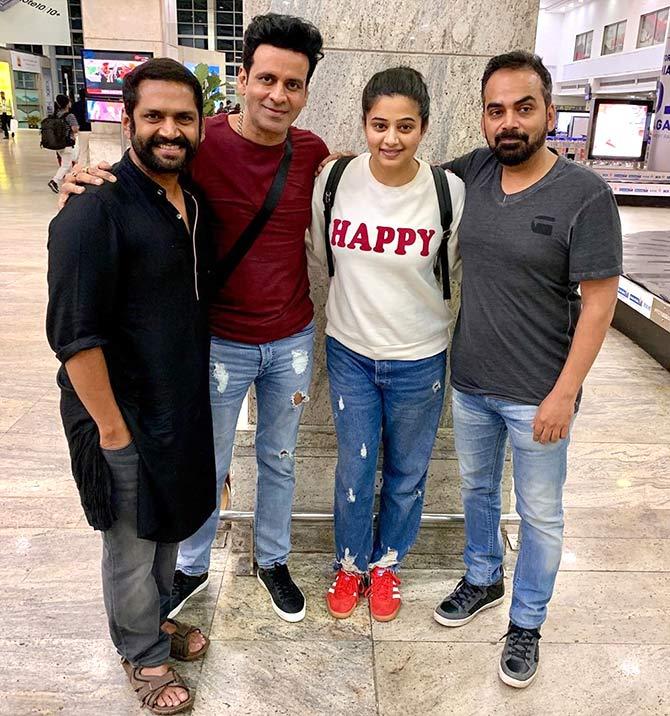 How was your experience with Manoj Bajpayee in The Family Man?
I was nervous.
You have to be on your toes when you work with an accomplished actor like Manoj Bajpayee.
But we had a lot of fun on the sets.
He puts everybody at ease on the sets by joking and laughing.
Besides that, Raj and DK sirs have etched the characters so well that The Family Man is a definite binge-watch worthy series.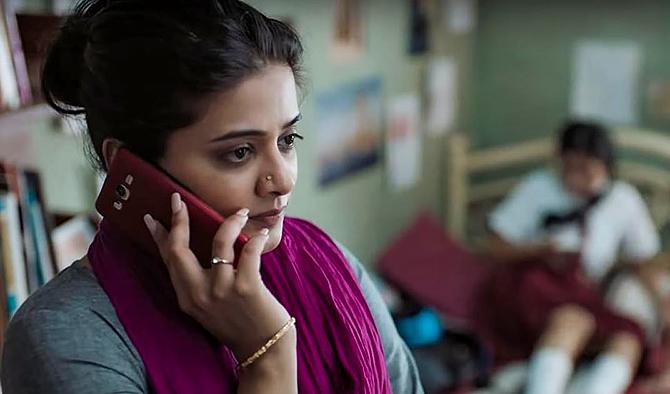 Quite a few film folk have spoken about their #MeToo experiences. Did you have any such experiences?
Fortunately, I did not face any #MeToo moments because my mother was always with me -- at movie screenings, parties, dinners or even when I stepped out of the hotel room.
But despite that, even after working in the industry for so long, I still get text messages like, 'There's some work happening, but...'
The moment they say 'but', I stop them from approaching me with anything else.
A few days ago, somebody texted me asking, 'Are you interested in doing compromising work?'
I immediately blocked that person.
I was about to reply that I am married but I don't encourage such nonsense.
I am happy that girls today are bold enough to stand and report their issues.
If you are being harassed by anybody, you should not be scared; you should speak up against that person.