Mission Mangal has its heart in place, feels Sukanya Verma.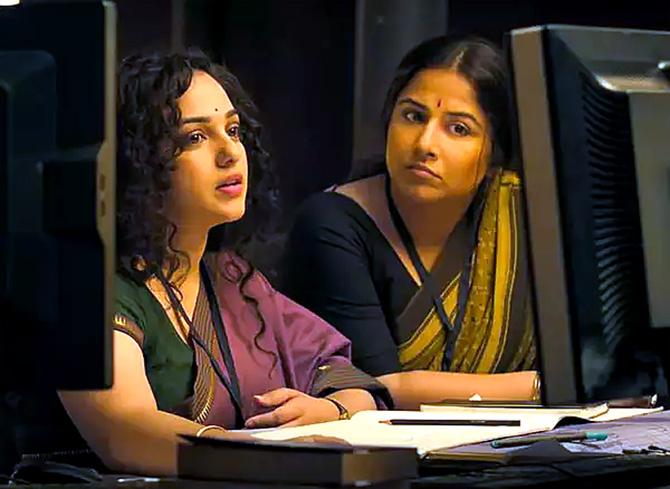 An apple fell on Newton's head, Archimedes stepped inside a bathtub and Vidya Balan fries puris to make an important breakthrough in science.
Science is vast and complicated but it's also straightforward and right in front of us. Sometimes simplifying something of significance is the only way to make a layman see what a great man envisions.
Mission Mangal has its heart in place, if not all of its science -- home or rocket.
On September 24, 2014, India became the first country to place its space probe in orbit around Mars in its maiden attempt. Carried out at a fraction of NASA's budget for the same endeavour, it's a classic underdog story of a growing nation racing ahead of well-established superpowers.
Recognising the potential for patriotic fervour in its interplanetary exploration, director Jagan Shakti's Mission Mangal opens with a lengthy disclaimer stressing it's a work of fiction that liberally dramatises organisations, professionals, timelines and scientific procedures for the sake of entertainment.
Considering it's a mostly behind-the-scenes premise and nobody actually puts on a spacesuit to journey into the unknown, Shakti tries to make Mangalyaan's nerdy content and technical jargon more accessible and action-packed for a clueless audience through simplistic car/cricket/cooking analogies and reliable Bollywood tropes.
What comes forth is a crowd-pleasing shuddh desi space drama-for-dummies likely to make the brilliant minds at Indian Space Research Organisation squirm in their seats.
Between scenes of pandits conducting pujas right before rocket launches, miraculous shift of weather and moments of palat-inspired suspense as a spacecraft orbits around Mars, Mission Mangal whips up abundant contrivances to balance a mood of adversity and perseverance.
In the absence of genuine conflict, the script falls on tried-and-tested hiccups like the highbrow senior and his inexplicable ego, shortage of funds and good ol' bad weather.
It's when Mission Mangal becomes a little more about the people putting it all together that you feel invested in their sky-high dreams.
Akshay Kumar as the Mars mission director appears secure and graceful as the leader of a ragtag team. Except the movie cannot decide whether it wants to exaggerate his professional magnanimity, build on the eccentric mad genius imagery or play up his trademark nationalism.
Despite the ambiguity, it's fun to watch the actor who once threatened 'Don't angry me' instruct 'Fire maximum thrusters.'
Mission Mangal's reverence for Indian scientists and intuitions is touching.
But Akshay's mock telephonic conversation with celebrated scientist and former president Dr A P J Abdul Kalam, where he uses the same founder fawning funda Anushka Sharma employed as a self-made businessman in Band Baaja Baaraat, to fund his project is an exercise in overkill.
Though he hogs the movie's poster, Mission Mangal's biggest takeaway is Vidya Balan's ingenious wonder woman. Her Sulu spirit colours much of the story's idealism and pursuits as she juggles her job and home sans any melodrama.
Married to a man-child (Sanjay Kapoor humanising an unlikeable character and bringing the house down in an unexpected nod to his retro Raja days) incapable of sharing household or parenting responsibility, she shows remarkable patience in her approach and resolve.
How she tactfully changes a conversation about herself to convey words of wisdom to her son or turns the tables on her husband over chilled beer reveal yet another facet of Balan's self-assured performer.
She's a treat to watch!
As are Mission Mangal's other women in mogras and handloom saris. Though confined in one-dimensional, stereotypical characterisation, the spunky ladies give it their best shot.
Nithya Menen's gift for compact designing is flaunted across Murphy beds and portable furniture. Pregnancy doesn't need to interfere with professionalism is her agenda.
Klutzy Taapsee Pannu learns a thing or two about duty first from her Army husband. How to be a better half is highlighted in Mohammad Zeeshan Ayyub's compelling cameo.
Kirti Kulhari pitches in as the divorced Muslim woman struggling to find rental accommodation through a sensitivity we now associate with her.
Cool girl engaging in casual sex and eager to fly out to the US is Sonakshi Sinha's plan -- although her vanity makes it hard to say if she's looking forward to work in NASA or Neiman Marcus.
There's also the ISRO virgin, astrology-addict Sharman Joshi, an extension of his character in 3 Idiots, making jokes about it -- Naam mein Gandhi aur kaam mein Quit India. His virginity and rocket launch metaphors could not be less subtle.
Throw in a sexagenarian (a terrific H G Dattatreya) to the proceedings and old is gold to go.
Providing extreme resistance to their mission is hammy Dalip Tahil's snooty NASA-returned bigwig. He's an elitist buffoon, hell-bent on discrediting Akshay's project. What you'll mostly notice though is how his fake American accent can give Priyanka Chopra's a run for its money.
NASA is Rajput to ISRO's Model School wherein Mission Mangal manipulates chronology, like the racist New York Times cartoon deriding India's feat after it accomplished its Mars mission, to make it a trigger point.
When not breaking into silly office renovation dances, Akshay and Co ooze sincerity to the brim.
Mission Mangal makes a case for working moms, expecting moms, supportive spouses, independent women, against Islamophobia as well as extending agency to women, encouraging senior citizen participation and an inclusive, safe working environment.
Decent, righteous, progressive, the men are eager to play second fiddle whereas the women don't cry their feminism hoarse.
It's an impeccable if calculated scenario whose love for speeches, including one from Prime Minister Narendra Modi at its end, reminds us Earth might be a foregone conclusion but we'll always have Mars.
Rediff Rating: