'In our textbooks, we never had chapters where a woman does something.'
'We had one Rani Laxmibai chapter, the rest only the men did.'
'We have been trained like that but, now, things have to change.'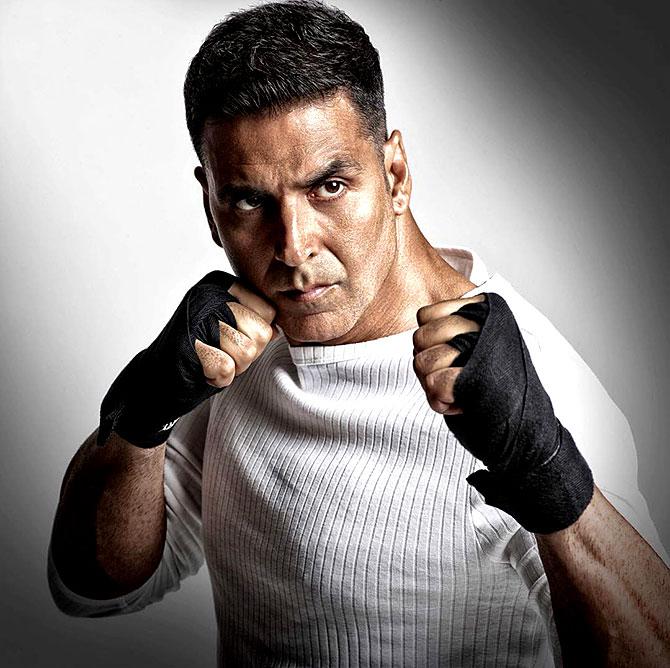 Akshay Kumar has taken a step back to let the ladies of his next film, Mission Mangal, take centrestage,
It's about time, he believes.
"There was a perception that only men can be scientists or engineers but I believe a woman can be equally good. Things have to change and, in this film, I show that it doesn't matter if you are a man or a woman," he tells Patcy N/Rediff.com.
This is a fickle industry where you get a hit one day and a flop the next. How do you treat success?
I have gone through a lot of bad times and I wouldn't be surprised if I go through it again.
The best way is to keep working hard.
When I delivered 14-15 flop films, everyone said, 'Gaya.'
Then after giving hit films, they said, 'Aa gaya.'
It's a part of life and it happens to everybody, be it in your personal or professional life.
You have to take it in your stride.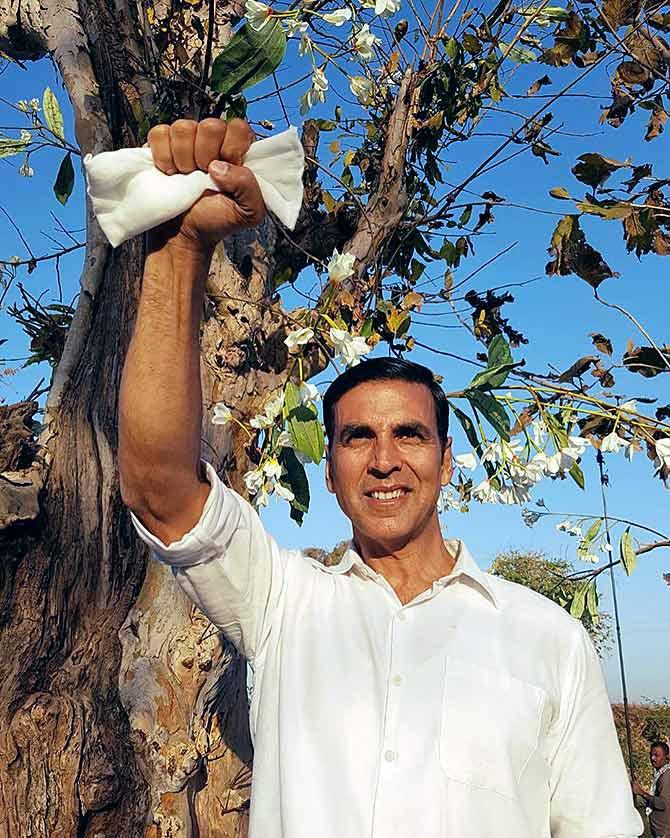 After the success of Toilet: Ek Prem Katha, Gold and Kesari , you are being called 'Guarantee Kumar'.
I am glad the audience calls me that.
But there is no guarantee of anything.
There are times when I see a film and feel it will do wonders at the box office, but then it doesn't work at all.
So you don't know what will work until it releases.
After 30 years, I have realised that films work not just due to hard work -- though that is definitely needed -- but also because of luck.
I believe it is 70 per cent luck and 30 per cent hard work.
How did Mission Mangal happen?
The director (Jagan Shakti) came to me with a different script and we started work on that. But he had also told me about this (Mission Mangal).
Jagan's sister is a scientist and she had told him about the Mars Orbiter Mission.
I told him to write something on that.
After 20 days, he came up with a one-line story idea.
I liked it a lot and asked him to work on it.
Then he wrote the script along with R Balki.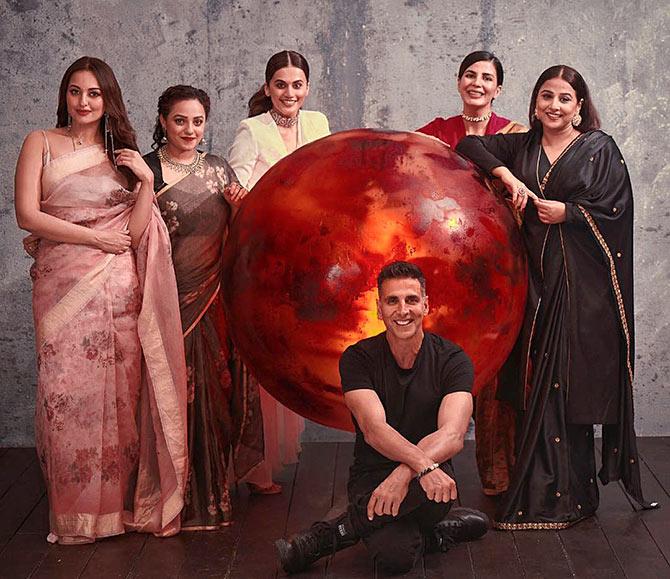 How much of the movie is based on fact?
80 to 90 per cent.
Were there efforts to make Mission Mangal more mainstream?
I have not made a documentary.
I have made a commercial movie where there are elements of laughter, fun, emotions and two-three songs.
When I made Toilet: Ek Prem Katha, I added commercial elements to make it more appealing. There was a fight too.
You have to tell the audience what you want to say but in a commercial way.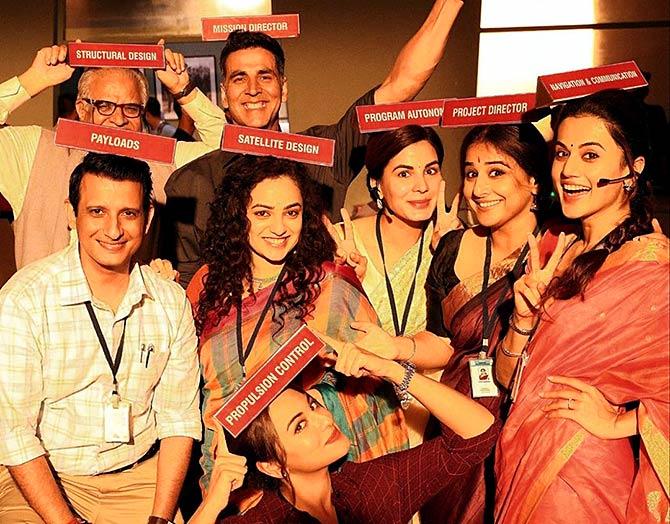 A lot of Indian scientists work in NASA. Do you think, after this film, they will prefer to work in ISRO?
Things will change.
I was reading an article where it said that the earlier budget for space scientists (at ISRO) was 2-3 per cent of the budget. Now, it is 18 per cent. The amount has jumped eight times!
This government is going to concentrate on space science.
A lot of people are talking about Chandrayan 2.
ISRO has been there for 50 years. We did not talk about it earlier but it has become very famous now.
Also, there was a perception that only men can be scientists or engineers but I believe a woman can be equally good.
Things have to change and, in this film, I show that it doesn't matter if you are a man or a woman.
In our country, we have a woman holding an important portfolio like the finance or defense ministry (Nirmala Sitharaman, previously the defense minister, currently heads the finance ministry).
You're changing as well. You are ready to work in a film with five heroines, all with important roles.
I thought about it long ago but did not have money to make films then. I was not a producer.
We have seen these mistakes since childhood. Even in our textbooks, we never had chapters where a woman does something.
We had one Rani Laxmibai chapter, the rest only the men did.
We have been trained like that but now, things have to change.
More and more films will come where women are taking the lead.
It's better that we men stand back and clap.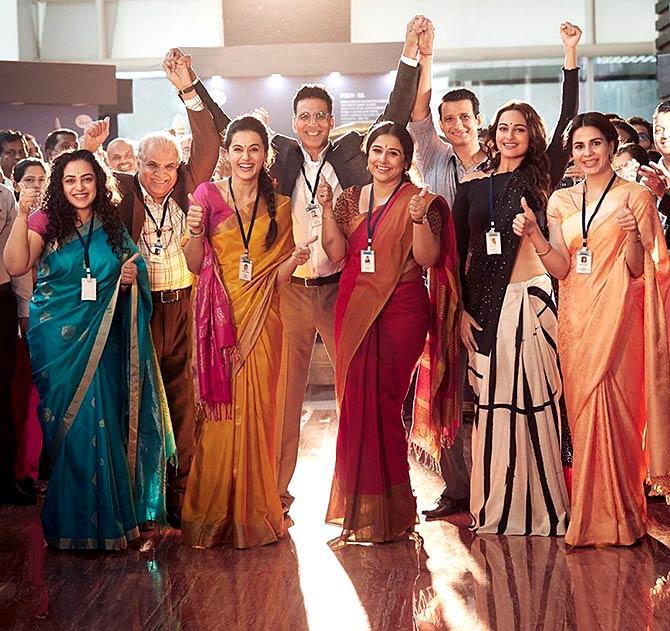 The audience really looks up to actors, especially stars like you. How responsible are you while choosing scripts?
I do films like this but I also do films like Housefull, so don't come then and ask why I am doing a film like that.
I do all kinds of films.
I don't want to get stuck in one image, so don't say I'm responsible.
Shahid Kapoor was bashed for doing Kabir Singh. Do you think actors should be given the liberty to take up whatever roles they want?
It is just a character that a person is playing, don't take it so seriously.
In many films, I have played a villain. That does not mean I am irresponsible.
Gulshan Grover is not an irresponsible person just because he played negative characters.
It's just cinema, guys.
Salman once said everyone should follow your footsteps and do more films in a year.
I don't know how (I do it) but I do them because I can.
I did this film (Mission Mangal) in 28 days.
Baby was done in 35 days, even Mujhse Shaadi Karoge.
Even if I calculate 32 to 35 days per film, in one-and-a-half years I can finish four films. What will I do with the rest of my time?
So I will do more films, na?
People ask me how I manage my personal and profession lives.
It is not rocket science.
It is so easy that I don't understand why people ask me this question.
If you can finish a film in 35 to 40 days, you will complete four films in 160 days.
You can take Sundays off, take a half day on Saturdays... after every film, you can take a week off...
People ask me why I start my work at 5 am, and I say, 'Subha ho gayi toh kaam nahi karu... toh kab karu?'
The problem is that we forget our childhood.
When you were a child, what time did you go to school?
Didn't you wake up early?
Now, we have changed our habits. People wake up at 9 am, 11 am and noon...
Some are so drunk that they don't wake up at all! (laughs)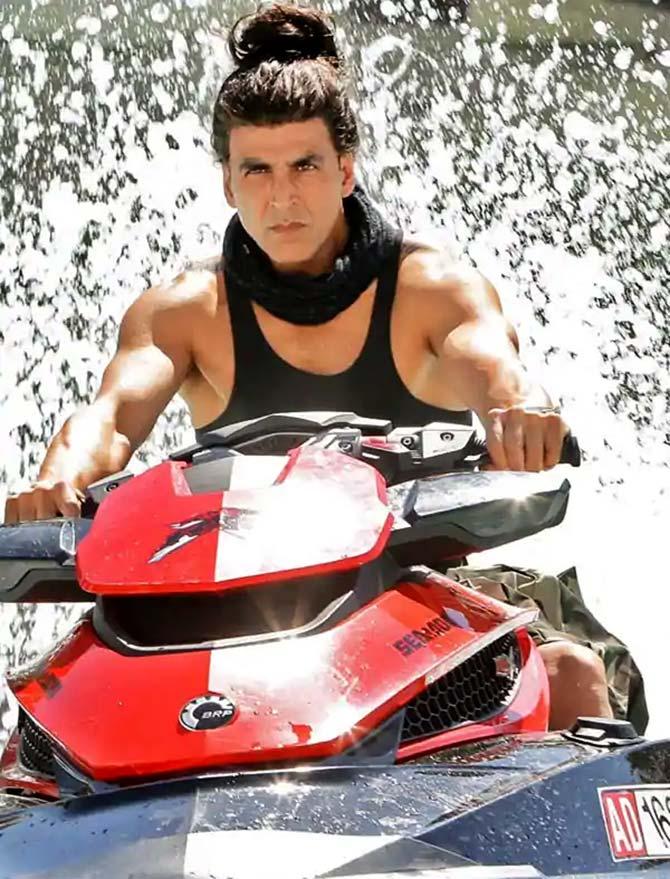 You went gay in Dishoom. You will be playing a transgender in Laxmmi Bomb. In Mission Mangal, you are letting the women lead. How many times have you been advised not to take up certain roles?
I have been advised a lot of time not to do this and that.
I was advised not to do Toilet: Ek Prem Katha and PadMan.
It doesn't matter how long my role is, I want to be part of a great film.
When I did Khakee, it was a very small role; I die just after the interval.
There are many roles where I don't get the heroine.
But if it is a good film and if it can make a difference, you should do it.
Let me tell you about an actor who I will not name.
He was doing a two-hero film and he told the producer, 'Pehle mera ek solo poster aayega then, next week, hum dono ko saath mein (First, my solo poster will be released. Next week, the poster featuring both of us can be released).'
When asked why, he said, 'I want to show I am the main lead.'
That is how our actors think about a poster.
I was quite shocked to hear this.
This is also the reason why two or three superstars don't work together in a film but Rohit Shetty is changing that and getting actors like Ranveer Singh and Ajay Devgn in one film (Simmba).
They did a cameo.
There is no film like Amar Akbar Anthony.
Earlier, we have worked in a two- or three-hero film -- I have done many -- but I don't know why they don't do it anymore.
It must be insecurity.
I would request them to do it.
Humne toh saath hero waali film kiye hai... (I have done a film that had seven heroes) Jaani Dushman! (laughs)
How difficult is it to drop the 'Khiladi' tag and do a film like this?
Earlier, it was next to impossible but now it is okay.
Earlier, I just could not come out of the 'action hero' image.
But then, I pushed hard and there were some people who helped in my career like Priyadarshan and Rajkumar Santoshi.
Because of Dharmesh Darshan, I got romantic films.
With Tanuja Chandra, more acting roles started coming.
The clash between your film Sooryavanshi and Salman Khan's Inshallah has been averted. Do you see it as a good sign?
It is always a good sign when two movies do not come at the same time. It is good that the clash is averted.
However, the clash between any two films is likely to happen more and more.
We are making 210 Hindi films and we have 52 weeks in a year, so we are bound to have two or more films releasing on the same date.
Your mother-in-law Dimple Kapadia is working in Christopher Nolan's Tenet. What do you have to say about that?
It is amazing. It is a big film.