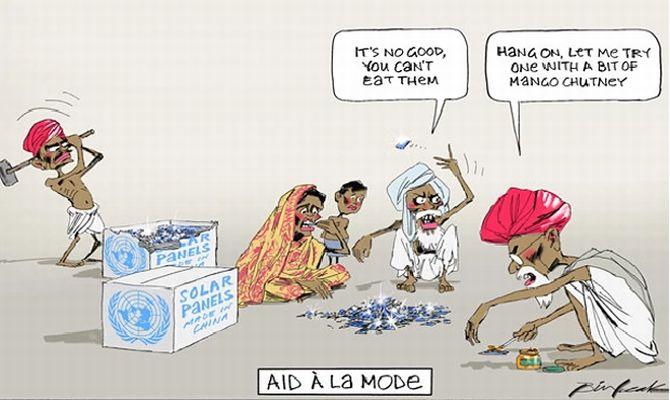 The cartoon by Bill Leak showing Indians eating solar panel. Photograph: The Australian
A cartoon depicting starving Indians breaking solar panels to eat was the response of an Australian daily to the climate deal reached in Paris. The solar panels were sent to India by the United Nations as a part of measures to curb greenhouse emissions.
The cartoon, published in The Australian, shows turban-wearing men breaking the UN-sent solar panels and saying, 'They're no good. We can't eat them'.
The cartoon, by veteran artist Bill Leak, has drawn much criticism from all over the world with people calling it 'unequivocally racist' and 'shocking'. It has been criticised as 'stereotyping the developing countries where people don't know what to do with technology'.
Criticising the cartoon, Australian MP Tim Watts wrote on Twitter, 'This is pathetic. What an embarrassment that a cartoon like this could appear in a national newspaper.'
According to a report in The Guardian, Clive Mathieson, the editor of The Australian, declined to comment on the cartoon.
Meanwhile, twitterati slammed the cartoon with many users pointing at India's rapidly developing sustainable energy sector and technological growth.
'Hey Bill Leak, some facts on India's renewable energy sector. They're a lot smarter than your cartoons are funny,' wrote a user with handle @MrDenmore, posting a link to India's ministry of new and renewable energy.
However, it is not the first time that Leak has drawn something 'racist' like this. He has been accused of becoming more and more conservative in recent years.
India had taken a strong stand against greenhouse emission by the rich Western countries at the climate change talks in Paris with Prime Minister Narendra Modi saying that it would be 'morally wrong' to let rich countries off the hook for their historical emissions.
American daily New York Times had also mocked India's stand seeking greater emission cuts from the developed countries. In a cartoon that depicted 'India's elephant' stopping the 'climate talks train', the daily purported to show that India's strong stand is blocking the deal.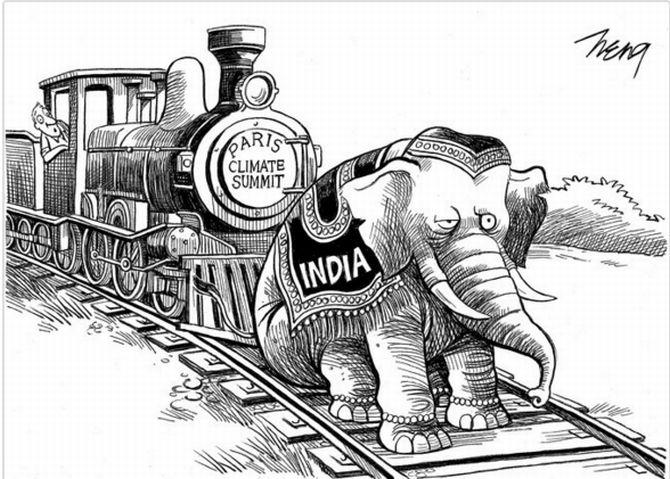 The NYT cartoon drawn by artist Heng, who also drew a cartoon on India's Mars mission. Photograph: The New York Times
In a similar cartoon last year, the New York Times had mocked India's low-cost mission to Mars. The daily later apologised for it.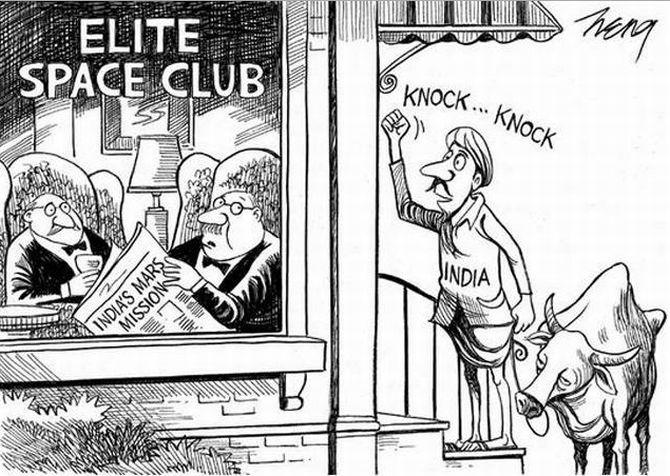 Photograph: The New York Times