A spectacular Taapsee Pannu brings out the shift of a happy homemaker to a heartbroken woman most strikingly in her deeply affecting performance, applauds Sukanya Verma.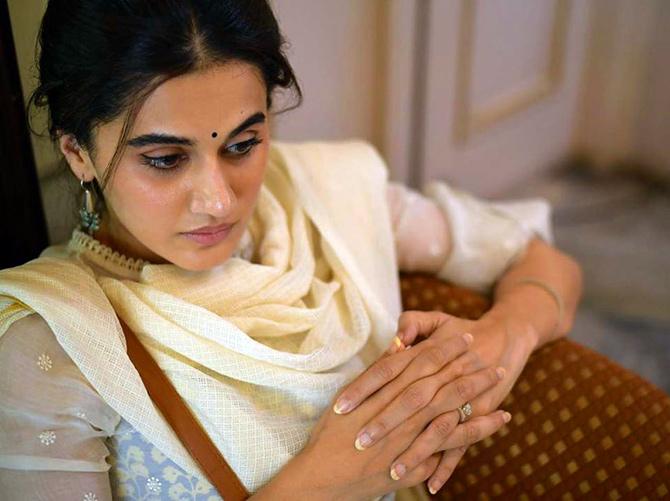 When Raj Kapoor slaps Nargis non-stop on the beach in Awaara, she magnanimously offers, 'lo maar lo'.
Minutes later, they are singing romantic duets on a boat.
Everybody raves about their scorching chemistry.
In Chachi 420, Tabu files for divorce against Kamal Haasan over a slap. But while she is made to look like a wealthy brat, her poor husband must daily don layers of prosthetic and work as a nanny to their daughter in her father's house. In the end, the couple are reunited and everybody had a good laugh about it.
Abhishek Bachchan's blow hot blow cold treatment of wife Rani Mukerji in Yuva has the latter cooing Kabhi Neem Neem Kabhi Shahed Shahed. Once again, it's not really his aggression, but their passionate chemistry that gathers notice.
Only recently in Motichoor Chakhnachoor, Nawazuddin Siddiqui raises his hand on his young bride Athiya Shetty and promptly enough, a song follows that goes Chhoti Chhoti Gal Da Bura Na Manaya Kar (Don't make a big deal out of small matters).
Anubhav Sinha's thought-provoking Thappad sticks its neck out to say, 'Sorry boss, but it IS a big deal.'
We have normalised these instances of abuse so casually that generations and generations got habituated to the point that a fiery woman lawyer shrugs off her client's complaint as 'just one slap then?'
Thappad's outcry is a long-due attempt at course correction.
Though its elimination is the larger goal, Sinha's film, thoughtfully co-written by Mrunmayee Lagoo, is not about domestic violence but the unsettling level of acceptance it enjoys that even civilised folk will offer excuses to overlook and move on.
Post Mulk and Article 15, Sinha's shift to hard-hitting cinema is hailed for voicing the despair of the most oppressed sections of society. Even if there is a consciously educating tone to his film-making, its necessity can hardly be argued given the shabby state of affairs.
Thappad is a befitting addition to the trilogy, one that I hope expands into a riveting canon of Sinha's meaningful cinema.
Thappad is subdued but doesn't hold back in asserting skewed gender equations and building a case for violence is violence and all its forms must be condemned seriously.
Nothing is above self-respect is not a lesson many parents teach a girl child in India.
Nor is the concept of respecting women drilled into enough male, entitled heads.
It's a deep-rooted discrimination transcending class barrier, where the grandest homes can feel unprivileged in the absence of dignity and a man driving a Mercedes is not too different from the cycle riding wife beater of their house help.
Despite the potency of the premise, Sinha doesn't turn it into a giddy crusade for gender justice.
Its strength lies in a steadily realistic documentation of how women, both successful and disadvantaged, have learned to live in the shadow of compromise.
It is only when a seemingly content housewife questions its rationality, a revolt is set in motion.
Delhi housewife Amrita (Taapsee Pannu) is happy in her routine of waking early morning, collecting milk bottles, snipping lemon grass, checking her mother-in-law's (Tanvi Azmi) blood sugar and fixing a breakfast of herb infused tea and toasts for her comfortably extra-snooze relishing husband Vikram (Pavail Gulati) before she sees him off to work and humours his sexism about the well-to-do working woman next door (Dia Mirza).
Vikram's bread winner designation feeds his notions of smug superiority presuming every little thing his caring spouse provides him is her end of the bargain.
It is the sort of commonplace marriage scene where she is a cheerleader for his achievements but he won't even notice her limp.
The nuancing is top notch and Sinha keeps it remarkably believable.
And then he raises his hand at her.
The context of the slap and the setting is crucial to the discussion that follows between those advising her to view the incident as a one-off thing and those who recognise it as plain unacceptable.
That it happened in public view is a technicality that may help Amrita legally, but it would be no less offensive if occurring in private as apparent in her maid Sunita's (Geetika Vidya Ohlyan) regular abuse.
Sinha's women are heartbreakingly human in their struggle.
Where Sunita uses humour as a defence mechanism to survive her nasty partner, Amrita goes about her routine like a programmed robot.
She can rearrange the furniture all she wants but something will always be out of place.
Vikram's inability to introspect on how badly he messed up fuels Amrita's disenchantment further.
Sinha and Lagoo's astoundingly shrewd script constructs subtle parallels between Vikram's work ethic (Mujhe wahan nahi rehna jahan value nahi hai/Put your bloody foot down in life) and Amrita's traumatised impulses.
Once the dialogue over Amrita's resolve begins, Thappad bares the myopia of society where men will label it as an overreaction, mothers (Ratna Pathak Shah) and mothers-in-law will pressurise to 'nibhao' at all costs because they've been conditioned to, ill-advising colleagues justify it as a symbol of intimacy and hesitant lawyers forewarn about the ensuing mess.
Except Amrita's simple standpoint 'Nahi maar sakta' is far more powerful than the conflict it attracts.
It is as her sympathetic, affectionate, father (Kumud Mishra) explains, 'Kai baar sahi karna ka result happy nahi hota.'
Eventually it will inspire some soul searching among all the women associated with her in various capacities.
Thappad may be about gender politics, but the men aren't pure wicked.
Some are decent but oblivious to the chauvinism they perpetuate.
Some make mistakes and apologise if always belatedly. Some are sweetly gloating in their own achievements and taking credit for their better half's as well.
Vikram is in a strange grey zone.
He is the kind of chap waving at cute kids on traffic signals, returning to touch his father-in-law's feet following a heated argument, increasing the domestic help's pay before requested and concerned about his mother's health.
But you never warm up to him.
He is condescending, selfish and blind to his follies.
He shoves off the male colleagues trying to dissuade him from a fight, but is quick to slap his wife when she does the exact same thing.
Why doesn't he apply the same consciousness for her?
It is my personal opinion, but I am quite sure if she stayed on, there would be another slap in the future.
He is a man so deeply entrenched in his conditioning, it takes him a while to fight it.
That this realisation has to come from another man to make him reflect on his actions is telling of the situation.
Despite the odds, Thappad is a bit more hopeful in its belief and creates a poignant atmosphere.
In one of its most touching scenes towards the end, Amrita opens her heart before her mother-in-law and gently highlights the bias around her.
The latter's reaction is perhaps too ideal, but Thappad's ultimate purpose is reform.
Sinha masterfully constructed screenplay and talented ensemble of actors reflect our collective complicity and failure as society, as enablers of patriarchy, for having allowed this to go on for as long as it has.
A spectacular Taapsee Pannu brings out the shift of a happy homemaker to a heartbroken woman most strikingly in her deeply affecting performance.
There's a constant sense of her carrying an invisible brick on her chest where the responsibility of protecting her pride outweighs the strain of people telling her to go against her guts.
The actress lives and breathes what doesn't kill makes you stronger. Not one false note about her superlative performance.
Her character is named after the eminent literary figure Amrita Pritam and Thappad pays rich tribute to the legend's feminist soul and strength.
Her soft-spoken father Kumud Mishra is extraordinarily sensitive to her daughter's feelings but can be equally firm in instantly correcting his son's misbehaviour, and Mishra is pitch perfect.
As are Ratna Pathak Shah and Tanvi Azmi in their portrayal of misplaced concern.
Maya Sarao, who played Sanjay Mishra's daughter in Ankhon Delhi, is crackerjack in her transformation as Taapsee's upfront lawyer suppressing her own misgivings on a bad marriage.
It's a small part but Geetika Vidya emerges most pertinent in her moments of spontaneous chatter.
If Dia Mirza cuts a picture of grace, Ram Kapoor shows his range at playing highhanded if need be yet bluntly stating the truth.
Pavail Gulati makes an impressive debut in his efforts to humanise a terribly callous character.
My hope is all the Vikrams of the world watch it.
I don't know if Thappad will put a dent on male entitlement, inspire men to behave better or uproot patriarchy.
It may not change anything at all but even if it convinces women to walk out of toxic relationships, it will be half a battle won.
Rediff Rating: