Did you know Nargis was to have played the Madhubala role, but opted out because she has reservations about working with Dilip Kumar?
Do you know how Naushad and Shakeel Badayuni came up with the words for the immortal Pyaar Kiya Toh Darna Kya?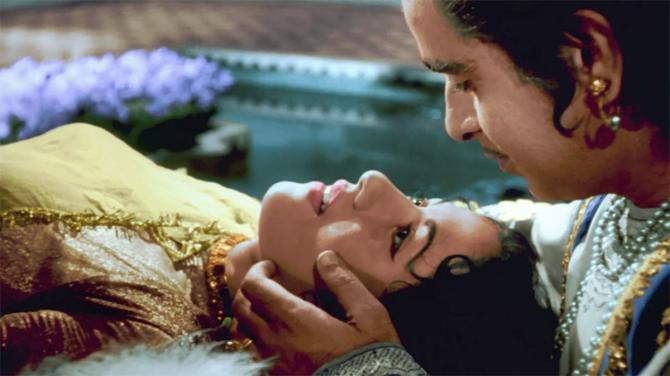 Classics never die. They are immortal.
And so 1960's Mughal-e-Azam lives on, and still carries a lot of interest.
Bhopal-based author, poet and journalist Rajkumar Keswani has now decided to enrich our knowledge more about the K Asif film by releasing a book on it, Dastan-e-Mughal-e-Azam.
There was so much that went into the making of the film that younger generations don't know about, and Keswani brings all that to the fore.
"Since Nargis had reservations about working with Dilip Kumar, she refused to be the Anarkali of this new Prince Salim. Thus, Madhubala came to replace her," Keswani tells strong>Syed Firdaus Ashraf/Rediff.com.
In 2004, four films were released during Diwali: Veer-Zara, Aitbaar, Naach and the colourised version of Mughal-e-Azam.
In spite of tough competition, it was the Dilip Kumar-Madhubala love story that did well at the box office.
And now, you are coming out with a book on the film. Do you feel Mughal-e-Azam will find takers in contemporary India?
The original Mughal-e-Azam released on August 5,1960 and the colour version in 2004.
You acknowledge that it did well at the box office, 44 years later, with almost the third generation from its original release.
It hasn't lost an iota of charm.
Certain things, you would agree, in this world are forever. Mughal-e-Azam is one such creation.
The grand success of the recent play Mughal-e-Azam: The Musical, based on the movie, emboldens me to make such a claim.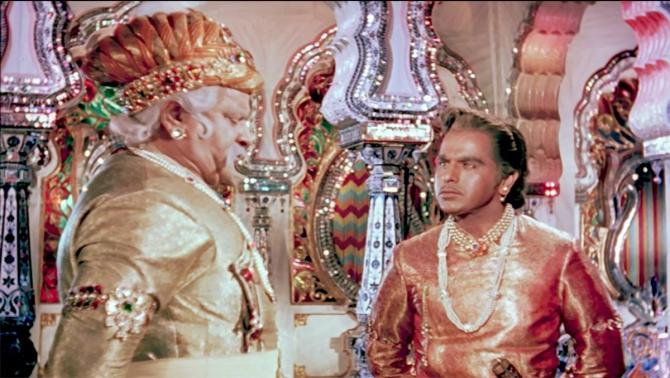 What is it that appeals you as an author about Mughal-e-Azam? Can you share your experience when you watched the film for the first time?
Without hesitation, the maker of the movie: K Asif.
He, as a maker, ensured that every aspect of the movie is compatible with the other.
Writers gave the best of chiseled words as dialogues and actors brought these words to life.
If you look at this the other way round, these dialogues made the actors look better, feel better and perform better.
Look at the music. Each and every song takes the story forward.
It worked like colour in the original black and white movie.
The voice of Ustad Bade Ghulam Ali Khan, representing the legendary Tansen, creates a world lost in time.
Applaud the vision of K Asif, who replaced dialogues with background singing for the great love scene between Dilip Kumar and Madhubala.
How can you forget the sets and the camera, working like a magic wand and creating the required ambience at the director's indications?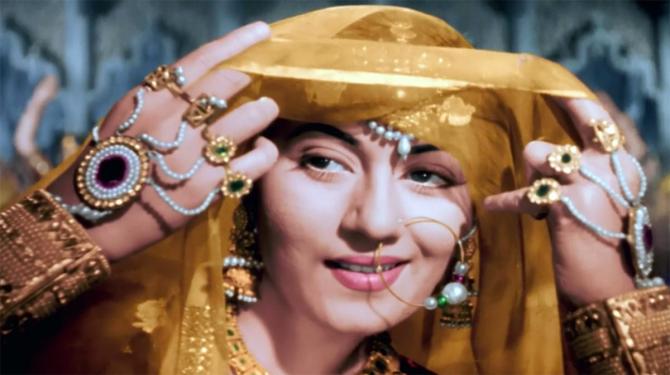 There are books on Mughal-e-Azam already. Why did you think of writing another one on it?
Well, I would say look at history.
Nearly half a dozen films were made on the same story, like Imtiaz Ali Taj's Anarkali in 1922. But that did not deter Asifsaab to retract from his decision to make Mughal-e-Azam on the similar story.
Can you tell us about Dilip Kumar and Madhubala's love story while making Mughal-e-Azam? The film took nine years to make. What was their relationship like during this time?
I am afraid that is going to be a long answer.
The affair had started on the sets of the 1951 movie Tarana.
They worked as a pair in Sangdil (1952) and Amar(1954) too.
This relationship, however, was unacceptable to Madhubala's father, Attaullah Khan.
There are several theories behind the disapproval of this alliance.
To Madhubala, her father was the Supreme Being in her life. She would not cross the line set by him.
This always remained an issue between Dilip Kumar and Madhubala.
And then came the final blow.
Madhubala was signed by B R Chopra opposite Dilip Kumar for his venture Naya Daur(1956).
The script required an outdoor location for the shoot.
Budhni, a small village near Bhopal, was chosen for the purpose.
The tough Pathan, Attaullah Khan, was not prepared to allow Madhu to be with Yusuf (Dilip Kumar) for such a long time without his surveillance. He wanted Chopra to erect a village set in a studio, which was totally unacceptable to the maker.
This dispute took an ugly turn, when Chopra replaced Madhu with Vyjayanthimala. He did this with an announcement in a newspaper ad.
The ad showed a cross mark on Madhubala's photograph and the smiling face of the new heroine in her place.
This insulting ad angered the Pathan beyond rapprochement.
He refused to return the signing amount of Rs 30,000 to B R Chopra. Hence, Chopra filed a court case for the recovery of his money.
During the hearing of the case, Dilip Kumar sided with Chopra and even called Attaullah Khan a 'dictator'.
The exchange of accusations between the two love birds in an open court destroyed everything.
However, as true professionals, they carried on with the shooting of Mughal-e-Azam.
The other reason, unexplained in those years, was the heart ailment of Madhubala. It was kept as a closely guarded secret in the family for the fear of losing new film offers.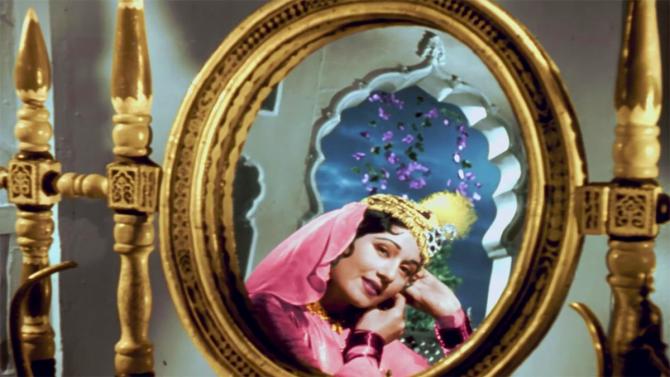 Why did K Asif take so many years to make a film?
What was he like a director?
Was the delay because he gave a lot of attention to detail?
More than a director, Asif was a dreamer.
He wanted to recreate those dreams on the sets of a studio -- the deserts of Arabia or whatever it was.
He was quite uncompromising on this.
The shooting was halted several times for something authentic and the financier was unwilling to spend. These hassles would create the reasons for delay.
A lot is written about the sets of Mughal-e-Azam, especially where the song Pyar Kiya Toh Darna Kya was shot. Is it true people were in tears when they dismantled Mughal-e-Azam sets?
No idea about tears, but yes, the very thought of demolition of such a beautiful creation itches my heart even on this day.
It was created at the Mohan Studio.
Let me share an interesting story related to this Sheesh Mahal. Some pillars and a few other things were borrowed by Guru Dutt for his film Chaudhavin Ka Chand. Both films released in 1960.
Filmfare (awards) ignored Mughal-e-Azam and Chaudhavin Ka Chand was given the award for Best Art Direction.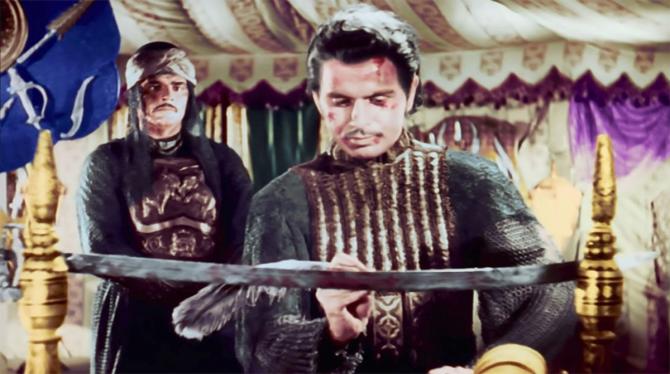 The phrase Pyar Kiya Toh Darna Kya, written by lyricist Shakeel Badayuni, is the soul of any love story. Can you tell us how it originated?
This song proved to be a severe test for veteran poet Shakeel Badayuni.
Burning the midnight oil, the team of Naushad and Shakeel would go on writing the opening mukhda after mukhda of the song, without any satisfaction.
Naushad, hailing from Uttar Pradesh, suddenly remembered a folk song he heard as a child -- Prem kiya ka chori kari.
That cracked the puzzle for the team as to how to make Anarkali's open declaration of love for Prince Salim.
Shakeel Badayuni made it: 'Pyar kiya to darna kya, pyar kiya koi chori nahin ki, chhup aahen bharna kya.'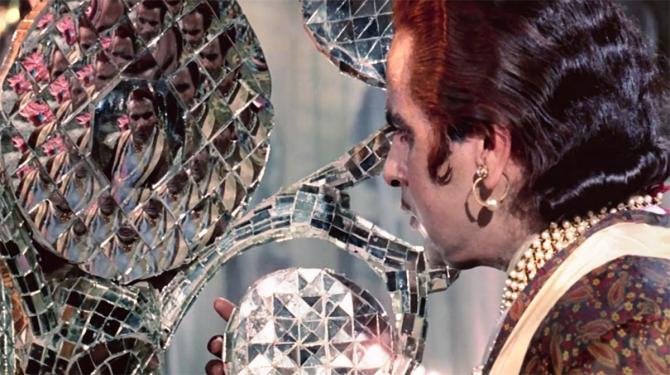 How did K Asif convince businessmen Shapoorji Pallonji to invest Rs 1 crore to make Mughal-e-Azam?
At the outset, let me clarify that on Day One, it was not a one crore project.
As the film progressed, the budget kept increasing and reaching the one crore mark.
Why did he put in the money? That's a long story, and I have narrated it in full detail in the book.
In short, I can tell you that he (Pallonji) was impressed by K Asif and his way of convincing him.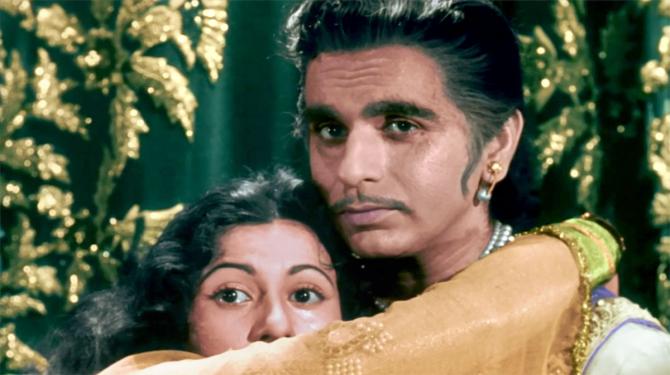 Is it true that Shapoorji Pallonji was impressed with Akbar and that's why he put in the money?
Yes. Emperor Akbar was his favourite character from history.
To make the things a little easier for Asif, he was a great fan of Prithviraj Kapoor too.
Shapoorji was a regular at the Prithvi theatre shows held at theRoyal Opera House in those years.
Also, give some credit to Asif's skill in story narration, applauded by no less than the literary giant of our times: Manto.
Was there any tension between producer and director as the film took so long to make?
There was tension between them only when there was an issue of increase in the film's budget.
Otherwise, Shapoorji was a great fan of Asif and loved him like a son.
One more reason for the prolonged shooting of the movie is that it was made in three languages -- Hindustani, Tamil and English -- simultaneously.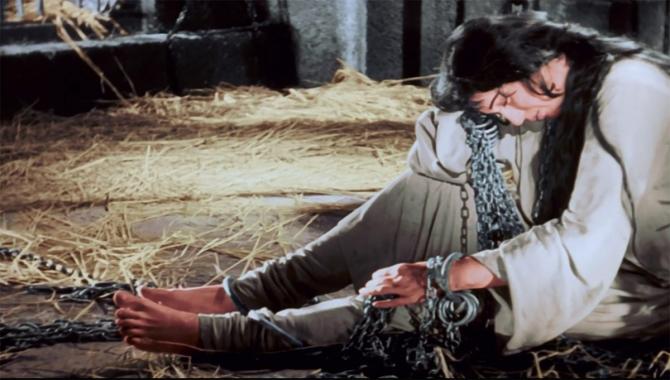 What is in Mughal-e-Azam that you want younger generations to know?
To be honest, I have not put in 15 years in writing the book just to tell the young generation of Indians what they must know.
It was my passion which would not allow me to rest with the information available about the movie and its maker.
The more I dug, the more interested I got. It went on like a mad man's quest for his beloved.
One day, the realisation dawned upon me that I have amassed a lot of information not only about the maker and his movie, but also about everyone else involved in it. That's when I decided to share it with everyone.
The result is this book Dastan-e-Mughal-e-Azam.
As regards the younger generation, I tend to believe that they are very much in love with the movie, even without my book. If the book can help them know, rather realise, how the impossible tasks were accomplished, I should be a happy man.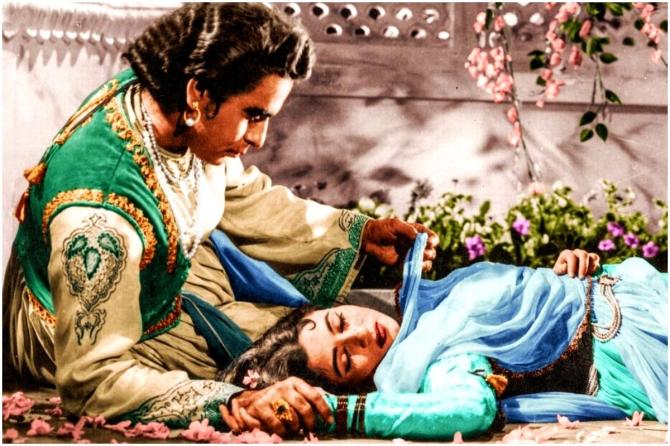 Is it true that the original Anarakali was to be Nargis? Why was she replaced by Madhubala? I believe it was because of Partition of India that the original Mughal-e-Azam was shelved.
Yes. Nargis was the original Anarkali.
K Asif had launched the movie Mughal-e-Azam in 1945.
His star cast then was Chandramohan, Nargis, Sapru and Veena. This one was produced by Shiraz Ali Hakim.
Almost one third of the shoot was completed when came the Partition of 1947.
Shiraz Ali Hakim, a great supporter of Muhammad Ali Jinnah, was left with no other option but to leave for Pakistan. He left behind an incomplete cine building at Mahalaxmi, his production company and a chain of studios, all by the name Famous.
This huge setback could have been a destroyer of any other maker, but K Asif.
He pursued his long cherished dream to the hilt and made it possible with a new star cast and new set up.
Since Nargis had reservations about working with Dilip Kumar, she refused to be the Anarkali of this new Prince Salim. Thus, Madhubala came to replace her.
Though I am cutting short a long story with this sentence.
K Asif lived 11 years after Mughal-e-Azam, which was his last film. Why did he take so long to make Love & God, which remained incomplete?
Was he disillusioned in the last days of his life?
Did he get his due as a film-maker?
Perfection, they say, is unattainable but Asif was one, who refused the theory and defied it to prove his passion right.
Love & God was another long journey of patience and perseverance for him.
The sudden death of Guru Dutt, his hero in the movie, was the first roadblock.
He gave it up for a while since he wasn't able to find a suitable actor to play his Majnu.
He discovered Sanjeev Kumar when he was shooting another movie, Sasta Khoon Mahnga Paani.
He immediately shelved Sasta Khoon to restart his pet project Love & God with Sanjeev Kumar.
Earlier, he was short of money, which was somehow organised. But then he fell short of his life, and there was no option to organise that.