'When people come to watch my work, I want them to take away something -- it could be the story, it could be an emotion they haven't felt in a very long time.'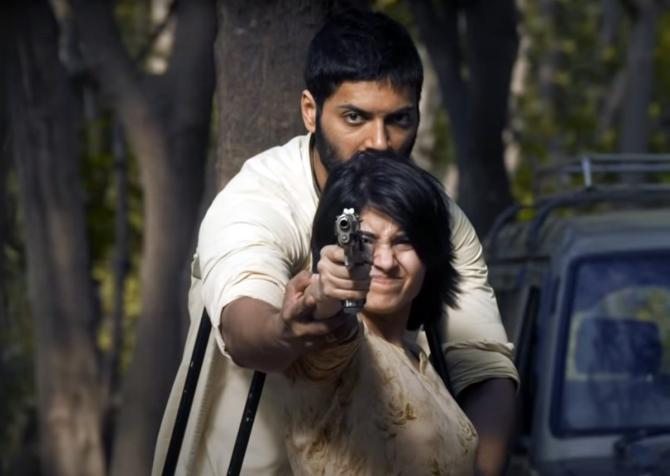 From a sweet and innocent girl in the first season, Shweta Tripathi Sharma's Gajgamini Gupta aka Golu undergoes a drastic change in Mirzapur 2. The sweetness is gone, replaced by a revenge-hungry, gun-wielding, hardened woman, who has no qualms about pulling the trigger.
October also sees the release of Shweta's other work, the short film Laghushanka, which sees her in a totally different light.
Her Shruti is a soft character, about to get married, but suffers from an embarrassing condition of bed wetting.
"There's such a contrast between Golu from Mirzapur and Shruti from Laghushanka. They are from such different worlds and that's what I enjoy," Shweta tells Ronjita Kulkarni/Rediff.com, in the concluding part of the interview.
From Masaan to Mirzapur, how much has life changed?
Life has changed, but my hunger is still the same.
A lot of people ask me commercial nahin karna hai?
But for me, I don't judge a story on the budget. What matters is the story and my character in it.
When I choose my topics, I don't think if it's a bold topic or if it's a social issue.
The story is important.
When people come to watch my work, I want them to take away something -- it could be the story, it could be an emotion they haven't felt in a very long time.
I want to surprise my audience. And for that, the first step is to surprise myself.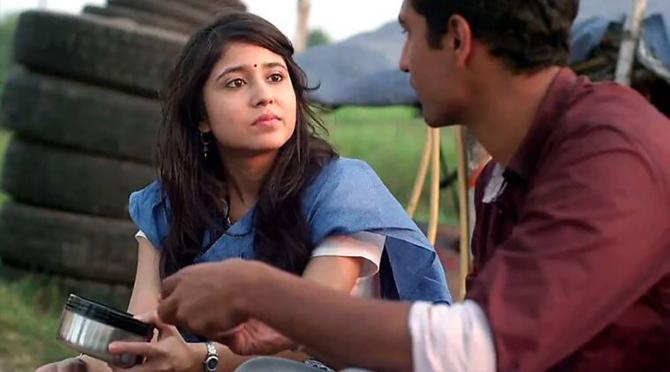 Why haven't you tried your hand at commercial cinema yet?
Mirzapur is the most commercial thing ever, more than any film.
So commercial or indie is not my criteria, a good story is.
Even if you offer me something on radio, I will do it.
I don't have the pressure that if I've done this now, I have to do something else now.
I don't want that pressure.
I am here for the long haul and don't want to rush into anything.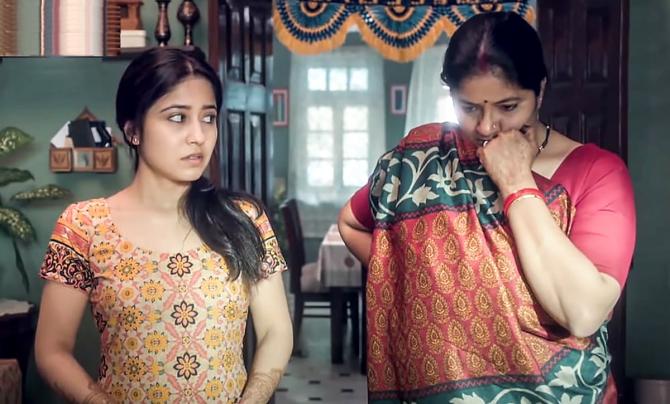 You have done a unique short film, Laghushanka, which is about a girl, who is about to get married but suffering from bed wetting.
Nikhil (Mehrotra, director) sent me a message on Facebook and that is something I never check.
But as luck would have it, I did check and got to know about him.
I am a very instinctive person and I believe in energies and vibes.
I thought we should meet and we did.
I heard the narration and I felt I had to be a part of it because the writing was so good.
Nikhil had so much clarity when he was doing the narration that I could literally see the characters.
We are so quick to judge as a society, and we always feel that our problems are the biggest. Sometimes we are not sensitive to other people.
Also, it has real life relevance to some people because Nikhil knew a girl in Bihar, who had this issue of bed wetting.
You know, you feel it is funny but what is this girl going through? It's so embarrassing, the constant bullying and suffering.
Bachchpan mein, we make fun of people without realising that we may be affecting the person's mood and personality.
So this is a light-hearted attempt to focus on that issue and to brush off labels that come with it.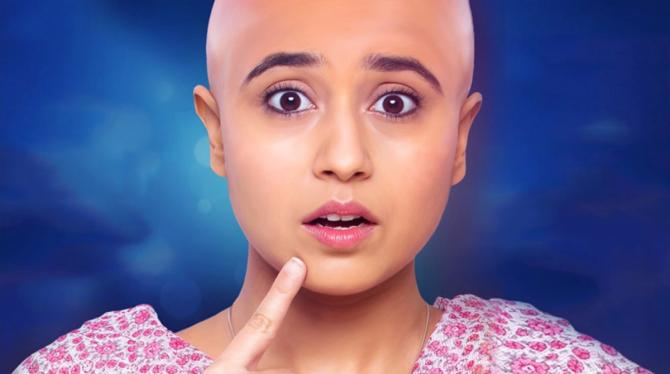 But bed wetting is such unique concept. What was in your mind when he said those words?
Absolutely! But even when I did Gone Kesh, I didn't know about alopecia.
That's one of the best things about being an actor; we get to play so many characters, who are in different situations and environments.
I don't have alopecia or bed wetting but for those few moments, I got to live and experience the fear that girl is going through.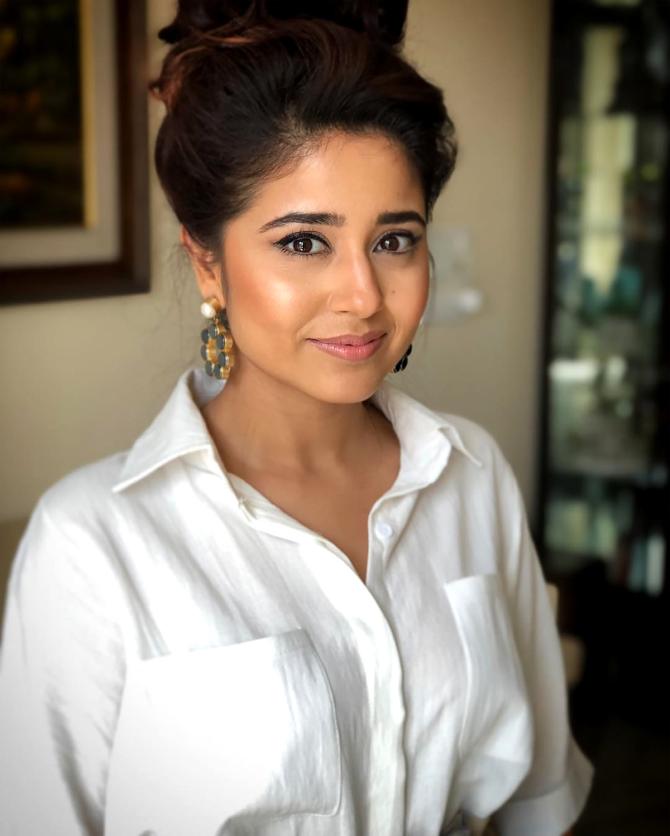 Why do you call yourself Battawada?
I love the way it sounds. It sounds very approachable and friendly.
I don't want to have that distance from my audience. I'm right there...on any screen.
Also, no matter from which part of the world you are from -- South India or South America -- potato will always find a way into your cuisine and on to your table.
From the fanciest Italian restaurants to your home, it's there.
And whatever flavour you give it, it takes it.
I want to be that as an actor.
I don't my audience to see Shweta Tripathi Sharma. I want them to see my character.
Your husband Chaitanya is a rapper. What dominates the conversations at home: movies or music?
Oh all kinds!
He is an actor too. He is in Amit Sharma's Maidaan, with Ajay Devgn.
So there are all sorts of conversations, from what is happening in the world to how we have to protect ourselves first in order to help the world.
He is my go-to person and my best friend.
I can discuss anything under the sun with him, from makeup to what I am wearing.
We are each other's biggest fans and biggest critics.
How did you meet?
There is a play called The Interview, directed by Akarsh Khurana.
It had a show in Delhi seven years back and the two actors who were doing it got busy. So Cheeta and I went to Delhi.
On the way back, we hit it off in the flight and I just knew that I wanted him to be a part of my life.
He made me laugh so much during that flight.
He is my anchor and my biggest support.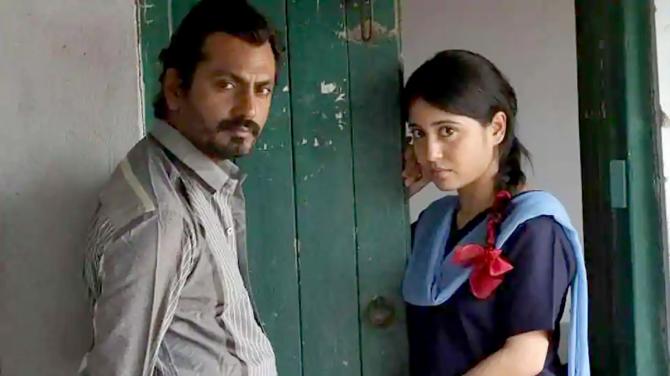 Did you always want to be an actress?
I always wanted to be an actor, but I didn't know how to go about it.
My father is an IAS officer, mum is a teacher, both retired now.
We didn't know anyone in Mumbai.
There was a notion of how a heroine should be, lambi honi chaiye, baal lambe hone chahiye, but I have always been told by my parents that one must always follow one's dreams.
They told me that your caste, your religion, your height, these things don't matter.
What matters is what you do in your life.
They have always been very encouraging.
I did theatre workshops and realised that this is my happy space.
I want to be on stage, in front of the camera.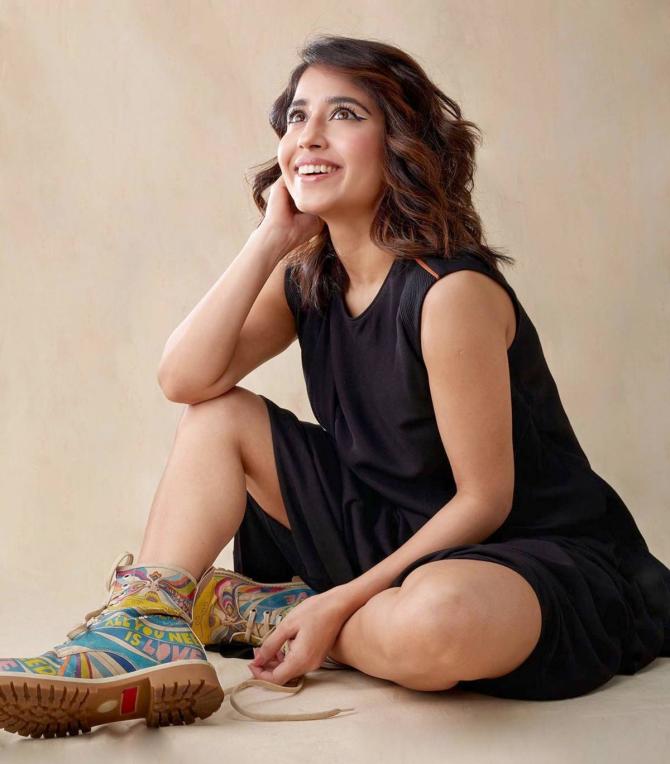 How did you become an actor?
When I came to Mumbai, I used to work for a magazine.
I started auditioning.
THESPO, a youth theatre festival, was very important in my life. Because of that, I started my own theatre group. We used to audition every year, and finally made it after four years.
One day, I was sitting at Prithvi theatre and a casting director was there. She told me to come for a test for a Disney show.
I went for it and got the part.
But after that, I wasn't getting the kind of projects I wanted.
So I got into casting.
That's where I met Shlok Sharma (Haramkhor director), Anurag Kashyap and Neeraj Ghaywan (Masaan director). That's how Masaan and Haramkhor happened.
And one thing led to the other.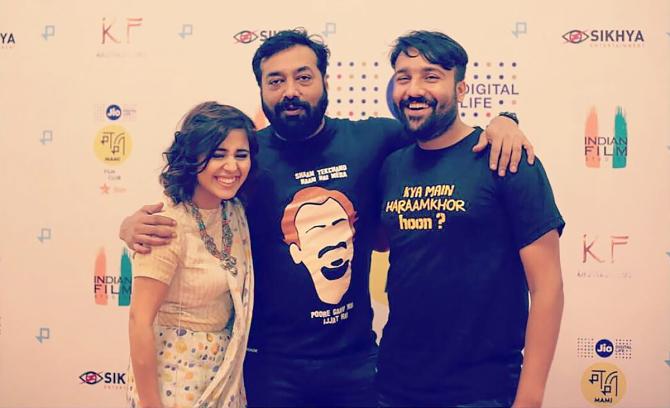 When you look back at your life, what's the one thing that makes you happy?
I feel happy that I am doing the kind of work that I want to do.
Before yes, I wanted to wear that yellow salwar with the yellow chunni, in that yellow khet... I wanted to do all that and there is nothing wrong with that.
In fact, I would love to do that.
I would love to do a dance film.
You have to stretch yourself as an actor.
That's why there is such a contrast between Golu from Mirzapur and Shruti from Laghushanka.
They are from such different worlds and that's what I enjoy.