'You come out of the theatre feeling happy, inspired, with moist eyes and in awe.'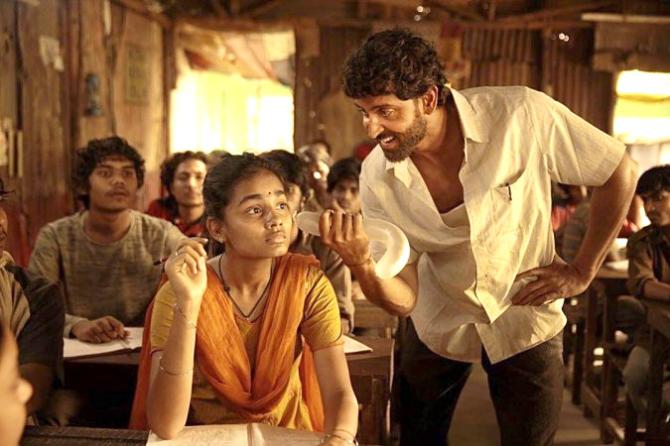 Hrithik Roshan's new film Super 30 tells an inspirational real life story, and audiences are suitably inspired.
We asked readers to send in their reviews, and everyone's raving about the reel story of Anand Kumar.
Arvind Moorthy
Super 30 is a movie which truly inspires you, touches your heart, gives you goose bumps with a story that effectively brings forth the strength of education, magnanimity of selflessness and how shamefully politics and greed is contaminating the purity and right of education.
It is a must watch family movie.
I only wish cinematically there was more justice done to the writing and execution and choice of the lead cast.
PERFORMANCE: Hrithik Roshan -- as the protagonist Anand Kumar -- returns after a gap of two years in a role any actor would die for.
Kudos to Hrithik for choosing such a subject.
He has put a lot of effort in this character which required simplicity, confidence, intense emotions and the 'ordinary man' look but with extraordinary impact.
He does a decent job and has his moments, but unfortunately, he is unable to get under the skin of the character.
You cannot see Roshan as someone from Patna delivering dialogues in a heavy Bihari accent -- it seems forced and uncomfortable.
If not for the beautiful inspiring story and the wonderful supporting cast, especially the 30 impeccable students, Hrithik could not have survived.
You won't crib, but definitely there was scope for a better casting for this role.
You feel uncomfortable initially watching Hrithik in this role, but after some time, it does not bother you as you see the intent and genuineness of the true person called Anand Kumar behind the miscast Roshan.
Virendra Saxena as the father was earnest and brilliant.
Sadhna Singh (of Nadiya Ke Paar fame) as the mother was absolutely adorable and a delight to watch.
We have seen Pankaj Tripathi this way many times, but he is a delight to watch.
Nandish Singh as the brother was just about okay.
Amit Sadh has a half-baked character, which looks forced.
The casting of the 30 students is where the movie scores. They keep you engaged and move you.
You genuinely root for these youngsters.
BACKGROUND SCORE, MUSIC by Ajay-Atul is quite grand with the usage of elaborate orchestra and Western classical notes, typical of Ajay-Atul.
Some of tunes seem to have a hangover of the previous venture, Dhadak. No doubt a nice score which will not get on your nerves.
The songs, especially the Sanskrit one and Niyam Ho, stay with you.
SCREENPLAY AND DIRECTION: The movie is based on a true story and takes a linear path when it comes to writing.
The biggest strength which holds the audience is the story about these underprivileged young students and the awe-inspiring selflessness and ever-soaring confidence of this incredible personality called Anand Kumar.
Some moments like the play to harness the student's confidence, were quite innovative. A scene where Anand Kumar ends up giving away his invitation form from Cambridge is a master stroke.
But Director Vikas Bahl and Writer Sanjeev Dutta somewhat dilute the beautiful subject by casting of the main lead and the treatment of some of the situations, which are interesting but over-dramatiSed for THE screen, especially the events leading to the climax, which seem quite easy to be real.
Some situations are too formulaic.
At the end of the day, the power of the story manages to overshadow the lack of vigor in writing and direction.
You come out of the theatre feeling happy, inspired, with moist eyes and in awe.
It's hard to believe that such a personality exists in this world.
You feel ashamed at the plight of a society where such a selfless person has to go through the test of time and threats of death, his only mistake being sharing and spreading knowledge to the underprivileged and giving them wings to dream, so that they can rise from the rags.
Kudos to the makers for bringing this to celluloid and worth a watch for the novelty of the subject, inspiration and wonderful message this movie has to tell.
Shilpa Bhasin Mehra
What a movie! I don't know where to begin.
When you come out of the hall and you are still in awe of what you saw, that's called making an impact.
Sadly, very few movies do that these days.
The fact that it is a true story makes even more inspiring.
What is remarkable is to make the story into a Hindi movie, without the usual glitz and glamour and yet keep the audience so engaged.
No fancy outfits, dancing around trees or glamorous venues/foreign locations.
We got to see rural India with all its poverty and the burning desire of children trying to succeed. It reminded me of the song We Shall Overcome.
Everyone's acting was brilliant, so real.
Anand Kumar has my deepest respect, a person who seems unreal in today's materialistic world.
No one could have done a better job than Hrithik. Just pure acting and raw talent, not his usual dance moves and V-shaped body.
The kids were phenomenal, depicted their poverty and complexes so truly.
Hats off to the director and the entire team of Super 30 for making this landmark movie. A benchmark of Real Cinema.
Raghu Molugu
Super 30 has a very good theme where IIT-aspiring students can take inspiration.
Hrithik Roshan's acting is excellent.
The direction and screenplay are good.
It would have been an excellent movie if the director had added some things like:
Snapshots of students who were taken coaching at Super 30 and were successful.
Their financial backgrounds, how they struggled and how they got admission into Super 30 and ultimately into IITs.
Super 30 classrooms and hostels, who cooked the food, how their day started and ended (All in a glimpse).
If the director could have given less importance to the Excellence coaching centre and the villain.
Deepak Shinde
Super 30 is a must watch movie.
It has wonderful acting by Hrithik Roshan, an awesome real story, bitter facts about the education system.
Do show your kids this inspiring movie featuring the struggle of underprivileged, intelligent students in achieving goals of life.
A wonderful movie without so-called masala of kisses or intimate scenes.
Hrithik Roshan plays a common man's role, who brings an uncommon change in lives of many. Mind-blowing acting!
Wonderful script.
Super 30 is an inspiring real life story about Anand Kumar (Hrithik Roshan), who missed his opportunity to join the prestigious Cambridge University due to his poor financial condition.
Anand Kumar solves the most complicated Mathematics problem, which was unsolved till date, and hence gets the opportunity to join Cambridge University.
The desperate, unsuccessful, effort of his father to send his son to Cambridge, who dies in that depression, touches the heart.
Anand going thorough hardships in running the family after his father's death, meets a big coaching class operator. His life turns upside down and he improves on the financial front, getting name and fame.
In an incident when he gets a reality check from a rickshawallah, who tells him that only the rich have a right to education, not the poor.
This incident changes his life and he decides to dedicate his life for intelligent poor, underprivileged kids and starts his free coaching classes to send boys to IIT. He quits the coaching academy and starts his own for poor kids.
He goes through tremendous hardships in sustaining his academy, feeding his students, he teaches them with whatever minimum resources available.
His previous coaching academy mafia tries all means to destroy Anand's academy and pull him back to them.
But Anand continues his academy despite risks to his life.
Even after a near-fatal attack by the coaching mafia on Anand, he and his students fight the armed mafia.
Despite hurdles, the students manage to appear for the IIT JEE exam.
Will Anand's students be able to compete? Will any of them crack the exam?
Watch this climax at a theatre near you.
---
After you watch Super 30, please send your review to moviesdesk@rediff.co.in (Subject: My review) along with your NAME, AGE, LOCATION.
We'll publish the best ones on Rediff.com