Super 30 student Anup Raaj shares 7 lessons he learned from his teacher and mentor Anand Kumar.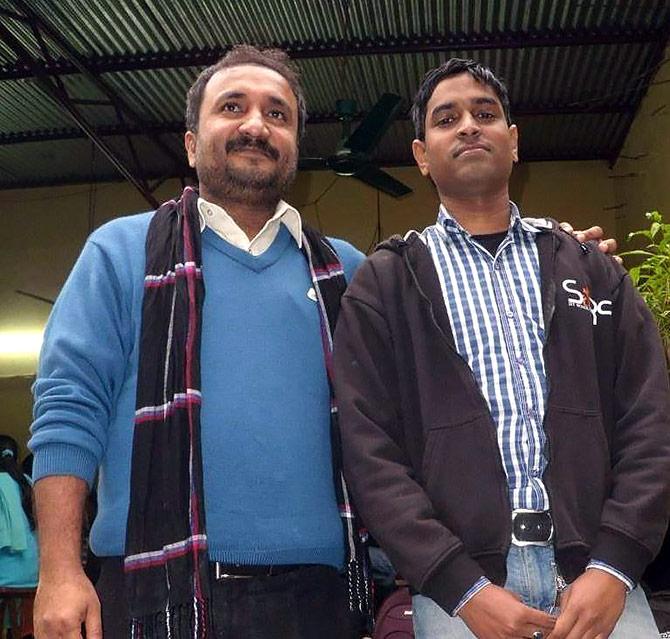 In August 2009, when Anup Raaj was admitted to Super 30, a free IIT-coaching institute founded by Anand Kumar in Bihar, he had little idea how his life would turn around. (Please Click here to read his story!)
He overcame poverty, the absence of his father and sought a place in the prestigious Indian Institute of Technology-Bombay.
Today, Anup, 27, is a successful serial entrepreneur -- he co-founded PSTakeCare, a health start-up, Indiawyn, a gaming solutions company and is currently founder and CEO of 7classes, a coaching platform.
Now that Super 30 -- the film where Hrithik Roshan plays Anand Kumar, the man who changed the lives and secured the future of hundreds of students in Bihar and Uttar Pradesh is about to be released -- Anup Raaj recalls to Divya Nair/Rediff.com the seven key lessons he learned from his Super Teacher.
1. Even in difficult times you must learn to trust yourself.
Anand Sir used to say 'Anupji ghabrane koi baat nahi mehnat badhaye rakhiye (When something looks tough, don't get worried, work harder).'
He would say, 'JEE ka paper milte hi lagege mujhe to kuchh aata hi nahi. Tab aapko sochna hai sahi direction me ja rahe hain. Phir koi ek sawal se suruaat karen (When you see the JEE paper for the first time, you'll realise that you don't know anything. But you have to focus and find one question that you can start solving).'
I learned from him that we should not be afraid of problems, big or small.
He taught us to break our problems into smaller ones and start with the easiest, most comfortable one.
2. Math is like sports
Anand Sir would say that students who loved mathematics are called mathletes, much like athletes in sport.
While training under him, I learned how academics is very similar to sports.
It requires passion and regular practice.
With time, you can perfect your skills and become a winner.
3. Break your own record, set new ones
For the first time after I joined Super 30, I realised that doing the same sums (problems) again and again can be really helpful.
It's like breaking your own record in perfection and doing it faster than last time.
Consider it like Usain Bolt breaking his own record and making a new one.
It helps in real life too, where you set goals, accomplish them and set higher goals.
4. One problem, many solutions
Thanks to Anand Sir, I learned to solve the same problem in 7 or 9 ways.
In the long run, this has been one of the greatest learnings of my life.
Whether you are an entrepreneur or a working professional, you will face the same problem at different times. But you may not be able to execute the same solution all the time.
I have learned from Anand Sir to think out of the box.
It has helped trigger my creativity and I have been able to come up with new innovative solutions each time.
5. Self learning
During the time I was tutored at Super 30, I discovered that I could finish at least 50 per cent of the syllabus without the help of a teacher.
This was a huge advantage at the time. It made me self reliant and learn to solve problems on my own.
Even today, I like to try and learn things on my own.
Those early lessons pushed me to be independent and be a self learner.
6. Think beyond
At Super 30, we were taught to do things beyond the curriculum.
While solving problems, we learned that we could do so much more. Like, we could create new questions for the same problem.
These could be easy, tough and tricky questions.
In order to test our skills, we would create these new questions and pass them on to each other. This was a different form of shared learning.
This simple activity helped us think differently and be prepared for alternatives in our lives and careers.
7. Find joy
If you ask any student who has been a part of Super 30, he will tell you how Anand Sir turned studies into a fun activity.
Just like how we learned to create questions out of solutions, we were taught to add new perspectives to each problem.
We were taught to draw and paint, so we could analyse the problem in a fun way.
It gave us so much joy to discover that learning need not be so complicated.
There is so much competition in the world outside, but at Super 30, we were taught to find our individual strengths, focus on our merits and build confidence.
These simple but experiential learnings have helped us look beyond our problems, develop ideas, lead teams and become successful.
TELL US: What is the best lesson you learned from your teacher? Please share your learnings in the messageboard below.