While the Mahabharatha is of epic proportions and reputation, it contains many characters and sub-plots that are capable of being re-written on an epic scale. Ghatothkach, son of Pandava prince Bheema, and Hidimba, is one such. Shemaroo Entertainment presents the giant-sized nice guy in tiny-tot form, you are prepared to be entertained by the good-natured hero's antics.

 

The English version of Singeetham Srinivasa Rao's Ghatothkach, a 2D animation movie, takes a linear approach of narration, most times. The director informs you right at the beginning that he's taken few liberties with the story in the name of presenting a picture -- but you find out that it's a tried and tested format, most of the time.

 

Starting with a roly-poly Ghatothkach defeating his demon attackers as a toddler, and then his adventures in a magical forest that opens its arms to him, this story presents visuals that bring in all colours of the rainbow. Along the way, he rescues a baby elephant and indulges in pranks, not forgetting to mention, getting a golden pearl which paves the way for his first meeting with Abhimanyu, Arjuna's son and Surekha, Balaram's daughter. 

 

After a coupe of fast-paced songs which suit today's kids, the movie moves to the story -- following the screenplay of K V Reddy's Maya Bazaar, the Telugu classic.

 

Krishna

duly makes an appearance, no matter how brief his role is, he ends getting the applause. Meantime, Ghatothkach performs magic, throws arrows, and swallows huge meals (a nod to the classic Kalyana Samayal Saadham song) and pitches in wholesale to help the romance of Abhimanyu and Surekha (the two even share a kiss!)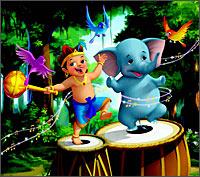 If you've watched Maya Bazaar, then no guesses as to how the story ends.
Vidya Reddy's dialogues match the screenplay, while the music is modern colourful and transports you straight to pop performances.
The American accent, though, is jarring when characters like Subhadra (Abhimanyu's mother) and Surekha say, 'Break it up!' You also wish child Ghatothkach had more to do -- he's adorable, and expressive.
Children would enjoy the film -- you even wish it had been longer, and the Pandavas too brought into the fray. Still, it's an exploration of a character that's all too often left out. A good watch.
Rediff Rating: