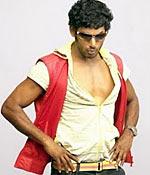 With one cop story after another proving to be a dud at the box office, Puratchi Thalapathi (Revolutionary Commander) Vishal and his production house, GK Film Corporation have decided to turn tack and go in for what seems to be a rom-com with Theeradha Vilayattu Pillai (taking its name from poet Bharathi's song).
With three heroines to supplement the romance angle and Yuvan Shankar Raja tuning the music, here's what the Tamil album has to offer.
Yuvan's introduction is just that, a chance for the composer to make his own mark in the album, complete with unintelligible phrases and a heavy shot of synthesized music, a-la the eighties. It ends before you've even begun to listen to it.
The rhythm sounds definitely like the opening of Billa's signature tune, complete with a burst of instrumental music. Poo Mudhal Penn Varai starts with Yuvan Shankar Raja himself lending his voice to Pa Vijay's verses, liberally shot with English phrases. The words themselves try to be different; assuring you of the hero's instinct to go after the best, from apples to jeans and naturally, women. The music, on the other hand, seems laid back, downright monotonous and makes you yawn before a minute has gone by.
Pan Bundy delivers the rap sequence which begins En Jannal Vandha, rendered by Roshni, Priya and Divya. It sounds as though you're standing under a waterfall, or swimming in a lake, at the very least. Despite sounding like Etho Seigirai from Vamanan, it does have its moments particularly the pallavi. "So what!" yell the ladies in the refrain to this song that turns mundane in the charanam, sprinkled with rap again. The interlude surprises you with its sudden burst of ethnic music but it resembles the Aegan number so much that you lose interest pretty soon.
Theeratha Vilaiyattu Pillai -- The theme song, around which the movie revolves, has been penned, appropriately enough, by Vaali and sung by Andrea (who does justice to the song), Tanvi, Vinaitha and Ranjith. The song itself, describes the (ordinary) exploits of a Casanova, to a rhythm that seems straight of one of ABBA's hits. It almost looks like Yuvan simply added a boatload of instrumental music to make-up for the distinct lack of melody.
It seems like a door creaking, or a ship wrecking accompanied by string instruments and a rather ominous booming, as Vinaitha lifts her voice to hum a snatch of classical music to begin En Aasai Ethiraliye. Vijay Yesudas picks up where she leaves off. There's a welcome shot of mild anguish lacing the romantic number, penned by Pa Vijay. You can just visualise the song: it's meant to be a face-off between the man and woman -- not exactly new, but of all the previous numbers, this one promises some variations, and is appealing.
Ranjith takes up the vocal reins for Oru Punnagai Thane, yet another romantic number, set to a steady pace, interspersed with synthesized music. Despite the rather neat instrumental arrangement during the interludes, the charanam sounds depressingly flat. The pallavi is probably the best part of this number.
For someone who tries to introduce something new in each of his albums, Yuvan barely tries here. It looks like he seriously needs to find his groove.
Rediff Rating: