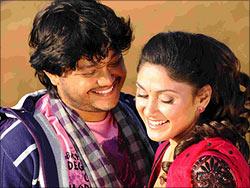 Srikanth Srinivasa feels Ganesh and Manjari exude freshness in Munjaane.
The Kannada film
Munjaane
is about a 'difficult' love story. So difficult, in fact, that the heroine does not look at the hero even after she marries him.
Pavithra (Manjari Phadnis) scribbles sweet nothings on whatever material she finds, including vegetables and shirts. Her love story with Manu Murthy (Ganesh) begins when she scribbles a sweet note on a bus going to a different city and is surprised to get a reply from someone at the other end.
Manu, who is a happy-go-lucky guy, finds out that the messages that he gets and exchanges through the bus, are actually written by a girl. They exchange phone numbers in the same way, but the number gets washed off in the rain. Neither therefore knows the other's identity.
Meanwhile, Pavithra's parents arrange for her marriage to a rich boy, who turns out to be Manu. They get married but they don't get along well, and decide to divorce.
Do
Manu and Pavithra get back together and discover their true identities?
Director S Narayan has tried a novel way of picturising a love story. This time he has used a bus as one of the characters and a mobile phone to bind the characters.
Manjari Phadnis walks away with all the acting honours. She touches the hearts of the audience with her impressive performance.
Ganesh, as usual, gives an effortless performance though he seriously needs to get a makeover in terms of his looks and hairstyle.
Malavika impresses as Ganesh's mother although she looks a bit young to play the role. Television artiste Rajagopal Joshi is adequate and so are M N Lakshmi Devi and Rajendra Karanth.         
Narayan has composed a few good songs including the Manase number. Waali's cinematography goes well with the pace of the movie.
Munjaane
is definitely a treat to watch.
Rediff Rating: