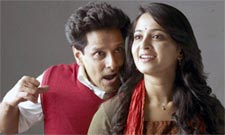 Pavithra Srinivasan says tugs too obviously at the heart-strings. Post YOUR reviews here!


There's one thing to be said for UTV Motion Pictures' much-anticipated movie of the year,
Deiva Thirumagal
: its director, A L Vijay, of
Madharasapattinam
fame, has a very definite flair for sentimental tear-jerkers. He also has an affinity for converting melodramatic Hollywood movies into fairly palatable
desi
fare. This time he's chosen to be inspired by a film that's been hailed even by Hollywood as the ultimate tear-jerker:
I am Sam
.
Deiva Thirumagal
has its plus points, chief among them the work of Dr
Chiyaan
Vikram (the film opens, in fact, with his name and face displayed prominently). And in many ways, this is completely his movie. As the mentally under-developed Krishna who works in a chocolate factory in Avalanchi, Ooty, he establishes right in the beginning the helplessness, goodness of heart and deficiencies of someone whose mental age is only five.
In the very first shot, as cars whiz into Chennai city, we are introduced to the wide-eyed, child-like Krishna, clutching a notebook, wandering around the city, completely adrift. After knocking at police-stations and courts he runs into newly minted lawyer Anuradha Raghunathan (Anushka Shetty), and her mate Vinod (Santhanam). At first she is dismissive of him but later learns his story from his employer in Ooty and decides to do legal battle on his behalf.
Krishna has lost custody of his only child, Nila (Baby Sarah), to her maternal grandfather, Rajendran (Sachin Khedekar), courtesy the efforts of his second daughter, Swetha (Amala Paul). Rajendran, of course, is a millionaire, and sets up Bhashyam (Nasser), a high flying lawyer to argue his defence.
So far, so good, even if
I am Sam
is very heavily referenced, and quite a few scenes are ripped off (example: in the English film, Sam Dawson arranges sugar packets in a diner; Krishna arranges chocolates in his factory). The intimacy between father and daughter tugs the right heart-strings with various songs, and director Vijay's signature humorous touches. Anushka looks appropriately determined, even Santhanam plays down his usual loudness, and the intermission brings a sense of suspense.
Post the break, though, everything starts unravelling. Krishna's wide-eyed innocence begins to lose its charm, and it's the little girl, Sarah, who keeps things going. It's largely the screenplay that is to blame. Unlike the English original, here, the actual raising of the child is barely dealt with; no real issues of conflict or even society's observations are addressed. Everything is just swept under the rug right until the last five minutes, with a massive, sentimental dose of father-daughter affection, and the dialogues are trite.
You wonder why, when Anuradha the advocate is supposed to establish Krishna as a good care-giver, she goes on a wild-goose chase to establish him as a man with a normal IQ. There's a rather ridiculous Crazy-Mohan style chase through a hotel that's intended to be funny, but tests your patience. The final showdown in court, even with its tear-jerking moments, is more hilarious than serious.
The production crew has done a neat job – which is per usual: Nirav Shah's camera-work and Antony's editing are perfect, especially in the melodious Vizhigalil Oru Vanavil number (meant, especially, to showcase Anushka). G V Prakash's music is alluring, especially in its signature tunes, though its placement overdoes the sentiment in many places. Aariro is another song that is very pleasing to the ears.

As for the actors, Vikram obviously scores. Yet, you feel that after Sean Penn, Vikram has been given an acting template of sorts. Yes, he has done very well – but it's not really original. Anushka delivers what her role requires her to do, but the screenplay lets her down. The same can be said of Amala Paul, Sachin Khedekar, M S Bhaskar et al.

If you're a fan of sentimental tear-jerkers, and have not seen I am Sam, Deiva Thirumagal might impress. For the rest, it might provide a sense of déjà vu, and towards the end, the meandering, weak screenplay is largely dissatisfying.

Rediff Rating: