Sandeep Aur Pinky Faraar is an intriguing mess, notes Sukanya Verma.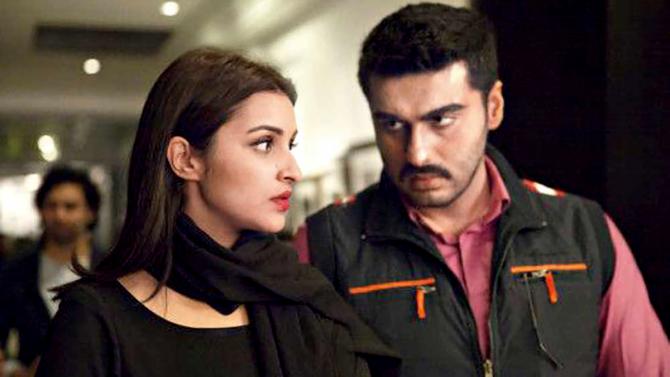 Being emotional fools do not bode well for the protagonists of Sandeep Aur Pinky Faraar.
A hotshot banker (Parineeti Chopra) commits fraud to save her beau boss from bankruptcy.
A loyal cop (Arjun Kapoor) learns that his monster-in-mentor's garb sees him as mere collateral damage.
A gullible old couple's (Raghuvir Yadav, Neena Gupta) kindness is exploited by the aforesaid two in a bid to escape cops and colleagues hot on their trail.
In all the three scenarios, misplaced trust has landed them in a sticky spot. Except the titular duo -- embodying Dibakar Banerjee's cynical worldview -- aren't exactly a picture of virtue.
For all their distinction in economics and class, both Sandeep and Pinky are ultimately a dispensable statistic in Delhi's ruthless, corrupt scheme of things where power brokers and corporate scamsters call the shots.
Its chilling evidence marks the opening scene where a late night drive's crude revelry concludes in cold-blooded gunfire. 'Doosri gaadi Maggi ho gayi (we bombarded the wrong car),' scoffs the shady policeman (Jaideep Ahlawat) after ordering the screw-up to look like an act of terrorism.
A masterfully shot sequence that packs in Delhi NCR's most unflattering aspects -- toxic masculinity, road rage and state of police brutality in just a span of a few minutes.
Banerjee's shrewdness shows in how he links it with Sandeep and Pinky's sudden shift in fortunes.
Realising they are the intended targets of this ambush-gone-awry draws unsettling reactions from the two -- be it Pinky's physical violence or Sandeep's disturbing tolerance for humiliation.
Regrettably, it negates whatever reversal of gender roles Banerjee is pushing for by giving them peculiar names.
A man nicknamed Pinky or a woman going by a masculine address is not uncommon in North of India.
There are a good number of girls named Rakesh, Vinod or Sandeep.
Ram Gopal Varma's Daud, too, used the same ploy for the sake of quirk in Sanjay Dutt's Uma Parvati and Urmila Matondkar's Daya Shankar while Paresh Rawal was, what do you know, Pinky.
But even if Sandeep wears the pants and knows her finances and Pinky rolls the rotis and dances a storm, he is still shown as her protector.
It's disappointing as is Sandeep Aur Pinky Faraar's confused focus and stiff disposition.
There is not as much running around to make it a road movie.
The whistle blowing on bank frauds is cursory.
The running rot of the system isn't too deeply dwelt upon.
We get a sense of Pinky's disenchantment but never quite the cause of it.
Mostly though, it is the clinical response to Sandeep's horrifying agony that left me perplexed to the core.
If Banerjee's gruesome obsession with her suffering is supposed to make us see a deeper meaning into it, he has picked the wrong actor.
To be fair, Parineeti talks numbers very well.
Also, there's an inherent warmth about her, the scene where she hugs a motherly stranger leading to an outpour of emotions is a rare glimpse into her vulnerability.
But the stony-faced appearance she otherwise acquires fails to convey any of the regret and resentment.
Arjun Kapoor is suitably gruff and grim but fizzles out in a role that needed an actor whose thoughts can be heard.
Co-written by Banerjee and Varun Grover, there is still lots to applaud -- Anil Mehta's sublime frames capture the mood and momentum befitting a plot powered by conversations, its ingenious celebration of Salman Khan's cult (the Faraar in the title alludes to him) and the brotherhood of the bracelet.
There is Neena Gupta and Raghuvir Yadav's endearing elderly couple slipping seamlessly under the skin of their middle-class values and woes.
Also the peripheral characters inhabiting Indo-Nepal borders, juggling the rights and wrongs while assisting Sandeep and Pinky in their risky endeavours add to its slice-of-life, oddball appeal.
Sandeep Aur Pinky Faraar is an intriguing mess.
Though it is never said aloud, Banerjee's protagonists are abused, oppressed, individuals whose rough edges stem from the damage they have endured transcending class and social distinction.
Without any moral scrutiny he contemplates on the nature of crime, how it is both by design as well as desperation.
Pity, he opts for traditional Bollywood tropes to find a breakthrough.
Sandeep Aur Pinky Faraar streams on Amazon Prime Video.
Rediff Rating: