"For me, cinema must be an escape route. I believe the characters in my film must laugh and cry, fall in love, suffer heartbreak, go through an entire gamut of emotions. That's my world, and I invite audiences into it," Karan Johar once told Subhash K Jha in an interview.
The film-maker, who has produced about 40 films so far (including unreleased ones) and directed nine, has made good cinema in his career.
Kuch Kuch Hota Hai, 1998
Karan's directorial debut Kuch Kuch Hota Hai released alongside David Dhawan's Bade Miyan Chote Miyan on November 16, 1998.
There was pressure on me to watch Dhawan's film and I did. I hated it.
The next day I saw Karan's film.
I was enchanted with its virgin language, colours, textures.
I watched the film twice the same week.
I don't think Karan has directed a better film than Kuch Kuch Hota Hai. Except maybe My Name Is Khan.
Kajol-Shah Rukh's chemistry was so removed from what lead pairs generally share, but the real star of the show were the children, Sana Saeed and Parzan Dastur as Anjali and the silent Sardar.
Interesting fact: Karan's mom Hiroo Johar played a cameo part.
When Kuch Kuch Hota Hai completed 10 years, Karan told me, "I don't watch my films. I'm not a fan of my own work. I feel this is my most honest work because I was absolutely fearless when I made it. After that, I was just trying to hold on to the position I had created."
Kabhi Khushi Kabhi Gham, 2001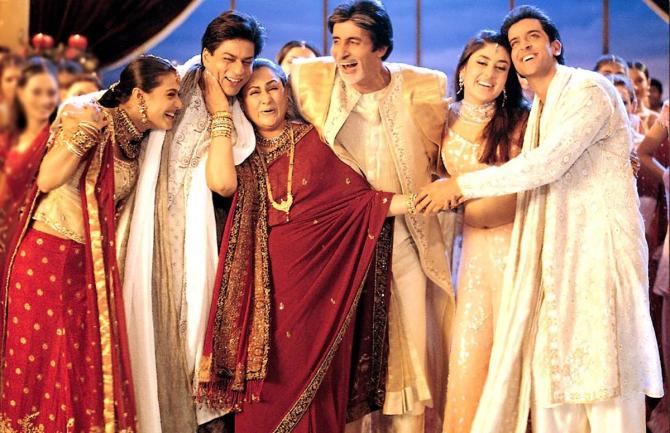 A star-studded multi-starrer, Karan Johar told me in an interview in 2001, "I got the idea for this film a month before the release of Kuch Kuch Hota Hai when I was working on its background music.
"Of course, the film is quite different from how I had visualised it back then. Initially, it was the story of how two daughters-in-law bring a family together. Then I threw the idea to my friend Adi (Aditya Chopra). He thought the story of two daughters-in-law would make the male characters weak.
"So we decided to make it the story of two brothers, played by Shah Rukh (Khan) and Hrithik (Roshan). Earlier, the protagonists were the father Amitji (Amitabh Bachchan), and the elder son was Shah Rukh. Eventually, the younger son, Hrithik, also became a protagonist.
"After Kuch Kuch released, I left the story to enjoy the euphoria around it, but four months later, I decided to go back to the script. I must thank Adi for giving shape to my idea.
"Finding the right actors for the characters and getting them to agree was easy. Shooting with them was easy.
"When it finished, I couldn't believe I had pulled it off. I didn't really have to work too hard on the actors. Everyone had a fully bound script, so every actor was familiar with the atmosphere, attitude and tone of every scene.
"Hrithik knew he was Shah Rukh's younger brother. I wanted his body language to be that of a 20 year old. I wanted him to be the baby of the family.
"Shah Rukh is the older adopted son. I wanted him to be constantly one step behind his screen father all the time. In only one sequence, I wanted Shah Rukh to look Amitji in the eye. Shah Rukh's body language had to be more relaxed with Kajol and Jayaji.
"Jayaji had to be quiet and submissive, strong from inside but prompted into speaking her mind only at the end. Kareena and Kajol knew exactly what to do before coming on the sets.
"Initially, it took the actors a little time to get into character, but they did it faster than I expected. Their preparations were tremendous. Hrithik and Kareena were not the stars when I began my film.
"My whole endeavour was to get Shah Rukh and Kajol together again. Kajol and Jayaji were the ones I was most apprehensive about getting them to agree. When they agreed to do the film, I was over the moon."
Kabhi Alvida Na Kehna, 2006
This is a definite sign of Karan Johar's maturation as an artiste and film-maker. This is a film that derives its inspiration from Karan's favourite film-maker Yash Chopra's interesting but abortive Silsila.
Even more interesting is the casting -- the role of the unfaithful husband, played in Chopra's film by Amitabh Bachchan, has gone to Shah Rukh Khan.
A bitter, failed footballer, Shah Rukh uses his wounded ego as a battering ram to destroy his marriage to the career-driven and yet domesticated Preity Zinta.
Abhishek Bachchan plays the devoted husband's role, done by the dependable Sanjeev Kumar in Silsila. He hits the most honest notes.
KANK showcases the biggest Bollywood stars in roles of fatally flawed spouses that normally would shake up the egoistic equilibrium of our stars.
The film is a triumph of star-driven opulence.
If at heart, it's a clever take on infidelity, on the surface, it remains a very good-looking film.
Every technician from Anil Mehta (cinematography) to Sharmishta Roy (production design) to (Niranjan Iyengar (dialogues) and Javed Akhtar (lyrics) has striven passionately to furnish Karan Johar's mellow-drama with a bedrock of aesthetic believability.
The film looks glossy and glamorous and yet believable.
Karan said about this unusual film: "The message, if any, is marry for the right reason. If you're in a miserable marriage, you're wronging two people. Amitji says in the film, 'By carrying on an incomplete marriage, you're denying love to yourself and your spouse.' Incomplete relationships are of no value to anyone. Are you trying to say one should continue in a miserable marriage?
"Doesn't every individual have the right to happiness?
"I'd love our women to become more independent-minded and career-minded, so that they could have a life of their own after a broken marriage. Yes, sometimes marriage takes place under parental pressure or because a person feels he or she's getting old. Please treat marriage as a venerable institution which you visit only when you're sure of yourself."
My Name Is Khan, 2010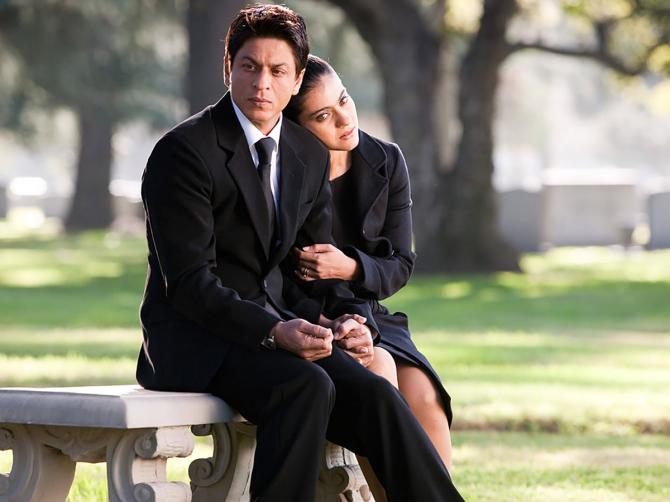 This a near-flawless work, as perfect in content, tone and treatment as any film can get. The 'message' of humanism doesn't comes across in long pedantic speeches.
The film's longest monologue has our damaged but exceptionally coherent hero Rizwan (Shah Rukh Khan) telling a congregation of Black American church-goers about his dead son.
If that moment moves us to tears, it's because the emotions are neither manipulative nor flamboyant.
It isn't because Rizwan's son Sameer perished in a racial attack.
It isn't even because Shah Rukh Khan delivers his life's best performance in that moment of reckoning.
Rizwan's heartfelt rhetorics are not about changing the world with words.
Born with a physical disability, this is a man on the move. And boy, does he move!
About My Name Is Khan, Karan had said, "Content-wise, My Name Is Khan is diametrically opposite to whatever I've done in the past. On the very first day of shooting, my cameraman Ravi Chandran looked at me and said, 'I don't think you've ever shot something like this.'
"This is the first time I'm directing a screenplay I haven't written myself. This gives me a level of detachment from the proceedings and yet, a lot of attachment. It has released a whole plethora of unexplored emotions in my head. This time I'm being creative in a different way.
"Shah Rukh plays a completely different human being; I've never directed that person before. It took a few days for all of us to get into the groove. How this exploration of a new territory will turn out, no one knows."
Bombay Talkies, 2013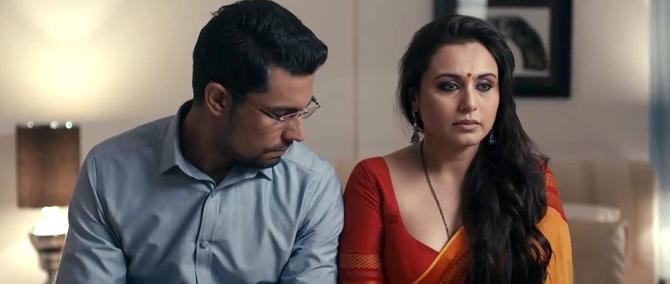 In the four-segment omnibus Bombay Talkies, my favourite story is Ajeeb Daastan Hai Yeh directed by Karan Johar, where a sterile marriage between an urban working-couple (played by Rani Mukerji and Randeep Hooda) is shaken by the arrival of a young, ebullient, homosexual who enters the couple's frozen marriage in an unexpected way.
This story, more than any other, pushes Indian cinema to the edge to explore a theme and emotions that have so far been swept under the carpet by those who decide what audiences should and should not be given to experience.
Johar strips the urban relationship of its shock value.
He looks at the three characters' frightening spiritual emptiness with a dispassion that was denied to the characters in Kabhi Alvida Na Kehna.
Thanks to the unsparing editing (Deepa Bhatia), a gently arousing background score (Hitesh Sonik), deft but credible dialogues (Niranjan Iyengar) and camerawork that sweeps gently across three wounded lives (Anil Mehta), Johar is able to nail the poignancy and the irony of his urban fable in just four-five key scenes.
This is his best work to date.
While Rani delivers another power-packed performance (and she looks gorgeous too), Hooda needs to get rid of that trademark scowl.
It's Saqib Saleem, who steals this segment with his unmitigated spontaneity and reined-in ebullience.
Karan had once said to me, "Being Karan Johar is both an advantage and a disadvantage. That very brand name comes in the way of people expecting something different from me. But I love the work I do, love the industry I live in."
"I feel privileged to be in Indian cinema. Where else can you laugh, sing, cry and dance and still be at work?"