'I don't understand politics.'
'I don't want to understand politics.'
'I am an actor.'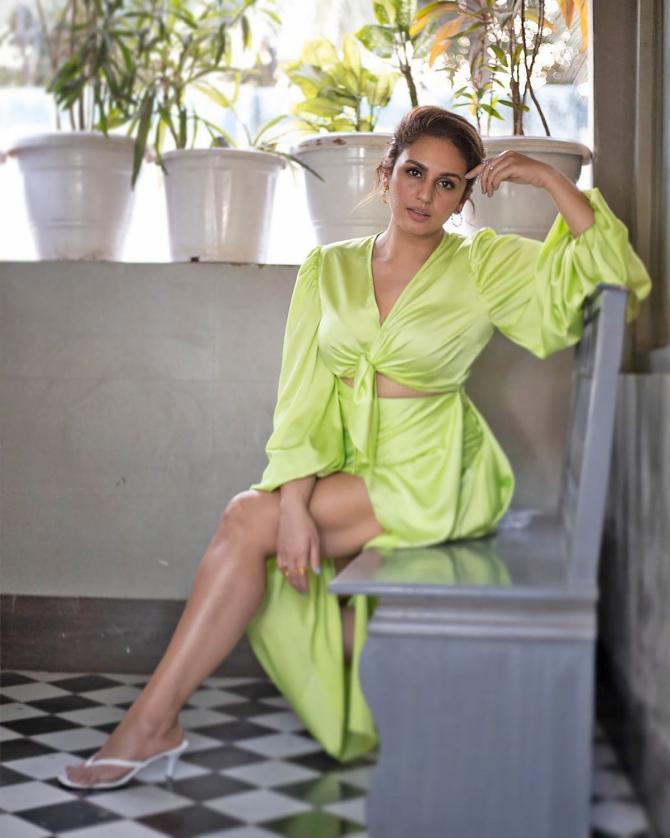 It's a Huma Qureshi double bill this May, with the actress having back-to-back releases.
Her Army Of The Dead release on Netflix is followed up by a totally different character in Maharani, which will release on May 28.
Between an apocalyptic zombie wasteland and Bihar politics, what was scarier for Huma?
"Bihar politics," she tells Rediff.com Contributor Prateek Sur with a laugh.
Your father had a health scare earlier this year. Hope all is well now.
Yes. He had gotten very sick in January. He had been admitted to the ICU.
But he is better now.
That health scare turned out to be a blessing in disguise because after that, I got my parents to Mumbai to stay with me.
I'm glad because after that, things got so bad.
At least now, we are together as a family.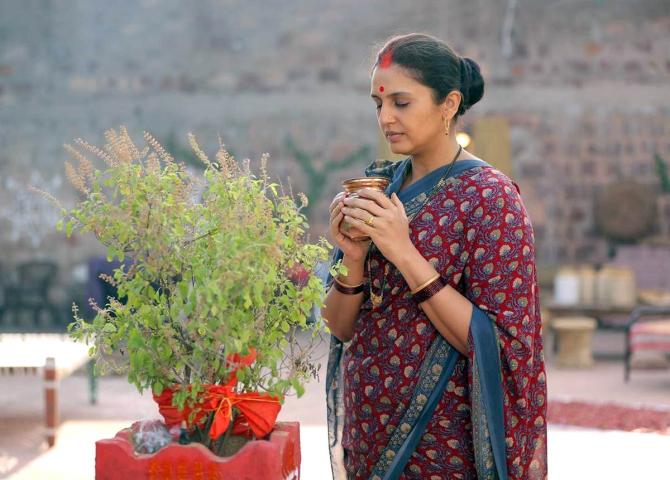 What was the process of getting into your character in Maharani?
The process was very intense.
It was a brilliantly written character.
When the script came to me, I knew that I had to do something exceptional with it.
We did workshops for almost two weeks along with the entire cast.
We worked on the accent.
Then people saw that I was able to manage the accent, but they still had a doubt as to whether I will be able to pull off the performance, as in physically look like that character.
I called up my costume designer, Meera, and asked her to send over the costumes for the show.
I wore a sari and went for the rehearsals.
That was a surprise for everyone.
So once I physically became Rani, everyone started believing that yes, I could pull it off.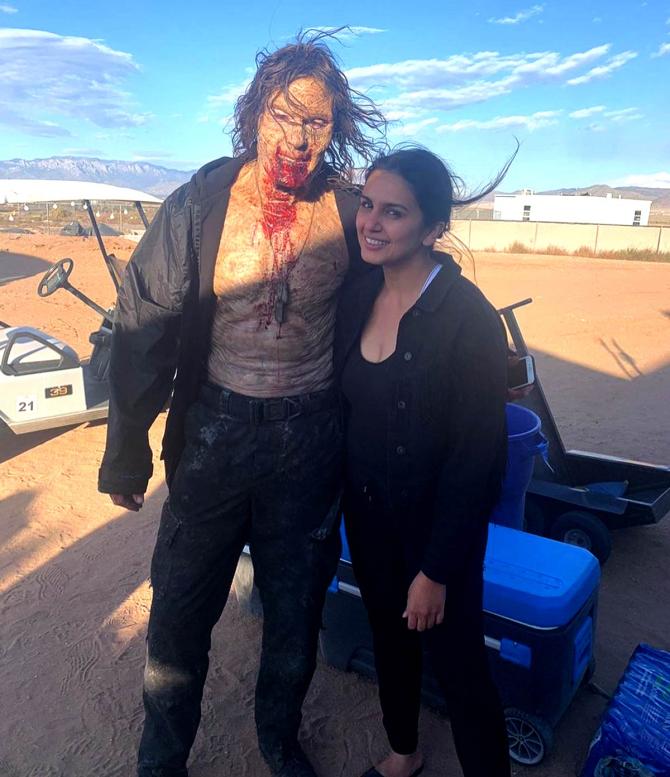 You have back-to-back releases in Army Of The Dead and Maharani. Was that planned?
No. We shot Army of the Dead in 2019. It was supposed to release last year.
We shot Maharani last year, but we didn't finish in time because of the pandemic.
It's just coincidental that both of them release a week apart from each other.
The pandemic has thrown all our lives up in a toss.
Between an apocalyptic zombie wasteland and Bihar politics, which was the scarier terrain for you?
(Laughs) Bihar politics!
No, both were equally scary.
I read about the politics of Bihar quickly, but I didn't read too much.
I don't understand politics.
I don't want to understand politics.
I am an actor.
I think I was in the very able hands of Subhash Kapoor and our director Karan Sharma, who understand the landscape.
For me, it would take years to get to know the political landscape of Bihar.
It was fun playing Rani Bharti. I think we should have more female-led stories.
Rani Bharati is, of course, a very strong character to play and has a lot of layers.
The best part of the character was that she is illiterate and a housewife, who's washing cows and scraping cow dung etc, but then she gets thrown into this world of politics and how she uses her wisdom.
She is illiterate, but not stupid.
We, as a society, often confuse the two. Not going to school doesn't mean that you are dumb.
There is a lot of native wisdom that villages and small-town people have which we discount just because they don't speak the way we do. That's wrong.
Rani Bharat uses her native wisdom to navigate her way through the political landscape of this fictional Bihar.
That for me was exciting to play.
Also, it's a blessing that we are living in times when such nuanced female characters are being written and we are getting to portray them on screen.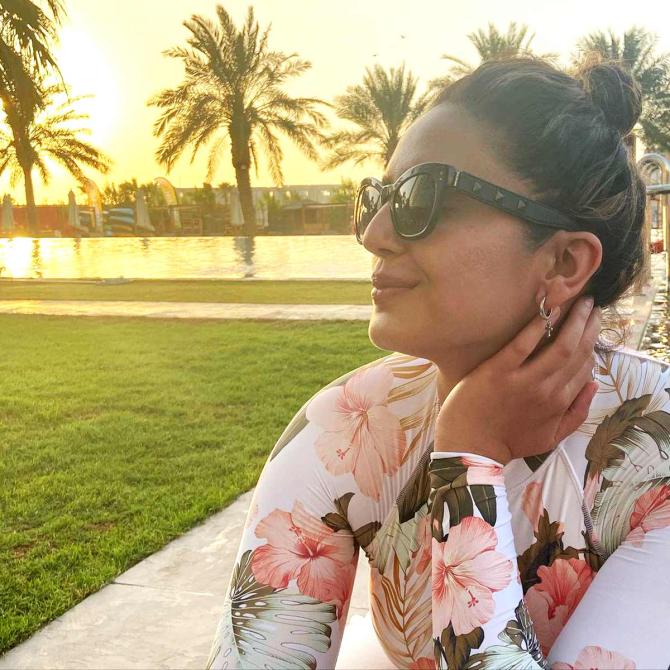 In between the pandemic last year and the second wave now, theatres did open up but didn't get many people coming in. People went in for weddings and events but refrained from going to the theatres.
Why do you think that is happening, and how can that be changed?
This process is going to happen very slowly.
It has started happening in the US where people have gotten vaccinated, and theatres have opened up.
Army Of The Dead released on almost 600 screens in the US and is doing pretty well.
So I think it will happen and we should not lose hope.
If other countries like France and the US can do it, there is hope for us too.
Of course, we are a very big country with a massive population. It will take some time for us to do it.
I am waiting for the theatres to open up and to buy a big bag of popcorn and sit and watch our favourite films.
I would have loved to watch Army Of The Dead at a theatre but it is unfortunate.
With the influx of OTT, a lot more female-centric characters are being written. They are being directed by women and have female technicians working on them. How do you see this change?
I think the workplace becomes safer for everybody.
Of course, it's already happening in a smallish way. You have far more female technicians, ADs, stylists, etc working on sets.
As a woman, even I won't like to go on a film set which is completely full of men. It makes you feel extremely uncomfortable.
But as I said, it is happening and is a slow process.
The content is changing too...
Oh absolutely!
Today you have actors, writers, directors, and producers who are investing in those kinds of stories and scripts and making those films for theatre or OTT, and that is again a welcome sign.
Fifty percent of the population is women, and we don't have enough stories that talk about us.
Often in these stories, the narrative is seen by the male gaze and I think it is high time that we change that a little bit.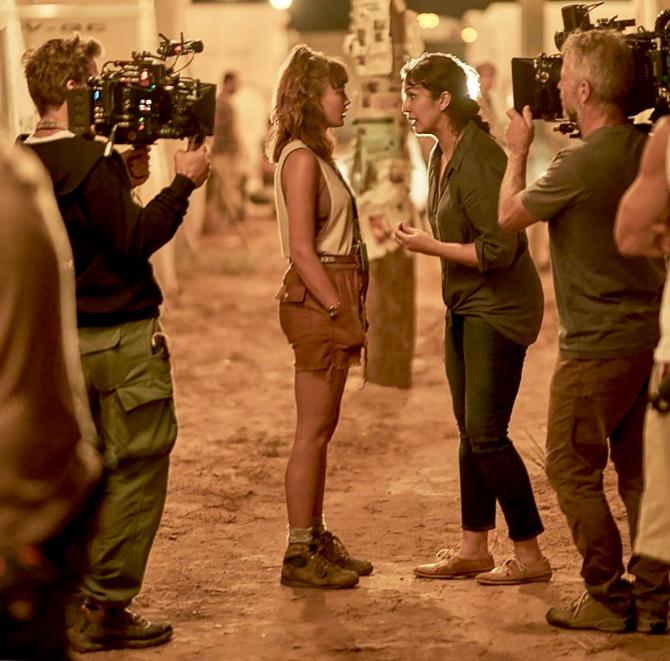 Do you have any kind of reservations for any character? Like you wouldn't do this or that onscreen?
No, I don't.
I like the fact that I can do an Indie film and a big blockbuster film and then also do a Hollywood film and then a Tamil film and then a British film.
I like the fact that I can work on different film sets, having different crew sizes and different content and are even set up in different countries.
I feel that they expand me as an actor.
There isn't anything that I wouldn't want to do.
If I like the script, I would do it.
Do you feel that Hollywood is more open to actors from India now?
I think so. There is a lot of conversation on diversity, and there is this whole conversation about better representation of people from all over the world in films. It's a good conversation to have.
It so happens that when a kid sees himself getting represented on the big screen in a positive light, they get empowered.
They feel that they are in control of their own lives and their narrative.
That is very crucial at this sort of time that we are living in right now.
We need to set proper role models, especially in the popular mediums.
So absolutely, India is going to be at the forefront of that change.
What keeps you going during these challenging times?
Work. Work is keeping all of us going.
Knowing your family is healthy and safe and with you, that's a blessing.
I think the times have been unprecedented and the pandemic has been really hard for all of us.
We have been watching the news, and I have seen some horrible images. But I have also seen the best that humanity has to offer.
So from that perspective, it gives me a lot of hope.