The climax of every episode has been stupendously well crafted.
You will be left shocked and wanting to know more, observes Prateek Sur.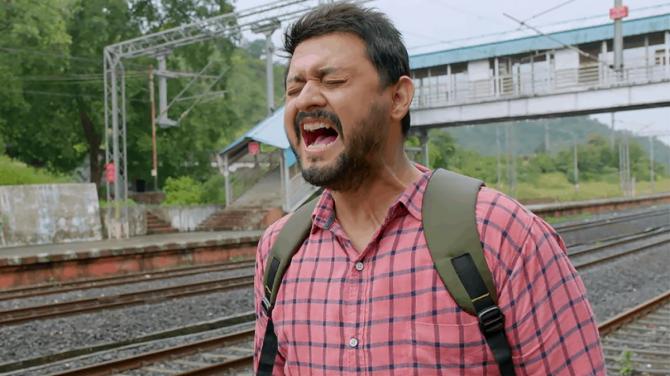 The first season of Samantar ended up on a high note leaving viewers on the edge of the seats about what was going to happen. Season 2 picks up right from where they left the thrill, and it has built upon it brilliantly.
The intrigue factor has been maintained throughout just like the first season, and it keeps you hooked, booked, and glued to the last scene of the show, wanting to know what finally culminates.
Swwapnil Joshi is in top form again. He manages to transform in an instant from the loving caring husband to the abusive cheating husband. He keeps swinging between the love for his wife, Tejaswini Pandit, and the lust towards the other woman in his life, Sai Tamhankar.
His performance is so genuine that it doesn't feel even for a bit that he is acting. It seems very real and relatable to any married man. Tejaswini has lesser screen time than the first season and yet she brings forth a really emotional performance.
Nitish Bharadwaj gets more screen space this time than the first season. He makes full utilisation of the same. From being the scared guy in the flashback sequences to being the confident and villainish-sort of guy, he swivels between the two facets of his character with equal ease.
Sai Tamhankar as two completely different characters ensures that she is not confused by the audience between the two. In the present day, she is the shy demure woman who is trying to seduce another woman's husband in an ultra-classy and uber-cool way, and in the flashbacks, she is the outspoken and rough lady who is not afraid to have an affair even in front of her husband.
She has done perfect justice to both roles. Her oomph factor has been perfectly used onscreen as per the requirement of the script.
The writing of the screenplay by Ambar Hadap is so beautiful that it sucks you into Swwapnil's life. You are waiting for every small happening in his life with bated breath. While Satish Rajwade directed the previous season, this time it is Sameer Vidwans who handles the reigns.
The first part had 20-25 minutes per episode which has somehow gone to over 30-minutes per episode. This change has made the narrative a bit sluggish, and you veer towards getting bored at some long scenes.
In closing, I would like to say that the climax of every episode has been stupendously well crafted. You will be left shocked and wanting to know more.
The writing of the show is the major plus point, and it keeps you addicted till the very end. Definitely a MUST WATCH.
Samantar 2 streams on MX Player.
Rediff Rating: