"You have an MBA from IIM-Ahmedabad. You worked in a bank in New York. What made you give up all that and pursue acting?"
'A little bit of courage and a lot of stupidity.'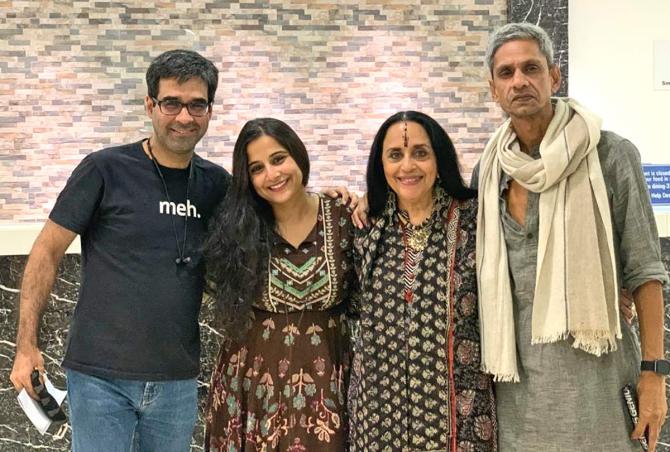 We've been seeing a lot of Mukul Chadda recently, thanks to his releases like Sunflower and Sherni.
Even as The Office actor enjoys this phase, he tells Patcy N /Rediff.com, "Even if you are not struggling to put food on the table, the absence of work can be problematic."
You have had two releases in June: Sherni and Sunflower.
I don't think I've ever had two releases in a month, and that too back-to-back!
But that's just coincidence.
Whatever work I did at various times happened to release one after another.
If I had a release every week for the whole year, that would be phenomenal! (laughs)
Are thrillers a fascinating genre for you? Your recent releases, including Bichoo Ka Khel, are thrillers.
I wouldn't call them thrillers.
Bichool Ka Khel is a pulp novel kind of genre because it's based on the pulp novels of the '80s.
Sunflower is a crime comedy. It is a murder investigation in a housing society but laced with humour. It's a dark comedy.
It's hard to put it in a single category.
I really don't know how to categorise Sherni.
It doesn't really fit into the standard tropes of storytelling.
It's about a forest officer, played by Vidya Balan, how she undertakes a problem and deals with it.
It's a story of man versus nature.
It's a story of all the associated issues around it: The politics, the environment, the issues of animal conservation versus taking care of people around them.
I would love to do varied projects of different genres, but you take what comes your way and you figure it out.
You got to work with two talented directors -- Vikas Bahl (Queen) and Amit Masurkar (Newton). How different are their styles of working?
Sunflower was a wild ride. It's a crazy comedy, which Vikas had written himself.
It was a fun unit and we had fun creating it.
The script was fantastic, but at times, we would create scenes on the sets. It happened organically.
It was directed by Vikas and Rahul Sengupta. They are very relaxed, and we didn't feel any sort of stress on set.
Sherni was also a wonderful experience.
We were shooting in Balaghat, a forest area in Madhya Pradesh. It was a remote location.
We were staying in bio bubbles because you had to be secure due to the pandemic.
Amit has a child-like energy. He gets excited very fast, and I like that about him.
It's very easy to work with him. He gets excited about things and then everybody gets worked up and charged up in a fun way and try to do what he's trying to do.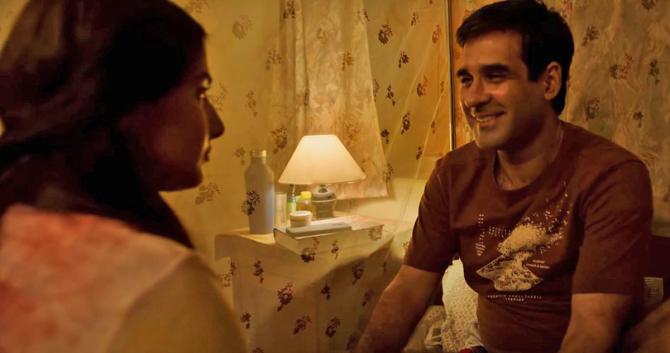 How was it working with Vidya Balan?
She's wonderful to work with, very professional, yet fun-loving.
You didn't get the sense that you are sitting around a star.
She was very relaxed.
Even while doing a scene, it felt like you're working with another co-actor, trying to develop the scene and take it forward.
Off set, the few times that we interacted because of the pandemic, she is easy to get along with.
She has a great sense of humour.
What is it like shooting in a jungle?
We shot at Balaghat, which is a basic forest area. We did not shoot in the thick of the jungle.
There were more challenges because of the pandemic. You have to constantly take precautions.
Every time a cameraperson sets it up, you have to sanitise, people had to be tested again.
While we were shooting, we did not have to constantly worry about distancing because they had taken care of all those precautions.
That was a bigger challenge than shooting in a jungle.
Plus, it wasn't like we were shooting with wild animals.
It's a great part of the country.
I wish we had shot in those locations when there wasn't a pandemic.
Then one could have taken time out and seen the Kanha National Forest. One of the forest gates was two hours away from where we were shooting.
I would have loved to plan a holiday there after the shoot. In fact, I had planned it, but it got postponed because of COVID.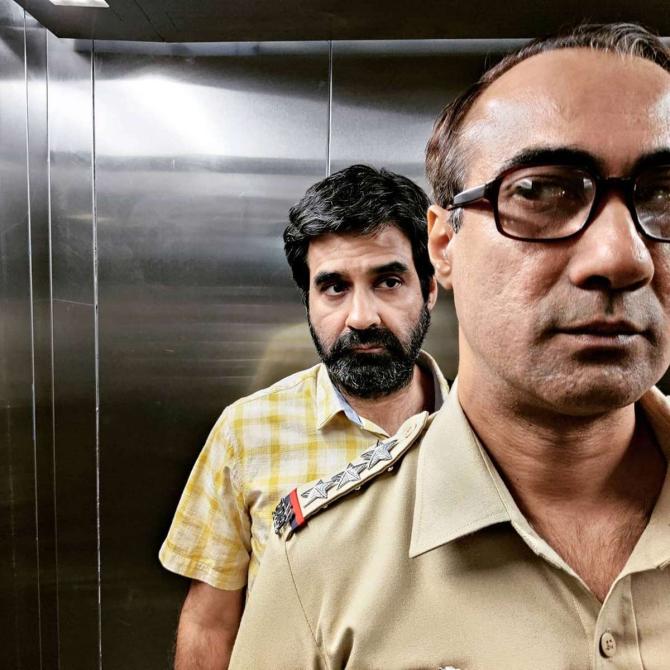 A comedy thriller is a rare combination. Plus, there was an amazing cast in Sunflower like Ashish Vidyarthi, Ranveer Shorey, Girish Kulkarni, Sunil Grover...
It's a genre-defining script and you can't put in a single box.
You have moments of tension -- there's an investigation happening because of the murder -- as well as these hilarious moments.
It's not easy to pull it off.
They spent a lot of time in developing the script to get it right.
Regarding working with talented actors, apart from the names you have mentioned, there are a lot of good performances by people who may not be as well known.
I think in that environment, everybody blossoms like a sunflower.
I had a lot of scenes with Ranveer Shorey and Radha Bhatt, who plays my wife Mrs Ahuja, and with Ashwin Kaushal, who plays my neighbour Raj Kapoor.
I didn't have as much screen time with Sunil Grover or Girish Kulkarni, these are the actors I would love to do more work with.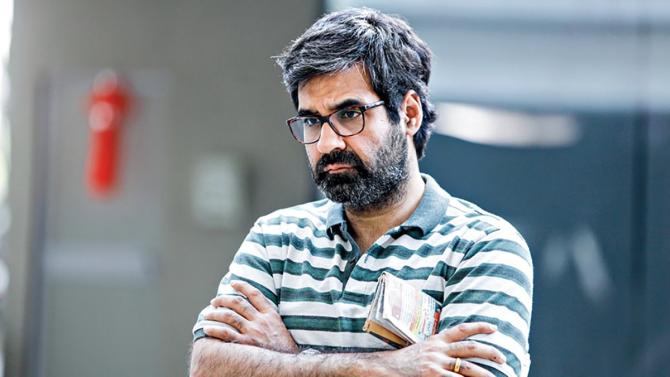 In Bichoo Ka Khel, you played Divyendu Sharma's father. Do older roles scare you that you may get typecast?
All actors are wary of typecasting because it happens very naturally.
Forget about casting directors, even my friends, sometimes they see me in a role and feel I can play only that.
I feel the audience also sometimes gets used to seeing a person in a certain role and that's where typecasting comes from.
So we actors are constantly wary of it.
I will do whatever I can to fight it so that I don't play similar roles.
That's one of the reasons I did Bichoo because it was the first time I was playing a character of that age.
I played a guy living in Banaras, which is again not the kind of role I get.
Plus, he is a petty criminal.
These are the kinds of things that drew me to the role because I would like to be seen doing different characters in different milieu.
That's the only way you can break typecasting, if people to see you in different roles.
Babu from Bichoo Ka Khel, Pawan from Sherni and Dr Ahuja from Sunflower are very different characters. I would love to keep doing that.
Your forthcoming film is called Fairy Folk.. What is that about?
We did Fairy Folk a couple of years ago.
It's directed by Karan Gour; his first film was Kshay.
He's very interesting director, not just in terms of the films he makes, but even because of his processes.
Fairy Folk was part scripted and part unscripted.
We had a list of all the scenes that would happen, but there was no dialogue written.
We improvised the dialogues while shooting.
We shot this film in a linear fashion.
Because of the unique process that Karan had adopted, he had an overall structure for how the film was progressing.
He left it to the actors to improvise with, of course, a lot of direction from him.
He would know if things weren't going right, and then he would stop us and give us a new direction.
Normally you shoot as per location. You finish the shoot in one location and then you go to another location.
Here, if you had Scene Number 22, and Scene Number 65 in the same location, we had to visit the location twice because we were shooting in a linear way.
I think there's a bit of post-production left.
Hopefully, it will release by the end of this year or next year.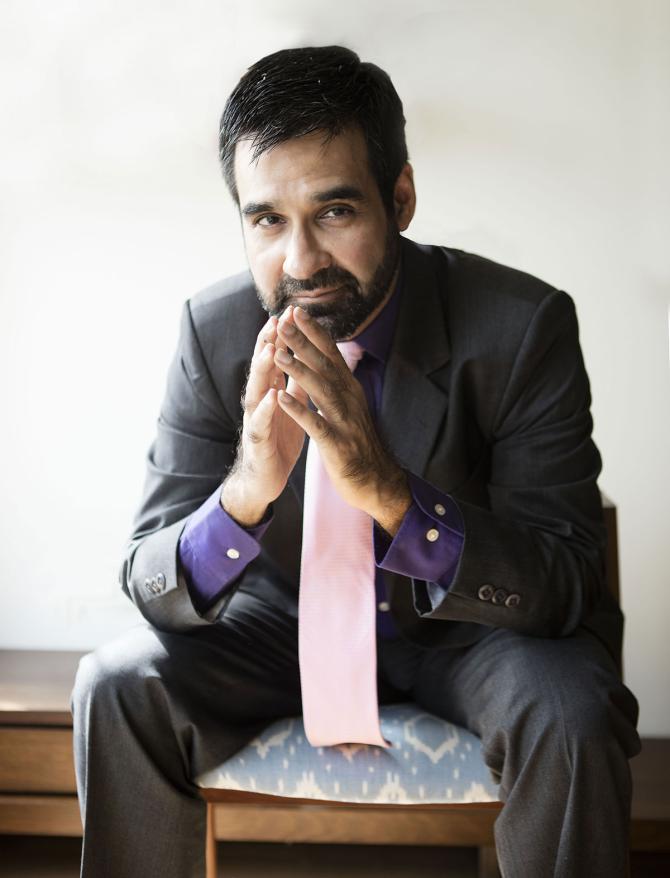 You have an MBA from IIM-Ahmedabad. You worked in a bank in New York. What made you give up all that and pursue acting?
A little bit of courage and a lot of stupidity.
I was working at Lehman Brothers in New York. I was a research analyst for six years.
But I always wanted to move back to India.
I was acting on stage from a very young age -- in school and college -- but I never looked at it as a career.
Even while I was in New York, I took part time classes at the Lee Strasberg theatre.
When I chose to quit, I decided my primary objective was to move back to India.
I could not figure out what to do next, so I decided that I would move back, take a sabbatical and then figure out my next step.
Of course, that's not easy, so I lived with that decision for two or three years before I actually did it.
I started doing theatre here and enjoyed it so much that I decided to do it for two years. That became three years and then four and before I knew it, I was doing more and more work.
I started enjoying it and then I became a full time actor.
What kind of struggle did you go through?
It's a constant struggle.
It's a very difficult career from that perspective.
People, who want to get in, don't always understand how difficult it is.
You are always looking for work to showcase yourself.
It is very difficult to go through patches when you don't have work.
Even if you are not struggling to put food on the table, the absence of work can be problematic.
And it's not only in the initial period, it can happen at any point in time. You could have a period of a lot of work and then you could have a drought of no work.
We are in a golden era right now because of the OTT revolution.
There's been so much content that of late, it has been less of a problem.
But there are periods when you have self-doubt: Am I good enough to do this?
You go through doubts all the time. It's a natural part of this career.
It's important to have other hobbies, occupations and interests that will keep you mentally preoccupied and also hone your craft.
I have been doing improv for the last 12 years.
I am trying to write more now. I wrote a short film last year.
That's how I tried to deal with it but yes, it is a constant struggle.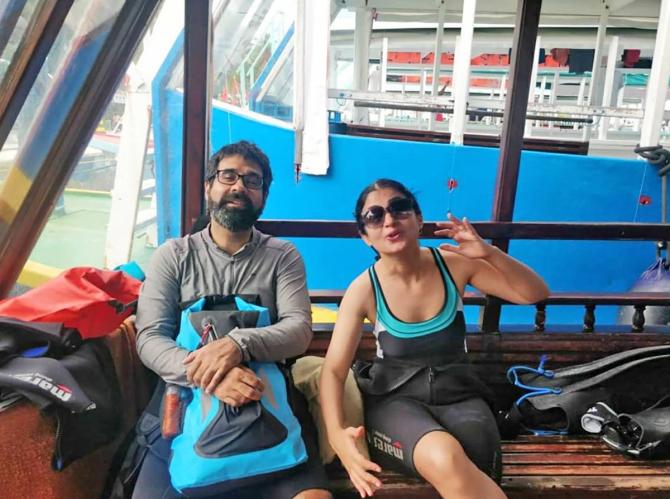 You co-wrote Banana Bread with your wife Rasika Duggal. Both of you have acted in it as well. What's it like working with a spouse?
Surprisingly, very easy.
I have also collaborated with her on Fairy Folk. Both of us are acting in it.
Banana Bread was directed by Srinivas Sunderrajan.
When we first wrote it, we thought we'd have to direct it ourselves.
But when we approached Terrible Tiny Tales, who produced it and showcased it on their platform, they suggested remote direction.
We took that idea because we were so much into the film -- we'd written it ourselves, we knew the dialogue, we were acting in it... it's good to have another person's perspective.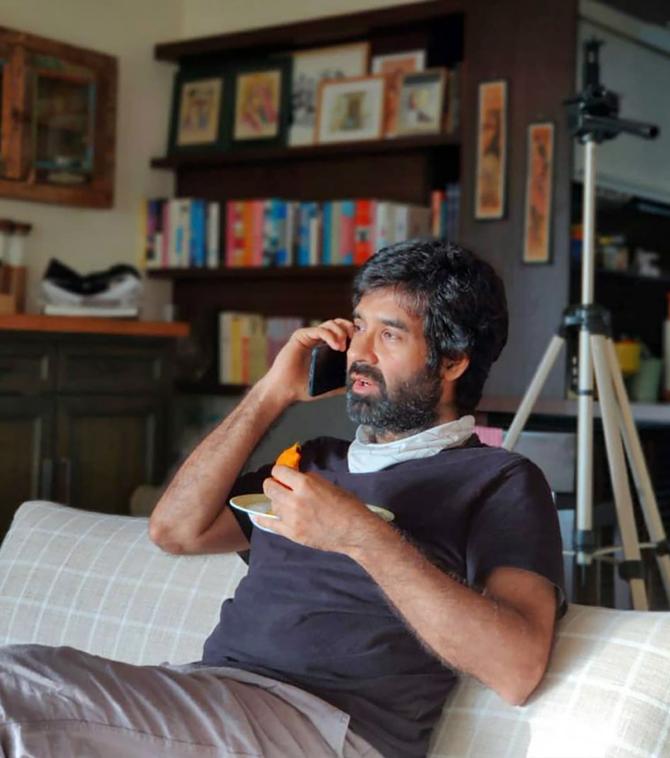 What have you been doing the pandemic?
The pandemic has been difficult for everyone.
But in the grand scheme of things, we have been very lucky, given how badly other people have suffered.
As actors, we are probably better equipped to having an unstructured day than those with a 9 to 5 job. If you've been suddenly thrown off a strict routine, it's difficult.
But our lives are anyway topsy-turvy and unstructured, so that might have helped a little bit.