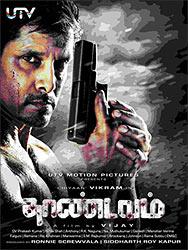 Film critic Pavithra Srinivasan feels that Thandavam is a let down.

Director A L Vijay has been quoted as saying that he read the script of a blind man exacting revenge to Vikram, and though the star liked it, he said it lacked logic. Vijay promised to re-work the script.
If Thandavam (UTV Motion Pictures) is the re-worked, logical, script, then one shudders to think what the original was like.
The film doesn't start off too badly. Kenny (Vikram), a blind man who plays for the church choir in London is so gentle that he wouldn't hurt an ant (literally). But he ends up killing people in a very cold-blooded manner.
He is squired around by a bumbling taxi-driver (Santhanam) who manages to bring in some laughs but vanishes from the scene for long periods of time.
Meantime, there's Sarah Vinayagam (Amy Jackson), half British and half Thamizh, who has been crowned Miss London and does lots of "charitable work." She meets Kenny and falls for him.
At the other end of the spectrum is Detective Superintendent Veerakathi Pillai (Nasser), who plays games in his spare time and heads a British force that seems to bumble around helplessly most of the time as it tries to solve the murders.
The first half of the screenplay is supposed to build up the suspense. It introduces characters for whose existence there seems to be no logical reason.
You're still willing to give it the benefit of the doubt, just to know what sort of back-story Kenny has. And in one respect your wait is rewarded in the form of Meenakshi (Anushka Shetty).
Kenny's past as an intelligence officer Shiva Kumar with his friend, Sharath (Jagapathy Babu) by itself is lacklustre, but his life with wife Meenakshi (though astoundingly devoid of commonsense) is fun to watch and quite sweet.
She is dignified and beautiful. The song
Oru Paadhi Kadhavu Neeyadi
, has been well picturised and G V Prakash's music is
melodious.
Despite this, it's difficult to forgive the sheer stupidity of a well-educated eye doctor, who lives and practices in New Delhi, but still believes that her husband, whom she lives with on a daily basis, is a sub-inspector!
Once this section is done with, the tedium sets in. Yes, this is a tale of government secrets, treason and betrayal but these are just words, for there's no rhyme or reason for most of the plot-twists.
Shiva Kumar's logic for refusing to inform the British Government of impending terrorist attacks is so ridiculous that you gape in amazement. There's an elaborate set-up which is supposed to have been done with the finesse of Mission Impossible, but which just ends up looking tacky.
Kenny/Shiva's training by the remarkable Daniel Kish who uses human Echolocation to train his students, is shown only for a few moments; there's practically no mention of how Kenny re-trains himself as a martial arts expert now that he's lost his sight.
Vikram manages to be the saving grace of the movie, even if he looks haggard and tired most of the time.
Anushka is a breath of fresh air, and you wish she'd been given more screen space. Amy Jackson looks gaunt; Santhanam looks uncomfortable. Nasser looks like he could have done more but again, the screenplay gives him no space. Jagapathy Babu acquits himself quite well under the circumstances.
Nirav Shah's cinematography is sparkling when it showcases London, but the movie's screenplay drags it down.
G V Prakash's numbers barely pass muster and sound like his previous songs; they're inserted so randomly in the movie that except for one, they don't make much sense and hamper the pace.
Manohar Varma, who has choreographed the action sequences, and Daniel Kish himself, who provided the inspiration for the film, are the ones who deserve genuine kudos.
This dance of fury is a damp squib with no logic; go with extremely low expectations.
Rediff Rating: