Opener Murali Vijay struck a magnificent double century as Rest of India stretched their lead to a mammoth 354 runs against a hapless Rajasthan on the third day of the Irani Cup match at in Bangalore.
Rajasthan were 43 for one in their second innings with skipper Hrishikesh Kanitkar and opener Vineet Saxena on 21 and 17 respectively at close of play. The Ranji Champions were trailing by 311 runs.
It would be a Herculean task for Rajasthan, who were bundled out for less than 300 runs in the first innings, to first make ROI bat again and avoid defeat with two days still to go.
The Ranji champions began their second stint losing their opener Ankit Lamba for four caught by Murali Karthik in the very first over of Ishant Sharma.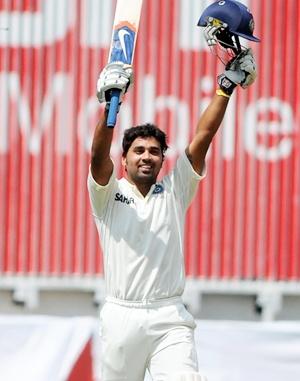 Vijay, who scored 266 off 394 balls with 36 boundaries and six sixes, toyed with the ineffective Rajasthan bowling attack as ROI declared their first innings at 607 for seven in reply to Rajasthan's first innings of 253 all out.
S Badrinath (55) and Dinesh Karthik gave company to Vijay, before he was caught by Gajendra Singh off Madhur Khatri.
Remarkable as Vijay's power of concentration, range of strokes and stamina were, no less notable was the 141-run stand he forged with Badrinath for third wicket.
Another quick fire partnership came for the very next wicket as Vijay went for a merry ride with Dinesh Karthik and put a valuable 63 runs for fourth wicket.
Vijay, overnight 151, faced 394 balls for his 266, hitting 36 boundaries and half a dozen sixes.
A feature of Vijay's innings was his driving on either side of the wicket and exquisite clips of the pads and repeated use of feet he employed against spinners.
Keeper Wriddhiman Saha and Karthik sewed a 66-run stand for the fifth wicket, taking Rajasthan further out of the game.
Karthik was trapped LBW by Khatri after a valuable 56 off 104 balls with ten hit to the fence.
Down the order, Deepak Chahar and Madhur Khatri cleaned up Stuart Binny and Harmeet Singh for three and one respectively.
Rajasthan searched for a wickets all day, but could not stop the ROI batsmen from plundering runs at will. They could grab one wicket each between lunch and tea sessions, but got three in the post-tea session, prompting ROI to declare their innings.
Earlier, Rajasthan picked up a wicket in the morning session and had to wait till the post-lunch session to get another breakthrough when Vijay hit one to Gajendra Singh off Madhur Khatri's bowling.
Badrinath, overnight zero, reached his half century just before lunch when he smashed Gajendra Singh to the fine leg fence for boundary.
Scorecard
Rajasthan 1st innings: 253
Rest of India 1st innings: (overnight 328/2)
Rahane run out 81
Vijay c Singh b Khatri 266
Pujara c Yagnik b Choudhary 78
Badrinath b Chahar 55
Karthik lbw b Khatri 56
Saha not out 29
Binny b Chahar 3
Harmeet b Khatri 1
Ojha not out 0
Extras: (B-14, LB-9, W-5, NB-10) 38
TOTAL: (for 7 wickets dec; 165 overs)  607
Fall of wickets: 1-173, 2-326, 3-467, 4-530, 5-596, 6-599, 7-600
Bowling: Choudhary 34-8-112-1, Chahar 27.1-2-99-2, Mathur 24.5-3-89-0, G Singh 41-4-149-0, Khatri 37-4-125-3, Saxena 1-0-10-0.
Rajasthan 2nd innings:
Lamba c Karthik b Sharma 4
Saxena not out 17
Kanitkar not out 21
Extras:(LB-1) 1
TOTAL: (for 1 wicket; 12 overs) 43
Fall of wicket: 1-4
Bowling: Sharma 4-0-17-1, Yadav 4-1-17-0, Binny 2-1-4-0, Ojha 2-1-4-0.
Photograph: Pal Pillai/Getty Images