The movie presents a version of Modi that the bhakts want the rest of us to see, feels Utkarsh Mishra.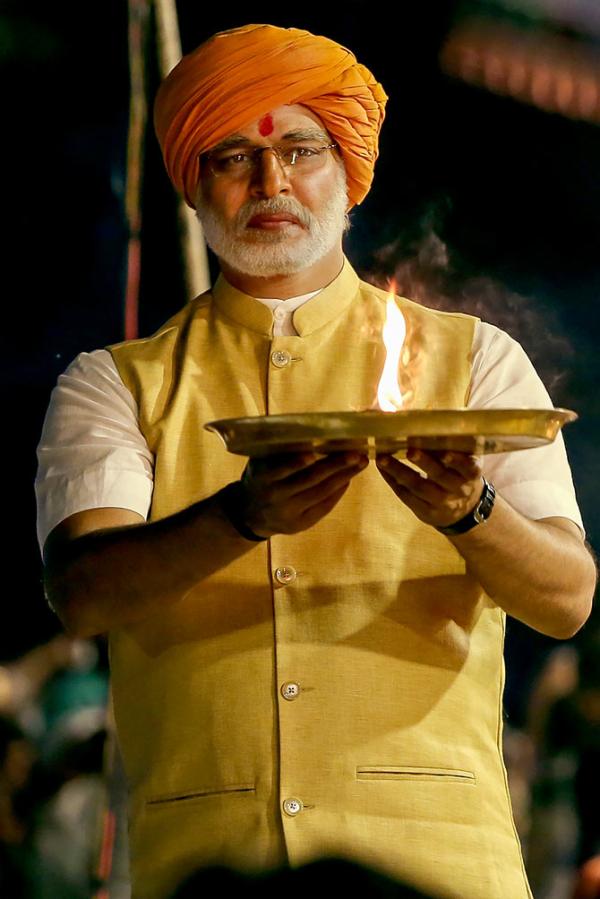 When the trailer of Omung Kumar's PM Narendra Modi was released, a dear friend of mine made a remark that sums up the Vivek Oberoi-starrer well.
"I am so disappointed," he said. "We cannot even do propaganda well."
"The Soviets had an Eisenstein, who wrote film theory like we brush our teeth; the Nazis had Riefenstahl, who is so influential that a pool as diverse as Spike Lee and Star Wars cite her work," he added
"Even the Americans had John Ford, a man who won a record four Oscars, to document the Normandy landings.
"And who do we have? Omung Kumar!"
PM Narendra Modi was certainly meant to be a propaganda film, another way to circumvent the model code of conduct a la NaMo TV.
But since the Election Commission had to show some action, it deferred the movie's release.
Thankfully for the stakeholders, it is still likely to do good business; as the Lok Sabha results told us on May 23, the PM has a lot of fans.
It is futile to point out the factual inaccuracies in the movie.
I do not expect that anyone can make an objective movie on any sitting PM -- much less one like Narendra Modi -- and bring it to the 70mm screen.
Moreover, like other biopics, this too adds a disclaimer that the movie doesn't claim historical authenticity of the events shown and fictionalisation and dramatisation are used wherever necessary.
Apart from the protagonist and some of the obvious details about him, I think the whole movie is a work of fiction.
The movie shows less of bal Narendra, with occasional scenes of him saluting and shouting 'Bharat Mata ki Jai' whenever he sees soldiers.
As in a Purana, where the god after which it is named becomes the centre of everything, Modi is cause and reason for most of the political events happening in the country once he joins politics.
The 'artistic liberty' taken in the movie goes to the extent of implying that Indira Gandhi was watering a flower and decided to declare Emergency in an instant, when told about the 'threat' posed by a youth from Gujarat called Narendra Damodardas Modi, who was said to be the most important leader of the Navnirman Andolan in Gujarat.
However, apart from Modi, his mother, Ratan Tata and Rashtriya Swayamsevak Sangh leader Laxmanrao Inamdar, no names are taken or pseudonyms used.
But one can recognise Vajpayee, Advani, Murli Manohar Joshi, Keshubhai Patel, Sonia Gandhi, Rahul Gandhi, Manmohan Singh and Mani Shankar Aiyar, among others.
Sonia is the 'evil queen', always worried about what will happen if Modi becomes PM.
Manmohan Singh can't speak and always looks at someone to speak on his behalf while making a funny face.
Other Congress leaders always keep calling Modi 'anpadh', 'ganwar', 'chaiwala' and so on.
Random villagers talk about how the country would've had no trouble if Sardar Patel instead of Jawaharlal Nehru had become India's first PM, or if Nehru listened to Patel's advice on Pakistan, China, etc.
As I wrote in an earlier review of the Modi web series, most of Modi's childhood and adulthood stories, before he became a full-time pracharak, are like folklore; you don't know which is true and to what extent.
But you don't have any means to disprove them.
Stories about events from his life -- described as apocryphal even by friendly biographers -- inundate the movie, especially the ones about his role during the Emergency.
Modi is often shown as Advani's lieutenant, confronting Indira directly. But the writer has forgotten that Advani was in prison for the duration of the Emergency.
The flag hoisting incident at Lal Chowk, which neo-Modi supporters often boast about today, is similarly dramatised. At least events whose video proof is available on YouTube should not be fictionalised to show a completely different picture.
Also, it always beats me why supporters of Modi avoid mentioning his marriage when he himself has declared it in his election affidavit.
The movie shows Narendra's parents fixing his marriage. The father of the girl, Jasodaben most likely, asks Narendra about the book he is holding in his hands.
Narendra tells them it is the life story of the Buddha, who left his home and wife in search of himself. He then serves a devastating blow by saying he intends to imitate the Buddha.
That's it... he is freed from taking on any obligations.
No marriage takes place and he goes to the Himalayas in search of himself.
Basically, the movie presents a version of Modi that the bhakts want the rest of us to see.
A man rose from humble origins, won elections not because of money power but by doing physical labour among the people.
Though he is more popular, he helps an older leader become the chief minister but ends up being betrayed by him.
However, destiny gives him another chance and, because of his hard work, he becomes the CM.
He has to face a corrupt industrialist who is friends with the central government and is spurned by Modi for doing business fraudulently.
He then uses the 'bikau' media to sully Modi's image and gets his friends in power to drag Modi's name into the Gujarat riots probe. He is also instrumental in Modi being denied a visa by the United States.
Then there's the other party whose state governments do not help Modi during the riots and that's why he is helpless while people kill each other.
Interestingly, all the killing during the riots is done by Muslim mobs and Hindu mobs are only shown flashing words and sparing the life of a Muslim, who shouts Jai Shri Ram to save himself.
But Modi beats everyone else at their own game with his truth, humility and the support of the people and rises to power.
This is the official version of Modi today. If you don't believe it, you're anti-national, bikau, partisan and/or biased.
The only respite in the movie is its cinematography.
The sound, however, is overwhelming.
Vivek Oberoi hasn't tried to imitate Modi but, in some scenes, he gets his hand gestures spot on.
There are a lot of holes to pick if you want to.
But, if you're a Modi fan, you obviously think the other way and will enjoy the movie.
Rediff Rating: