'Nobody thought Maine Pyar Kiya would become a cult movie and that the industry would get such a handsome villain.'
'When have you seen a villain in Bollywood who smiles throughout the film?'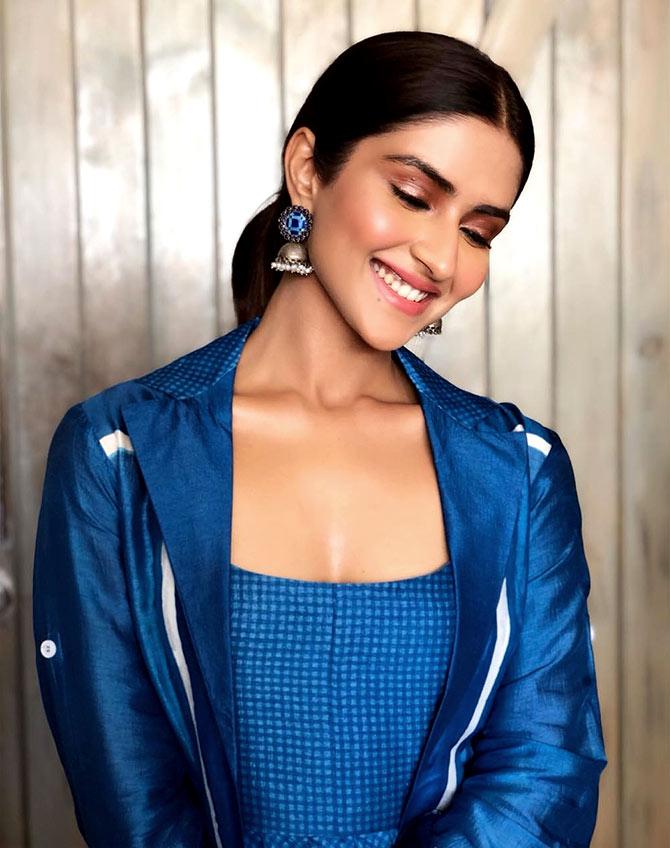 Pranutan made a splash with her debut film, Notebook, produced by her mentor, Salman Khan.
Unfortunately, it bombed at the box office, upsetting the young debutante's career plans.
The film, co-starring Zaheer Iqbal, will release on Amazon Prime on May 25, and Pranutan wants to make sure everyone watches it this time.
She draws a lot of strength from her father Mohnish Bahl's career in the movies and tells Rediff.com Contributor Ramesh S, "My father told me he gave up on his acting career because of six back-to-back flops and went to America to become a pilot. But he came back because he was friends with Salman sir before they became actors. Salman sir suggested he sign up for Maine Pyar Kiya."
How is life after Notebook?
It's great!
I'm soaking in all the positivity that I have been receiving till date, especially for my performance.
It's amazing to hear that as a debutante.
On the other hand, I'm getting back to my dance classes, gym, diet... which had gone haywire due to hectic promotions of the film.
I am heading back to my routine life.
How did your parents, Mohnish and Aarti Bahl, react to the film?
They were very emotional, proud and happy, and that made me happy.
My father was (with us) in Kashmir during the shoot and he saw a couple of my scenes on the monitor.
He told me I was good and that meant a lot to me.
When he saw the first cut, he was very impressed with our performances.
He liked (Notebook director) Nitin (Kakkar) sir's work more than us.
My mother was also very emotional.
When I won Dadasaheb Phalke award, she was in tears.
My father was in tears at the trailer launch of Notebook.
How did Salman Khan react to the film?
Salman sir was very happy with my performance.
I still remember that (co-producer) Ashwin sir had called me and said that Bhai (Salman Khan) saw the film and appreciated my work in front of him, saying that this girl has taken the film to another level.
That's so good to hear.
But Salman sir will never tell me that to my face because that's how his nature is. He likes to keep us grounded.
He also told my father that I was very good and focused.
What's the best compliment you got?
I read an article when the song Laila released, which said Pranutan's expressions remind us of Nutanji's presence.
Also, when people say that I am living up to the legacy of Nutanji after watching the film, it truly feels good.
It was a huge responsibility for me because there will be comparisons.
I could not sleep for several nights.
I know that comparisons will be inevitable because my father is a good actor and my grandmother is a legend.
Also, I somewhat look like my grandmother.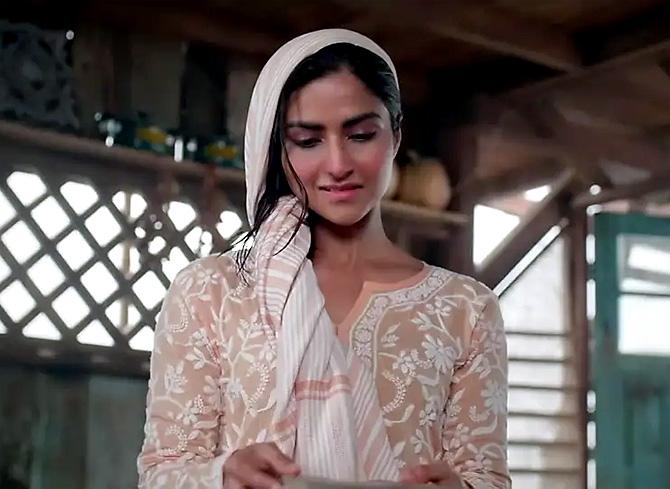 Was it a conscious decision to sign an unconventional film like Notebook?
No. I was auditioning for three years before Notebook came to me.
I never thought of making a particular kind of debut in the industry.
When I heard the story of Notebook, I told myself to give the best audition for this film.
Your voice plays a very important role in the film because when your letters were read aloud, one inevitably falls in love with that voice. Was there any pressure?
I did not work on my voice because it comes naturally to me.
Nitin sir was very happy when he heard me say the dialogues.
He said I had an amazing voice.
The thing that I actually worked on was getting into the character. Once that happened, everything moved smoothly.
I also had to work on my Urdu, as I play a Kashmiri girl.
For that, my father, Nitin sir, (writer) Sharibbhai and my acting coach helped me a lot.
When you learn the Urdu language, your voice automatically becomes subtle and your speaking mannerisms become clear.
When I was doing the voice-overs, I was living the emotions to the 'T'. I felt that pain, the strength and the goodness of my character, Firdaus, throughout.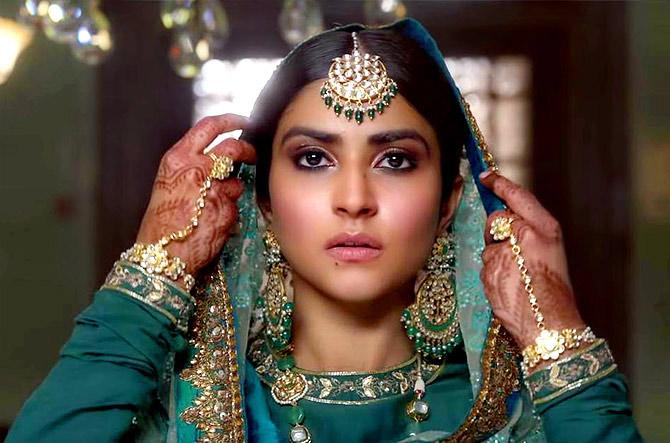 How different are you from your character, Firdaus?
Firdaus is a very mature girl, and that's not like me.
She has seen more dramatic incidents in her life, as she lost her parents traumatically.
So she had to learn to live by herself and for herself.
Also, the people of Kashmir hold on to a beautiful innocence, which we urban people lose somewhere because of our school or college life.
Nitin sir made sure that we interacted with the people living there, so that we could familiarise ourselves with the history of our characters.
Didn't you want a grand launch in a Yash Raj or Dharma Productions film?
I don't view films like that.
For me, stories are grand.
I never felt that I should work for this production house or that.
Frankly, I didn't even think about Salman sir producing the film. Just getting a break is a big thing.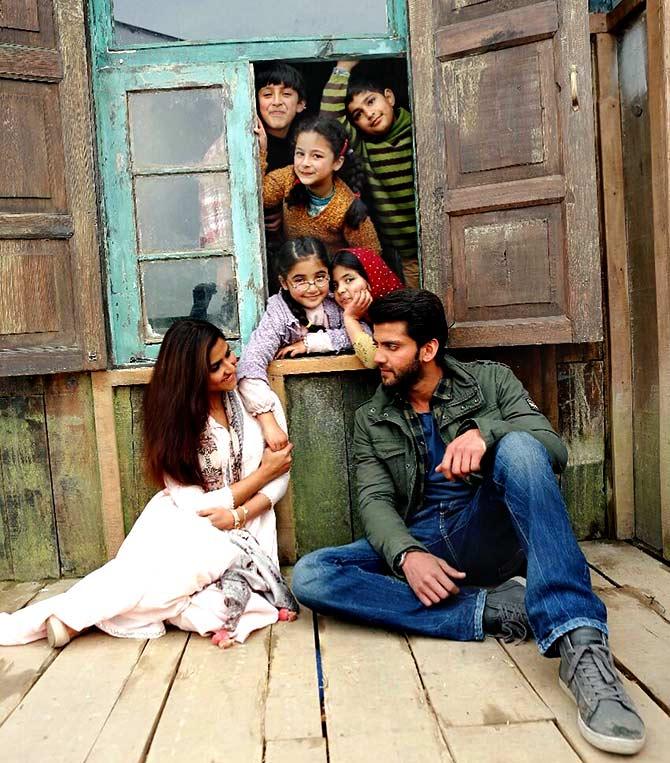 Notebook got some good reviews but did not work at the box office. Was that upsetting?
Yes, especially after witnessing the positive public reaction.
That's something I cannot understand but you need to realise that this is what destiny is.
Flawed films have worked with great numbers at the box office and films that were loved by everyone have not.
Even Salman sir doesn't have any idea how much his film will earn at the box office.
One should realise that's how insecure this business is, so it's better to let go of things.
When I was upset about the box office numbers of Notebook, someone told me that rather than the numbers, it's important to be appreciated.
That is my takeaway.
Your father Mohnish Bahl's first film also did not work at the box office but he became a star after Maine Pyar Kiya.
Actually, his first film that worked at the box office was Purana Mandir (1984). It became a cult classic horror movie.
Sadly, it didn't make him a star.
My father told me that he gave up on his acting career because of six back-to-back flops and went to America to become a pilot.
But he came back because he was friends with Salman sir before they became actors.
Salman sir suggested that he sign up for Maine Pyar Kiya.
My father decided to give it another try and used his money (that he saved to become a pilot) to survive until the film released.
Nobody thought Maine Pyar Kiya would become a cult movie and that the industry would get such a handsome villain.
If you ask me what my favourite father's character is, it would be Jeevan from Maine Pyar Kiya.
When have you seen a villain in Bollywood who smiles throughout the film (laughs)?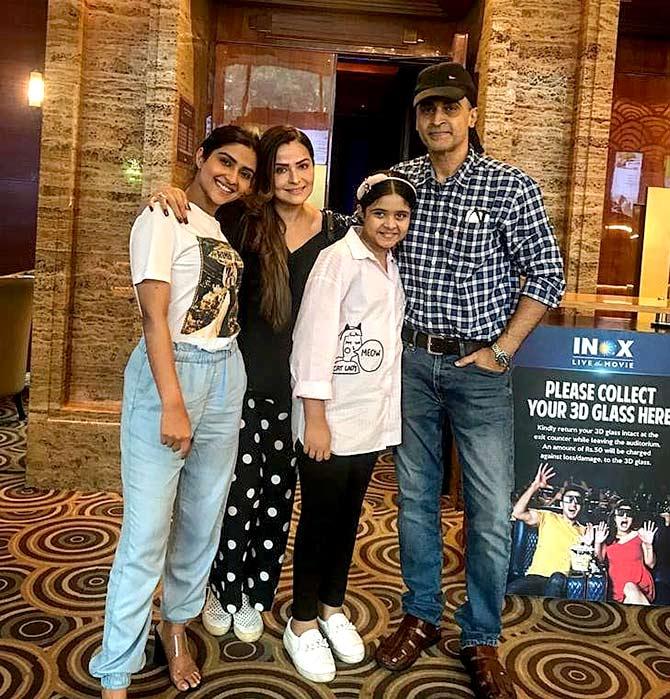 What kind of tips does he give you?
He always talks about the knowledge my grandmother had passed on to him; that this business is very insecure.
You may have less work and sometimes feel that you're not getting your due.
You may feel helpless.
He always tells me to get back to routine, hit the gym even if you don't feel like it, dance and work on yourself because you never know if you will get a film tomorrow.
Did you visit your father's film shoots as a child?
Film sets are like home.
To be precise, they are my extracurricular activities (laughs).
From school, I was always visiting studios like Kamalistan, Mehboob, Filmistaan, Film City...
I went on the sets of Kahin Pyaar Na Ho Jaaye, Dulhe Raja, Hero No 1, Sandwich, etc.
I also visited the sets of Astitva, which is one of my favourite films.
I have grown up on film sets, sitting on trolleys, troubling the spot boys...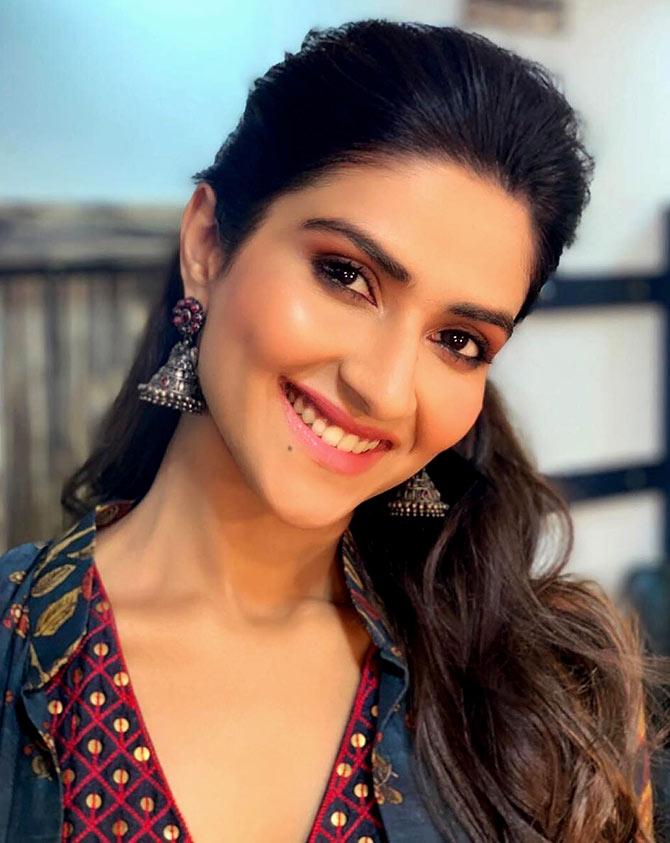 Which Nutan film is your favourite?
I am a big fan of Bandini. The character she played is extremely complex.
It's something only she could have pulled off by maintaining that purity despite being a murderer in the film. Hats off to Bimalda (Roy, director) and my grandmother for portraying the pathos of a criminal.
My other favourites are Sujata and Saudagar.
What are you working on next?
Nothing much.
I'm back to my routine, going to the gym, working out, my diet is back...
I'm meeting people and telling them to watch the film on Amazon.