'I want to tell everyone that whether you are fat, slim, tall, short, black or white, it does not matter. What you are doing from the bottom of your heart is what matters.'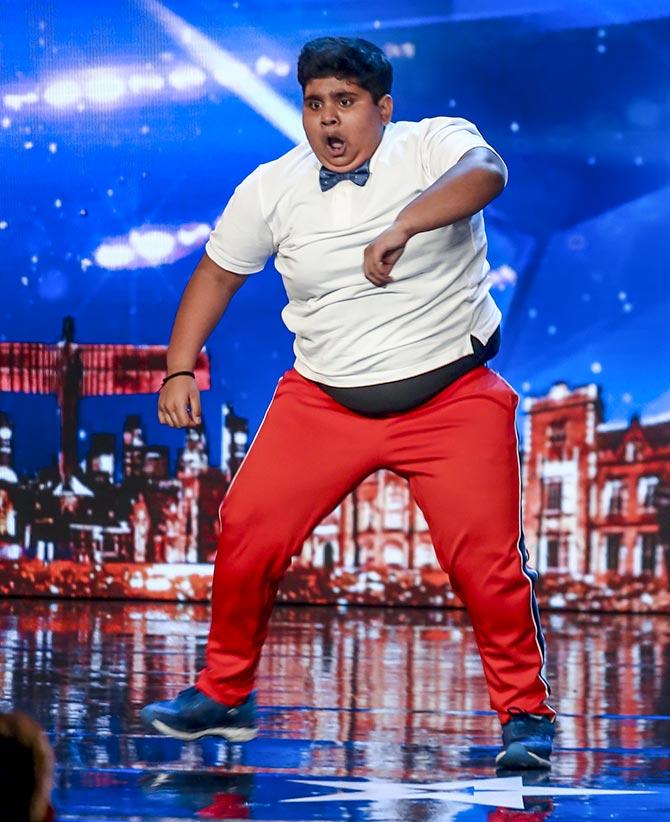 India's young sensation, Akshat Singh, is going from strength to strength.
After flooring everyone with his dance moves on India's Got Talent, and then performing on The Ellen DeGeneres Show in 2014, the 13-year-old is among the semi-finalists on Britain's Got Talent.
Akshat's favourite judge, Simon Cowell, is already rooting for this young Mumbai dancer.
After getting a standing ovation from the judges for his performance, Akshat admits to Rediff.com Contributor Mohnish Singh, "I did not expect it at all."
Britain's Got Talent will premiere on June 20 in India on the Colors Infinity channel.
The video of your dance performance on Britain's Got Talent has taken the internet by storm.
I am feeling really, really, really happy by making my country proud, my school proud and my parents proud.
It's a dream come true for me.
Getting the golden buzzer at Britain's Got Talent is like the cherry on the cake.
I have spread a lot of happiness and, now, I am getting that back from people.
I feel the entire world is like my family now.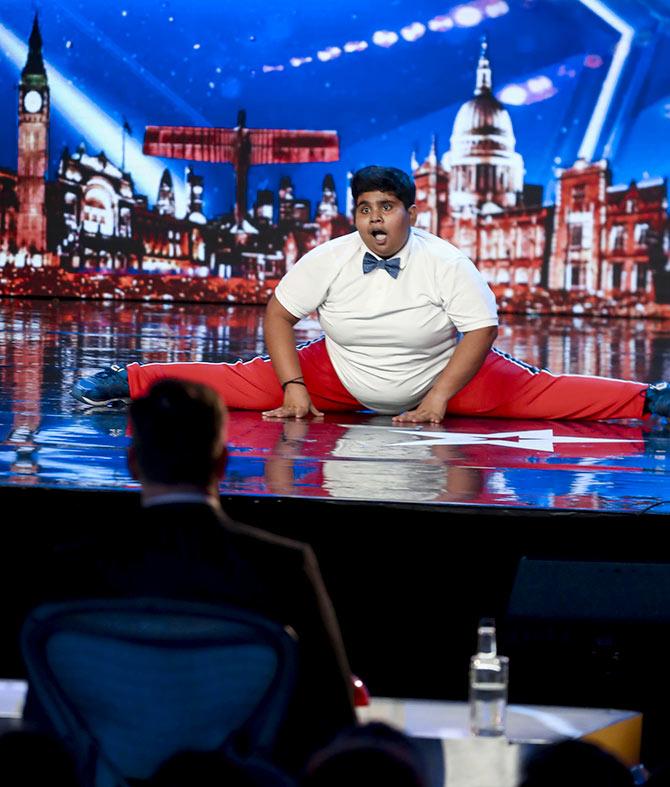 What was the best compliment you received from judges Simon Cowell, Amanda Holden, David Walliams and Alesha Dixon?
They were really happy.
I first danced on Deva Shri Ganesha, followed by Nicki Minaj's Starships.
After my first performance, when I started performing on Starships, they were really excited. It's like a party song, so they were having a lot of fun.
After the performance, I got a standing ovation from the judges.
I was surprised. I did not expect it at all.
The judges said my performance was superb.
David Walliams was very happy.
Samuel Cowell said, "I have seen a lot of performances but this was the best."
They gave me the golden buzzer.
I just started crying because I did not expect it at all.
It was not only my hard work but also the hard work of my parents and my guru.
My friends supported and encouraged me.
When I went there, I was a little nervous. But then, I remembered Lord Ganesha and that helped me a lot.
So I just went and had a blast.
I feel really lucky to be selected there and represent my country.
When did you realise that dance was your true calling?
When I was small, I was really fat.
I was about four when I watched the movie, Wanted (2009).
I liked the trademark step of the Jalwa song and started doing it.
Around the same time, one of my teachers visited my house and taught me a few steps. I did them and then joined a dance class.
When I went to my dance class, many people teased me and said, 'How can this fat boy dance?'
That day, I said to my dad that I would dance and show everyone that fat people can dance too.
I had realised by then that dance was my true passion.
I want to tell everyone that whether you are fat, slim, tall, short, black or white, it does not matter. What you are doing from the bottom of your heart is what matters.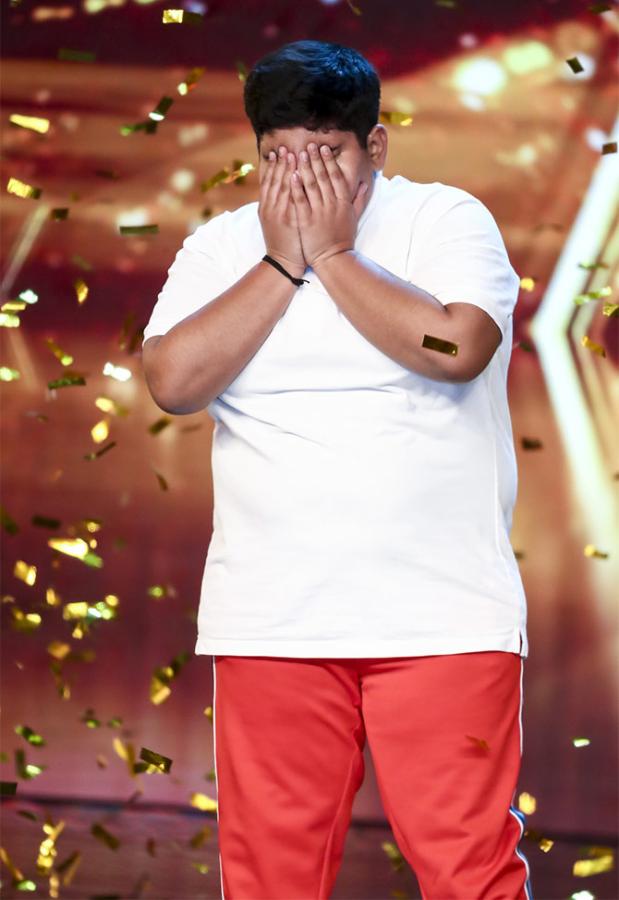 Were your parents supportive of your decisions?
Yes. If they were not there, I couldn't have done it. I am nothing without them.
Without the support of my parents, my guru Amit sir and my school Ryan International (in Kandivali, north west Mumbai), I could not have done it.
You are a big fan of Salman Khan. Do you recall your first meeting with him?
I first met him during the promotions of his film, Kick (2014).
When I saw him, I couldn't believe my eyes.
I was in shock.
I turned into a statue.
I was thinking, 'Is he the real Salman Khan?'
Then he saw me and said, 'Are you the Dhinka Chika kid?'
If you remember, I had danced on that song in a YouTube video. He had seen it.
He hugged me.
He called me 'YouTube ka paidaish'.
That was the happiest day of my life.
When I reached home, I gave a party to my parents!
I met him again on the sets of Jhalak Dikhhla Jaa, where I danced on the song, Bodyguard, from his (2011) film.
I asked him for his phone number and he gave it to me.
I keep meeting him a lot of times.
I feel really lucky that I got Salmanbhai's number.
He has a golden heart.
How do you strike a balance between your studies and dance?
When I am travelling, I carry my books and my dad helps me a lot.
I like to balance both.
I like three things a lot: I like to eat, I like to dance and I like to study!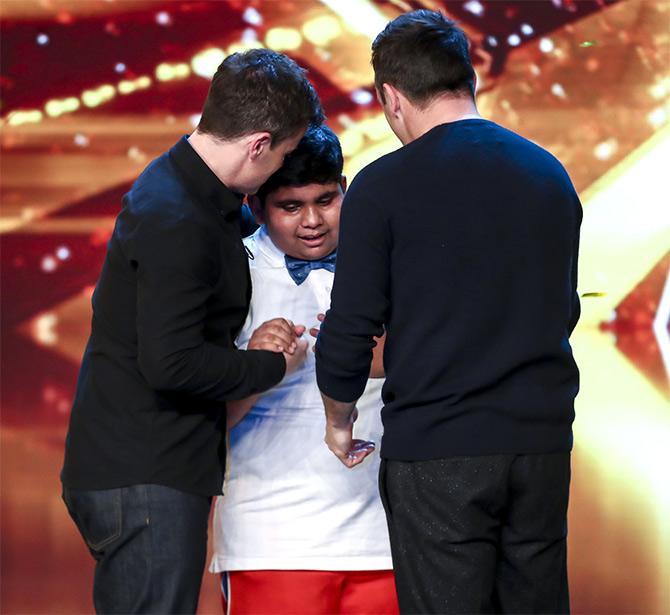 How did India's Got Talent help you as a performer?
It helped a lot because that was my first show and I gained a lot of experience about how things are done.
I got famous in India and abroad because of it.
Now, Britain's Got Talent is an international platform for me.
How was your experience working with Prabhudeva in the film, Lakshmi?
He is like a God to the people in Chennai.
He is really dedicated to his work.
Whenever he is shooting, he is totally into it.
I got to learn a lot from him about how I should act.
I also learnt a lot of new dance moves from him.
Which films are you currently working on?
There's a Russian movie called The Best Friends.
Then there is a Hollywood movie called The Tenant, which is completed.
And there's a Bollywood movie called Baawri.